These homemade dog food recipes are so simple you'll be saving tons in no time. Owning a dog means you have to spend anywhere from $250 to $700 on food a year, depending on the quality of food and the size of your dog. While your dog absolutely deserves the best of everything, it's a big chunk of change coming out of your pocket. Making healthy homemade dog food will make sure you're giving your dog delicious and healthy meals which suit their diet. Check out this list of budget-friendly pet food every dog will love!
Homemade Dog Food Recipes To Cost You Less
1. Turkey, Brown Rice, Carrots, Zucchini, Peas & Spinach
[instagram url=https://www.instagram.com/p/BhUyTv9lqYS/ hidecaption=true width=625]
A dish for your four-legged friend packed with turkey, rice, and vegetables. This dog food recipe looks flavorful and good for low-fat diets. Try cooking it in coconut oil! One cup should be enough for one meal.
2. Triple-Cheese Chili Bake
This dish looks like something you could enjoy, it's because you certainly can! Not only is this triple-cheese chili a perfect meal for your dog, it can also be prepared on a plate for you to eat as well
3. Beef Stew
A beef stew packed with protein and veggies like carrots and green beans which takes about half an hour to prepare, doesn't cost much, tastes great, and can potentially last for weeks? Yes, you won't regret feeding this homemade diet to your dog.
4. Beef Loaf Meatloaf
Comfort food for dogs. While you may be eager to feed these meatloaf slices to your dog every single day, this should instead be fed every few days. It may contain more amounts of fatty acids so it is best to mix it with their regular meals.
5. Raw Ground Beef, Eggs & White Rice
Raw dog food is nutritious for your dog, as well as easily digested. All you need is raw food (like beef), eggs, white rice, and supplements and you've got your pooches an inexpensive meal to last. Plus, compare to cooked dog food, raw meat or a raw diet takes the least amount of effort to prepare.
6. Posh Chicken Dinner Layer Cake
If keeping it simple isn't quite your thing, here's a recipe to not only wow your dog but also your friends and family. Grab the chicken, carrots, corn, and apples and make a posh chicken dinner layered cake. Your dog will thank you for these treats!
7. Chicken, Eggs & Rice
Trade those bones for something more stuffed. Made from 10 lbs. of chicken, 18 eggs with shells (they provide digestible calcium to your dogs) and 5 cups of rice. This cost-effective recipe will provide an abundance of meals to feed your dog.
8. Poochie Meat Cakes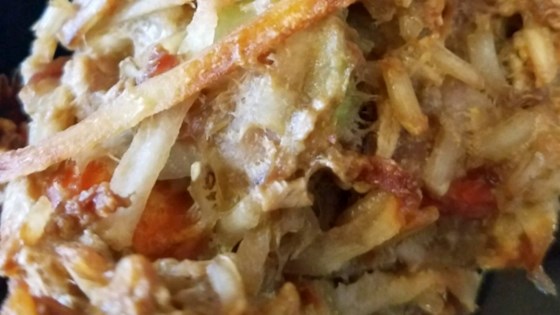 Another recipe which can be shared by both dogs and humans–these meat cakes are packed with ingredients perfect for your dog's muscles, plus, these make an awesome treat for your doggy's birthday or for Valentine's Day because, why not?
9. Cooked Ground Beef & Rice
Depending on the size of your dog, you can either half or double this recipe to get enough cooked ground beef and rice to last a handful of days. You can also freeze leftovers and thaw them out for later.
10. Sweet Potatoes, Pea, Quinoa & Banana
Has your vet been telling your dog to eat healthier? Nourish your fur babies with this healthy vegan dog food loaded with vitamin-rich ingredients such as banana, peas, sweet potato, and quinoa. Your pups will surely love this tasty dog food despite the lack of meat.
In case you want a step-by-step visual of how to prepare a homemade dog meal, check out this video from CookingForDogs and learn how to easily make raw beef and vegetable meatballs:
There you have it! Ten of the easiest and the most budget-friendly dog food recipes you can prepare at home. With fewer ingredients and minimal effort, you can already give your furry friends healthy homemade dog food to last you for days or even weeks. These homemade dog food recipes are not just tasty but they're also healthy and good for their active bodies.
Do you have any other tips for making homemade dog food recipes? Let us know in the comments section below!
Up Next: Homemade Dog Biscuits | Recipe and Instructions
Editor's Note – This post was originally published on January 6, 2017 and has been updated for quality and relevancy.