Enjoy delicious Thai peanut noodles without dining out and spending too much. Try these simple recipes and experience tasty Thai dish at home!
Simple Thai Peanut Noodles To Try At Home!
Thai peanut noodles are one of the most loved Asian Noodles around. Little did we know, authentic Thai peanut noodles are easy to prepare at home. All you need is toss the cooked rice noodles with peanut sauce. You may add sesame seeds, extra peanuts, grilled meat, and veggies. For varieties of Thai peanut noodles recipes, check out the list below!
TIP: Spaghetti noodles and linguine work equally well as substitute for rice noodles.
1. 20-Minute Spicy Thai Noodle Bowls
Let's start with the easiest Thai peanut noodle recipe. It's a great recipe which will end your cravings for a spicy and nutty noodle dish. If this is your first time cooking a Thai dish, you don't have to get nervous as you can really pull this off. First, prepare the sauce by mixing vegetable oil, sesame oil, rice vinegar, soy sauce, peanut butter, Sriracha, honey, garlic and green onion. Smother the sauce in your cooked noodles then add the veggies, peanuts, sesame seeds, and red pepper flakes. Toss and enjoy!
2. Thai Peanut Sesame Noodles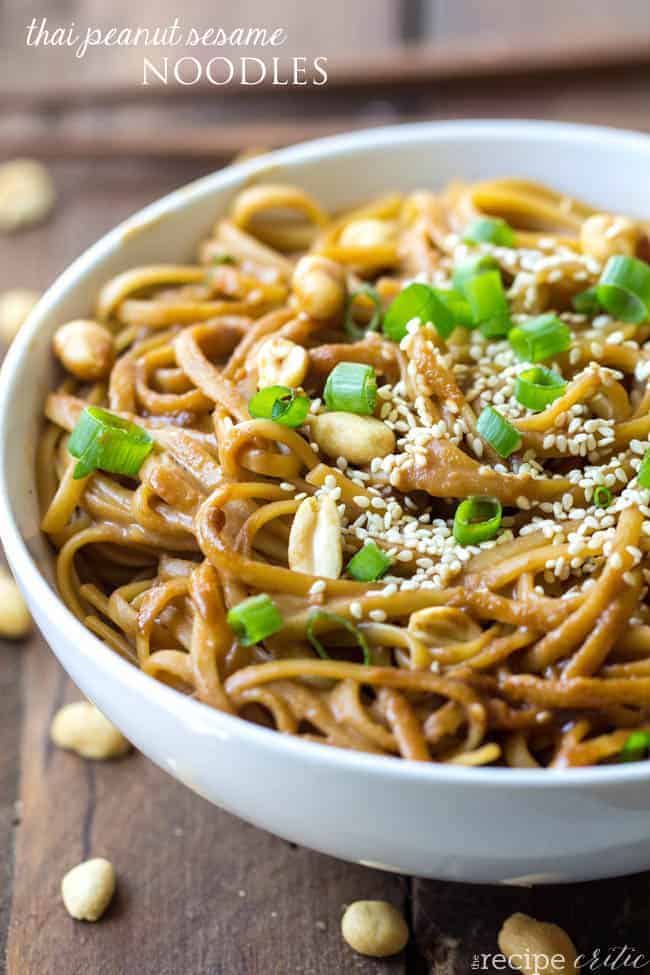 If you're looking for a simple variety of Thai peanut noodle recipe, this is it! The ingredients are pretty much basic as it requires for peanut butter, sesame oil, soy sauce, Sriracha, green onions, and lots of sesame seeds. This recipe also uses linguine noodles but feel free to use udon, spaghetti, or rice noodles. If you want to go basic and simple, this recipe is best for you!
3. Thai Peanut Chicken and Sweet Potato Noodles
I can't compare authentic Thai peanut noodle to any other noodle dishes as it has its own impressive and unique tastes. I love it and I definitely won't get tired of eating it! But even if I'm satisfied with the taste, I keep on searching for techniques to make it healthier and this Thai peanut chicken and sweet potato noodles is the answer! It will balance your diet with protein, vitamin A, and dietary fiber. What makes this dish truly a winner are the sauteed chicken, broccoli, and the sweet potato noodles.
4. Thai Peanut Noodles with Grilled Chicken
The addition of grilled meat into your bowl of Thai peanut noodle is absolutely incomparable. Every bite is bursting with amazing flavors which are unique and so addicting, something you will look for over and over again. This recipe is so good because you don't just place the grilled chicken on top of the noodles when served but you toss it along with the noodles and other ingredients until they're evenly coated with a special peanut sauce.
5. Thai Peanut Chicken Noodles with Charred Corn + Lime Watermelon
This recipe is quite similar to the Thai peanut noodle recipe above except for the grilled corn and watermelon. Grilled corn, grilled chicken, and zesty watermelon make this Thai peanut noodles extraordinarily delectable. These flavors greatly compliment the noodles and the peanut sauce. This dish is very easy to make, you just need to toss the noodles with peanut sauce along with grilled corn, cucumber, and fresh herbs. Serve this with watermelon, skewered chicken, and extra sauce.
6. Thai Peanut Chicken Noodles with Zucchini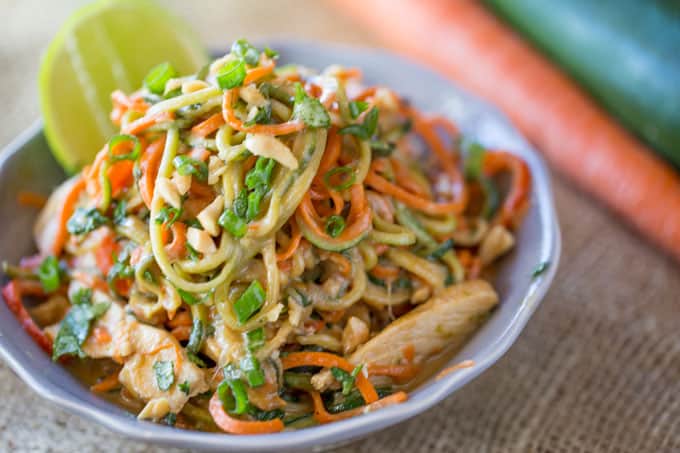 You are bound to enjoy one of the healthiest noodle dishes ever with this Thai peanut noodle recipe. How can you not like this dish? It's a delicious and healthy recipe loaded with vegetable noodles. Think of zucchini noodles, carrot noodles, and red pepper noodles–this recipe got you covered with all these goodness! This is a nutritious meal to savor any time of the day and it tastes even better the next day!
7. Thai Sweet Chili Peanut Noodles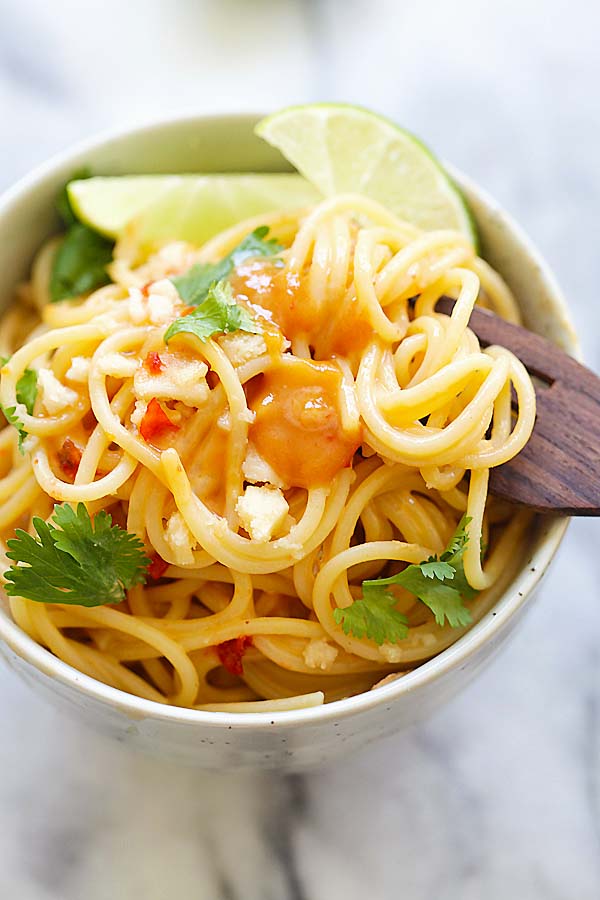 This is a quick and easy Thai peanut noodles recipe with a sweet and spicy flavor. You only need simple ingredients and 15 minutes to put this delicious dish together. For the sauce, you need to stir the peanut butter. What makes this Thai peanut noodles different is the sauce. It has apple cider in it. Cook over low heat, the sauce has added a hint of sweet chili. Mix the sauce with your cooked noodles and serve it with cilantro and nuts. There you have it! A sweet, spicy, and savory dish perfect for lunch and dinner.
30-Minute Quick #Meals For a Hearty and Hassle-Free #Dinnerhttps://t.co/0s7s3VCky0 pic.twitter.com/M0JQFc3HF0

— Homemade Recipes (@BestHomeRecipes) March 6, 2017
8. Thai Peanut Chicken Noodle Stir Fry
This Thai peanut chicken noodle stir fry has so much flavor and so much texture. Once you tried it, you won't stop until your bowl is empty clean. The magic starts by marinating the chicken in cornstarch and soy sauce. After that, stir fry the chicken with ginger and curry paste before adding the chicken stock. Then, add the cooked noodles, toss well, then garnish with cilantro, red chilies, or chives. Don't forget to squeeze some lime juice and sprinkle with extra peanuts.
9. Thai Peanut Noodle Stir Fry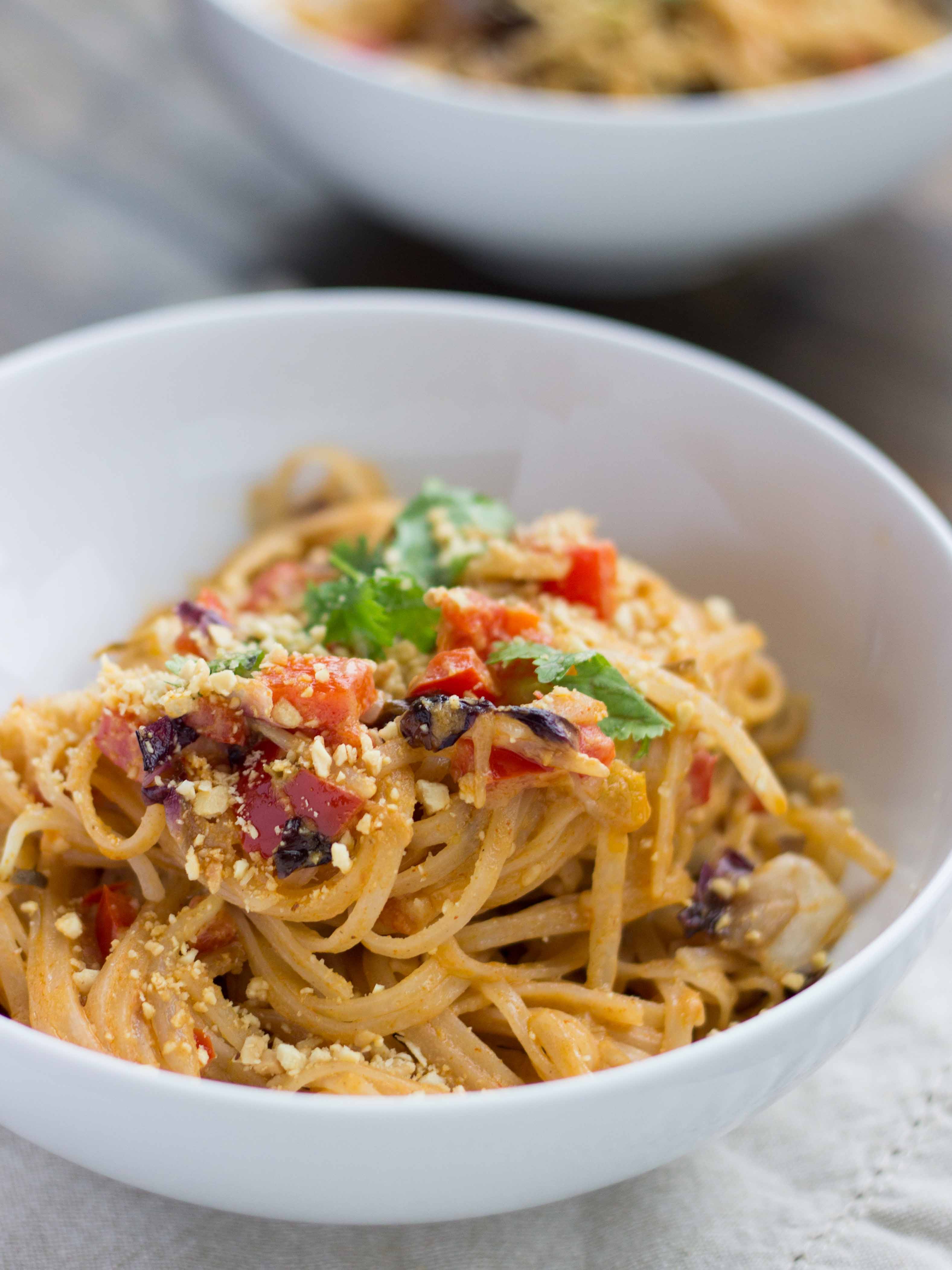 Stir fried red bell pepper, bean sprouts, and radicchio are mixed with chewy rice noodles and tossed in a flavorful Thai peanut sauce. This is a delicious dish to add an authentic Thai flavor in your family feast. You will surely love this Thai peanut noodle stir fry as it won't make you and your family wait for so long to eat a hearty dish. 2o minutes or less and this is ready to serve!
Watch this video from Allrecipes and learn how to make a delicious Thai peanut sauce you can use for your favorite Thai peanut noodles:

This list of simple Thai peanut noodles will definitely ditch the takeouts. You will never splurge for a delicious Thai dish after these recipes. All of these Thai peanut noodles are great as they feature different flavors for you to choose from. I hope you will enjoy them!
Which of these Thai peanut noodles are you planning to try? Let us know in the comments section below! If you enjoyed these recipes, you might also want to check out this list of 12 Easy Asian Recipes To Try At Least Once. 
Don't forget to keep in touch, foodies!
Also, make sure to follow us on Facebook, Instagram, Pinterest, and Twitter!