This is a collection of easy and flavorful spring roll recipes. They're all tasty and packed with flavors to end both of your sweet and savory cravings!
Spring Roll Recipes With Sweet And Savory Fillings
Let's first start off with what exactly are spring rolls? Spring rolls are filled and rolled appetizers, mostly found in East and Southeast Asian cuisine. They can be sweet or savory, baked or fried, packed with vegetables or fruits–the options are endless! But one thing is for sure, they're delicious and satisfying all the time. Here is a roundup of 10 sweet and savory spring roll recipes you will absolutely love.
1. Grilled Shrimp Vietnamese Spring Rolls
These grilled shrimp Vietnamese spring rolls are portable salad loaded with vegetables, rice noodles, and grilled shrimp. Adding grilled meat to your spring rolls will give a nice smoky flavor in your favorite snack.
2. Chinese Spring Rolls with Chicken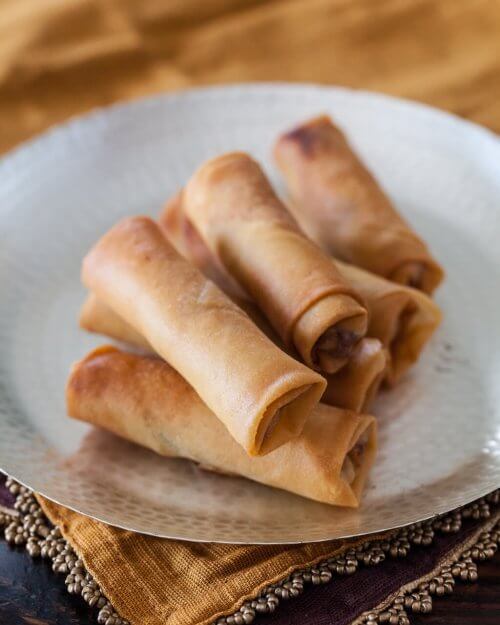 These are crispy and crunchy fried Chinese spring rolls filled with stir fried vegetables and sauteed ground chicken. Enjoy these spring rolls with your favorite dipping sauce to make them tastier and more delectable.
3. Crispy Baked Chicken Spring Rolls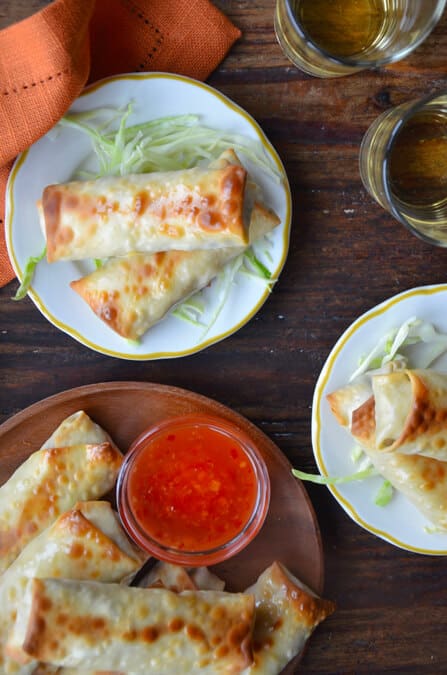 Enjoy these savory spring rolls any time you crave for a crunchy, light, and meaty snack. They're guilt-free spring rolls packed with ground chicken, shredded green cabbage, sliced shitakes, fresh garlic and ginger mixture–beautiful flavors in one roll!
4. Baked Vegetable Spring Rolls
Experience an extreme veggie delight with these baked spring rolls. These are healthy spring rolls stuffed with sauteed vegetables. They're perfectly seasoned and then baked to golden brown perfection. You can enjoy as much as you can without all the grease.
5. Fruit Spring Rolls
How about these summer fruit spring rolls filled with slices of sweet mangoes and strawberries, tangy kiwis, crispy apples, zesty lemon, and baby spinach? Preparing both spring rolls and the sauce are easy as pie. Just arrange all the spring roll ingredients, put them together and roll, that's it! For your chocolate sauce, simply microwave the cream for 30 sec, then combine with chocolate chips.
20 Amazing Life-Giving Vitamix Recipes #smoothie #icecream #desserthttps://t.co/s2RJZt63hM pic.twitter.com/b5HDCm9aXW

— Homemade Recipes (@BestHomeRecipes) December 17, 2016
6. Cranberry-Apple Pie Spring Rolls
Dessert anyone? If you're looking for an easy dessert to prepare for potlucks, parties, or picnics, these cranberry-apple pie spring rolls are the way to go! These delightful spring rolls are easy to make and take 15 minutes to bake. A scoop of ice cream on the side also goes a long way!
7. Sriracha Chicken Spring Rolls
What sets these spring rolls apart from other recipes are the fresh vegetables and saucy Sriracha chicken rolled in a rice paper wrapper. If you are in for a refreshing and light dinner with a spike of heat, look no further than this easy spring rolls recipe!
8. Teriyaki Veggie Spring Rolls
Brown rice wrappers and teriyaki sauce are the keys to these delicious veggie spring rolls. These are healthy spring rolls stuffed with vegetables cooked in rich teriyaki sauce. You can eat this immediately or place them in the fridge for later.
9. Crispy S'mores Spring Rolls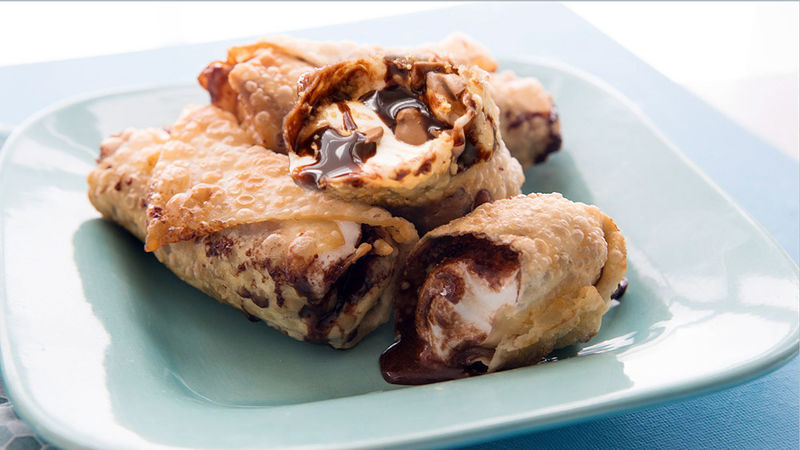 These are sweet, chocolatey, and gooey s'mores spring rolls people of all ages will surely adore. With the easy steps, you can already enjoy your s'mores every weekend. You simply need to wrap chocolate frosting, marshmallow, and graham with egg roll wrapper, and then fry the rolls until crispy and golden brown. A drool-worthy treat you must try right now!
10. Fresh Summer Rolls
These fresh summer rolls are the Vietnamese version of spring rolls. They're very quick and easy to put together. You just need rice paper wrappers, fresh veggies like cucumber, carrots, bell pepper, avocado, cabbage, and lettuce along with cooked shrimp and rice noodles. No need for you to fry or bake this savory treat!
Learn how to make spring roll wrappers at home. Watch this video from Flavours Of Asia:

I hope you enjoyed these spring roll recipes as much I did! These are easy recipes you can make at home with minimal effort and wholesome ingredients. You can also change the recipe depending on your favorite fillings. So, if you're in need of easy and quick appetizers, healthy snacks or light dinner, these spring roll recipes are what you need!
Which of these easy spring roll recipes are you planning to try at home? Let us know in the comments section below! If you find these spring roll recipes a great addition to your healthy diet, you might also want to check out this list of 26 Easy Vegetarian Recipes!
Don't forget to keep in touch, foodies!
Also, make sure to follow us on Facebook, Instagram, Pinterest, and Twitter!
Editor's Note – This post was originally published in March 2016 and has been updated for quality and relevancy.