Check out these foil packet recipes that could change the way you look at preparing and enjoying your meals. No mess, no loading the dishwasher, and no sweat with foil packet recipes!
Delicious Foil Packet Recipes You'll Want To Make Everyday
As much as I love my family, I just hate doing the dishes. There's just no imagination in this household chore and the dishwasher doesn't help much. Fortunately, I stumbled upon these foil packet recipes one lazy day, when the last thing I wanted to do was a ceremonious scrubbing of the pots and pans. So every other lazy day, I just throw some veggies, herbs, spices into some foil and poof — a tasty instant meal my family and I can enjoy! Follow these recipes and master the trick of getting away with not washing the dishes!
1. Shrimp Boil Foil Packet Recipe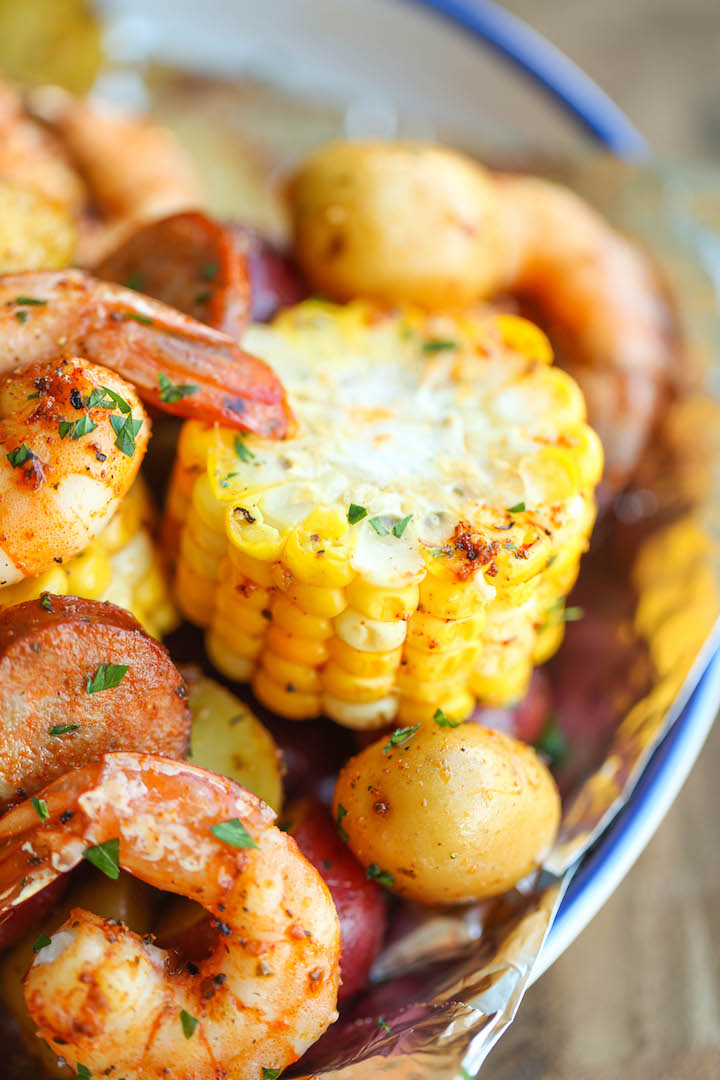 This lip-smacking, finger-lickin' foil packet meal is loaded with shrimp, sweet corn, baby red potatoes, and sausages. It's a total meal in one dish with carbs in corn and potatoes and protein in shrimp and sausages.
2. BBQ Chicken Foil Packet Recipe
You can't go wrong with a BBQ chicken foil packets! Throw in some pineapples, sweet peppers, and herbs to balance out the texture and taste in this foil packet meal recipe.
3. Salmon And Potato Foil Packet Recipe
A light meal for a busy evening couldn't be any more perfect with salmon and potatoes in a foil. Make sure to have salt and pepper nearby to fully enjoy this delicious recipe served a tin foil.
4. Foil Packet Kielbasa
With sausages, fresh yellow squash, zucchini, and mushrooms, you've got yourself a complete foil packet meal. You can throw in some of your favorite veggies with sausages, herbs, and seasonings to make this sumptuous foil packet recipe.
5. Grilled Pineapple Chicken Foil Packet Recipe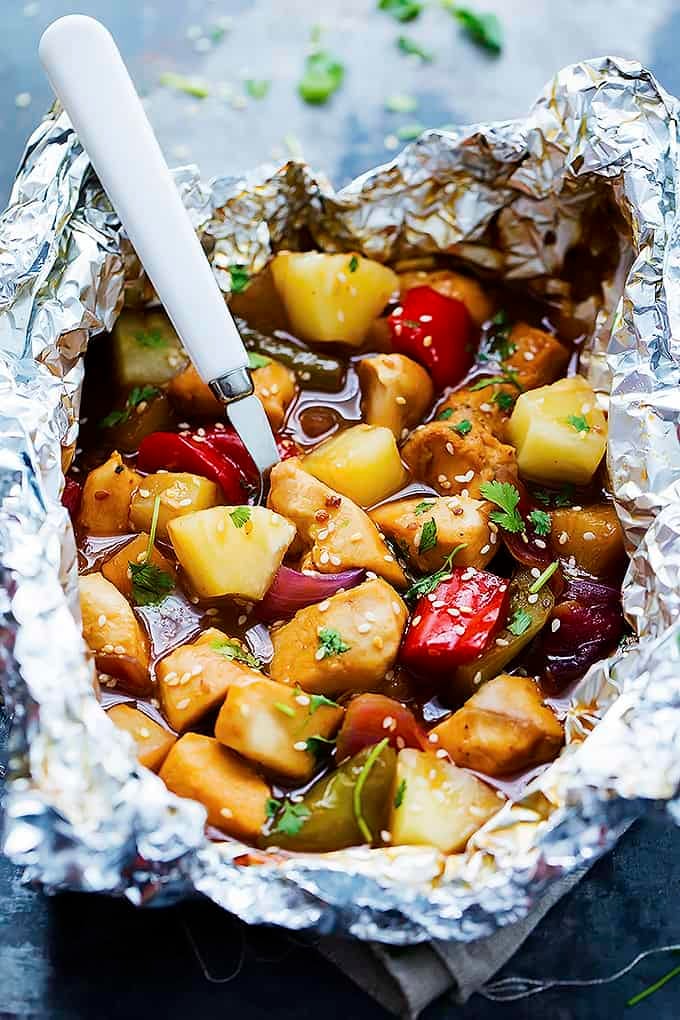 Open a packet full of fresh tropical flavors with this grilled pineapple soy sauce chicken in foil. Savor the sweet and juicy pineapple, luscious chicken meat, and spice of herbs with the right amount of seasoning. This chicken foil packet recipe won't disappoint you!
Reynolds Wrap Extra Heavy Duty Foil Grill and Oven Bags (4 Count)
Made in the USA since 1947, Reynolds Wrap Aluminum Foil has trusted strength and quality you can count on for cooking...
A flavorful and convenient way to cook vegetables, meats, and small foods on the grill with minimal tending.
Provides a moist heat environment that can lock in flavors at high temperatures in the oven (up to 450 degrees).
6. Caprese Stuffed Chicken Foil Packet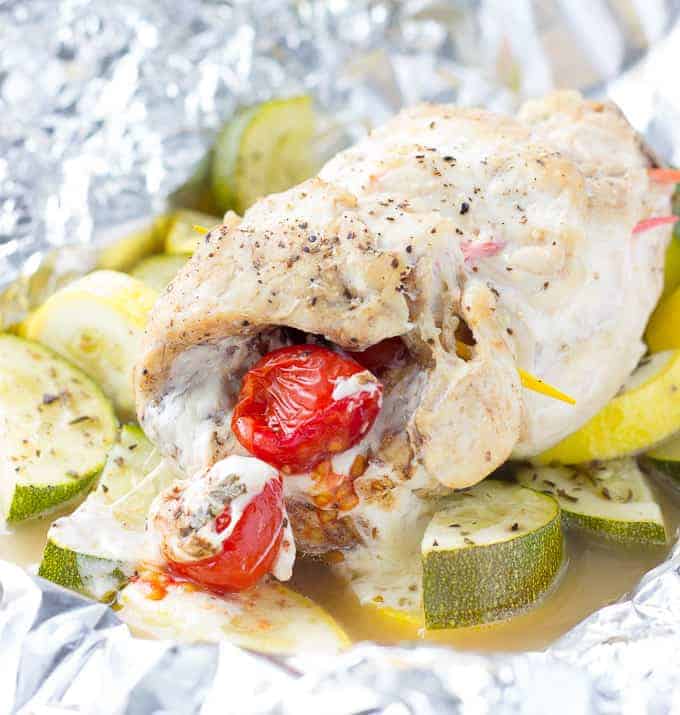 Fresh mozzarella cheese in chicken and zucchini will surprise you with every bite. Check out the recipe if you're in for something different!
7. Grilled Tex-Mex Nacho Foil Packet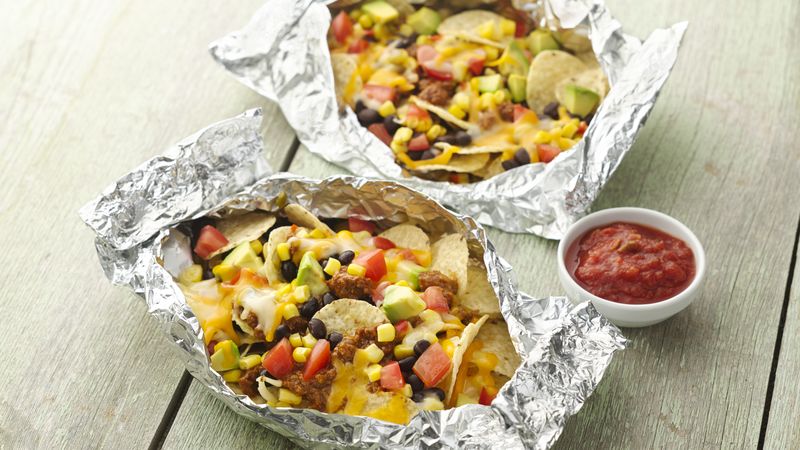 Amazing nachos with plenty of flavors and zero clean-up! I'm sure you'll dig this recipe while watching the big game. In a foil packet, this snack will stay warm and fresh for long.
8. Grilled Coconut Lime Shrimp Foil Packet Recipe
If you want a meal with insane flavors and minimal cooking time, this grilled foil packet recipe is exactly what you're looking for!
9. Sausage, Potato, And Green Bean Foil Packet
Fast food has never been this healthy with this foil packet meal recipe. Pack up baby potatoes with lots of green beans and some sausage for flavor, and voila! A healthy meal in no time.
10. Bacon Ranch Grilled Potatoes
Potato slices dressed up in a tasty ranch dressing with bacon and cheese should make a great campfire dinner recipe. This should also make a healthy comfort food–a convenient potato recipe in a foil at that.
11. Grilled Peach-Glazed Pork Tenderloin Foil Packet With Potatoes
The aroma of juicy pork tenderloin coated with a delectable peach sauce will make your knees weak and your tummy satisfied. Can't wait to try the recipe?
12. Egg Bake Breakfast Foil Packet Recipe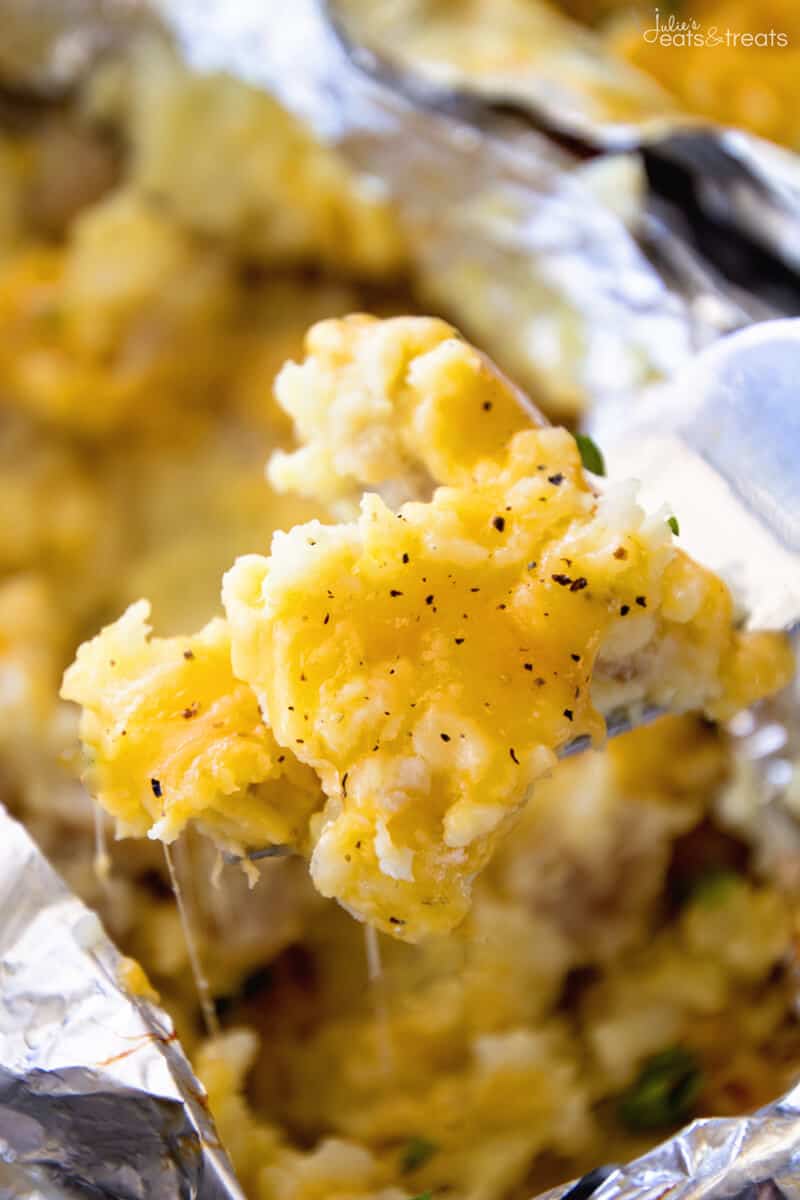 Foil packet meals should make easy and quick breakfast! It's as easy as packing together eggs, hash browns, cheese, and seasonings and sending them off to a grill. Try this recipe for the most important meal of the day.
13. Cajun Style Grill Foil Packet Recipe
Whether you're from the South or not, you'll dig this foil packet meal recipe, especially for a campfire recipe. Potatoes, fresh corn, and sausages–who doesn't love 'em?
#MexicanFood in the wilderness? Oh yes! 😋 Explore with Campfire Quesadillas at your next #summer camp! https://t.co/ljjvTGHTgB pic.twitter.com/2ZQvdBYKYH

— Homemade Recipes (@BestHomeRecipes) June 16, 2017
14. Easy Baked Italian Chicken And Veggie Foil Packets
[instagram url=https://www.instagram.com/p/BLmxQDlAig4/ hidecaption=true width=625]
This foil packet recipe had me at broccoli and zucchini. Imagine my fresh homegrown vegetables from the garden, straight to a foil packet right after harvest! Doesn't get any better than that.
15. Butter Garlic Herb Steak Foil Packet Recipe
Butter, garlic, and herbs — three of my favorite ingredients in a foil packet recipe is sure to catch my attention. With steak in the pack, this will certainly work up my appetite.
16. Grilled Chicken Fajita Foil Packet Meal
A tasty snack that's delicious and just as healthy, surprisingly, can be prepared from a foil packet. Chicken, onions, sweet and hot peppers — lots of it–make this delicious recipe in a foil packet.
17. Lemon Chicken And Potatoes In Foil Packet
[instagram url=https://www.instagram.com/p/39P-CjHTWn/ hidecaption=true width=625]
Add zest and tang to your foil packet meal with lemons. You can't tell the difference between a regularly prepared recipe from this chicken foil packet recipe.
18. Grilled Hawaiian Barbecue Chicken In Foil Packet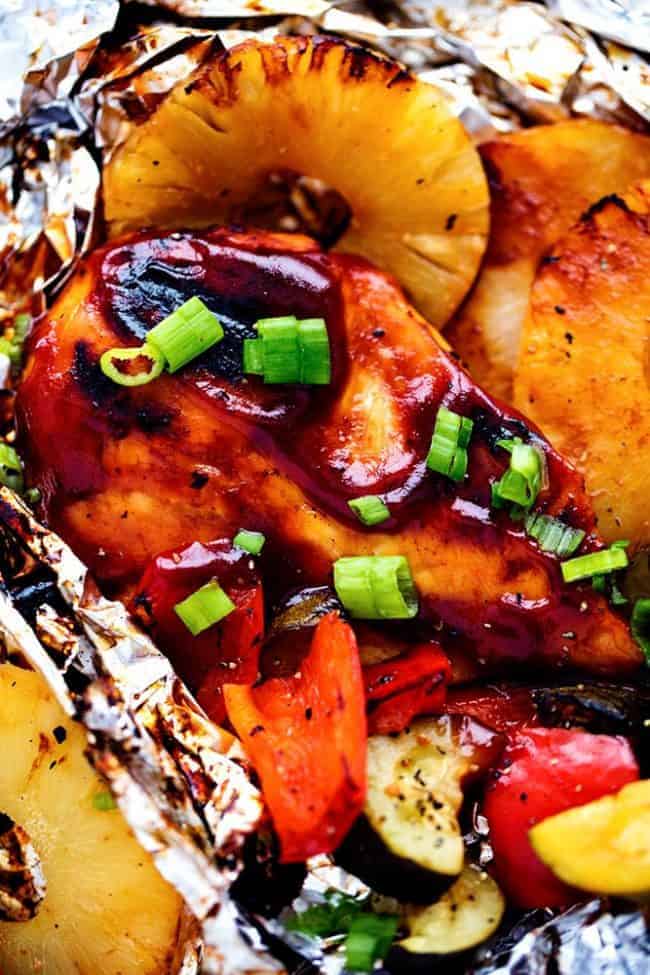 Who doesn't love Hawaiian barbecue? Preparing this delicious recipe can be a hassle, but thanks to foil packets, you can now enjoy this Hawaiian barbecue recipe with less waiting time.
19. Potatoes Au Gratin Foil Packet Recipe
If you're into potato recipes, you'll love this foil packet recipe for sure. Slice your potatoes thinly and evenly for a quick yet elegant packet meal.
20. Grilled Herbed Chicken And Potato Foil Packet
I'm sure you'll love this foil packet recipe even for dinner. Potatoes and chicken lavished with herbs and spices are sure to make any meal special.
21. Honey Garlic Butter Salmon In Foil Packet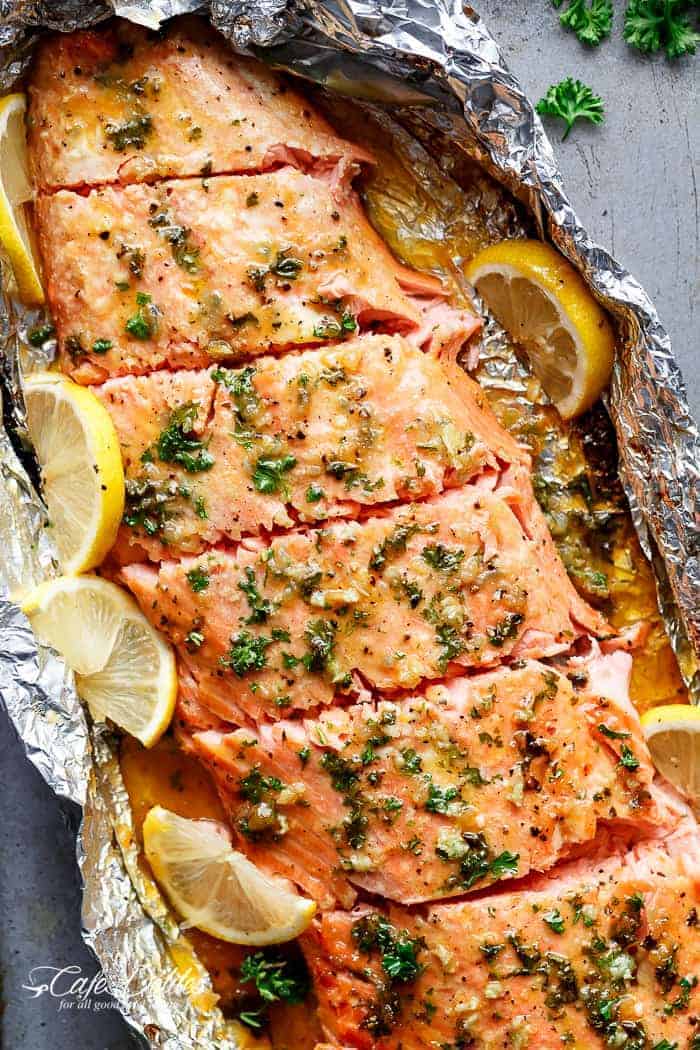 Save all the juices and flavor of salmon by grilling it in tin foil. Imagine all that juicy fish–my mouth is watering at the thought of this foil packet recipe.
Follow these quick and easy foil packet recipes even your kids can do:
There you have it, foodies! Sumptuous and scrumptious foil packets recipes your family will surely enjoy. Whether you're camping, dining outdoors or dining in, or maybe even having guests over, these foil packet recipes will help. With these easy meal recipes, taking care of the dishes is no sweat at all!
Which of these foil packet recipes are you eyeing on for your dinner? Tell us all about it in the comment section below.
Up Next: 1, 563 Simple Healthy Recipes For Everyone
Don't forget to keep in touch, foodies!
Also, make sure to follow us on Facebook, Instagram, Pinterest, and Twitter!
Editor's Note – This post was originally published in August 2016 and has been updated for quality and relevancy.