Grab those extra bananas lying on your kitchen counter, and make these delicious banana recipes! I've got all sorts of snacks and treats everyone will enjoy.
Banana Recipes You Can Indulge In Anytime!
Do you have too many bananas you don't know what to do with? Well, that's not a problem because you can transform them into these amazing banana recipes! As foodies, we hate to see anything go to waste. So, these banana recipes are here to the rescue. Whatever you're in the mood for—bread, muffin, cupcake—we've got it right here! These banana recipes are also so versatile and healthy, you'll be experimenting with them to come up with your own in no time. Let's get cookin'!
1. Peanut Butter Banana Parfait
The beauty of this banana recipe is all you need to do is layer everything nicely. Use Greek yogurt, peanut butter granola, and sliced bananas to make this peanut butter banana parfait. This is the perfect go-to dessert!
2. Banana and Chia Seed Pancakes
The healthiest pancakes you'll ever taste! Soak the Chia seeds in water and pour this mixture into the blender along with the other pancake ingredients. Once smooth, scoop a moderate amount of batter and cook your pancakes!
3. Mini Banana Cream Pie
You won't be able to resist these cute, little banana cream pie bites. Use Mini Nilla Wafers as the bed and cover of your mini banana cream pies. For the filling, mix mashed banana slices, vanilla pudding mix, cream cheese, and sugar.
4. Double Chocolate Banana Cake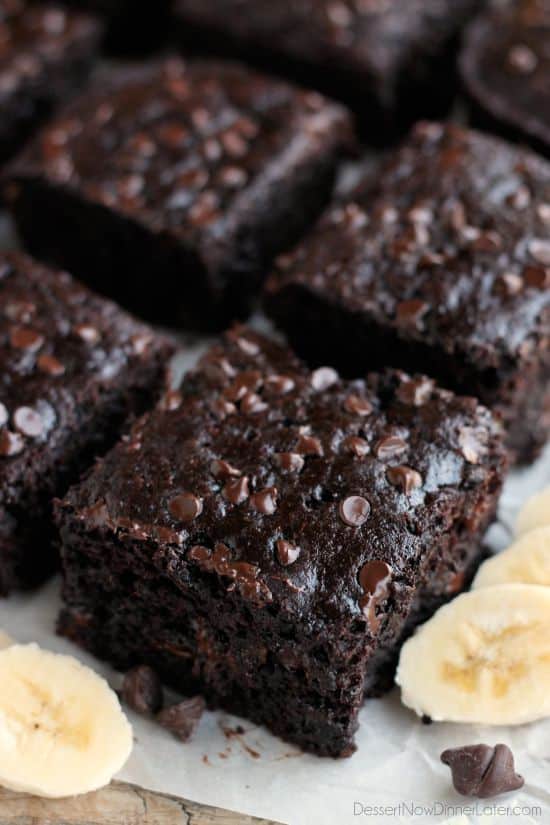 Have a slice of this decadent double chocolate banana cake for an extremely chocolatey experience. Get three bowls for the different kinds of mixtures. First, combine your mashed bananas and brown sugar. In a separate bowl, mix all your dry ingredients. Do the same for the wet ones. Mix everything together to form the batter, and bake!
These #homemade cream cheese #brownies are heaven to the last bite!https://t.co/qX2q5bkCS6 pic.twitter.com/wDsTw0ktzk

— Homemade Recipes (@BestHomeRecipes) February 17, 2017
5. Healthy Coffee Banana Smoothie
A glass of this tasty and healthy coffee banana smoothie every morning will remind you good things are coming your way! Simply use a heavy-duty blender to blend all the ingredients. Enjoy!
6. Bananas Foster Upside Down Cake
A heavenly cake, moist and flavorful, topped with classic and luscious banana foster sauce. For the sauce, heat up a mixture of butter, rum, and light brown sugar in a skillet. Bake the cake using egg whites. Pour everything on prepared banana slices.
7. Fudgy Banana Bars
No mixer is needed for this very easy banana bar recipe. The bars are just white chocolate and butter melted using a microwave. The glaze is a mixture of milk, sugar, and browned butter.
8. Banana and Chocolate Chip Baked Oatmeal Cups
Get the scrumptious flavors of banana bread and cookies in one lovely baked oatmeal cup. Bake this as you would any cupcake, except, add mashed bananas into the bowl of wet ingredients, and mix until smooth. Throw in some chocolate chips and oats.
9. Healthy Banana Cream Pie Smoothie
A cool and creamy smoothie that tastes exactly like a banana cream pie. The best thing about smoothies is you just throw all the ingredients in a blender! Enjoy chilled.
10. 30-Minute Skinny Banana Chocolate Chip Muffins
Healthy banana muffins filled with chocolate chips you can make in half an hour! Blend all the wet ingredients along with the banana slices. Add the chocolate chips, and pour the batter into the muffin tins. Bake away!
11. Banana Cream Pie
This banana cream pie is made with layers of sweet bananas, delicious homemade custard, and a thin layer of whipped cream. The secret to making the pie crust is using Crisco. Throw in your banana slices, and top with whipped cream!
12. Zucchini Banana Bread
A nutritious banana bread recipe packed with protein and zucchinis. The mashed bananas and zucchini go with the mixture of wet ingredients. In this bowl, gently fold the mixture of dry ingredients. Bake for 1 hour.
13. Vegan Banana Cream Pie Blizzard
This perfectly sweet, vegan-friendly banana cream pie blizzard is guaranteed to be your family's next summer treat favorite! Simply blend all ice cream ingredients, except the vegan cookies and the ripe bananas. Use these for toppings of your blizzard when serving.
Learn some of the top health benefits of bananas and why they are good for you. Watch this video by FoodnSport:
These banana recipes are making me wish I had a farm right behind my house! Good thing, bananas are so affordable, anyone can make these banana recipes anytime! So, what are you waiting for? Hit the grocery store and stock up on bananas. You'll never run out of amazing banana recipes to make!
Want more banana recipes? Try this Chocolate Chip Banana Bread Recipe! Which among these banana recipes are you going to make first? Let us know in the comments section!
Don't forget to keep in touch, foodies!

Also, make sure to follow us on Facebook, Instagram, Pinterest, and Twitter!
Editor's Note – This post was originally published in February 2016 and has been updated for quality and relevancy.