These baking hacks and tips are brilliant, you will wonder why you didn't have them before! Well, there is no use crying over spilled milk and baking can be a real challenge. This is why we've put up this list to help make baking a little less daunting if not enjoyable for you. Help yourself to these baking hacks and find yourself becoming more of an expert every day!
Brilliant Baking Hacks and Tips to Make Your Life Easier!
1. How to Easily Take Care of Eggshell Bits
Eggshells in your bowl are sometimes, inevitable. Soak your finger in water and place it next to the visible bits of broken shell. You'll notice it will gravitate towards your finger allowing you to fish it out easily.
2. How to Bake a Boxed Cake
There is no shame in baking a boxed cake. Take it to the next level but using butter instead of the recommended vegetable oil, and substituting milk for water. Trust controversial Paula Deen when it comes to adding more butter.
3. Decorate Your Cookies with a Syringe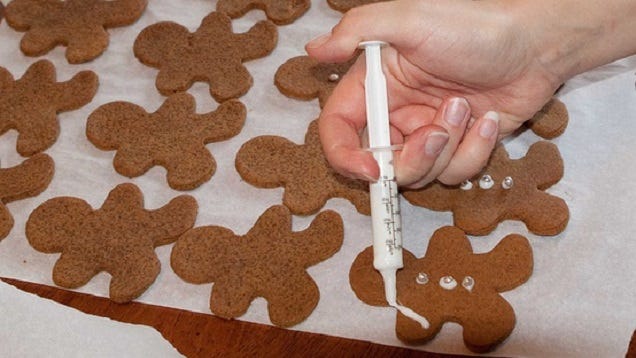 Add frosting to cookies and cupcakes neatly and easily by using a syringe. Fill up a regular syringe with the frosting of your choice and start decorating. See the demonstration of this baking technique here.
4. An Apple Slice For Moist and Chewy Cookies in a Jar
Cookies are best enjoyed moist and chewy. Make sure they stay like that by popping an apple wedge into your cookie jar when storing them. It will help retain moisture.
5. Remove Cake Easily From the Pan with This Trick
You'll never have a hard time trying to remove your freshly baked cakes from the pan. Mix shortening, oil, and flour in a bowl and brush the mixture onto your cake pans before adding the batter.
6. Add Elegance to Your Cupcakes
Impress family and friends with the most intricate pastry frosting—take a piece of lace and place it on top of your cake. Sprinkle confectioner's sugar it. Lift the lace off gently for lace-stenciled cupcakes.
7. How to Create Swirly Frosting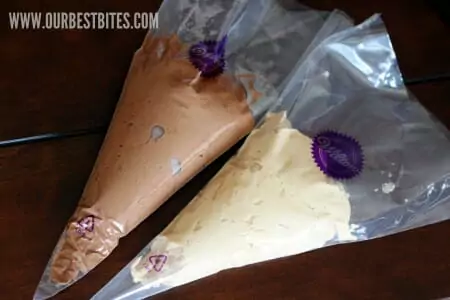 The easiest way to make swirly frosting? Fit two bags in one icing tip and squeeze away.
8. Frosting Tip for Mixing Colors
The great thing about making your own frosting instead of store-bought variants is that you have an entire spectrum of colors to choose from. Mix your own hues by using this simple guide.
9. Jell-O Food Coloring
Did you know that you can use Jell-O as a frosting substitute when you're out of food coloring? Follow this fun baking hack here.
10. Softening Hardened Brown Sugar
Brown sugar is healthier but also harder to work with. If your stock has turned hard, pop it in the microwave and place a wet paper towel over it. Nuke for 20 seconds.
11. Avoid Sugar Hardening with this Trick
Avoid brown sugar from getting hard again by storing it with a slice of bread.
12. Brown Sugar Substitute
If your recipe calls for brown sugar but you don't have any, mix white sugar and molasses.
13. How to Make Instant Gluten-Free Flour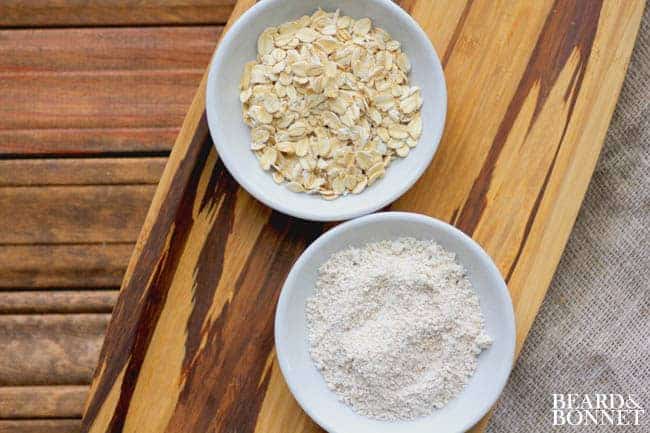 Pop oats in the food processor and process until smooth. This gives you your own homemade batch of gluten-free flour.
14. Healthy Butter Substitute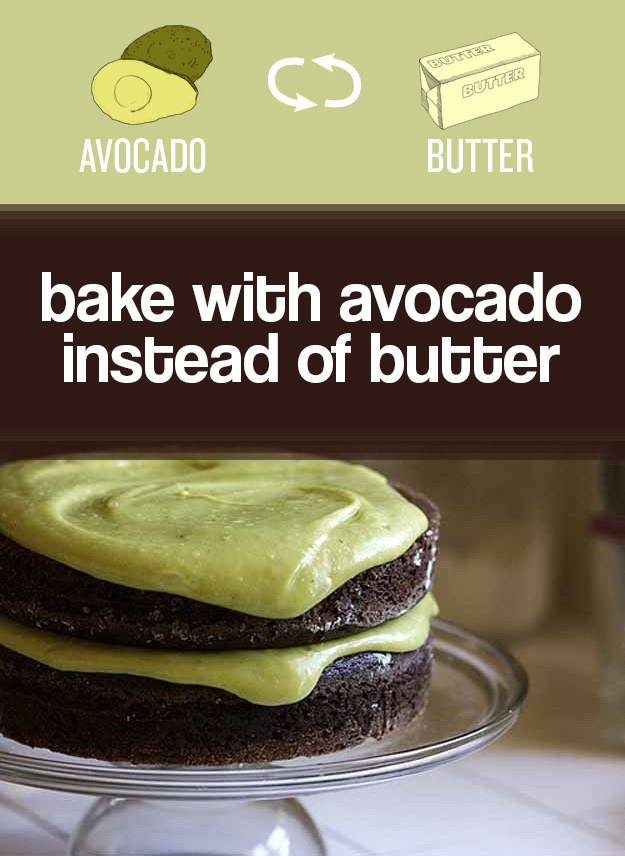 Here's a great tip for vegans—use avocado in place of butter in cake recipes.
15. Cleaning Up with a Grater
Baked your cookies and muffins for a little too long in the oven? Take a cheese grater and gently scrape off the charred bottoms against the grater.
16. No Rolling Pin? No Problem
Wine bottles make great rolling pin substitutes. Need I explain further?
17. How to Make Candy Sprinklers
Definitely not as easy buying a bottle of candy sprinkles, but when the recipe calls for it and you don't have time to run the store, make your own! With some confectioner's sugar, egg whites, water, food coloring and flavoring of choice, you can.
18. Baking Ingredient Substitutes
Here are some crafty baking substitutes:
Cream of tartar + baking soda = baking powder
Rolled oats = bread crumbs
1 cup milk + 1 tsp vinegar = buttermilk
Cayenne pepper + dried thyme + dried basil + minced garlic = Cajun seasoning
Unsweetened chocolate + sugar = semi-sweet chocolate bar
Baking cocoa + shortening = chocolate
1 tbsp melted butter + 1 cup whole milk = half and half cream
19. Homemade Baking Pan If your pie crust recipe calls for a smaller pan but you don't have one available, take your available pan and mold a piece of tin foil along one side. Once it follows the shape of the pan, use it to border your crust.
20. Quick Banana Ripening Trick
Ripen your bananas fast when you're in a rush by popping them in the oven set at 300 degrees.
21. Instant Cupcake Decoration
Pop a large marshmallow in the middle of your cupcakes before placing them in the oven. The marshmallow will melt gently on top to create an amazing effect.
22. How to Create the Perfect Pie Crust
Here's a 2-minute method to creating the perfect pie crust.
23. Mason Jar Whipped Cream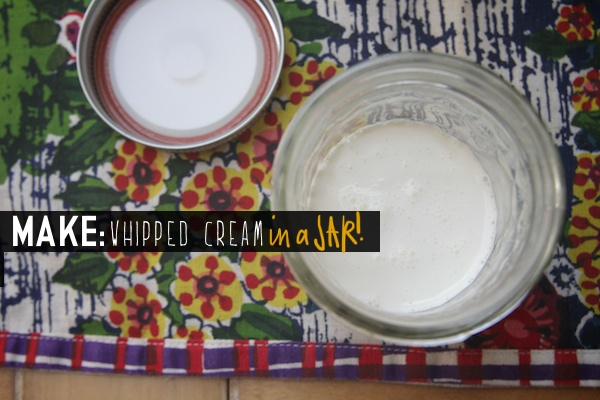 Use a mason jar to create whipped cream. More ideas on how to use mason jars in the kitchen can be found here.
24. Keeping Your Cake Moist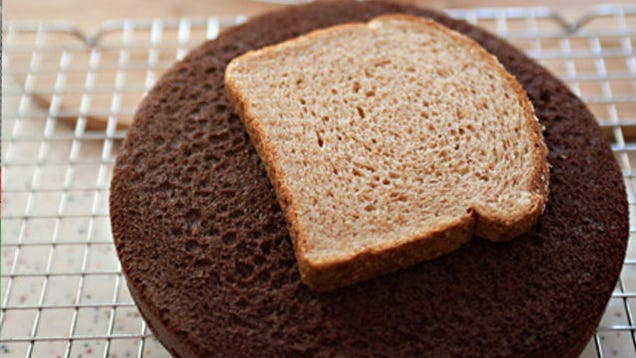 Keep your cake moist while in storage by placing a piece of bread on top of it.
25. How to bake a cake 101
Before placing your cake in the oven, drop your cake pan to get the air bubbles out. This ensures your cake will bake evenly in the oven. Same thing for cookies, but do it as soon as your cookies are done. Drop the cookie sheet to allow them to settle.
26. More Baking Tips
There are many reasons why your latest project didn't make it on your Instagram—there are too many cracks, it came out deformed, the mold didn't hold. For whatever reason, here's a quick cheat sheet on what you may have done wrong so that you don't make the same mistake twice.
27. DIY Muffin Tins
No muffin tins or cupcake tins? Use the lids of your mason jars and prop a muffin liner on top.
28. Creating DIY Cupcake Liners
Use parchment paper to create DIY cupcake liners. A detailed tutorial for this baking hack can be found here.
29. Icing Hack
Take a toothpick and use dots to write legibly on your pastries. Check out the complete instructions on how to do this baking hack and other baking tips here.
30. Less Mess Mixing Skewer a paper plate through your handheld electric mixer to avoid splatters. Clever right?
31. How to Cut Cake
Instead of cutting a cake, pie-style, try cutting a piece through the middle and pushing the remaining piece closed to keep the cake moist and fresh.
32. Ice Cream Scoop to the Rescue
To ensure even distribution of cupcake and muffins in each tin, spray your ice cream scooper with cooking spray and use it to scoop batter evenly.
33. Serving Suggestion
For an intimate double date, use a 6 inch round pan, this will serve 4-6 slices of your baked confectionery. For a massive party of Gatsby proportions, take a 12×18 inch rectangular pan to bake a cake for 50-55 guests. Follow the full guide here.
34. How to Make Sugar Sprinklers
[instagram url=https://www.instagram.com/p/BrXqrLlHmF0/ hidecaption=true width=625]
Did you know you can make your own sugar sprinkles with just food coloring, white sugar, and a rolling pin?
35. Cookie Baking Tricks
How do you like your cookies? Crunchy? Gooey? Chunky? Crisp? It all depends on how much of a specific ingredient goes into it. Melted butter creates a crisper texture, adding more flour makes for chunkier cookies, granulated sugar creates crunchy cookie bites.
36. Even Cake Layers Tip
Tying a wet fabric strip around the pan's exterior will give you perfectly even cake layers.
37. Pastry Bag Hack
Cake decorating with no pastry bag? Fill a Ziploc bag with frosting or icing and make a small incision in the corner to use as an easy substitute.
38. Tip to Soften Butter Quick
When a baking recipe calls for softened butter (which, let's face it, happens all the time) take a regular glass and fill it with warm water—just enough to heat the glass through. Pour out the water and place it over the butter that needs softening.
39. Non-Stick Cooking Spray Tip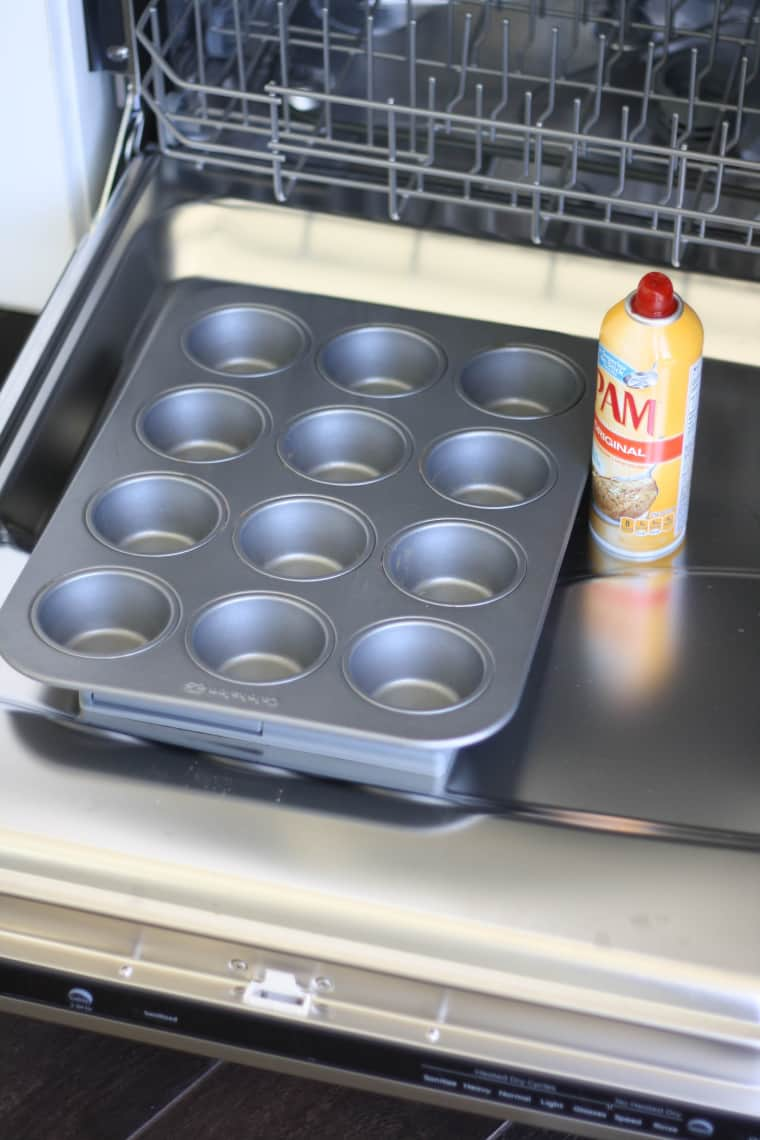 If you need to spray non-stick cooking spray on a muffin pan or cake tin, do so over the open door of your dishwasher. This minimizes the need to clean up the cooking spray across your kitchen counter.
40. Add a Pinch of Salt to Cookies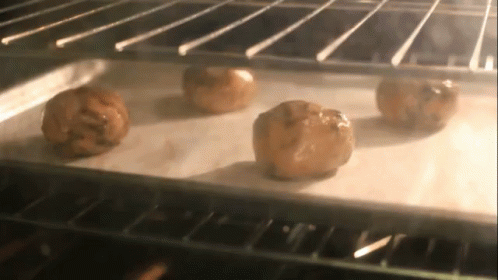 Add a pinch of coarse sea salt on your chocolate chip cookies before placing them in the oven. This will bring out the flavor and texture of your chocolate and butter.
41. How to Frost Cupcake with Less Mess
The part that no one ever shows you when it comes to cake decorating is the ever so messy and complicated way of trying to get frosting into your pastry and frosting bags. Here's a quick and easy tip. Fold the bag over a cup and spoon your icing into it for a mess-free method of getting the job done.
42. Cola Fudge Cake
[instagram url=https://www.instagram.com/p/BtHXkK_DIrB/ hidecaption=true width=625]
Instant chocolate cake mix + a bottle of coke = rich, fudge cake. Be sure to mix until the batter is smooth and lump free. The complete recipe on how to make this cake is available here.
43. Cake Batter Made with Ice Cream
Use melted ice cream and flour to create the quickest homemade cake. Pour mixture into a bundt pan and bake until a toothpick comes out clean. Pretty smart cake hack, isn't it?
44. Make Bite-Size Cookie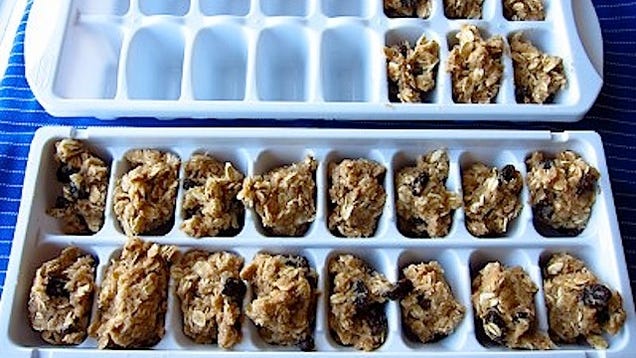 Spoon pre-made cookie dough onto ice cube trays and freeze. Once ready to bake, pop out of the trays and into the oven for an instant, bite-sized snacks. Clever cookie baking hack, right?
45. How to Shape Cookies Uniformly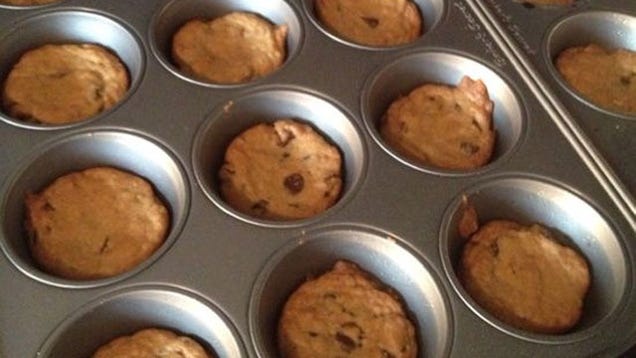 If you want your cookies to come out clean and in uniform sizes, use a muffin tin instead of a cookie sheet for baking. Instructions for this baking hack and other cookie baking tips can be found here.
46. How to Make Ready-to-Fill Cookie Bowls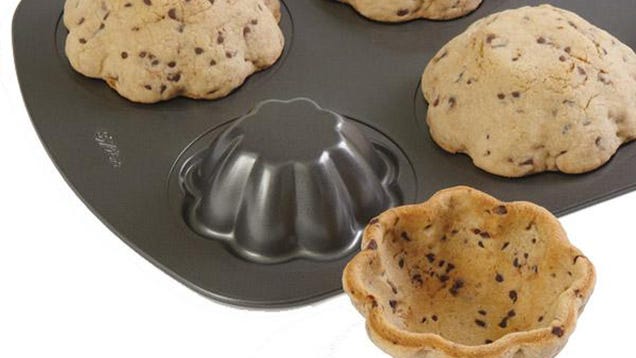 Cookie bowls aren't as complicated as you think. Take your cookie batter, and flip over a muffin tin. Pat your dough around the muffin mold to follow the shape of the cup and bake as needed. Follow the recipe and instructions for this baking hack and other cookie baking hacks here.
Check out this video from How to Cook That for 8 piping bag baking hacks you need to know for decorating your cake:
There are so many baking homemade recipes out there, and since baking is both an art and a science, things don't always work out as planned. That's why we've listed some awesome baking hacks to make everything you make a delicious success. We hope these baking hacks will ease up things in the kitchen and you'll have delicious creations that won't end up in the trash bin!
What do you think of these baking hacks and tips? Did you know a couple or more? Share your experience with us in the comments section below!
Up Next: Cake Decorating Tips That'll Take Your Dessert To The Next Level
Don't forget to keep in touch, foodies!

Also, make sure to follow us on Facebook, Instagram, Pinterest, and Twitter!
Editor's Note: This post was originally published on September 2, 2014, and has been updated for quality and relevancy.