Whip up these homemade granola bar recipes and enjoy tasty energizing recipe snacks all day long! If you're with the rest of the world on the hunt for healthy, easy-to-make, and satisfying snacks, well, granola bars fit the bill! What's good about granola bars is the fact that you can whip up a batch in advance and have tasty and healthy snacks throughout the week. Here are 25 homemade granola bar recipes from a simple granola bar recipe to a healthy granola bar recipe you have to try!
Homemade Granola Bar Recipes for Happy Snacking!
1. No-Bake Peanut Butter and Chocolate Chip Granola Bar Recipe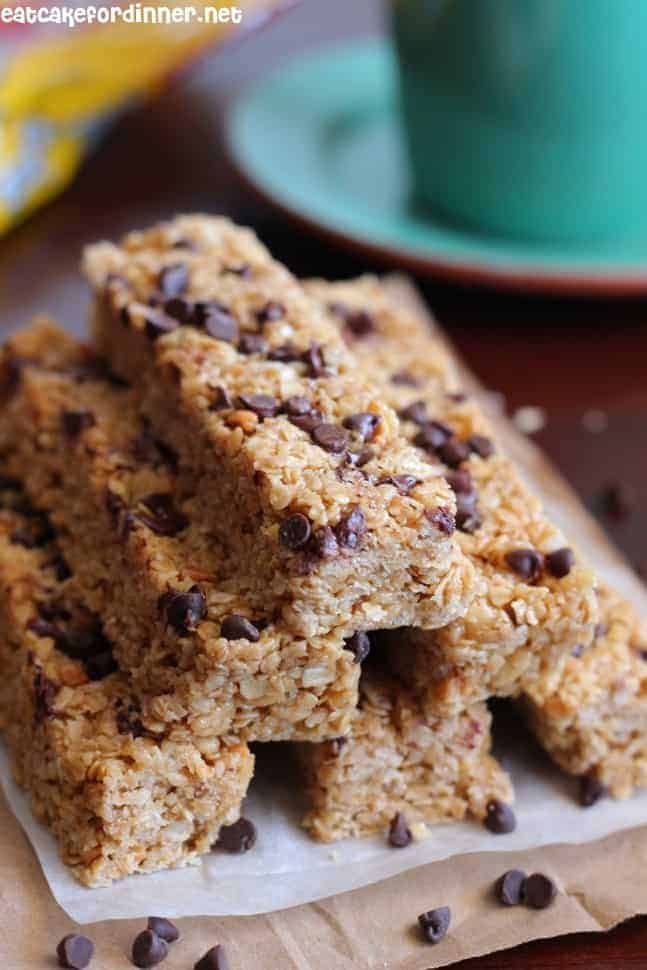 Peanut butter and chocolate go hand in hand. Here is a delicious and easy no-bake granola bar recipe which proves this point. This is perfect for breakfast, snack time, and for dessert.
2. Toasted Quinoa, Dried Fig & Dark Chocolate Nut Free Granola Bars
These are superfood granola bars chock-full of highly nutritious ingredients such as toasted quinoa, dried figs, oats, flaxseed, pumpkin seeds, sunflower seeds, and chia! Feel free to skip the chocolate drizzle, but a little sure goes a long way!
3. Apple Pie Granola Bar Bites
Here's how you can enjoy your favorite apple pie in a more nutritious form. These apple pie granola bars are the perfect make-ahead recipe that tastes even better when stored in the fridge for few days.
4. Paprika-Parmesan Granola Bars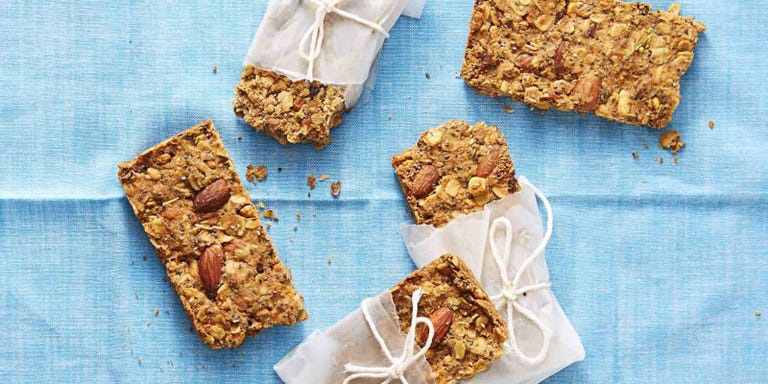 Not everyone enjoys sweet in the morning. Luckily, there's an easy granola bars recipe which is savory and cheesy rather than sweet. If you're not in the mood for a sugar rush, these paprika parmesan granola bars are the right one for you!
5. Blueberry Vanilla Greek Yogurt Granola Bars
Are you looking for something to make your kids get out of bed in a jiffy? Try this delicious granola bars recipe and make every morning hassle-free and exciting. Aside from fresh blueberries, the Greek yogurt coating makes a big difference!
Baked French Toast Muffins: your on-the-go breakfast for busy mornings.

Grab #BreakfastRecipes here: https://t.co/f3maccoE49 pic.twitter.com/NYhpr39IsM

— Homemade Recipes (@BestHomeRecipes) July 21, 2017
6. Tart Cherry, Dark Chocolate, and Cashew Granola Bars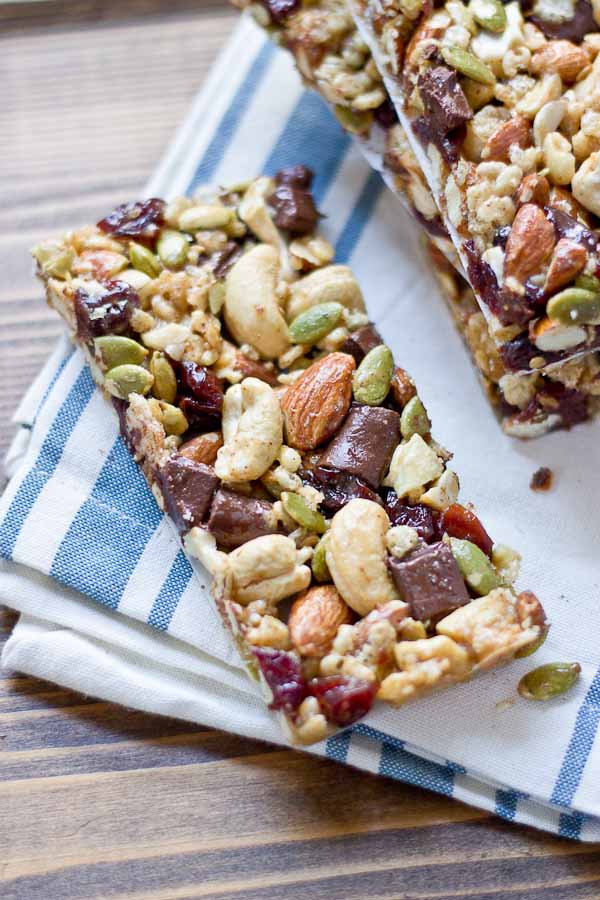 These granola bars are made with everything tasty and nutritious. Think of dried cherries, raw almonds, raw cashews, pumpkin seeds, and chocolate chunks! You got this goodness all in one bite from these yummy, healthy, sweet, and tart granola bars. This is one of my favorites!
7. Date-Sweetened Oat and Nut Granola Bars
These oat and nut granola bars are just so quick and easy to put together. These are perfect as sugar-free grab-and-go treats any time of the day when you're starving and want something ready to eat. Not only do they taste yummy and chewy, but they are sure-fire guilt-free and nutritious!
8. No Bake Peanut Butter Honey Granola Bars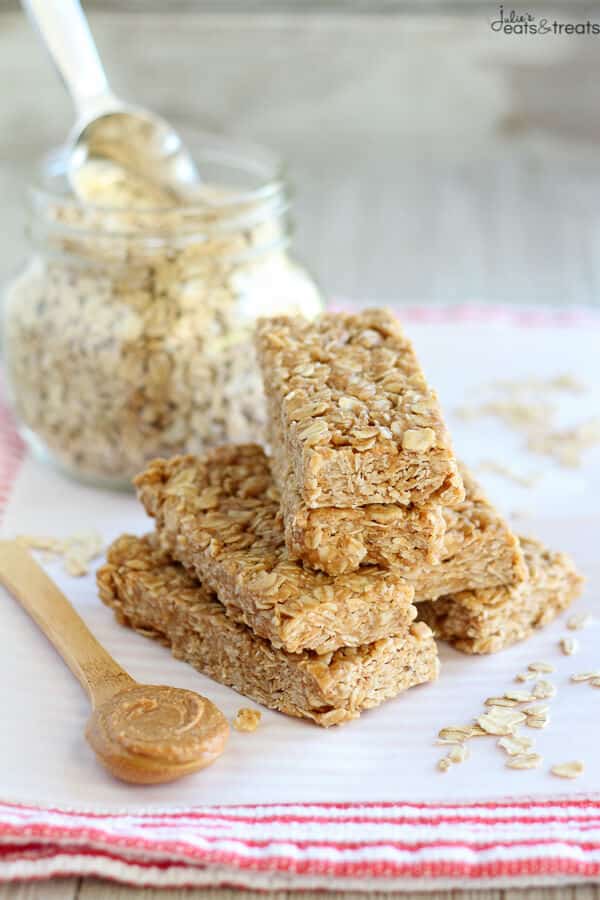 These rich and tasty peanut butter granola bars are made with just oats, peanut butter, and honey. This recipe is so easy and versatile. You can add mix-ins like raisins, chocolate chips, chia seeds, and nuts!
9. Chocolate Strawberry Granola Bars
Everybody loves a healthy, chewy granola bar, right? This recipe has chocolate and strawberry on it so the kids will love them even more. Pack them in your kids' school lunches. They will surely forget about junk food and enjoy healthy snacks instead.
10. Homemade S'mores Granola Bars
Turn your favorite campfire treats into one healthy snack. By recreating this s'more granola bars recipe, you are giving your kids a healthy option every time they crave for something sweet and delightful.
11. Banana Chocolate Chip Granola Bars
The next time you go grocery shopping, don't forget to purchase lots of ripe bananas. Enjoy them as they are and the rest should be used in this simple granola bar recipe. These granola bars are so tasty and lightly sweetened with chocolate chips, ripe bananas, and honey.
12. Fall Harvest Granola Bars
Prepare a batch of these fall harvest granola bars with all the goodness of the fall season. We're not talking about pumpkin or apple in this recipe, but dried cranberries are just enough to make you feel cozy and satisfied with just one bite!
13. Dark Chocolate Cherry Almond Granola Bars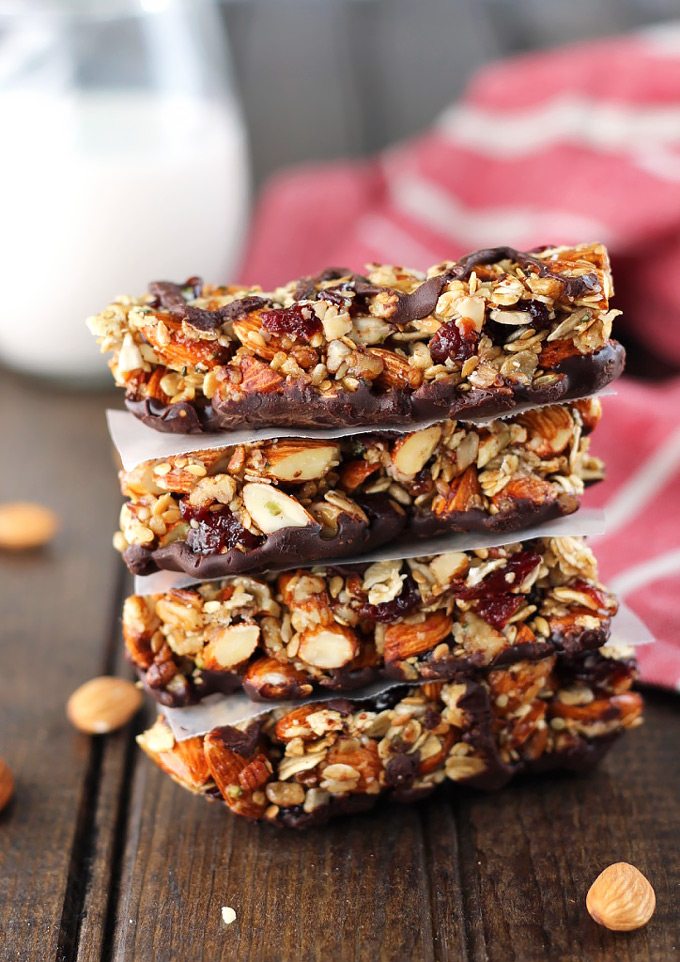 Filled with pecans, almonds, hemp seeds, sunflower seeds, flax seeds, and cherries, you are definitely in for a good time with these granola bars! These are healthy bars which are cheaper and taste way better than store-bought!
14. Coconut Oil Granola Bar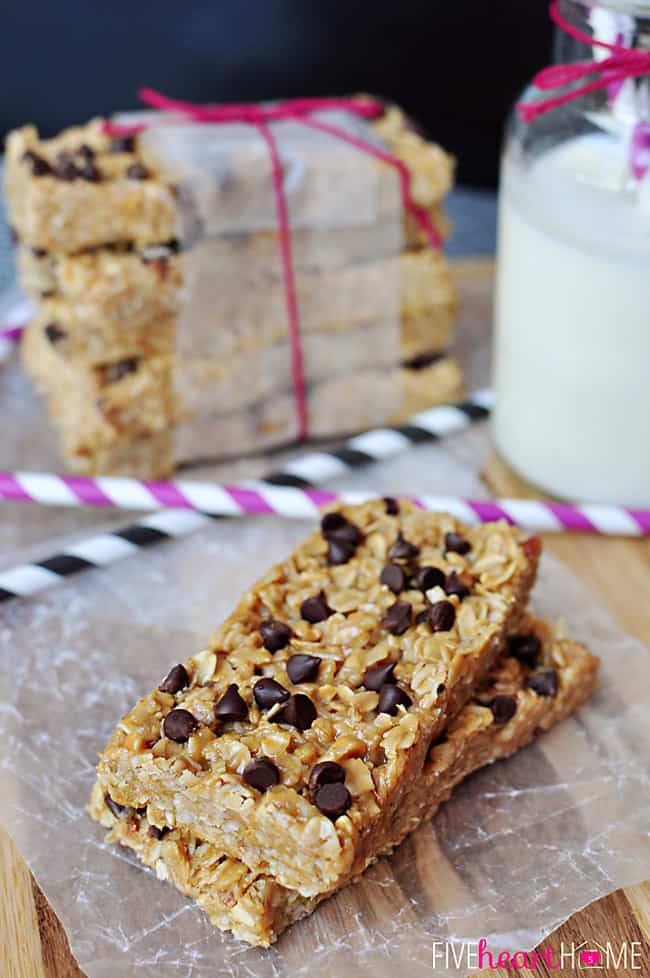 While we enjoy coconut meat, its oil is also something to fall in love with. It is known to improve your health and beauty—inside and out! You'll fall in love with these coconut oil granola bars as well! They're easy to make, taste divine, and good for you!
15. Apple Cinnamon Granola Bars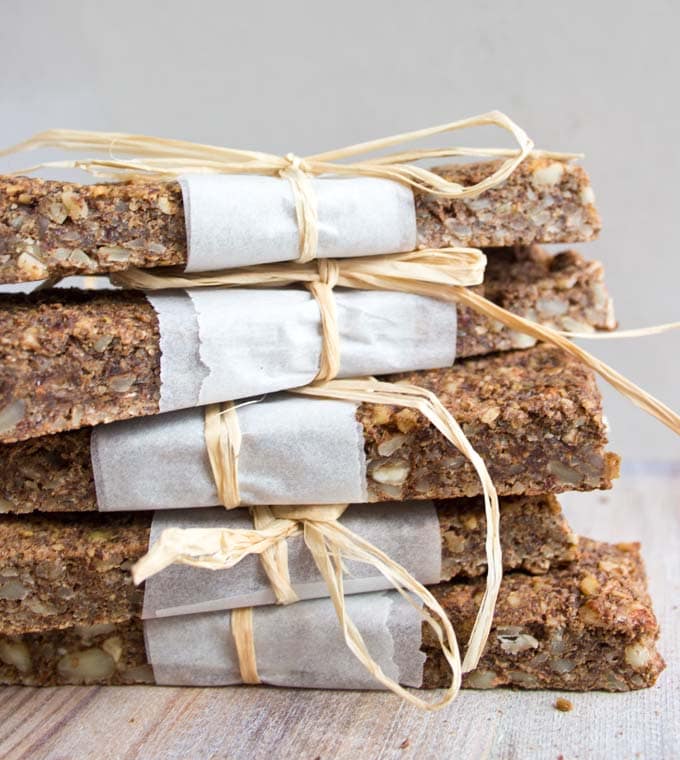 Enjoy the taste of the fall season in just one bar with these apple cinnamon granola bars. These are sugar-free, grain-free, make-ahead snacks that takes only 30 minutes to make including the preparation and cooking time.
16. Pumpkin Spice Granola Bars
If you're looking for flavorful, spiced, and easy-to-prepare snacks you can carry on-the-go, this pumpkin spice granola bar recipe has you covered. These bars are also filling and will help you stay full until midday.
17. Reese's Peanut Butter Granola Bar Recipe
These Reese's peanut butter granola bars a.k.a. candy bar is an absolute crowd pleaser. These bars are packed with peanut butter, quick oats, crispy rice cereal, and Reese's peanut butter chips. What more could you ask for?
18. White Chocolate Cranberry Macadamia Nut Granola Bars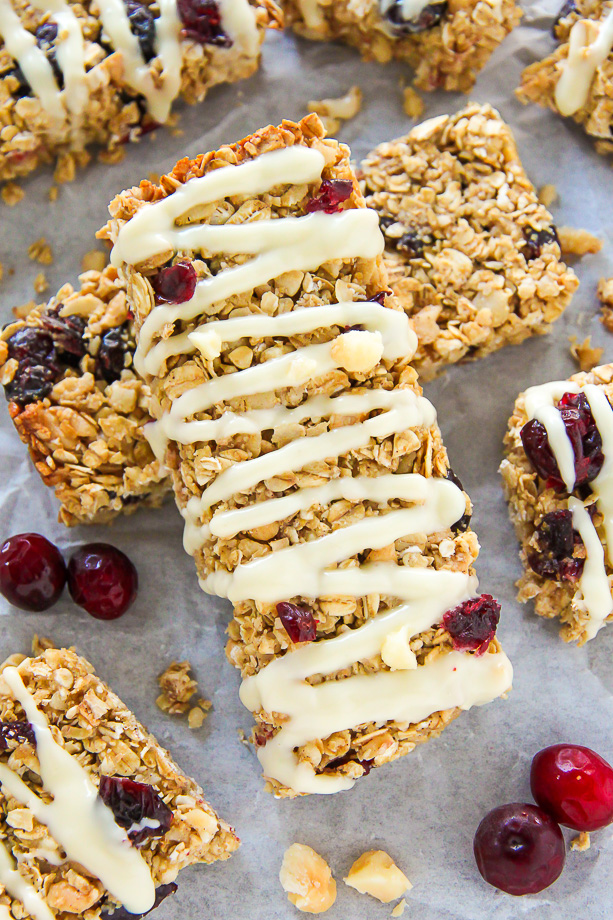 Enjoy the tartness of cranberry combined with the slight creaminess of macadamia nut in this decadent granola bars recipe. A nice drizzle of white chocolate finishes it off on a sweet note.
19. Almond Flaxseed and Yogurt Granola Bars
These are paleo-friendly, gluten-free, and delightful granola bars made with flaxseed, almonds, organic honey, dark chocolate chips, and a yogurt coating.
20. Healthy Carrot Cake Granola Bars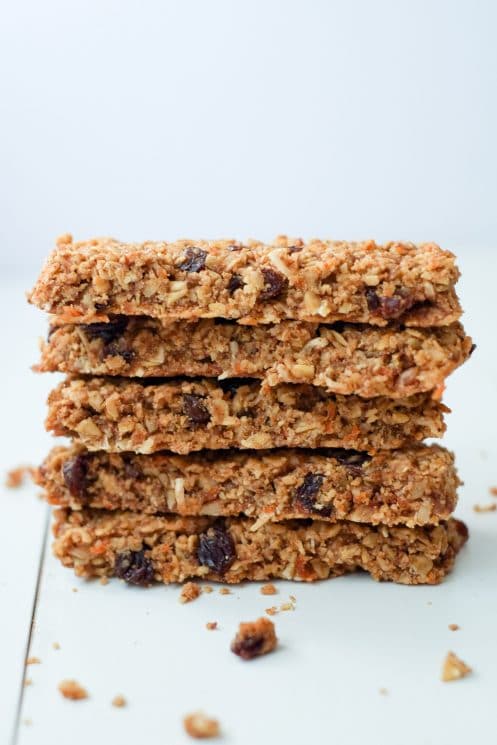 Enjoy the health benefits of carrots, flaxseed, raisin, nuts, and oats in this easy and healthy granola bars recipe. These bars taste just like carrot cake and the best part—they are hearty and filling and will keep you full all day.
21. Brownie Granola Bars
Satisfy your choco cravings with this chocolate granola bar recipe. It has a tasty flavor you don't wanna miss! These chocolatey bars taste exactly like brownies, less the sugar, and calories.
22. Thin Mint Granola Bars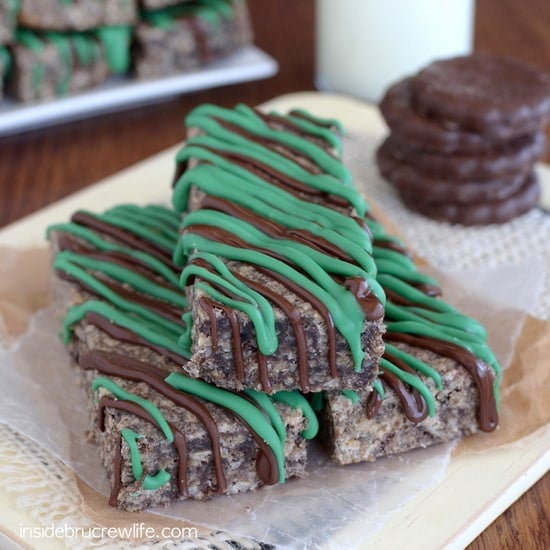 Who says you cannot enjoy your favorite candy and cookie when you're on a diet? These thin mint granola bars are really fun, yummy, and quick to make. In just 20 minutes, you're bound to have a fantastic breakfast or a delightful pick-me-up!
23. Lemon Honey Chia Granola Bars
These lemon honey chia granola bars seem to be a typical and simple granola bar recipe, but rest assured this combo tastes superb. These are healthy, naturally-sweetened, and light granola bars with a nice hint of lemon zest in every bite.
24. Chewy No-Bake Granola Bars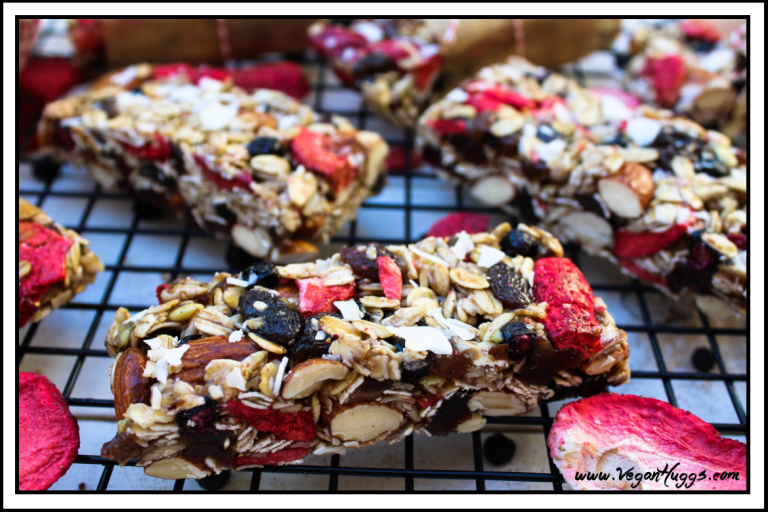 Everything is made better by fruit. Pretty sure these chewy granola bars taste wonderful and extra special. Each bar has a tad of Medjool dates, raisins, dried blueberries, and dried strawberries to it. Both vegan and non-vegan alike will surely fall in love.
25. Savory Curry Granola Bars
If you're looking for a unique way to enjoy granola bars, this recipe is a must-try! These bars are savory and a little bit sweet at the same time. These bars are also packed with nutrients and great to keep you full throughout the day.
Still looking for homemade granola bar recipes? Watch this video by Gemma Stafford and discover more recipes to try:
Aside from being healthy and yummy, these homemade granola bar recipes are very easy to make. In just a few minutes and with simple ingredients you probably have in your pantry, you can enjoy a healthy treat in no time. We hope you enjoy these homemade granola bar recipes as much as we do! Happy snacking!
What do you think of these homemade granola bar recipes? Which recipe is your favorite? Share your experience with us in the comments section below.
Up Next: 15 Easy & Healthy Vitamix Recipes | Homemade Recipes
Don't forget to keep in touch, foodies!

Also, make sure to follow us on Facebook, Instagram, Pinterest, and Twitter!
Editor's Note: This post was originally published on September 27, 2017, and has been updated for quality and relevancy.