These healthy school lunch ideas are quick and easy to make! Your kids will love them, and honestly, we're sure you'll love them, too.
Quick and Easy Healthy School Lunch Ideas
Planning for your kid's meals is not an easy task, especially when you have picky-eaters running around the house. So, what can you do to ensure they enjoy what you give them? Well, you have to make eating fun and colorful! In this post, we have over a dozen healthy school lunch ideas which you can use as inspiration to start creating your own recipes. These lunches are simple, vibrant, and can fit neatly in their lunch boxes.
1. Lunch Box Pizza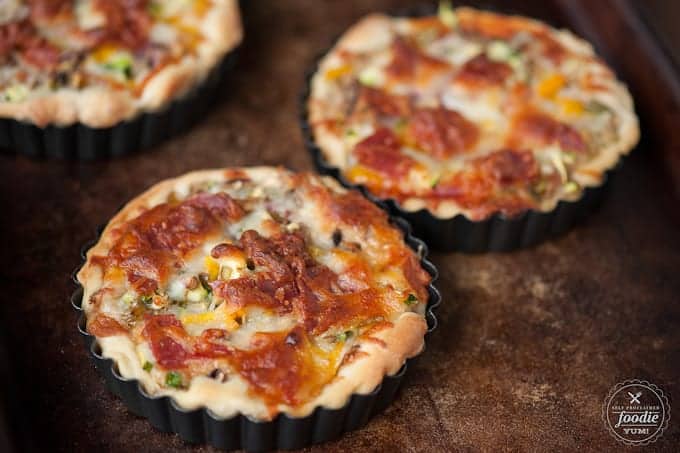 Pizza is one of the best go-to meals ever so it only makes sense you put pizza in your kids' lunch boxes. It's not the healthiest school lunch idea on this list but considering you have control over the quality of the ingredients, this homemade pizza is going to be healthier than cafeteria pizza. This Self Proclaimed Foodie recipe is pretty easy to follow but to save time, just prepare the ingredients the night before.
2. Chicken Taco Bento
Let your kids enjoy making their own tacos…at lunch in school! Prepare the ingredients and organize them in a bento box, just like what The Exhausted Mom did.
3. Turkey Colby with Jack Cheese Lunch Box
This healthy lunch idea from What The Girls Are Having is pretty simple. All you need to do is arrange the fruits, crackers, jack cheese, turkey slices, and cookies. The idea behind this is to teach your children the importance of eating food in proportion.
4. Peanut Butter and Jelly Sandwich
Make the classic peanut butter and jelly sandwich even more special with this recipe by Ready Set Eat! The waffle sandwich, along with some bit-sized fruit, can easily fit into a lunchbox. To make this sandwich healthier, you can use whole grain waffles, natural peanut butter, and organic jelly.
5. Animal-themed Bento
You have to admit–these animal-themed bento by the Marvelous Mommy are super cute. You don't need to prepare complicated meals to make an attractive bento. What you really need to do is let your creative side shine!
This is the perfect weekend dinner idea you and your kids will love. 😋

👉 https://t.co/MlUCPfISuo #ChickenRecipes pic.twitter.com/D4zjSw83Nf

— Homemade Recipes (@BestHomeRecipes) July 5, 2017
6. Sandwich Kabobs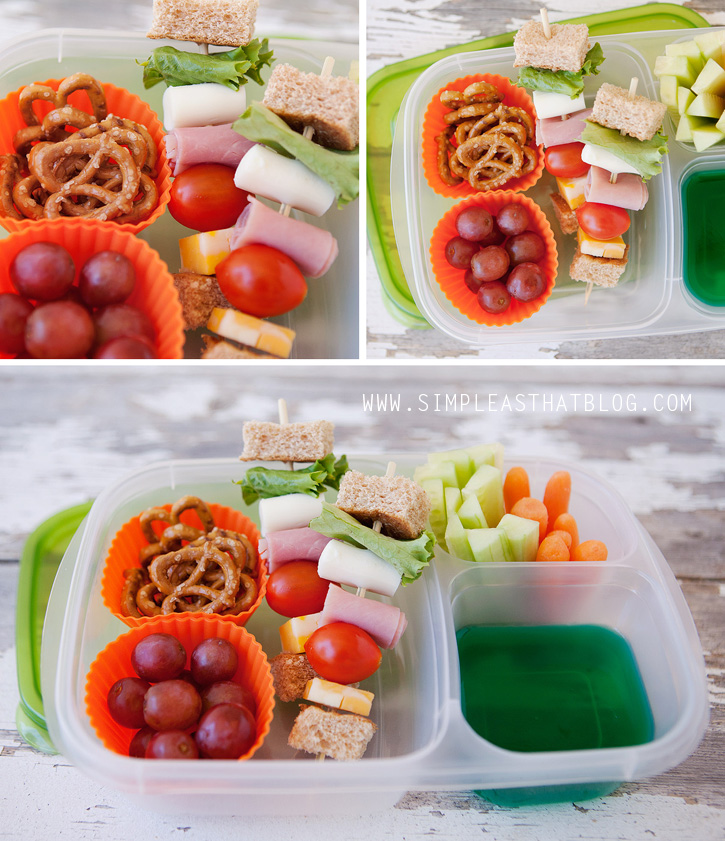 Simple As That featured a couple of healthy school lunch ideas but this one, in particular, caught our eye. We find the concept of a sandwich kabob interesting. You just have to prepare the ingredients of a regular sandwich, cut them into bite-size pieces, and put them on a stick.
7. Ham and Cheese Egg Roll
Cast one glance at Noob Cook's ham and cheese egg rolls and you know it's as delicious as it looks. These egg rolls deserve to be placed in a pretty lunch box, along with kimchi fried rice, and a few pieces of raw fruit or vegetable. Now that's a perfect school lunch.
8. Turkey and Cream Cheese Bagel Sandwich
You can make this fantastic turkey and cream cheese sandwich with just three ingredients–whole wheat bagel, cream cheese, and deli turkey. Juggling Real Food and Real Life recommends the use of organic ingredients to make the bagel sandwich even healthier.
9. Pizza Pasta Salad
Teach your kids to love vegetables more with this recipe by Laura Fuentes. Toss the pizza pasta salad in a lunch box along with a few slices of vegetables and fruits (like what Laura did) and your kids will have a simple and healthy homemade meal for lunch at school.
10. Black Bean Salad and Tortilla Chips
If you want to whip up a high-protein meal for your kids but don't have a lot of time to make something very decent, then you will really like this black bean salad recipe by Cupcakes and Cutlery. It's a very simple meal yet filling and healthy.
11. Chicken Quesadilla
A good serving of chicken quesadilla for lunch will keep your kids stuffed and satisfied. This Stuffed Suitcase recipe requires only 4 ingredients and takes only about 10 minutes (or even less) to make. Include a side of fruits and vegetables to make your kids' lunch healthier.
12. Turkey Ranch Roll Ups
These turkey ranch roll ups by The Pinning Mama are satisfying, moreover, packed with flavor. And it's awesome  a school lunch this pretty and delicious is not really difficult to make. You can prepare these roll ups ahead so you won't have to rush on weekdays.
13. Apple Peanut Butter Sandwiches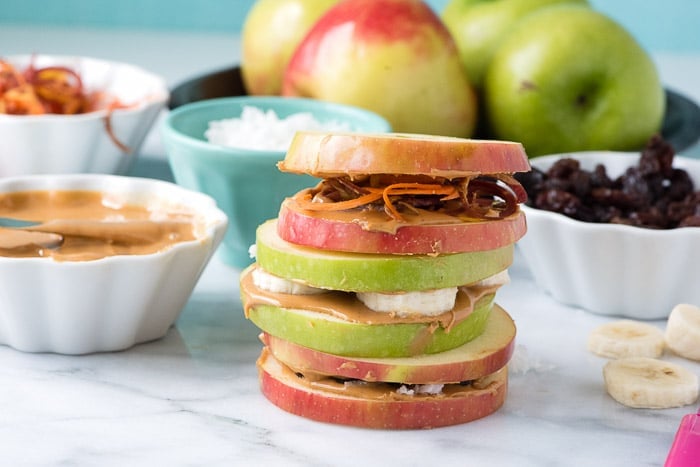 What's great about these apple peanut butter sandwiches is they're gluten-free, aside from the fact they taste wonderful, of course. Boulder Locavore suggested adding raisins, shredded carrots and coconut, chocolate chips, and bananas to make the sandwiches even more special.
Check out more healthy school lunch ideas in this video by Rachelleea:
Treat this list of healthy school lunch ideas as a guide. But of course, you can do more to make your kid's lunch even healthier. You can include a flask of warm soup, for example, or go all out in making an animal-themed bento. Whatever you do, don't forget to include your kids in the process! Teach them to be more independent so they can make their own lunch for school in the future.
What do you think of these healthy school lunch ideas? Which idea are you planning to try? Share your experience with us in the comment section below.
Don't forget to keep in touch, foodies!

Also, make sure to follow us on Facebook, Instagram, Pinterest, and Twitter!
Editor's Note – This post was originally published in October 2016 and has been updated for quality and relevancy.