Learn the common and scientific names of medicinal plants, as well as how to find, use and store them. 
Chapter 5: Medicinal Plants
Plants have a wide range of uses that make them so wonderful. The medicines that we take are already primarily derived from them; just take a look at the ingredients in your medicine cabinet. Wild plants have more than proved their ability to treat medical concerns and health issues. I would advise that you consult with a licensed health professional prior to using them to ensure you can safely ingest it. When you learn about plants that have positive medicinal effects, you are not even required to know specific details of the plant species, just know its properties. Many wild plant products help treat symptoms of the common cold, relieve headaches and suppress coughing. For example, Aspirin comes from the bark of a willow tree that has been steeped in boiling water and salicylic acid as a way of relieving pain and is anti-inflammatory. You can make willow bark tea right in your home too. It is easy to find this plant because it is just about in every location worldwide or you can get it online.
5.1 – Natural Healing
Mormon Tea Family (Ephedra)
image via
This green plant does not make any flowers, but it is a very popular as a source of Ephedrine, which promotes weight loss and is used as an energy supplement. Nonetheless, you want to consume this plant carefully if you do take it while working out. There have been reports of people who have died exercising while using Ephedrine. Make sure you speak with a fitness trainer and physician in the event you want to try it out. This plant is primarily used as a cold remedy medicine and is boiled to make tea.
The Yew Family (Taxusbaccata)
You will want to be careful when gathering this species of plant. All parts of the yew are poisonous to people, except for the berries if you do decide you want to eat them. You never want to ingest the seeds along with the berries; those are toxic as well. They are similar in appearance with Abies and Tsuga that are of the pine family, so you want to make sure you do not misidentify them. This plant can come in the form of a shrub or tree. A yew tree has a substance inside its bark, called Taxol, which was discovered in the 1990's. The medicinal benefit of this plant is that it rapidly increases the rates of curing breast cancer for those that have it.
Cypress/Cedar Tree
This tree is part of the Juniper family, a lineage known for their anti-fungal properties. For example, the West Red Cedar, Thujaplicata, is used for its anti-fungal qualities. You can soak your feet in a tea bath of cedar as a natural way to treat athlete's foot. Or if you have a jock itch, burn part of a cedar plant, allow it too cool and administer its ashes to the area you want to treat. In the event, you have a black throat and still want to consume the plant internally, follow the accordance of a naturopathic physician for advice.
The Bald Cypress/Sequoia
This plant is part of the Redwood family where various species exist. Such examples include the Bald cypress that is part of the Taxodium genus, a sequoia that is of the Sequoiadendron, and Redwood that is of Sequoia genus. The properties of each tree are much like the Cedar of the Juniper family. There are studies that show these massive trees can properly rid of excess carbon compared to most living things. They also have great anti-microbial and anti-fungal properties so it would take a long span of time for these trees to rot.
The Pine Family 
There are countless pine species such as the Sitka Spruce that belongs to the Picea genus; the western hemlock tree is of the Pinus genus, and the well-known Tamarack is from the Larix genus. These plants are all a great source of Vitamin C. Their taste is normally astringent, but medicinally they are used to clean, treat, and prevent infections. If you ever happen to get a bruise or cut, patch it up with this baby.
Grape Fern Family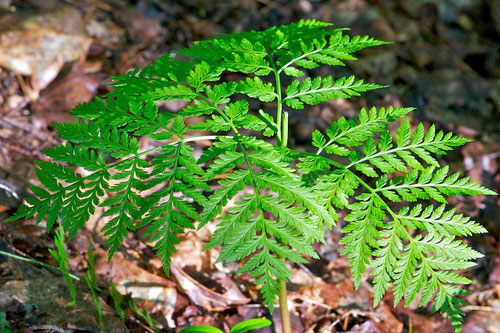 image via
This species of plant has a load of beneficial medicinal properties. The popular licorice fern called Polypodium glycyrrhiza or Polypodium vulgare assist with combating viral infections in the body. If you were to experience a cold or sore though, this medicine could be a good cure when chewed. You can also suck on it which would be better because it is rich in Vitamin C, zinc, and volatile oils that all work together to fight off viral infiltration. Grape Fern usually grows its root systems within dense moss patches that are located near trees that live in moist climates.
The Foragers Bible 
Get the next chapter before anyone else by keeping in touch!
Sign up for our daily newsletter here!
Have Instagram? Don't forget to follow @HomemadeRecipesOfficial.
Click here to Like Us On Facebook.
Click here to Follow Homemade Recipes on Pinterest