Looking for healthy recipes you can take on the go? We've gathered some of the best, tastiest, and healthiest recipes for late mornings and busy evenings.
Healthy Recipes You Can Eat On The Go
Busy schedule? Not a morning person? Or maybe you're just looking for an easy way to always have delicious breakfast, lunch or dinner on hand? Either way, we've got you covered with these 21 portable healthy recipes. Believe us, we understand the struggle: you either hit the snooze button so many times you leave yourself no time to make breakfast in the morning or you're so busy, food is the last thing on your mind. With these healthy recipes, you can make them ahead of time, pack enough for work and you're set with delicious food that tastes even better when you're on the go.
1. Matcha Overnight Oats With Summer Berries
Chia seeds pack a big protein and omega-3 punch. They're also rich in iron and fiber. If you're looking for a breakfast recipe to keep you energized and ready to go throughout the day, this matcha chia pudding is the one!
2. Pina Colada Green Smoothie
We love green smoothies as a late-morning breakfast. They're rich in greens, will give you natural energy and are so easy to blend together and pour into a mason jar. (We also love mason jars, but who doesn't, right?)
3. Grain Free Tahini Granola With Apricots & Cherries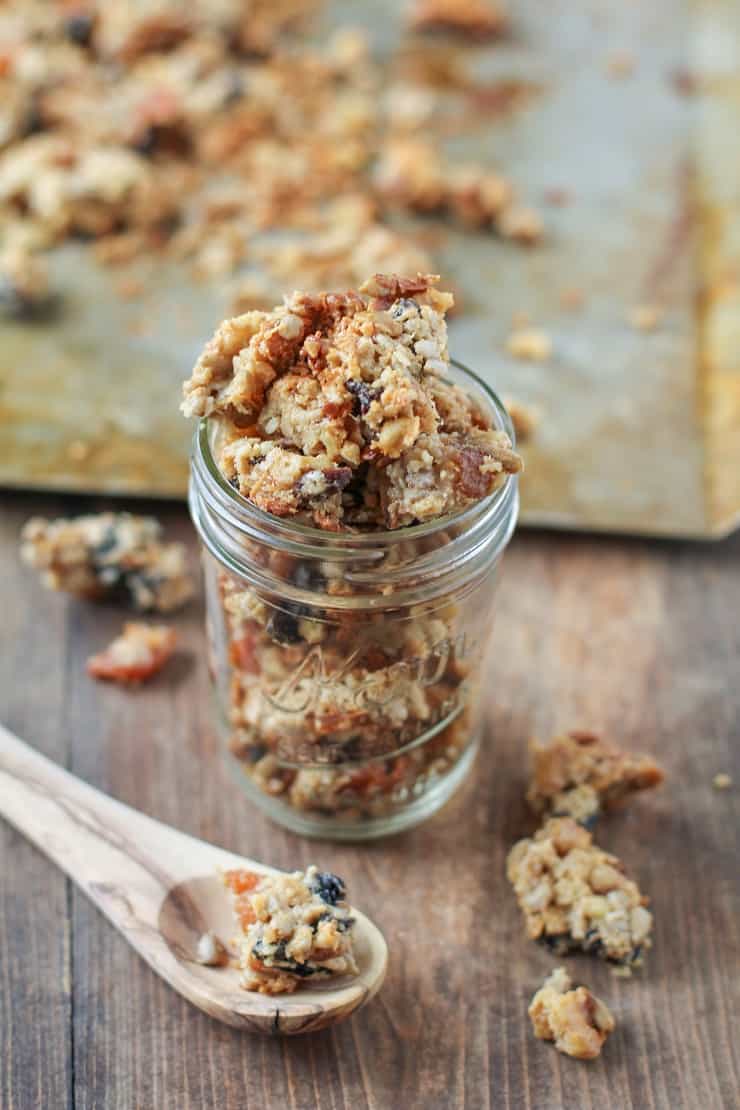 Granola is a really great breakfast to make ahead of time and pack into Ziploc bags for the week. Just grab a bag and go. If you feel whipping up granola today, then you better give this grain free tahini granola with sweet apricots and cherries a try.
4. Breakfast Omelette Sandwich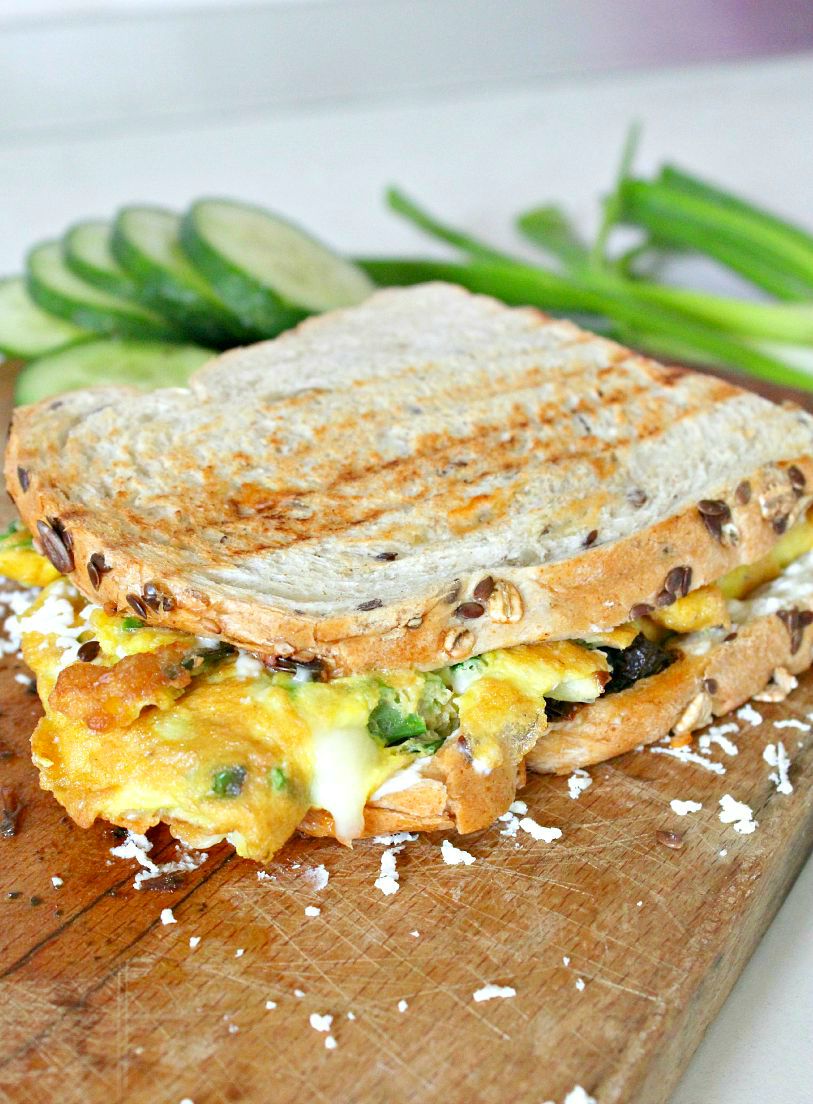 This omelet sandwich might require a little more time in the kitchen, but it's a filling sandwich that's great to take with you and enjoy in the car. But only if you've already mastered the art of eating in traffic! This sandwich is a great-tasting lunch and the easiest way to be happy at work.
5. Strawberry Oat Crumble Bars
This is another great recipe to make ahead of time and just grab on your way out. Aside from being full of fiber and protein, these strawberry bars are delicious, making them a kid favorite! These bars can be a delightful breakfast or a healthy dessert. Who needs special powers when you can have these all-natural breakfast bars ready in no time?
6. Lemony Pasta Salad With Sweet Peppers & Chickpeas
Pasta salads are great to make in large batches as they store well in the fridge. Make this on a Sunday and you'll have guaranteed lunch for the next 3-4 days. Give yourself a midday pick-me-up with this fresh and zesty salad.
7. Vegan Goji Kale Slaw
This vegan goji kale slaw is full of antioxidants, leafy greens, and great fiber. This salad will keep you full, happy, and ready to take on anything the day throws at you. Goji berries are nature's Skittles…but better!
8. Avocado Grilled Cheese Sandwich With Herbed Goat Cheese & Garlic
Looking for an easy portable lunch? You've found it in a sandwich. Sandwiches are the perfect food—they're topped with bread, can be made with any filling, and travel well.
Give yourself a break from greasy and unhealthy food with these healthy sandwiches. 🍞 #SandwichRecipes https://t.co/DW8mYw4V4y

— Homemade Recipes (@BestHomeRecipes) July 8, 2017
9. Avocado & Strawberry Macaroni Pasta Salad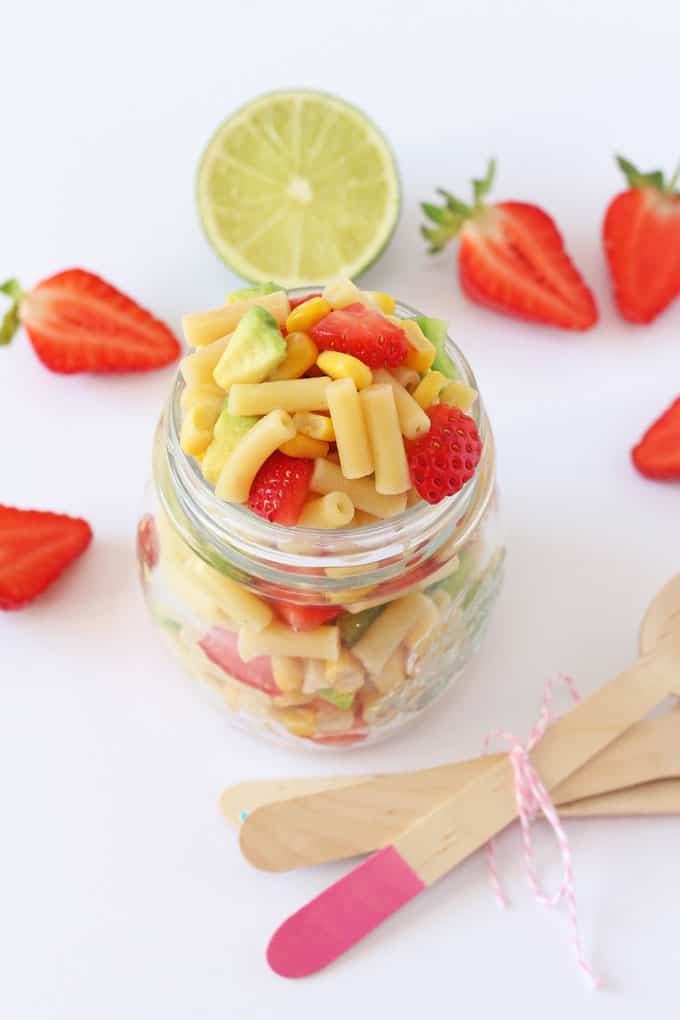 This is a delicious summer salad to make your taste buds dance with joy! Good fats and lots of Vitamin C make this a skin-friendly recipe as well as a healthy meal. This salad works double-time as a skin saver!
10. Healthy Tuna Stuffed Avocado
Tuna is one of the healthiest proteins you can enjoy and avocado is an idea fat essential to skin and heart health. Make the tuna ahead of time and assemble this tuna stuffed avocado in 10 minutes or less.
11. Vegan Tacos With Lentil Walnut Meat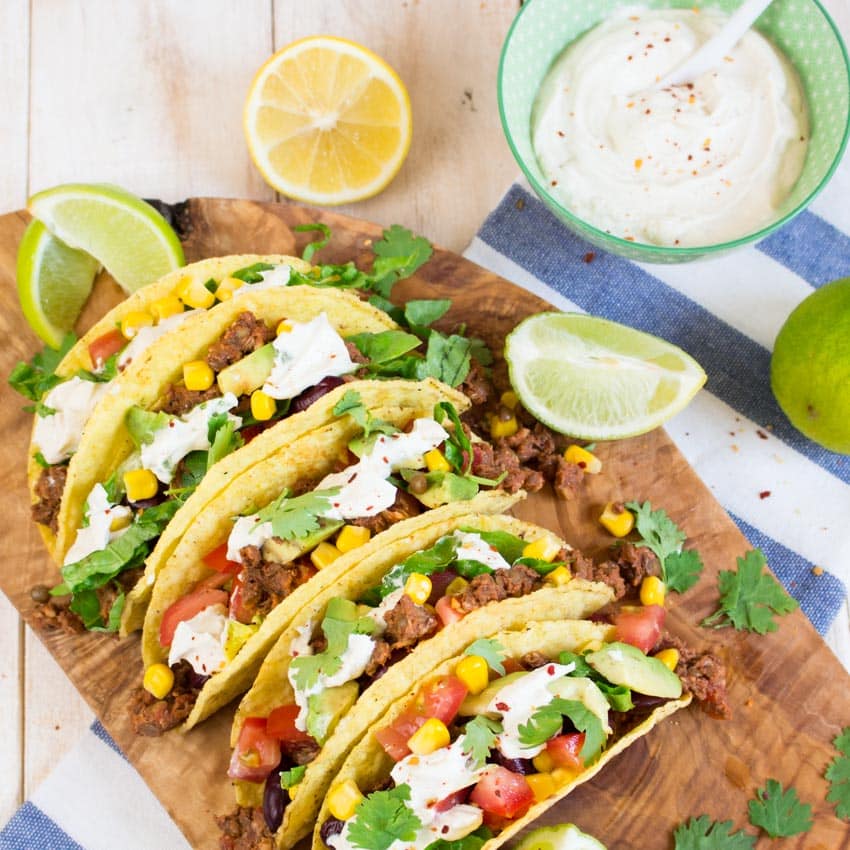 Tacos—the third best portable meal to make! After sandwiches and burritos, of course. But then again, there is the mason jar salad we have yet to consider! Lentils are a great source of protein and iron and in this easy recipe, do a wonderful job at replacing ground beef. Unlike ground beef, lentils are pink slime-free!
12. Quinoa & Sweet Potato Bowl With Chimichurri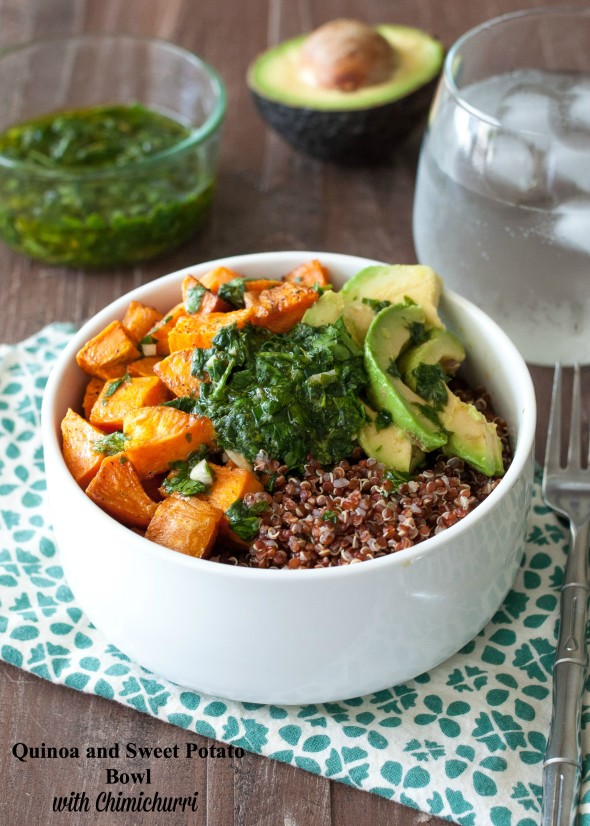 We love bowls. In fact, we hailed the bowl as being one of the greatest weekday lunches to plan ahead of time. They're easy to throw together and can be made with whatever leftover vegetables and greens you have in your fridge. Show yourself some love by keeping yourself healthy with a good serving of this quinoa and sweet potato bowl.
13. Thai Sweet Potato Skins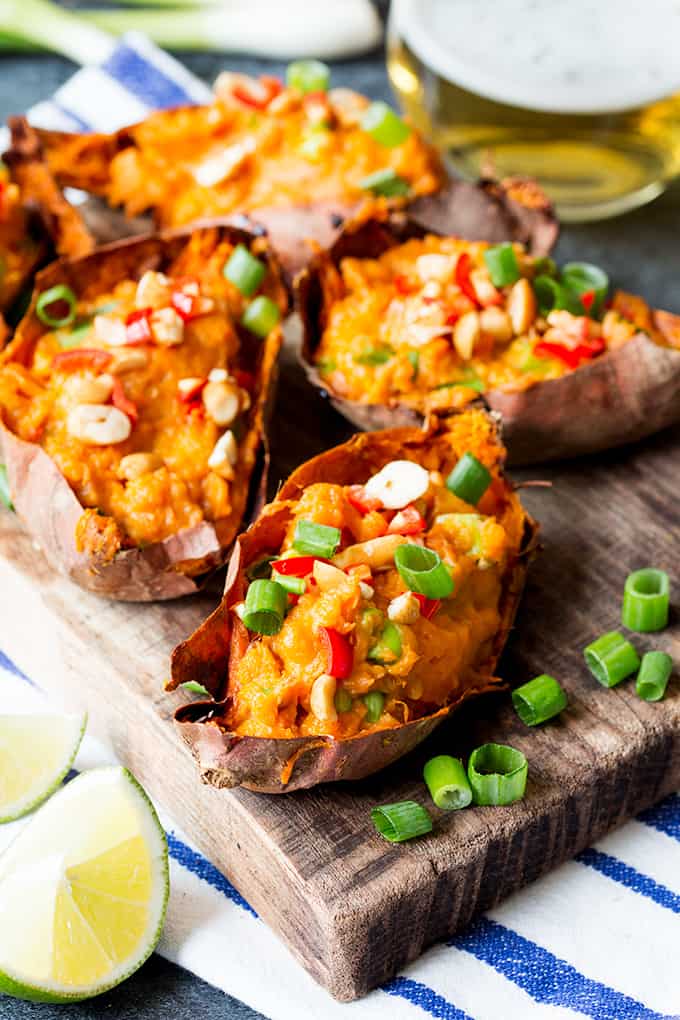 You better believe that anything comes in a boat-like shape is portable as heck. These Thai sweet potato skins are bursting with tangy, spicy, and sweet flavor and are also a great source of beta-carotene and antioxidants.
14. The Ultimate Vegan & GF Veggie Burger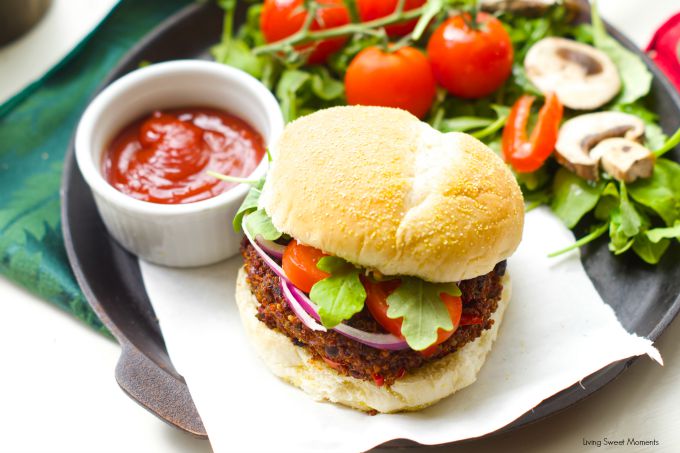 These veggie patties are easy to mix together and can be formed and stored in the fridge. Throw this together when you get home and enjoy your meal in less than 15 minutes. Prepare for a vegan takeover!
15. Grilled Sweet Potato Wraps
While these wraps may take a bit of prep time, once they're put together they're easy to tote around with you wherever you go. We recommend storing the slaw in a separate container so if you want to heat your wrap up, the slaw won't get warm and gross. Keep this dish paleo by wrapping it in lettuce instead of wheat tortilla!
16. Kung Pao Cauliflower
Bless Pyrex Tupperware for allowing us to be able to transport any—and everything! Pack this kung pao cauliflower with some brown rice and you're in for a delicious, filling treat. With this recipe, you won't even miss the meat!
17. Baked Paneer Bread Rolls
We are all about the snack and these baked Panner bread rolls definitely deliver in terms of fragrant Indian-inspired flavors and heartiness. These bread rolls are a cinch to make, grease-free, and once cooled, travel well in Tupperware.
18. Oatmeal Peanut Butter Cookie Energy Bites With Chia & Cacao Nibs
Energy balls are the greatest invention in food! We love making variations of these bad boys and enjoying them as a post-yoga snack or as soon as we get home from work. Don't stop with this combo! Make apple pie-flavored bites, pink lemonade-flavored bites, the possibilities are endless!
19. Healthy Lunchbox Snack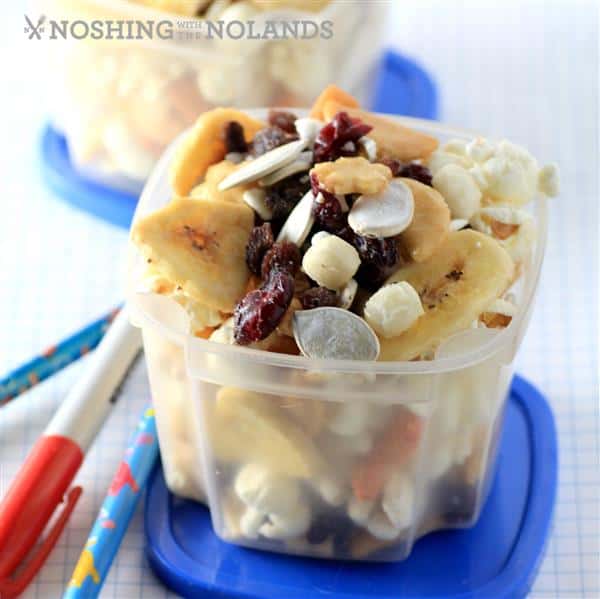 This healthy and delicious snack is great for kids and adults alike! Made with dried fruits and nuts, this snack is great to nosh on and easy to assemble.
20. Baked Lemon Donuts With Raspberry Glaze & Pistachios
So, donuts will never be "healthy", but baked ones are at least healthier. Even raw donuts have a high sugar content and are best enjoyed in moderation. With all that said, we have a huge sweet tooth, so any dessert recipe that's even a little healthier is definitely one we're going to make. Bet you can't have just one.
21. Chocolate Chia Pudding
Now this list has come full circle! We started with matcha chia pudding and decided it would only be right to end with a chia pudding. This chocolate chia pudding recipe is too decadent to be enjoyed as a breakfast but makes for a darn good dessert.
Still up for more portable healthy recipes? Watch this video Chloe Ting and learn healthy breakfast ideas on-the-go:
We hope you enjoy these healthy recipes. Now, keeping yourself fit and healthy is more fun and motivating. Don't let your hectic schedules stop you from enjoying healthy and delicious food. Let this list inspire you to eat healthily and be happy spending time in the kitchen!
What do you think of these portable healthy recipes? Which recipe is your favorite? Share your thoughts with us in the comments section below.
Up Next: 17 Diagrams For Easier Healthy Eating
Don't forget to keep in touch, foodies!

Also, make sure to follow us on Facebook, Instagram, Pinterest, and Twitter!
Editor's Note – This post was originally published in August 2015 and has been updated for quality and relevancy.