You didn't think S'Mores were reserved for summer campfires only, did you?
Happy National S'Mores Day!
Looking for delicious s'mores recipes to make on your camping trip or pass the day with?
Awesome! That's why we've put together these delicious recipes you can make during summer, fall, winter, and spring!
We used to rue the end of summer because it always meant the end of backyard bonfires, camping trips and, yup, you guessed it: s'mores! But with these awesome recipes, it doesn't matter what time of year it is! Heck, every day is a great day for s'mores, but today is, as you food-lovers may know, THE day as its National S'Mores Day!
Rejoice, fellow foodies, because on no other day is it socially acceptable to make multiple s'mores recipes and scarf them down in the comfort of your home, backyard, or, if you like us, in our car as we rock out to Fleetwood Mac. (In fact, we'd like to take this time to dedicate "Everywhere" to s'mores because, if possible, we would be everywhere with the tasty, layered graham cracker, chocolate and marshmallow treat.
Viva La S'More!
image via Cooking Classy
The humble chocolate chip cookie meets the sexy and worldly s'more in this forbidden relationship that's oh so wrong, but tastes so right…
image via Dessert For Two
Take that, summer, because we've found a way to enjoy your fruits even after you're gone! But, really, that's just us acting out and pleading with you to stay with us forever.
image via How Sweet Eats
We're all about individual desserts because, really, who wants to share dessert? Individual treats help us save face and avoid any tension that might arise from the, "Can I have more?" conversation.
image via Lolly Jane
You know it's National S'Mores Day when you're getting crazy s'mores recipe like these truffles! These are bite-sized treats that make for awesome portable desserts! Hooray for stuffing these in your purse and popping them in your mouth throughout the day.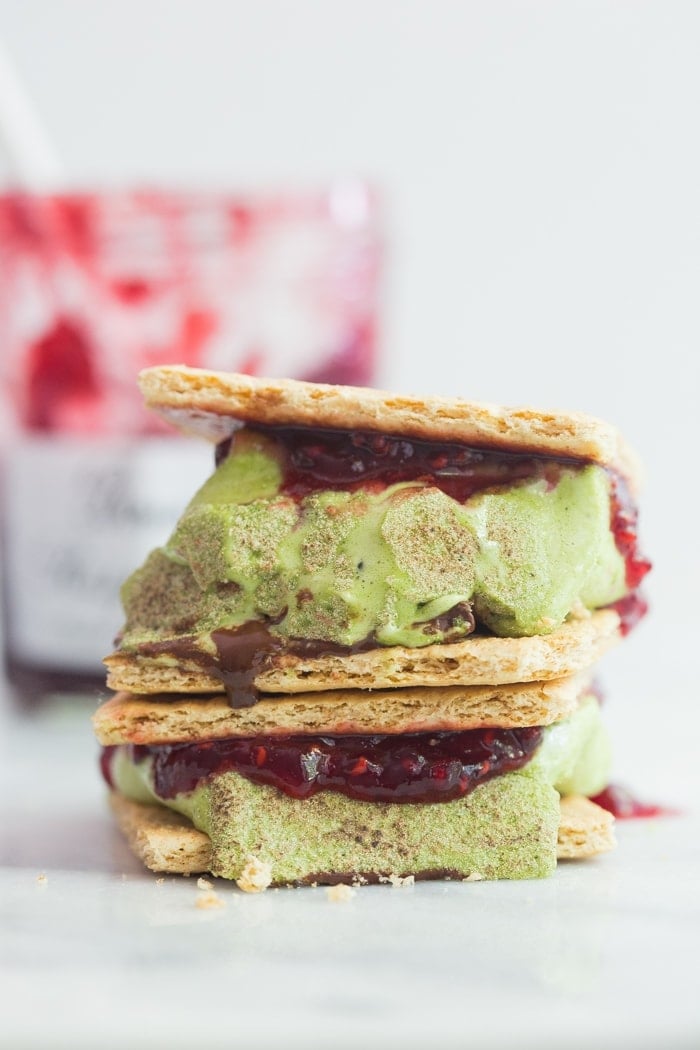 image via 40 Aprons
We love how innovative and unique this recipe is. While we've never tried it, we've definitely put this on our list of Recipes The Homemade Recipes Family Needs To Make.
image via Simple Sweet Savory
I don't there if there are any words we can say that will do this s'mores pizza justice. All you need to do is take a look and know that it's a great day to be alive.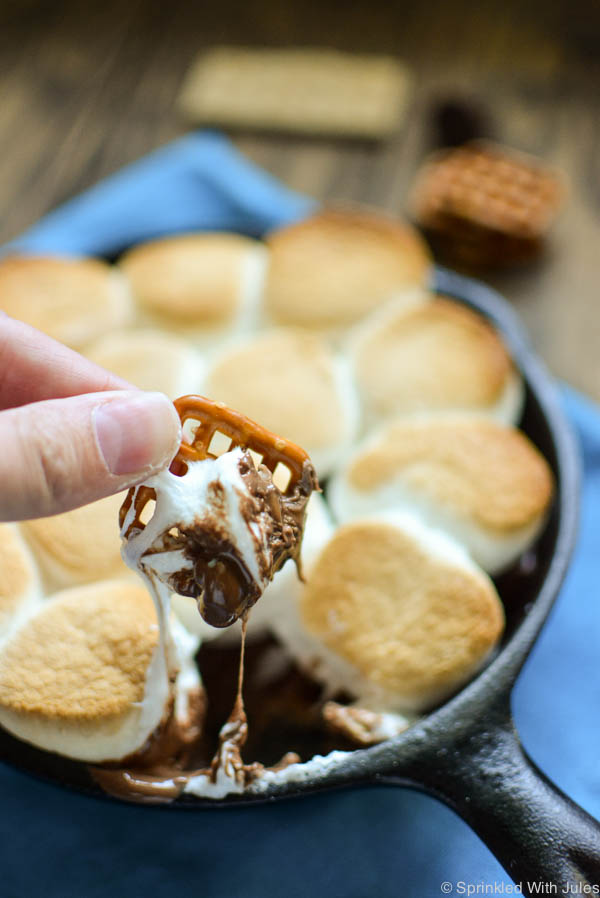 image via Sprinkled With Jules
Yup.
image via Domestically Blissful
Hell. To The Yes. These s'mores pops are not only super easy to put together, they make for a great dinner party dessert. Guests will love the ingenuity and creativity behind this reinvented s'more.
image via Bakers Royale
Chocolate-covered strawberries are already a great treat to make, but then you add crushed graham crackers and toasted marshmallow and you've sent us over the moon. Don't be intimidated by the toasted marshmallow accent. With patience and confidence, this is a cinch to achieve and will make you feel pretty good afterwards.
image via Minimalist Baker
If these pancakes look like they're easy to make it's because they are! Dana from the Minimalist Baker always has great recipes that require less than 10 ingredients and take less than 30 minutes to make. We highly recommend enjoying these for dinner (yeah, we're talking about dinner for breakfast!). What other kind of dinner is there?
image via Bakers Royale
Naomi from the Bakers Royale is a self-taught baker who consistently brings her fans delicious, couture-looking treats. These French macarons are no exception. While macarons may not be the easiest dessert for beginners to start out with, they are a satisfying challenge that produces a delicious, unforgettable reward.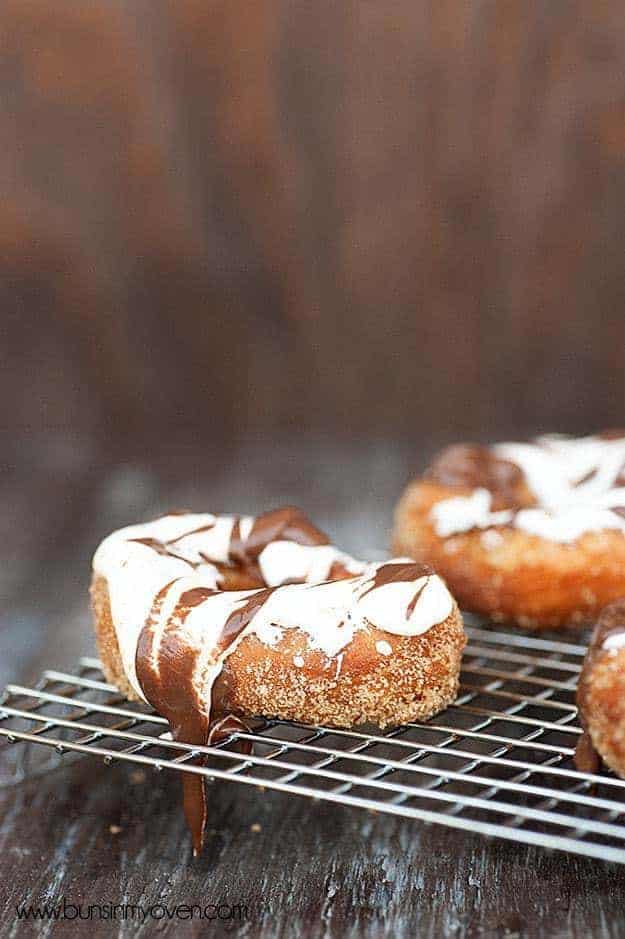 image via Buns In My Oven
Be still, my beating heart…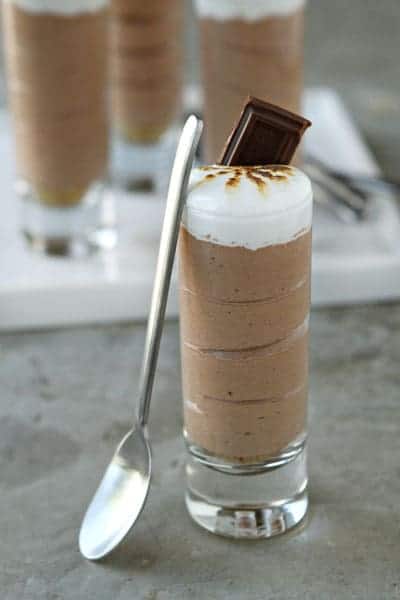 image via My Baking Addiction
Must Confirm You Are Over 21 To Enter. Okay, whew, now that we got the legalities out of the way, if you like booze with your s'mores then this s'mores pudding shot is for you! Made with marshmallow vodka, chocolate pudding mix and more, these are easy to put together and make for great ladies' night in treats.
image via Minimalist Baker
Dana does it again, but this time, she's made us a delectable, "all I'm going to do today is drink this hot chocolate and watch all 9 seasons of Seinfeld" treat.
image via The Beach House Kitchen
More like decadent lava-cake s'mores brownies! We don't think we've ever seen a brownie as moist, fudgy and rich as this one… And that's saying a lot!
image via Something Swanky
Throw your hands in the air if you're like us and love anything that has pumpkin in it!
image via Heather's French Press
It's like these people want to give us a heart attack. How many more deliciously irresistible s'mores recipes can our stomachs take?!
image via Lauren's Latest
My favorite childhood dessert all grown up. I love banana splits, so a s'mores version was a must-make and, let's just say, this must-make is not disappointing.
image via Sally's Baking Addiction
When a recipe has the words "7 layers" in it, you know it's going to be good.
image via Easy Baked
Despite its elegant appearance, this recipe is quite easy to put together and perfect. If you're hesitant to try it, I hope this will convince you: the graham cracker crust is worth a try alone.
image via Chef-In-Training
This is what our Sunday morning fantasies consist of.
image via Purely Twins
These little babies are gluten-free, paleo and low-sugar meaning they're a relatively-healthy way to enjoy a tasty treat!
image via Cooking Classy
You're getting a 3-for-1 package deal right here with three unique s'mores recipes wrapped up in one post. The one featured above is a lemon meringue s'more that features lemon curd instead of chocolate. Yum!
image via Chef In Training
I love bread. I love gluten. I love anything with the word "bread" in it. So, it's safe to say, I love this recipe.
image via This Rawsome Vegan Life
How do you do it, Emily? How do you consistently make delicious vegan desserts that are raw, healthy and actually good for you? This recipe is no exception and while it won't taste like the original s'more, it's still every bit as delicious in its own way.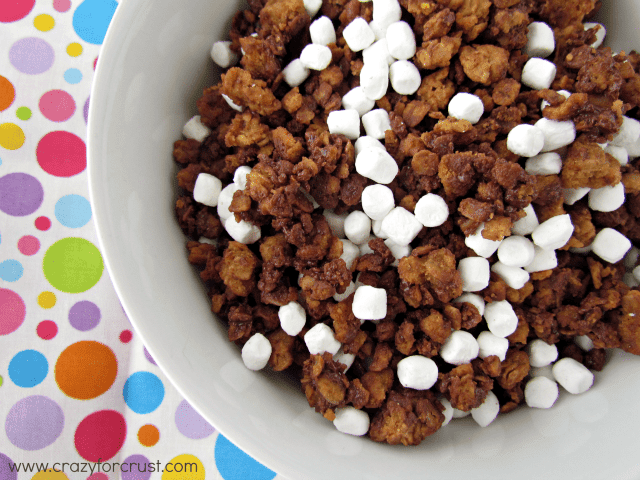 image via Crazy For Crust
If you're looking for a (socially) acceptable way to have dessert for breakfast, this granola might pass as a good excuse. Start your day off right with this delicious dessert!
image via Chef In Training
Oh yeah, baby. We could snack on these all day long and, to be perfectly honest, we have.
image via Desserts For Breakfast
Adorable! Absolutely freaking adorable. With this recipe, it's alright to judge a book by its cover because it's every bit as delicious as it is attractive. How many times can you say that in life, right?
image via A Spicy Perspective
S'mores on biscuits? What will they think of next? Bacon as graham crackers? Hmm, that's not such a bad idea.
image via How Sweet Eats
You better believe we've made this recipe for friends and have loved every second of it! Salty, boozy and sweet. Those are the 3 words we'd used to describe this treat and ourselves.
image via Half Baked Harvest
Standing around this recipe with your friends is a lot like this:
image via The Vulgar Chef
Well, I mean, we had to save the best for last. Just look at this thing of beauty. It really should be voted one of the wonders of the world.
And there you have it, folks! Delicious s'mores recipes you, your friends and family can indulge in all day long to celebrate National S'Mores Day!
For a bit more s'mores fun, check out this awesome Sesame Street video!
Related Posts: 
Don't forget to keep in touch, foodies!
Sign up for our daily newsletter here!
Do you have Instagram? Don't forget to follow @HomemadeRecipesOfficial.
Click here to Like Us on Facebook.
Click here to Follow Homemade Recipes on Pinterest