Want to learn how long to cook a corned beef ? Let this post teach you!
How Long to Cook a Corned Beef
Once a year, come mid-March, Americans enjoy the best excuse ever to make corned beef and cabbage, St. Patrick's Day! During the special day, people are busy cooking that flavorful dish in either ways they want such as boiling, grilling or roasting it in the oven. Corned beef is made from brisket. The meat goes through a long curing process using large grains of rock salt, or "corns" of salt, and a brine. Most people usually pair it with cabbage, roast a few potatoes and parsnips along side it.
A staple for St. Patrick's Day, this easy-to-follow recipes will make corned beef so tender and mouthwatering you'll want to make it year-round.
1. Baked Corned Beef and Cabbage
image via
The baking method produces a super tender piece of meat that's why people choose this kind of method cooking their favorite corned beef dish every year. And who knows, there were family out there, somewhere, serving this dish everyday. When baking corned beef, mostly it is glaze with brown sugar and honey mustard which add a subtle sweet and tangy flavor. Usually corned beef takes 10 minutes to prepare and takes 2 hours and 30 minutes to cook depending on the thickness of the cut and the weight of the meat (45-50 minutes per pound or until tender).
Tip: Corned beef can be very salty, especially when baked. To remove some of the salt before cooking, place it in a pot fat side up. Cover with water, bring to a boil, discard the water, add fresh water and bring to a boil again. Discard the water before cooking with either cooking method you choose, especially the baked version. This should be apply before each and every cooking method.
Ingredients:
3 lbs corned beef (in package)
10 whole cloves
1/4 cup hot sweet honey mustard
2 Tbsp brown sugar
Cabbage (sautéed):
Olive oil and butter
1 medium yellow onion, chopped
1 cloves garlic, minced
1 large head of cabbage, sliced into 3/8-inch to 1/2-inch wide slices
Salt
Instructions:
1 Take the corned beef from the package and discard the spice packet. Note that one side of the roast should have a layer of fat, the other side should have distinct lines indicating the grain of the beef.
2 Preheat oven to 350°F. Lay the corned beef, fat side up, on a large piece of heavy duty, wide, aluminum foil . Insert the cloves into the top of the slab of corned beef, evenly spaced. Spread the top with the hot sweet honey mustard. Sprinkle brown sugar over the top.
3 Wrap the corned beef with foil in a way that allows for a little space on top between the corned beef and the foil, and creates a container to catch the juices. Place foil-wrapped corned beef in a shallow roasting pan and bake for 2 hours.
4 Open the foil wrapping, spread a little more honey mustard over the top of the corned beef, and broil it for 2-3 minutes, until the top is bubbly and lightly browned. Let rest for 5 to 10 minutes, then place on cutting board. Pull out and discard the cloves. Lift the corned beef up to see which direction the grain of the meat is.  Then cut the meat at a diagonal, across the grain of the meat, into 1/2-inch thick slices.
Serve immediately.
2. Boiled Corned Beef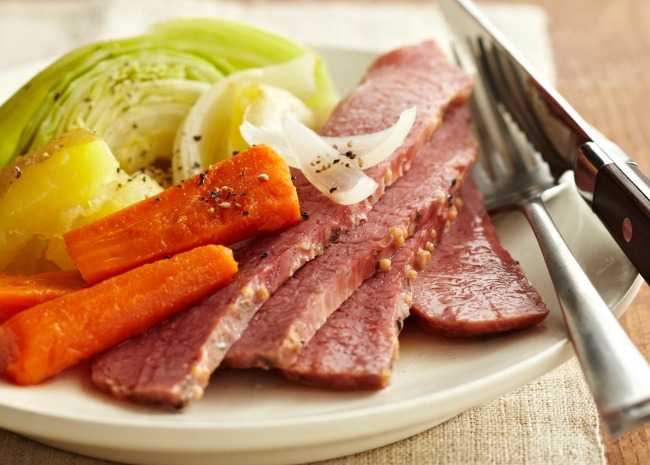 image via
The taste of corned beef is impossible to duplicate. This dish seems daunting to make but is actually so simple. The most widely known among the ways on how to cook corned beef is by boiling it. How long you boil the corned beef can make the difference between a juicy piece of meat and a tough one. It takes approximately 50 minutes per pound to cook, about 2 hours or until the meat is tender.
Tip: Always wash the corned beef in cold water before getting ready to cook it. This will remove any leftover brine that the beef has been soaking in and will prevent it from tainting the water.
Ingredients:
1 corned beef brisket with spice packet

1 teaspoon whole black peppercorns

2 bay leaves

2 medium potatoes, peeled and quartered

3 medium carrots, quartered

1 medium onion, cut into 6 wedges

1 small head green cabbage, cut into 6 wedges

Prepared horseradish or mustard, optional
Instructions:
Place the brisket and contents of spice packet in a Dutch oven. Add the peppercorns, bay leaves and enough water to cover; bring to a boil. Reduce heat; cover and simmer for 2 hours or until meat is almost tender.

Add potatoes, carrots and onion; bring to a boil. Reduce heat; cover and simmer for 10 minutes. Add cabbage, cover and simmer for 15-20 minutes or until tender. Discard bay leaves and peppercorns. Thinly slice meat; serve with vegetables and horseradish or mustard if desired.

Yield:

6 servings.
3. Smoked Corned Beef
image via
Smoked corned beef or as often called as "Pastrami" traditionally is cold smoked. This means that it is smoked at cold temperatures around 60 degrees F. Though you also hot smoked your pastrami, you keep the smoker temperature low, around 225 degrees F, and smoke the pastrami for about 1 hour per pound depending on the thickness of the meat. 6 hours approximately to smoke a thick 4 pound chunk at 225°F. Actual cooking time depends on thickness not weight. Then it goes into the fridge about 12 hours, and then it steams for about 2 hours. Larger and thicker cuts will take longer.
Tips: Use a heavy dose of smoke at the beginning to bathe the corned beef so it can soak in the smoke flavor. A popular wood to use when making pastrami is maple. 
Ingredients:
3 quarts

water

1 cup

Morton's coarse kosher salt

1/4 cup

pink curing salt -(Also known as curing salt, salt peter or prague powder- NOT Himalayan pink salt)

1 cup

granulated sugar

1/2 cup

firmly packed light or dark brown sugar

1/4 cup

honey

2 tbsp

pickling spice

1 tbsp

whole coriander seeds

1 tbsp

whole yellow mustard seeds

4

cloves garlic, minced

3 – 4 lb

beef brisket
For the spice rub:
1/4 cup

ground coriander

2 tbsp

freshly ground black pepper

2 tbsp

smoked paprika
You'll also need:
large stockpot

2 gallon container with lid or two 1 gallon containers

12 by 15 inch roasting pan with rack
Remember to slice the corned beef against the grain to shorten the fibers in which the meat is made of. It'll makes the meat more tender and easier to chew. Now you can make a perfect corned beef meal. Enjoy!
Related Posts:
Don't forget to keep in touch, foodies!
Sign up for our daily newsletter here!
Do you have Instagram? Don't forget to follow @HomemadeRecipesOfficial.
Click here to Like Us on Facebook.
Click here to Follow Homemade Recipes on Pinterest