Looking for hearty soup recipes to keep you cozy on a chilly Christmas evening? Look no further because you're in the right place, at the perfect timing!
Sipping a delicious and rich soup anytime during the holidays gives me a nostalgic feeling. It sends me back to the good old days and puts me in a festive and cozy mood. How about you? I'm really stoked about how a delicious bowl of hearty holiday soup can make you feel. Soup is a versatile dish perfect for any time of the day. Also, they're very comforting, especially during the winter season. And with the right recipe, you can make a simple and budget-friendly soup that's festive enough to be included in your Christmas menu.
Hearty Soup Recipes To Keep You Warm On Cold Nights
You have everything set to make this Christmas dinner super special, but it feels like you're missing something…a soup recipe! We know what an important role soup plays to make dinner completely perfect, especially during these cold December nights, so that's why we've rounded up 14 delectable and hearty soup recipes you can share with friends and family. No one will guess how easily you pulled the soup together. These soup recipes will give you more time to spend with your loved ones.
1. Creamy Coconut Ginger-Carrot Soup
If you're conscious and worried about your diet, then worry no more! Here's a rich and tasty soup to feel good about. This soup is made with super food such as coconut milk, carrots, ginger, and chia seeds. It's completely gluten-free, vegan, and paleo-friendly! What more can you ask for?
2. Clam Chowder
This clam chowder tastes so good, you won't guess it's actually very easy to whip up. Serving this up on a holiday evening will give everyone a lighter and delicious meal.
3. Mediterranean Kale, Cannellini, and Farro Stew
If you're looking for a scrumptious soup to keep your belly warm and full, then this is it! And everything you dream of in a flavorful and nutritious soup, this Mediterranean stew has in abundance!
4. Easy Borscht
Experience a classy Ukrainian Christmas in your house with this rich beet-based soup. This is a speedy soup recipe that takes just 15 minutes or less of hands-on work. Now you have more time to bond with your family.
5. Holiday Fruit Soup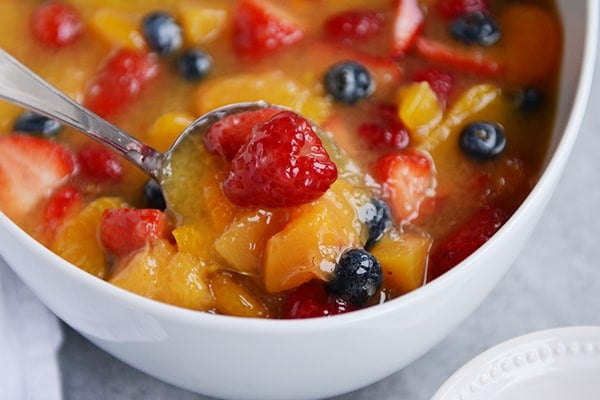 Up the game with this unique and delightful holiday soup recipe. Unlike most traditional holiday soup, this is packed with sweet fruity flavors that will tickle your taste buds on Christmas Day. This can be a refreshing meal or a lovely dessert to share with the family.
6. Rudolph's Rocket Fuel
The name says it all! This soup is perfect for your family's Christmas dinner. It's made with carrots, potato, parsnip, leek, apple, and incredible spices. You need to give it a try!
7. Cheesy French Onion Soup
Everything's better with cheese, right? And this recipe takes soup to a new level of cheesiness. Make your Christmas dinner tastier and way cheesier with this incredible soup recipe! 
8. Crockpot Chicken Wild Rice Soup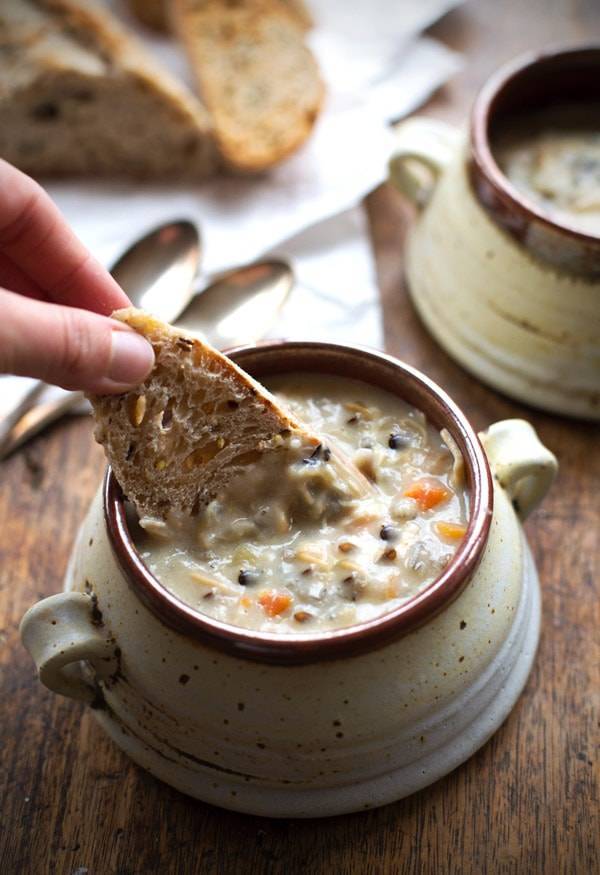 Are you a huge fan of easy crockpot recipes as much as I am? Then you should try this hearty chicken wild rice soup on a busy Christmas Eve. Just toss all the ingredients into your crock pot and let it do the work.
9. Butternut Squash Soup
This butternut squash soup can be made up to 3 days ahead, cooled completely, and stored it in your fridge. Serve it with crispy bacon for the perfect appetizer on Christmas Day.
10. Broccoli And Cheese Soup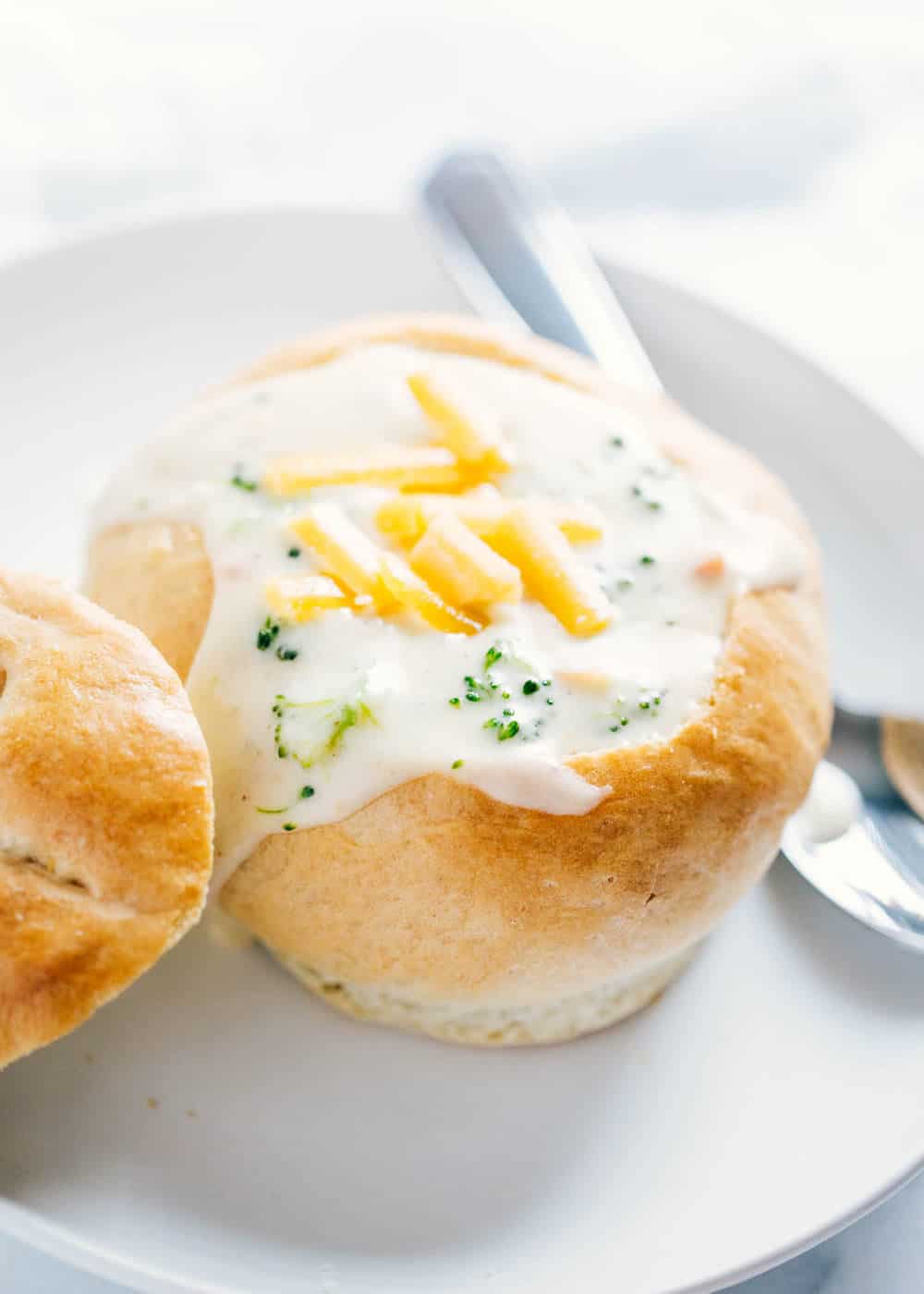 I love soup served in a bread bowl. And this broccoli and cheese soup made me love the idea even more. It has a good dose of dietary fiber from broccoli and a sharp cheddar cheese flavor.
11. Fish Soup
Add some rich seafood flavor to your Christmas menu with this savory fish soup. It has fish, prawns, and mussels — all the goodness of the ocean come together in one easy soup recipe!
12. Cream of Mushroom Soup
A classic mushroom soup with an earthy, subtle taste you'll surely enjoy. It's quick and easy to whip up, yet extremely flavorful. Mushroom lovers, rejoice!
13. Tomato Basil Soup with Cheese Tortellini
How happy would your family be sharing a warm and savory tomato basil soup at the table? This comforting soup will make the moment extra special and memorable.
14. White Bean and Ham Soup
Nothing is more comforting than a bowl of a hearty white bean and ham soup on a cold Christmas evening. This is a healing soup to soothes you and fills you up too!
Do you want more awesome recipes to cook this season? Watch this video from Gordon Ramsay:

As long as you have these hearty soup recipes served on your Christmas table, you're sure to turn every moment into wonderful memories you and your family will treasure. Soup recipes like these deserve a place on every holiday and Christmas celebration. Now that you have these recipes a click away, make sure to try them and share the goodness with your family and foodie friends!
Which of these hearty soup recipes are you planning to try? Tell us all about it in the comments section below.
Up Next: 19 Healthy Versions Of Comfort Food Recipes For Guilt-Free Cravings
Don't forget to keep in touch, foodies!
Also, make sure to follow us on Facebook, Instagram, Pinterest, and Twitter!