Cooking can be a bit challenging for some, but not with these helpful cooking tricks and hacks we've rounded up for you. These cool cooking tricks will teach you how to become a whiz in the kitchen. Check out this list and save these ideas for your next foray into the kitchen.
Cooking Tricks You Would Love To Know About
1. Cut Cherry Tomatoes in Half Using a Plastic Lid and a Knife
With this cherry tomato trick, chopping a whole bunch of cherry tomatoes is now a piece of cake. Get your fresh cherry tomatoes and hold them in place with a plastic lid, or you can also trap them in between two plates. The plastic lid will keep the cherry tomatoes steady. When using two plates, make sure to use the plates with the best size to hold and trap the cherry tomatoes to make the cutting easier and faster. Slowly slice the cherry tomatoes with a thin and sharp knife. In just one slice, you'll have a bunch of cherry tomatoes chopped in half.
2. Roll the Lemon Before Juicing It
To easily get all the juice out of a fresh lemon, roll it on a table or any flat surface before you cut it open. After cutting the lemon in half, squeeze the juice out. This helpful cooking trick will always be handy anytime you want to enjoy a refreshing lemonade with your family and friends.
3. Peel Ginger Using a Spoon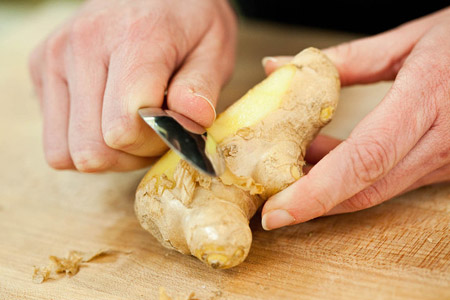 Peeling ginger using a knife or a peeler tends to take off more flesh than just skin, which just wastes it. Use a spoon to scrape the skin off instead. This hassle-free cooking trick will help you peel ginger faster and way easier. Aside from peeling the ginger in a few seconds, you also avoid food waste.
4. Herb Ice Cubes
Chopping a batch of your favorite herbs, mixing them with olive oil, and placing the mixture in ice cube tray inside your freezer is a genius cooking trick you would want to practice in your kitchen. Not only does this trick gives you a wonderful and tasty dish, but it's a quick and easy way to extend the life of your herbs.
5. Grill Fish on Top of Lemon Slices
Grilling is one of the tastiest ways to cook fish at home. It's fun and easy, but not when the fish sticks to your grill. There are actually lots of tricks to avoid your fish from sticking to the grill, but the best and probably the most delicious trick is by grilling the fish on top of lemon slices. The lemon slices will give the fish a nice zesty flavor you'll surely love.
6. Hard Boiled and Scrambled Egg at the Same Time
Enjoy both hard-boiled and scrambled egg at the same time by using this impressive egg trick. By spinning the egg using a hand towel, a string, and a pipe you can now enjoy your favorite breakfast staple in a unique way. This technique is a little bit tricky but it is absolutely effective.
7. Using Dental Floss to Cut Your Food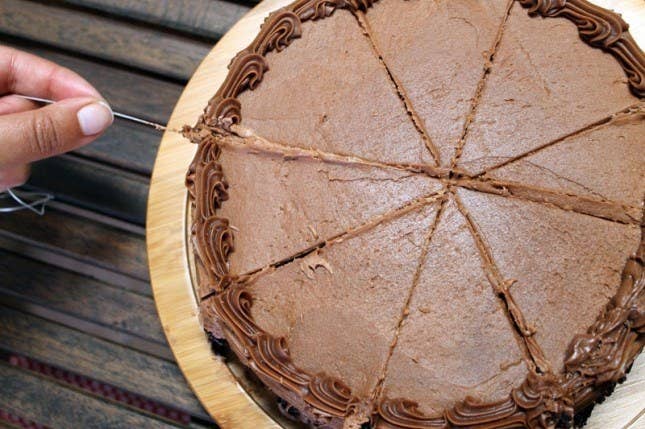 This dental floss trick may sound crazy but it is actually the perfect method to get those clean, even cake slices you desire. You can also use dental floss to cut soft cheese, a burrito, and more. If you're amazed by this trick and wish to do this at home, make sure to use unflavored and unwaxed floss.
8. Peel a Head of Garlic in Less Than 10 Seconds
Peeling a whole head of garlic in seconds? Yes, you heard it right! This kitchen hack is definitely life-changing. You just need to take a head of garlic apart into individual cloves, then place them all into a bowl. Get another bowl, identical in size to the first, and use it to cover the other bowl. Shake it for 10 seconds or until the garlic is already peeled and completely naked.
9. Use Weaved Bacon as Replacement for Cheesecloth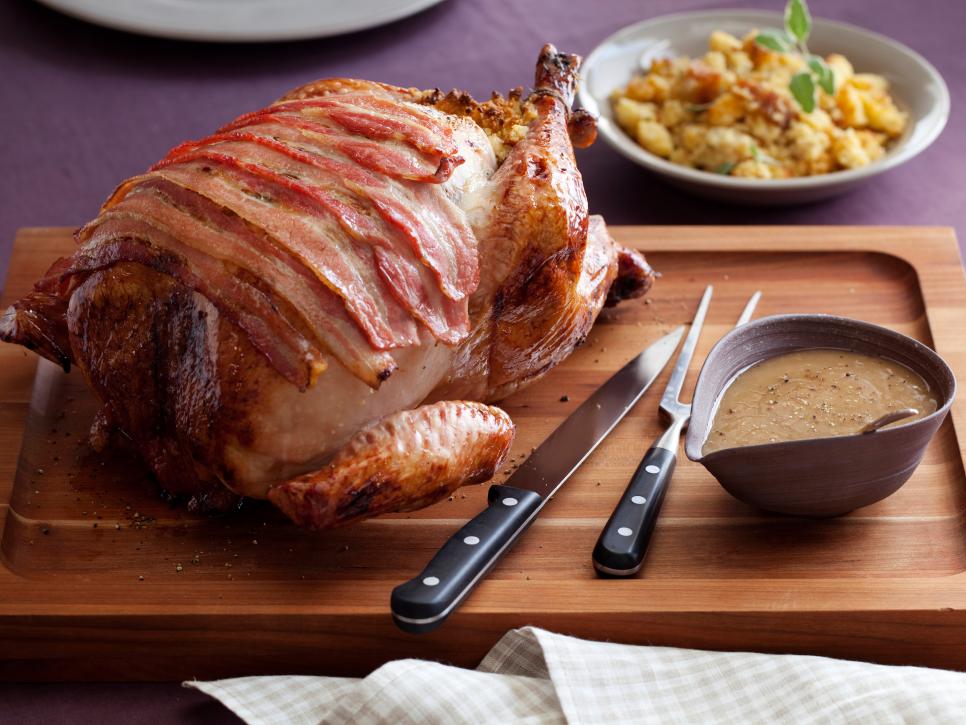 Are you planning to throw a special dinner party for your family this weekend? Then you should have a good roasted turkey or chicken recipe. You can create a delicious dish with this clever cooking trick. If you don't have cheesecloth to keep your turkey moist, then weave a lattice of bacon and place it atop of your turkey or chicken as you roast it. The result will leave your family and guests stunned.
10. Use a Wine Glass to Cut Out Biscuits
Homemakers like you always keep cooking and baking tools in the kitchen, but there are a few who are missing some of these tools. For those who don't have a biscuit cutter at home, this simple baking hack will do for sure! If you're baking a batch of tasty biscuits, use a wine glass or any drinking glass to cut out biscuits. Don't forget to dip your glass in flour so the dough won't stick to the rim.
11. Separate the Egg Yolk From the Egg White Using a Plastic Bottle
If you're always having a hard time separating the egg yolk from the egg white using your hands or using the egg shells, use this trick instead. Get a plastic bottle, squeeze it, and let the vacuum suck and separate the yolk from the white. Gently squeeze the yolk out into a clean bowl. That's it!
Check out this video by How To Make Sushi for more awesome cooking tricks:
There you have it! Cooking tricks and kitchen hacks to make our life easier in the kitchen. These are the handy skills anyone who loves cooking must be equipped with. These tricks will lessen time and effort in cooking our favorite meals. We hope you find these cooking tricks helpful to you and your family. Share these cooking tricks with your friends. They might need them as well!
Which of these cooking tricks and hacks is your favorite? Do you know some other cooking tricks? Share them with us in the comments section below!
Up Next: 15 Baking Ingredient Hacks You Need to Know
Don't forget to keep in touch, foodies!
Also, make sure to follow us on Facebook, Instagram, Pinterest, and Twitter!
Editor's Note: This post was originally published on October 2, 2017, and has been updated for quality and relevancy.