Looking for some hearty butternut squash soup recipes? We've rounded up 15 of our favorites here.
15 Hearty Butternut Squash Soup Recipes
Wondering what to do with this season's fresh butternut squash? When Autumn has arrived, the most irresistible dish you can make is a comforting and filling soup. So, why not combine the rich earthy flavors of butternut squash to create a delicious velvety soup that will keep you warm and happy? We've gathered our 15 favorite butternut squash soup recipes to invite the fall season with.
1. Swirly Butternut Squash & Kale Soup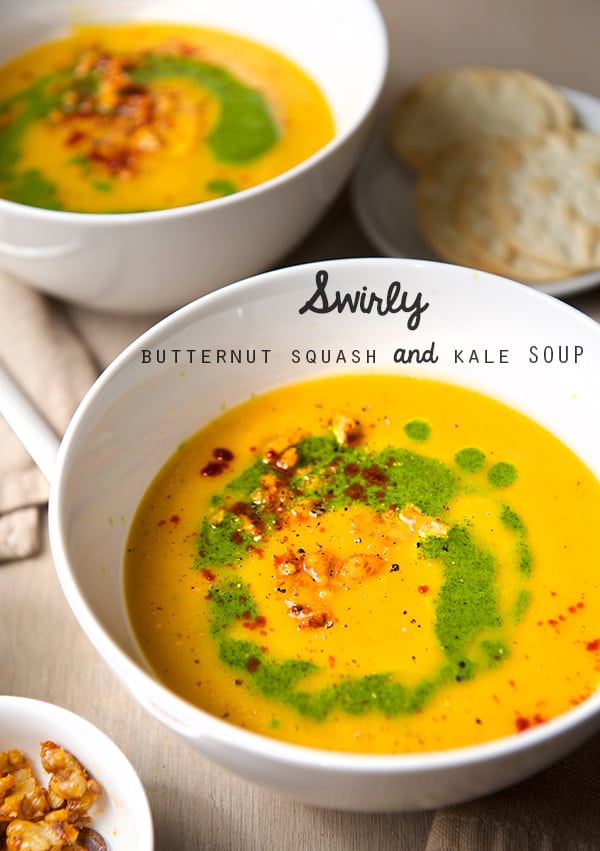 image via Yes More Please!
This swirly butternut squash and kale soup is fun, easy to make and looks amazingly beautiful! The fusion of flavors in this soup make it our no. 1. Kale and coconut milk come together to create a delicious combo with herbal, sweet flavors that aren't overpowering are, in fact, go incredibly well together! Like, Hall and Oates well. This soup is perfect for cold nights or, if we're being honest, any night really!
2. Moroccan Butternut Squash & Goat Cheese Soup w/Coconut Ginger Cream + Pistachios
image via Half Baked Harvest
I love when food turns out to be delicious and pretty! You feel the same, right? This Moroccan soup makes soup the best dish ever (no easy feat as soup's gotten a bad rap, as of late.). Goat cheese, pomegranates, pistachios and roasted garlic come together to create a dish with a rich, varied, and never boring flavor profile. Can we say flavor heaven?!
3. Roasted Butternut Squash Soup with Smoky-Roasted Chickpeas & Bacon
image via Iowa Girl Eats
This is a dairy-free soup that's made with slow-roasted butternut squash that is then blended with caramelized leeks and garlic. The soup, which is already delicious is topped with even more wonderful flavors: maple syrup, salty bacon and crunchy smoky chickpeas. Winner, winner!
4. Cauliflower & Butternut Squash Soup
image via Hold The Grain
Look at how creamy this soup is! This dish reminds me of cream of potato soup, except without the cream or potatoes. Cauliflower and butternut squash give this soup a light color and rich flavor that is perfectly balanced. This is a dish you want to eat during the days when you're feeling a bit under the weather, as this will leave your insides warm and fuzzy. Pretty much everything we want to feel when we're sick.
5. Butternut Squash & Sweet Potato Soup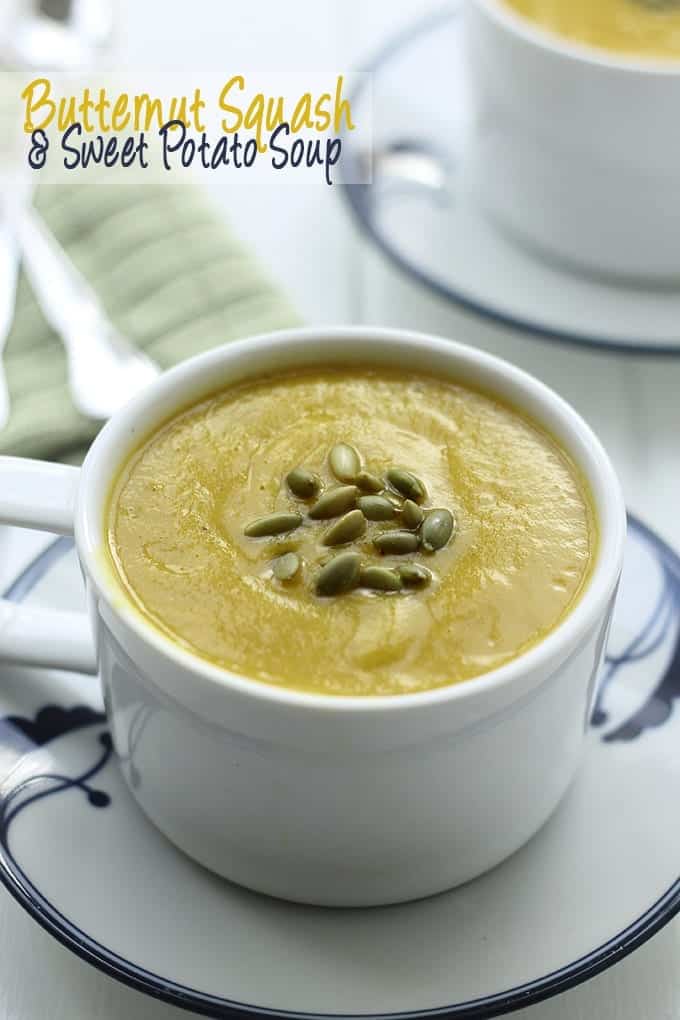 image via The Healthy Maven
They say too much of a good thing can be a bad thing, but that's not the case when it comes to this soup. Too creamy, too yummy, too flavorful, and too savory make this soup too darn good. And no need to feel guilty – this recipe is made with whole food ingredients.
6. Autumn Butternut Squash & Apple Soup
image via Surviving The Stores
If you're wondering what to do with all of those autumn apples, wonder no more because this recipe will take care of that. The apples enhance the natural sweetness in the butternut squash, helping lend an aromatic and pleasing fragrance and taste.
7. Apple Cider & Cheddar Cheese Butternut Squash Soup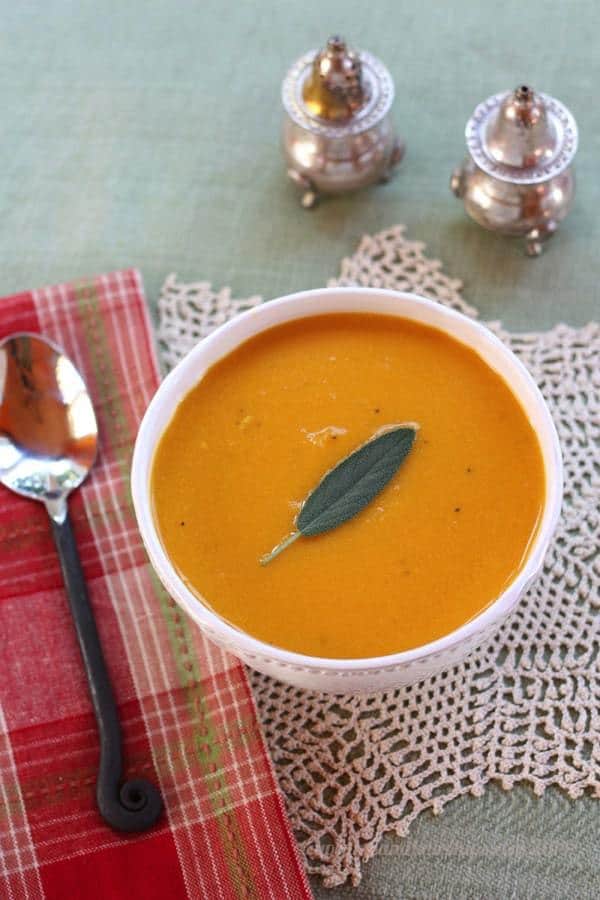 image via Cupcakes and Kale Chips
This is a bowl of cheesy goodness made with sharp cheddar and lots of butternut squash. The cheddar cheese along with the hard apple cider add  a nice, sharp bite that contrasts beautifully with the smooth creaminess and subtle sweetness of the butternut squash. Warm yourself with a good and steamy bowl of this delectable soup.
8. Butternut Squash Soup with Shrimp
image via Martha Stewart
This soup is a fusion of creamy and earthy flavors of butternut squash combined with the salty and meaty taste of shrimp. This is a delicious and truly warming dish for chilly fall nights.
9. Creamy Red Curry Coconut Butternut Squash Soup
image via Jeanette's Healthy Living
You are going to love this soup as much as I did. I'm pretty sure you'll be rushing to your kitchen when you find out how easy it is to make this soup. And no need to scour for tons of ingredients, either! Everything this recipe requires is simple and most likely already in your pantry. What are you waiting for? Let's make some butternut squash soup!
10. Gingered Butternut Squash Soup with Spicy Pecan Cream
image via Food & Wine
A dollop of cream makes this soup extra creamy, smooth and thick! Chopped pecans add texture and flavor to it, helping give each spoonful a nice little crunch. Nothing beats a bowl of velvety butternut squash soup.
11. Creamy Raw Butternut Squash Soup with Marinated Mushrooms
image via One Green Planet
This is an easy butternut squash soup recipe. You just throw the ingredients together in a blender and you'll be able to enjoy this delicious raw soup. The marinated mushrooms add an earthy, meat-like texture to the soup, helping keep you fuller for a longer period of time. Wondering what the benefits of raw food are? Raw foods provide all of the essential nutrients and vitamins present in the vegetables, without slowing down your digestion or affecting your skin and other organs.
12. Creamy Butternut Squash & Tomato Soup
image via Tinned Tomatoes
This stunning soup is made from butternut squash and tomatoes, which is where it gets it's stunning red-orange color that looks just as beautiful as a setting sun. But looks aren't the only thing that matters as this recipe is bursting with savory, tangy and rich flavors that will wow you even more.
13. Thai Butternut Squash soup
image via Tastes Better From Scratch
While there are many great things about this soup, the best is that it's packed with veggies galore. In addition to butternut squash, there's also sweet potatoes and carrots making this a beta carotene-rich soup that will aid in the development of healthy skin, heart, eyes, and more. What makes this soup uber creamy is the addition of coconut milk. But then again, what kind of Thai dish would it be if there weren't coconut milk?
14. Roasted Butternut Squash & Pear Soup
image via Flavor The Moments
This kind of soup is one of the best things Autumn has to offer. Roasted butternut squash and pears give this soup a lovely, thick flavor that isn't overly sweet. This dish is then topped with chopped dried cranberries and fresh cilantro which add color and freshness. You can put sour cream or Greek yogurt (plain) on top for some extra texture.
15. Butternut Squash Lasagna Soup
image via Healthy Aperture
Lasagna in soup? Don't knock it till you've tried it! This is a perfect way of making your soups heartier, which is often the issue people have with soup. This is a hearty, healthy soup that will please everyone.
There's nothing like a steamy bowl of soup on a cold winter's day or even everyday. These recipes will satisfy your cravings without breaking your calorie budget. They are super delicious, full of flavor and nutritious!
What do you think of these butternut squash soup recipes? Which recipe is your favorite? Share your experience with us in the comments section below.
Up Next: 21 Mouth-Watering Gazpacho Recipes You Won't Believe Are Healthy
Don't forget to keep in touch, foodies!

Also, make sure to follow us on Facebook, Instagram, Pinterest, and Twitter!