We're time traveling to the days when candy was wholesome and the memories sweet. Come journey with us to relive the best old time candy!
Old Time Candy That Needs To Make A Comeback
Ah, candy… Where would we be without it? Sure, we might have less cavities and maybe obesity wouldn't be such a problem, but candy is what our childhoods are made of! How many of us remember choosing our favorite candies at the checkout aisle of stores (I loved me some Rolos) or sorting through our giant candy bin after a night of trick-or-treating? When it comes to candy, we don't judge. We love all kinds, so to honor the sugary treat that is candy and all things dessert, we wanted to round up some old school candies that we feel definitely need to make a comeback. Why? Two words: candy. buttons.
Let's time travel to the good ol' days when candy was reserved for good little boys and girls, the flavors were simple and the memories were sweet.
Make your favorite vintage candy at home with this Candy Making-Kit from Grow & Make! 

Pre-1920s
1. Barnum's Animal Crackers
image via Music By Mail
Did you know that Barnum's animal crackers have been around since before the 1920s? Oh yeah, we couldn't believe it either. These buttery cookie crackers made eating crackers enjoyable, which is not something we could've said too often as a kid.
2. Brach's Butterscotch Disks
image via Candy Warehouse
While I've never tried Brach's, anything with the word "butterscotch" always catches my eye. Also known as butterscotch buttons, these little hard candies were old time treats that hungry, sweet-toothed kids always loved getting their hands on.
3. Charms Assorted Squares
image via Candy Carrollton
Check out this sweet vintage Charms ad:
4. Cherry Mash
image via Spoon & Chair
If you're unfamiliar with cherry mash, it's a milk chocolate coated candy with chopped roasted peanuts and a chewy cherry filling. If this was your jam back in the day, rest assured in knowing that you can still buy these candies at Old Time Candy!
5. Circus Peanuts
image via Blair Candy
Oh heck yeah! You better believe we put peanut marshmallows on this list! How iconic are these candies? I remember growing up with them and popping boatloads of these and Peeps in my mouth (I was and continue to be a huge marshmallow fan). And hey, isn't it good to know these fellas are fat-free?
6. Cracker Jack
image via Crain's Detroit
Cracker Jack is the OG old time candy snack! Who hasn't dipped into a bag of these caramel-covered, crunchy sweet clusters of heaven? One of my favorite parts of this sweet treat were the caramel coated peanuts. I mean, peanuts and popcorn? They're like the Sonny and Cher of duos – it just works!
7. Jaw Breakers
image via Oh Nuts
Remember the film? Rose McGowan in her prime, baby!
8. Moon Pie
image via Red Stone Foods
Moon pies are absolute heaven! Who didn't love the triple-decker graham cracker and marshmallow sandwiches that were coated in chocolate? I loved the first bite of Moon Pie as my teeth sunk into the graham crackers and met fluffy marshmallow. It was one of the treats that sent me over the moon. Get it? …don't judge me!
9. Necco Candy Wafers image via 1027 Kord
Necco candy wafers are a classic candy. These wafers come in fruity and chocolaty flavors and make the perfect vintage treat.
10. Salt Water Taffy
Salt water taffy is the candy that keeps on giving! It's still a sweet treat that's sold and consumed by the millions till this day! And it's fairly easy to see why – salt water taffy has an indescribable, incomparable chew and comes in a ton of delicious flavors.
1920s
11. Abba Zaba
image via For The Collective
Want to see something really offensive? Then check out the original packaging for Abba Zaba candy. Have you seen it yet? Yeah, pretty bad, right? Abba Zaba is a chewy taffy bar filled with rich peanut butter filling that we believe is still sold in stores like the 99 Cent Store. Although, if it's not there, know that you can always purchase these creamy, chewy treats online!
12. B.B. Bats
image via Candy Warehouse
"We're talking baseball (Kluzewski, Campanella),…" Love that song and if you do too, you probably also love these B.B. Bats taffy lollipops.
13. Charleston Chews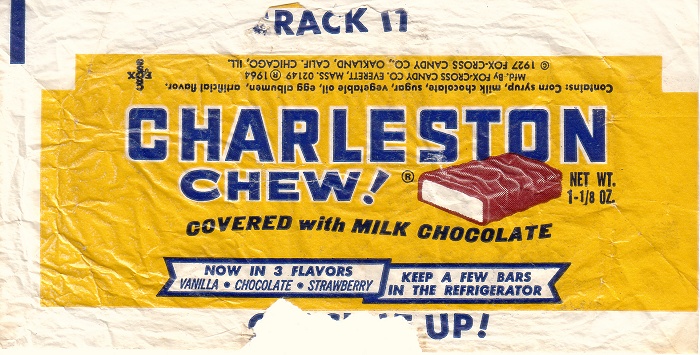 image via Candy Wrapper Archive
My husband loves Charleston Chews so when we discovered that the 99 Cent Store sold these on one of our weeknight walks, you can only imagine how overjoyed he became and, of course, he proceeded to buy them by the dozens. Can you blame him though? They were only 99 cents! For those unfamiliar with Charleston Chews, it's a nougat candy that comes in 3 different flavors and is coated with chocolate.
14. Dubble Bubble
image via Oh Nuts
Kids just can't wait to get their hands on a pillowcase full of Dubble Bubble, can they?
15. Sixlets
image via Red Stone Foods
Sixlets! Delicious candy coated chocolate-flavored candy that, if not chewed properly, will probably make you choke. With that said, dig in!
16. Squirrel Nut Zippers
image via Candy Favorites
Who knew there was also a band called Squirrel Nut Zippers? Squirrel Nut Zippers are the ultimate chewy peanut caramel candy. And by ultimate, we mean you'll be chewing these delicious treats for days.
17. Unicorn Pops
image via Chic Candy Buffet
You can breath a sigh of relief knowing Disneyland still sells these bad boys. Sure, they're not the original, but these suckers were so good we'll take anything at this point.
18. Wax Fangs
image via Oh Nuts
Wax fangs, wax lips, wax mustaches…Wack-O-Wax does it all! And with a tagline like "Play now, chew later" what kind of kid could resist?
1930s
19. Big Hunk
image via Baking With Honey
Note to those wanting to Google Big Hunk for images…just be sure to write candy after it or you'll see a lot of pictures that may surprise you.
20. Candy Buttons
image via Necco
Want to make candy buttons at home? Watch this tutorial!

21. Chick-O-Stick
image via West Word
It's nice to know that Chick-O-Stick is still being used (in the most delicious way possible).
image via Donut Friend
22. Mallo Cup
image via Wikimedia
For the newbies who don't know what Mallo Cups are, think Reese's Peanut Butter Cups with marshmallow instead of peanut butter. Pretty gosh darn delicious, if you ask us.
1940s
23. Bubble Gum Cigars
image via Oh Nuts
Whoever thought candy cigars and cigarettes were a great idea for children should pat themselves on the back for coming up with the worst idea ever. With that said, we can't deny we loved "pretending" with these bad boys when we were kids. What can we say – they made us feel cool!
24. Lik-M-Aid Fun Dip
image via Collecting Candy
I will always love this candy. Always. The powder is delicious and the dipping stick isn't so bad either. Are you a fan of Lik-M-Aid?
25. Peanut Butter Bars
image via Atkinson Candy
These little guys are crunchy peanut butter bars that, once they begin to melt, turn into a creamy wave of goodness.
1950s
26. Atomic Fireballs
image via Oh Nuts
Ever see the Atomic Fireball challenge? Catch it below!

27. Candy Necklace
image via Sweet Hope Cookies
To think this candy went from innocent fun to a raver's delight. But at least we can say ravers have great taste in candy!
28. Marshmallow Ice Cream Cones
image via The Wholesale Candy Shop
Ice cream marshmallow cones! How adorably delicious are these little guys?
29. Pez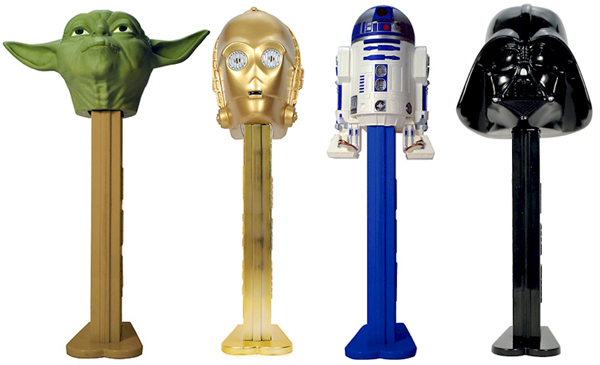 image via Today I Found Out
What goes together better than Pez and Seinfeld?!

1960s
30. Banana Split Candy Chews
image via Candy Warehouse
Mmm, banana splits were one of our favorite childhood desserts so the thought of having all of those flavors in one candy chew is almost too much for us to handle.
31. Flipsticks
image via Blair Candy
Man, nougat and taffy must be like the most popular candy ingredients in the world. Especially before the 70s! Almost every candy listed has been made out of these two ingredients, but we can't say we blame candy makers since they're so darn delicious.
32. Slap Stix Caramel Pops
image via Keuka Candy Emporium
Caramel and banana may not sound like a good combo, but don't knock it till you've tried it, friends.
1970s
33. Andes Mints
image via Coupon Clipinista
Remember the days when Olive Garden always placed these little treats on your table as an after-dinner mint? The first time I tried these, I knew Olive Garden was the place for me – family-style pasta, delicious bread sticks and Andes Mints! But this isn't about OG, it's about the creamy rich chocolaty goodness combined with light and uplifting peppermint filling.
34. Andy Capp's Cheddar Fries
image via Walmart Images
The precursor to Cheetos, Andy Capp's where was it was at!
35. Bottle Caps
image via Candy Nation
Soda-flavored candy? C'mon, are you trying to kill a kid! You know no child (or adult, for that matter) could resist these. These little Bottle Caps were just too darn delicious.
36. Rolo
image via Economy Candy
Want to see a creepily awesome vintage Rolo commercial?

1980s
37. Bubble Tape
image via Candy Warehouse
Bubble Tape was one of the most delicious bubble gums on the  market and I loved that it seemingly never ended! This was the cool thing to have at school as you whiped out your Bubble Tape and ration, in very small portions, the delicious treat to your friends. Get your own, man!
38. Chupa Chups
image via Spanish Via Skype
Yes, yes, and more yes. Every time I travel to Mexico, I'm always sure to stock up on these suckers by the dozens. They come in rich, creamy flavors like vanilla-chocolate, strawberry-chocolate and strawberry-vanilla. If you've never tried these before, you must get your hands on them as soon as possible.
39. Cow Tales
image via Like A Kid In A Candy Store
Cow Tales look wrong, but they taste oh so right!
40. Spree
image via Rao-Vat
While I was never a fan of the hard Sprees, I loved the chewy ones when they came out. Were you a fan of Sprees? If so, which ones did you prefer?
1990s
41. Baby Bottle Pops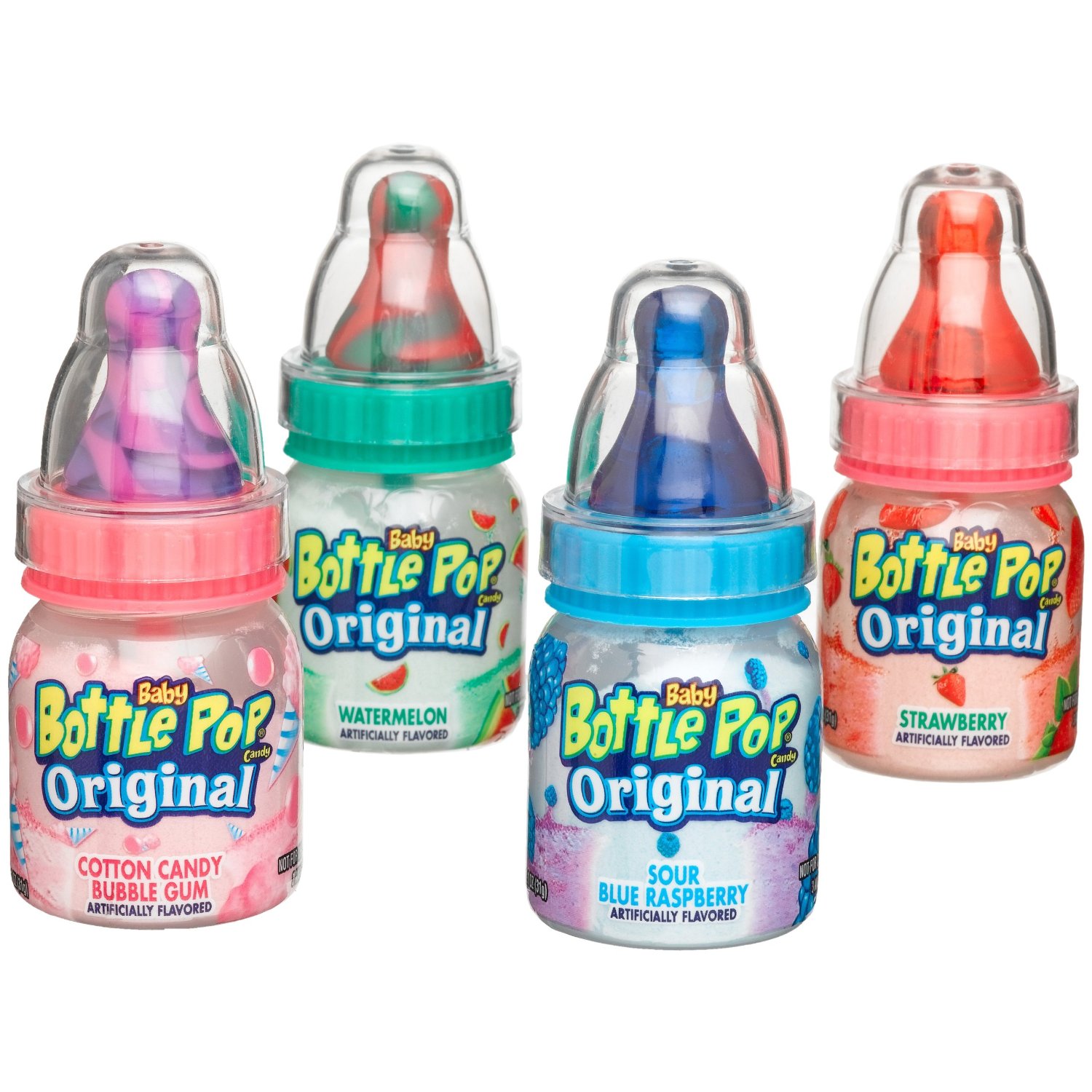 image via Sugar Man Candy
Best. Theme Song. Ever.

42. Candy Blox
image via Candy Favorites
Candy blox and candy erasers were a candy that never should have been discontinued. They were just too genius!
43. Gummi Mini Burger
image via Amazon
How fun was it to take these gummi burgers apart and rearrange them? I always like getting the not-so-tasty (in my opinion) parts out of the way like the lettuce and tomatoes, but once it came to the bun and cheese, you know I savored them for as long as I could. They gummis also came in hot dog and pizza shapes!
44. Warheads
image via Nuts
There are tales of Warheads burning holes in kids' tongues, but while we can't verify whether this is true or not, I will say that if it is, I'm not surprised. These candies were intense, man! Who ever tried to eat them during class with friends and see who could stay quieter longer while their mouth was being burned to bits?
Related Posts: 
Related Products:
Holle Formula Milk
Don't forget to keep in touch, foodies!
Sign up for our daily newsletter here!
Have Instagram? Don't forget to follow @HomemadeRecipesOfficial.
Click here to Like Us on Facebook.
Click here to Follow Homemade Recipes on Pinterest