Caramel apples are very festive desserts. Check out how to make these awesomely delicious caramel apple recipes!
20 Easy Caramel Apple Recipes
Here at Homemade Recipes, we have compiled the most delectable and mouthwatering easy to prepare caramel apple recipes.
1. Gooey Apple Caramel recipe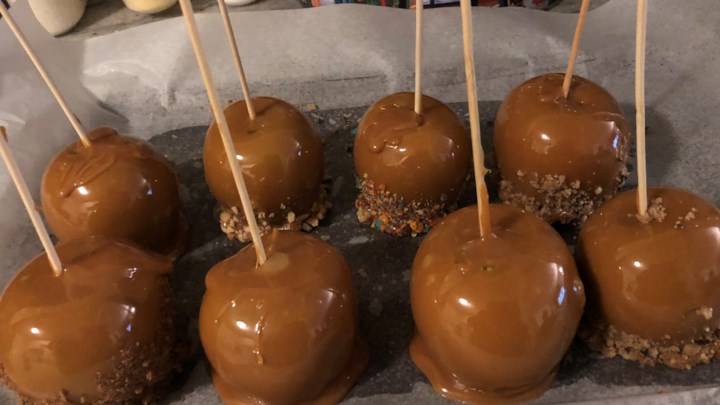 Try this caramel apple recipe! It's not your ordinary stiff and boring Caramel apple because it's so gooey, you can almost stretch the caramel. Read the entire recipe here and get your ready for your gooeylicious experience on your kitchen.
2. Caramel Apple With Oreo Cookies
Another "not your ordinary" caramel apple. Have a bitter sweet caramel apple with the help of Oreao cookies. Oreo cookies have never failed to add a bit of bitterness to any dessert. This way, you won't have to worry about being too satiated with the bloating flavor of caramel. Click this link for the full recipe.
3. Easy Caramel Apple for Halloween
Who ever told you that apples are not in during the Halloween season and only pumpkins is wrong. We can easily turn caramel apples into ghoul like desserts. Have a look at this enticing gourmet yet easy to prepare apple caramel recipe .
4. Easy Caramel Apples with nuts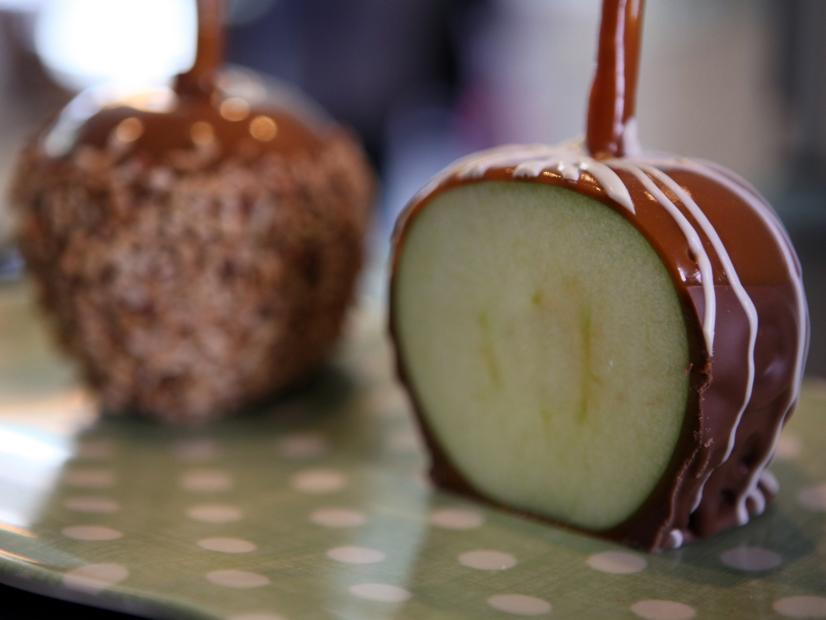 Caramel plus nuts equals goodness! I just love how nuts and caramel compliments each other perfectly. Read this recipe for a flavorful and mouthwatering caramel apple nut recipe
5. Caramel Apples With White Chocolate
Already bored of the regular drizzle in your apple caramel? Try the vanilla flavored Caramel Apples. You can check the full recipe here.
6. Apple Cider Caramel Sauce
Let's turn that apple cider into a caramel sauce. Click this recipe and try out something new for apple coating.
7.Skinny Caramel Apple Dip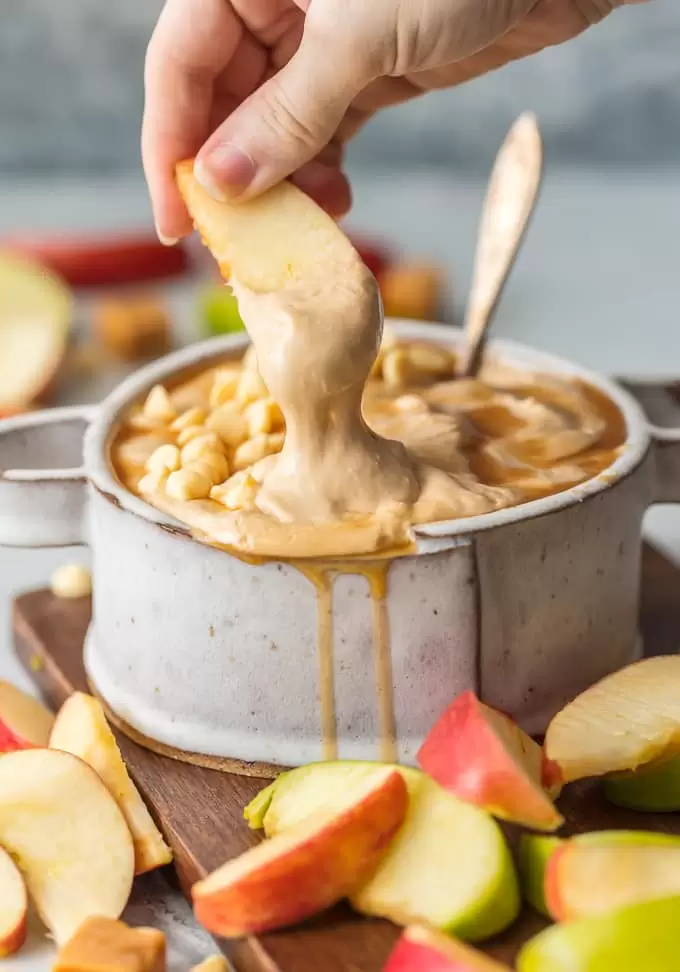 Having trouble eating bid chunks of caramel apple? Why not try the skinny version, here's the link.
8. Caramel Apple Dump Cake
With just four ingredients, be able to prepare a caramel apple dump cake that your family will surely enjoy. Click this link for the full recipe.
9. Caramel Apple Cheesecake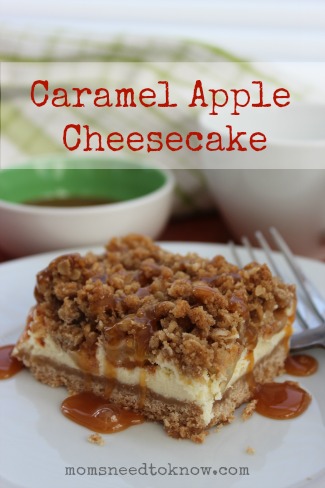 Prepare to impress your guests with this Caramel Apple Cheesecake. It's not your ordinary caramel apple. This flavorful yet easy to prepare dessert will surely tickle any person's taste buds. Click this link for the full recipe.
10. Easy Salted Caramel Apple Tart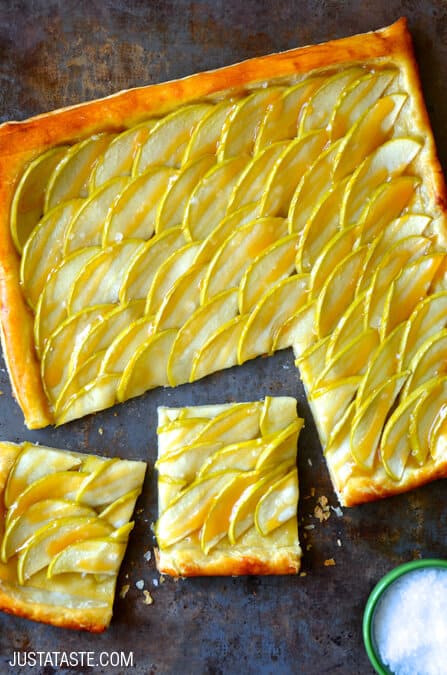 Salted and sweet – I love how to different flavors can collide. Visit this website for the full recipe.
11. Carnival Apple Caramels
This very festive Apple caramel recipe looks like it has been prepared by a kitchen gourmet. Don't be fooled by it's looks, it is very easy to prepare, just follow this recipe.
12. Caramel Apple Pudding
This luscious caramel apple pudding is definitely a must try dessert especially when the weather is getting colder. Visit this link for the full recipe.
13.Easy Caramel Apple Turnovers
Perfectly sweet Easy caramel apple turnovers for the pastry lover who doesn't just want to indulge in a whole apple dipped in an ordinary caramel sauce. Here's the full recipe so you can have your own tasteful caramel apple turnover.
14. Inside-Out Caramel Apples
This is a really fun twist in your traditional caramel apples. Try something different, get your kitchen tools ready for this Inside-our Caramel apples. You can read the full recipe here.
15. Nut Your Ordinary Caramel Apple
Sprinkle pistachio and almonds on your caramel apple. For the nuts lovers, this is definitely must try recipe. Go ahead and try it. You can view the full recipe here.
16.  Salted Caramel Apple Pie Bars
Here's your crowd-pleaser – the Salted Caramel apple Pie bar. It's loaded with Cinnamon and salted caramel. Click here for the full recipe.
17. Peanut butter-caramel dark chocolate apples
Heavenly peanut butter-caramel dark chocolate apples. It's three flavors and triple the goodness. Time to treat your sweettooth. Follow this recipe for a mouthwatering and easy to prepare caramel apple recipe.
18. Caramel Toffee Cheesecake Apple Dip
Thin slices of apple dipped in a caramel toffe cheesecake – superb! Who will resist this indulging temptation. Visit this site for the full recipe.
19.Caramelized Apple Dutch Baby Pancake
Caramelized apple pan cakes, anyone? This will certainly be a hit. It's very festive and it's good to see something new in your breakfast table so try this mouthwatering recipe. Visit this site for the full instructions.
20. Snickers Caramel Apple Salad
Here's your heavenly bowl of snickers caramel salad. It's perfect for those who want  fruits (apple) and sweets (snickers and caramel) in one bowl. Here's the full recipe.
That's all folks. Did you enjoy our list of homemade caramel apple recipe list? Let us know in the comments section below what you thought of our caramel apple list. Do you have a favorite homemade recipe that's been in your family for ages? Share it with us and we'll give it a shot. We love making quick and easy recipes that you can make right from the comfort of your home. Hence the reason we started Homemade Recipes.com We want to share our love of cooking with the you! We need your help in creating a community of foodies where you can come and share your recipes and expect the best homemade food prepared by our team of expert chefs and food connoisseurs. Do you want to write for Homemade Recipes? Shoot us an e mail and make sure to stay in touch on Facebook, Twitter, and Pinterest!
Do you have Instagram? Don't forget to @HomemadeRecipesOfficial.
Click here to Like Us on Facebook.
Click here to Follow Homemade Recipes on Pinterest