Make your cooking life easier with these stir fry recipes! They're just what you need to learn to whip up a quick but yummy meal for lunch or dinner.
Flavorful Stir Fry Recipes For Quick And Easy Meals
Dinner can be a hassle. You have to season the meat, prepare the vegetables, turn on the oven, set the table, and let's face it—this list can go on forever. Sometimes you just want and need a simple dish, one that doesn't take too long to make or require many ingredients. If you're looking for super easy meals, you're in the right place because we've compiled these quick and healthy stir fry recipes just for you!
1. Chicken and Broccoli Stir Fry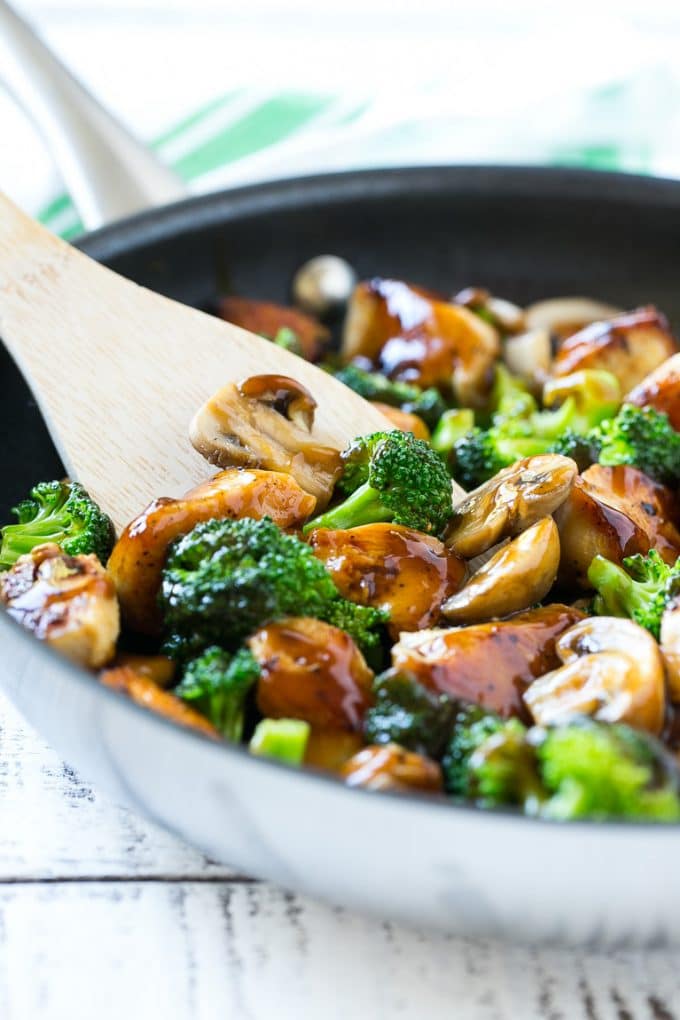 This Dinner At the Zoo stir fry recipe features tender chicken, fresh broccoli, and earthy mushroom, all smothered in a savory sauce. It's a healthy chicken recipe you can easily make in just a few minutes.
2. Ginger Soy Veggie Stir Fry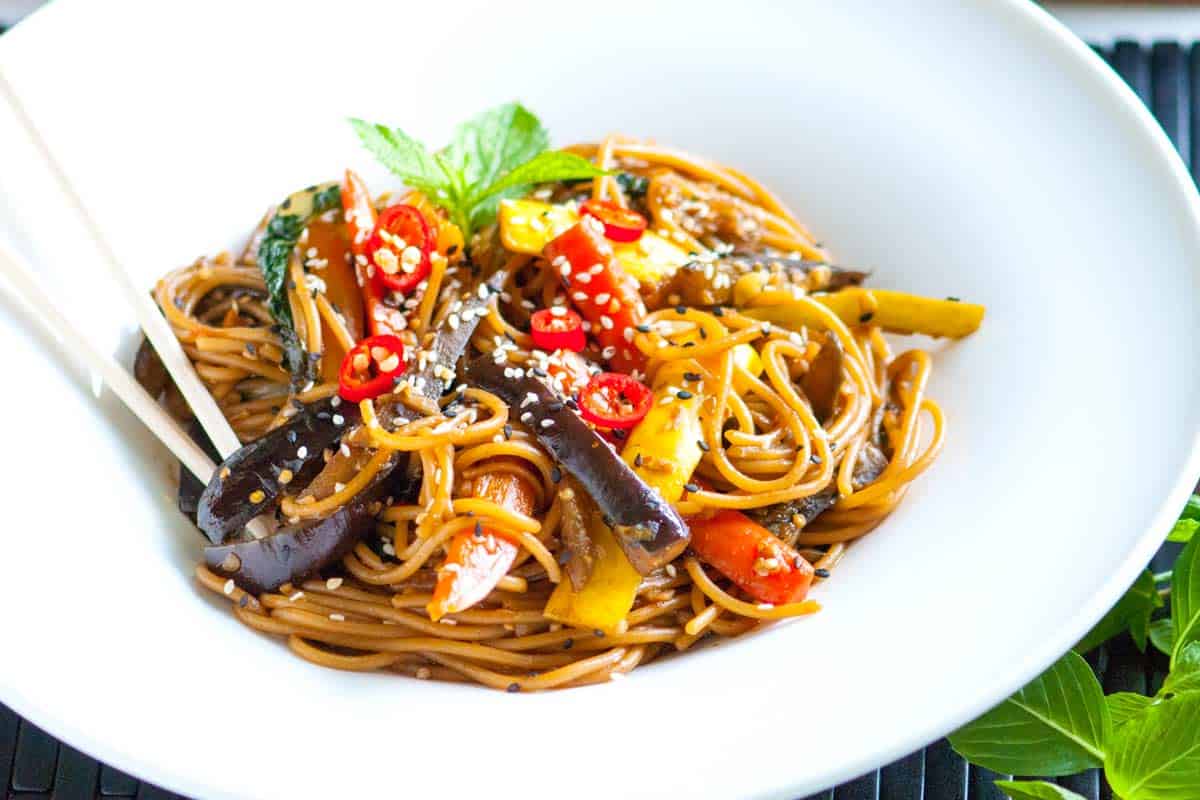 This all-veggie stir fry dish from Inspired Taste is definitely worth a try! Even if you're a meat lover, you wouldn't mind having this for dinner because it's deliciously packed with flavor. It's just what you need for an easy and light meal.
3. Honey Garlic Shrimp and Broccoli
Gimme Delicious has indeed given us something insanely delicious in this recipe. You'll learn how to stir fry shrimp and broccoli to perfection as well as make this exquisite sauce from honey, garlic, and soy sauce. It's so good you won't believe you can cook it all in just about 10 minutes.
4. Kimchi Udon Stir Fry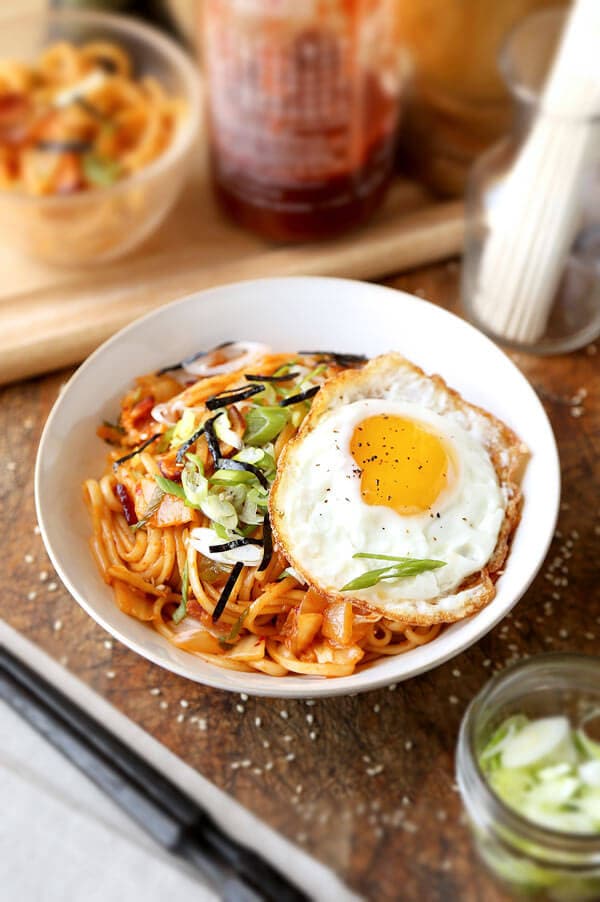 Combine your favorite kimchi and udon in this Pickled Plum recipe! In about 15 minutes, you'll have a delightful dish with an array of flavors—a bit sweet, tangy, salty, and spicy in just one bite.
5. Brown Rice Stir-Fry with Vegetables
Simple Vegan Blog has a beautiful stir fry dish which you can add to your collection of healthy recipes. We're not kidding when we say it's beautiful. Just look at all the lovely colors! Don't they make this vegan dish very appetizing?
6. Sesame Beef Stir Fry with Zucchini Noodles
In this Inspiralized recipe, zuccchini is cut into noodle strips to mimic actual noodles. Try this dish and you'll find it to be just as filling and delicious as a dish made with 'real' noodles—and why won't it be when it has beef strips for toppings and a lovely sauce made from sesame oil, hoisin sauce, and soy sauce.
You can't be any happier with a Peanut Butter Hot Chocolate Float!😍

👉Here's your recipe – https://t.co/5CVIlbSUDw #SummerRecipes pic.twitter.com/MnbnAUHU51

— Homemade Recipes (@BestHomeRecipes) July 19, 2017
7. Zucchini Pepper Stir Fry
Zucchini cooks really fast, which makes it a great ingredient for quick stir fried dishes. This is why we have included this healthy zucchini stir fry recipe by Peanut Butter and Peppers. We promised to give you quick and easy recipes, so here's an example.
8. Garlic and Ginger Glazed Sticky Pork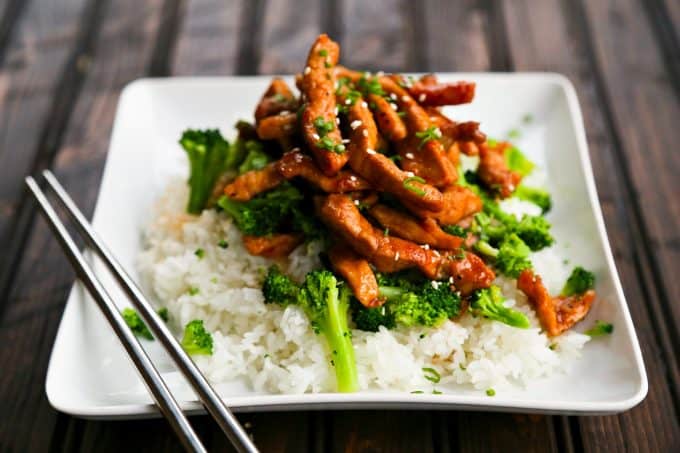 Make this glazed sticky pork dish by Rebecca Lindamood in Foodie With Family once and you'll want to cook it at least once a week afterwards. If you want to stop ordering food for dinner and just cook a quick, decent meal on your own, then this is the perfect recipe for you!
9. Cauliflower "Rice" with Tofu and Vegetables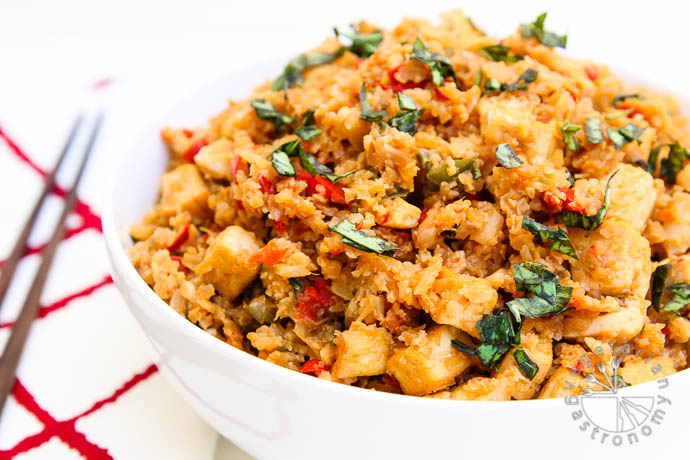 Stay meatless with this cauliflower and tofu stir fry recipe by Vegetarian Gastronomy. Even in the absence of meat or actual rice, this recipe still brings to the table a delicious dish packed with wonderful flavors.
10. Fish Stir Fry
Paleo on a Budget brings to us a very easy meal to whip up on busy weeknights. Like what the author of the recipe suggests, use white fish fillets like tuna, salmon, or swordfish to make this healthy paleo dish.
11. Asparagus and Mushroom Stir-Fry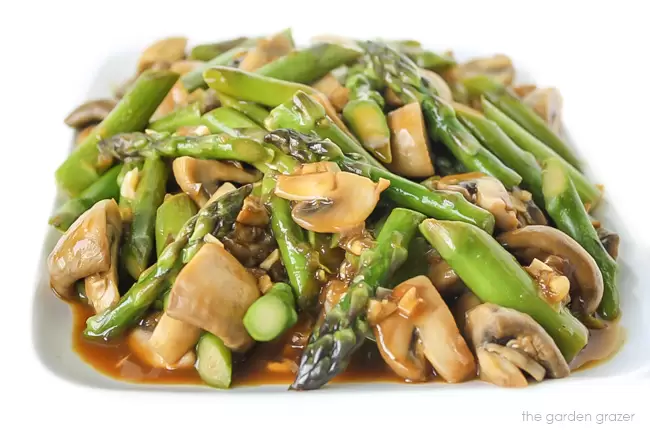 This The Garden Grazer creation is probably the easiest one to make among all the recipes in this list. It requires only a few major ingredients, namely, asparagus, mushroom, and sesame oil. But this dish is pretty flexible—you can easily add more protein like tofu to make it extra filling.
12. Broccoli and Squid Stir-fried in Hoisin Sauce
Because we've covered shrimp, pork, beef, fish, and a variety of vegetable dishes, it's only right we also include squid in this list. The recipe we've chosen is the stir fried squid dish by the Kitchen Missus. It's delicious, of course, and only takes about 20 minutes to cook!
13. Spicy Kale and Coconut Stir Fry
If you're looking for a light meal with a unique blend of flavors, then this spicy kale and coconut dish by Cookie and Kate is the one you must try. The kale, coconut, and eggs come together beautifully in this recipe, finished off with the fresh flavors of lime and cilantro. All these flavors remind me of summer!
14. Beef with Pineapples and Snow Peas
The flavors of this stir fried beef dish by Taming of the Spoon remind us of the white sand beaches of the tropical islands. You don't need to add sugar to make the beef sweet—the natural flavor of the pineapple is enough to add a decent amount of sweetness to the meat.
15. Cantonese-Style Ginger Scallion Lobster
The Woks of Life, in this particular recipe, teaches us how to cook Cantonese-style lobsters (Yum!). Because of the preparation process, you can say this dish is pretty challenging to make. But the actual cooking time takes only about 10 minutes. So, what are you waiting for? Get your trusty wok and stir fry some lobsters for dinner!
Check out these simple stir fry recipes by The Domestic Geek:
Stir fried food is not really complicated to make, as you can observe in the stir fry recipes included in this list. Make one or two dishes from this post and soon enough, you'll be coming up with recipes of your own. Don't be afraid to try new ingredients, and more importantly, have fun when you're cooking!
What do you think of these stir fry recipes? Which recipe are you planning to try? Share your experience with us in the comment section below.
Up Next: A Simple Stir Fry Tofu To Feel Really Good About
Don't forget to keep in touch, foodies!
Also, make sure to follow us on Facebook, Instagram, Pinterest, and Twitter!
Editor's Note – This post was originally published in October 2016 and has been updated for quality and relevancy.