Get your mind out of the gutter, will you? We're talking sliders here.
31 Sliders To Make For Labor Day
It's almost Labor Day, folks, and we're celebrating all of your hard work with these delicious slider recipes!
Labor Day is all about celebrating the working people in the world – teachers, bankers, custodial staff, software developers, scientists, artists, writers, everyone who works a day job or, if you're lucky, your dream job.
To make things a little more fun, we're matching delicious slider recipes to popular careers, underrated ones, and ones that require hard work and long hours. Bet we can guess what you do based on what you like to eat!
(Or maybe not. But it's still fun to try!)
These are 31 things to put in between slider buns, serve on a platter and enjoy with your friends and family in the sunny outdoors!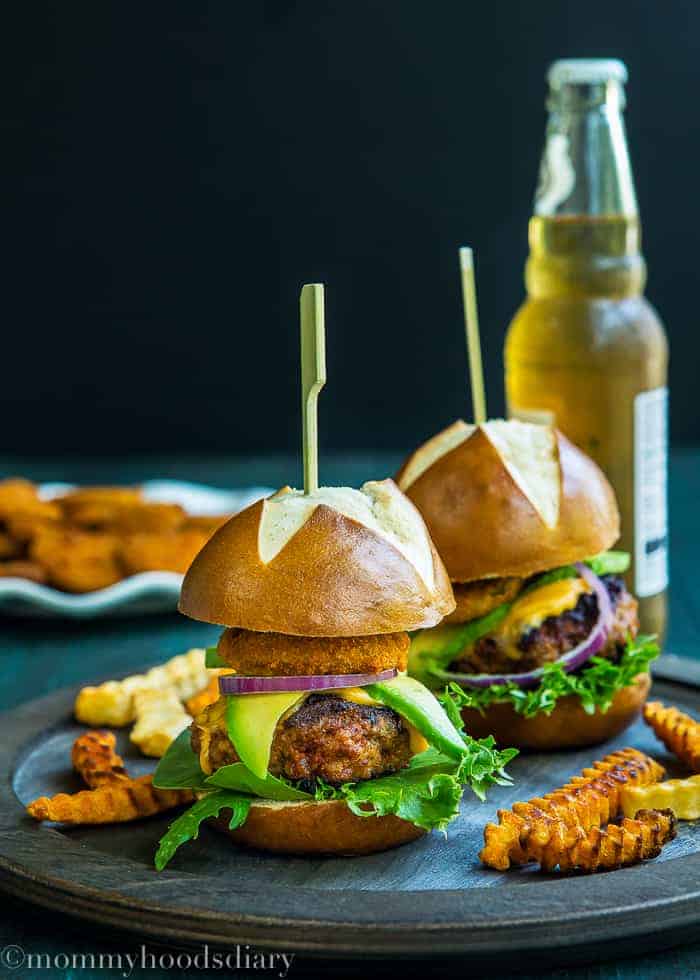 image via Mommyhood's Diary
I'd like to think I know your taste because I lived in San Francisco – land of software developers and gourmet food. These pork chorizo sliders are gourmet, yet simple enough to be enjoyed by everyone. If you're looking for a good slider recipe, you've found it in this juicy chorizo patty, fresh avocado and pretzel bun slider.
image via Probably This
You like building things – obviously – so when you see something that is just as beautifully crafted as a skyscraper or vacation home, you definitely appreciate the artistry behind it. These sliders capture the art of food perfectly by building a delicious slider with a perfectly breaded shrimp on top of a delicate little biscuit.
image via Boards & Knives
You're adventurous, know your way around good food and can spot the next big food trend in one bite. This BBQ eggplant slider is all that and more – it's daring (I mean, BBQ'd eggplant? C'mon), it's tasty, it's vegan, and we can guarantee it will be the next big thing in food.
image via A Drunken Duck
Just because you're a big dude doesn't mean you can't enjoy small things. Thankfully, these sliders are bursting with BIG flavor and hearty ingredients. The beef sirloin in this recipe is cooked to perfection, the mushrooms add another layer of indulgent meatiness and the bearnaise sauce is perfect for bringing all of those flavors together and accentuating them with a slight tanginess that will make your taste buds work harder than you. (Just kidding – we know that's not possible.)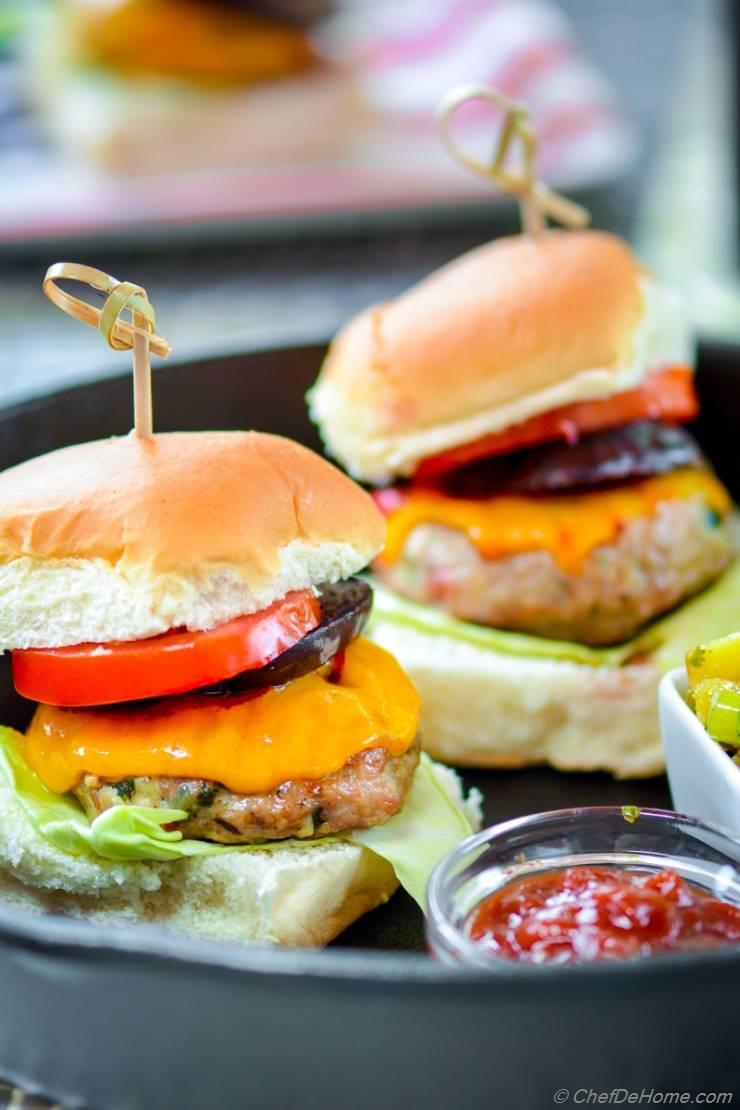 image via Chef De Home
Mathematicians get a bad rap. People usually think they're either boring, too smart to be socially adept, or…boring. But little do people know that being a mathematician is one of the most exciting jobs in the world! You're solving problems, looking at formulas, and are well-versed in the universal language that is math! Because mathematicians are exciting human beings, I figured they'd like a slider recipe as equally exciting. Like this jerk chicken slider with grilled pineapple relish.
image via Good Habits & Guilty Pleasures
C'mon – you're a nutritionist so you're top priority is being healthy! This slider recipe is about as healthy as it gets without being tasteless. Salmon is a rich source of omega-3s, garlic is great at cleaning out the digestive system and preventing cancer and gluten-free buns because…well, why not?
image via Kelly & Cricket
Being an athlete is difficult, but if you take away all the hubbub that surrounds it, these guys are getting paid to play games we used to play in elementary and middle school and that's awesome! But even if they're playing games, being an athlete is one of the most physically-intensive jobs there is. That's why these bacon and cheddar stuffed sliders are for the athletes who are burning calories faster than we can eat them! (And that's saying a lot.)
image via Tinned Tomatoes
Yup, urban gardening is one of our dream jobs but that has nothing to do with this slider now, does it? This slider recipe is made with the freshest of wholesome ingredients and will leave you glowing from the inside out. For someone who works around vibrant, organic produce all day, this recipe is right up their alley.
image via Oink Cooking
You might not know when you'll be called to action, but you do know that meatballs are always delicious regardless of whether they're in between slider buns or topped on spaghetti. This is for the hard-working firefighters who deserve something as ridiculously delicious and messy as this recipe.
image via Brazilian Flair In The USA
The best part about the food truck craze, aside from seeing regular folks share their love of cooking, has been the utterly whacky concoctions that are created. This chicken and waffle slider recipe is just as whacky as the stuff we've seen served at food trucks (bourbon pecan pie, sisig nachos, it never ends!), so this is for you food truck restauranteurs! You pioneers of the future!
image via Yes To Yolks
You found inspiration in everything life has to offer and that includes food. So, with that said, what better recipe to feel inspired by than with this cuban slider that's topped with creamy, tangy cilantro mayo? Go ahead – feel free to paint it.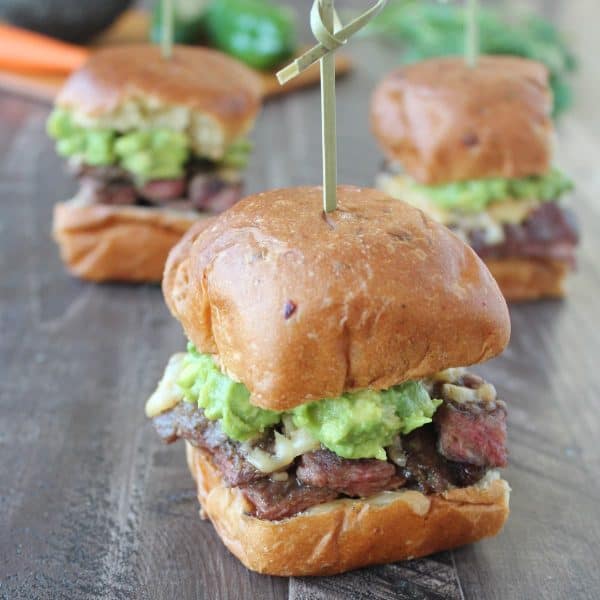 image via Whitney Bond
Work hard, play hard – that should be the official motto for nurses. You guys work long, crazy hours, are always on your feet and do things other people don't have the guts to do. This slider recipe also works hard and, because of its crazy fusion of flavors, knows how to play hard too.
image via Mariah's Pleasing Plates
Every day for a customer service rep is a hard day. You're dealing with irate people who, more often than not, do not display very courteous manners (and that's putting it nicely). But don't worry, guys, because this fried chicken slider is here to give you a big hug after a long day. These sliders are made of garlicky mashed potatoes, pepper gravy and crispy, yet tender fried chicken.
image via Leber PR
You don't partake in the consumption of animal products and we respect that. With beet patties as delicious as these, why would you need to? This burger is made with fresh ingredients and made for the animal rights activist who strive to make this world a better place for animals every day.
image via 5 Boys Baker
Kids don't often make sense, but I'll tell you what does – this ham and cheese slider. For the hardest working people in the country, you deserve a recipe that's simple, delicious and every bit the reward you deserve.
image via Simply Recipes
Ah, my fellow bakers. What lovely, sweet people you are. This little recipe is for you and is my way of saying Thank You for all of the delicious things you put out into this world! If you're a baker, you're the best!
image via Spiced Blog
We're not sure if Cowboy is an official title, but there are cowboy-related jobs out there like wranglers and ranch hands. This triple cheddar bacon slider is for the cowboys, the REAL cowboys.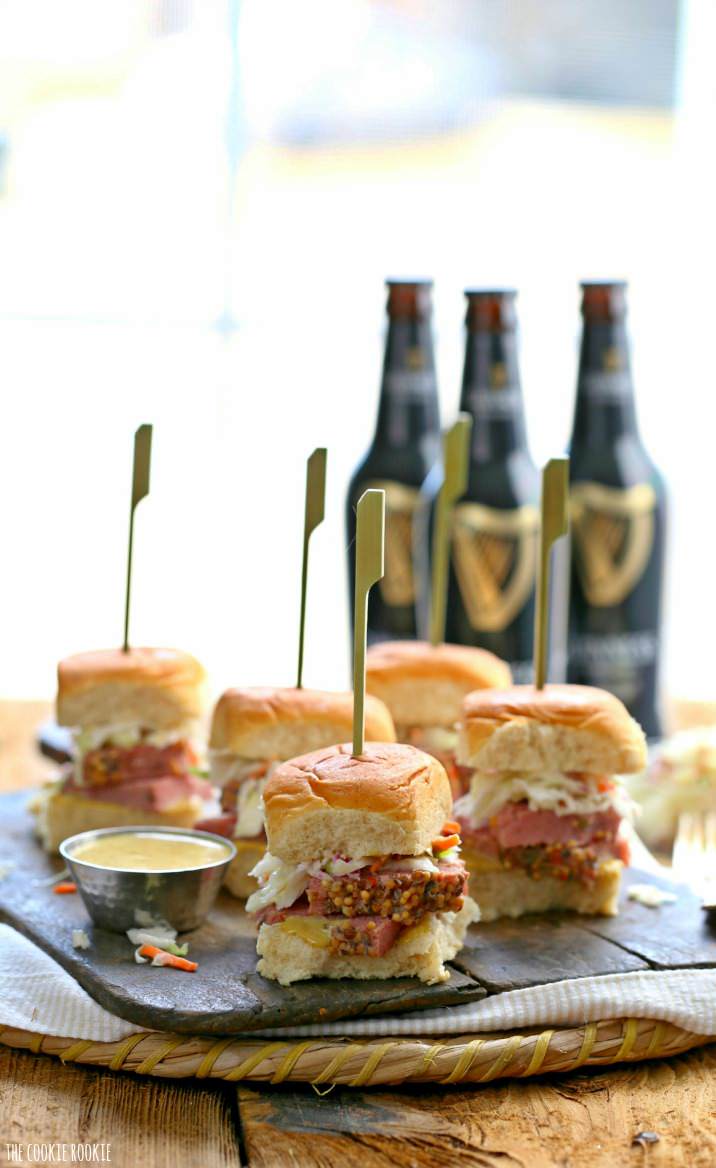 image via The Cookie Rookie
Even if you haven't seen the world, you've at least studied it. This Irish-inspired recipe is for the geographers who help demystify the world and all of its natural wonders for us regular folks.
image via Cookie Dough Sliders
With their imagination and creativity, animators bring us simple joys like our favorite cartoons, movies or comics. It only makes sense that a job is fun as this require a recipe as equally fun! That's where these cookie dough sliders come in. Yup, folks, that's cookie dough in between two soft, moist chocolate cookies. Mmm…
image via The Novice Gardener
Dentists just don't get enough love, do they? Well, all that's about to change with this sophisticated slider recipe! This is for all of your years of hard work. It's not easy having to look into people's mouths all day but if you do it, then goshdarnit, we salute you.
image via Spicy Ice Cream
Planning out an entire city isn't easy. Which is also very much the case when creating new recipes – constructing flavors, bringing them together and layering them in a way that's harmonious is downright difficult! That's why this recipe that features bold flavors like spiced prawn, lemon and fennel deserves some kind of shout out. As unique as the flavor profile might seem, much like a well-planned layout, everything works together perfectly.
image via Margaret's Dish
Health is your primary concern (as it should be!), so you're the first to stay away from pre-packaged, processed foods and carbs. These paleo sliders are delicious, healthy and perfect as a post-workout meal.
image via Food Fitness Fresh Air
Creating world-class chocolate is an art form, just like this recipe is. Who would have ever thought to use Brussels sprouts as buns? Because you appreciate the finesse and skill that go into creating sumptious delicacies, you'll also appreciate this refined sliders recipe.
image via Blog Chef
If you're a design engineer, you believe nothing is impossible. And with this recipe in hand, NOTHING truly is impossible. While this combo isn't necessarily groundbreaking, it's still delicious and the perfect way of celebrating the possible in life.
image via Food, Folks & Fun
You're all about preserving the beauty that is our planet and that is one of the most respectable things a person can do. This recipe celebrates the diversity of our planet's cultures, cuisines, and natural offerings in the form of fruits and vegetables. Thank you, conservationists, because without your knowledge, nothing would be possible.
image via The Gastronomic Bong
While being a curator has more to do with history than food, couldn't one say that food is a part of history? You curate important artifacts, artwork, and documents and in a way, this recipe does the same by curating wonderful flavors that go together, and define and celebrate the flavors that make up a specific culture's cuisine.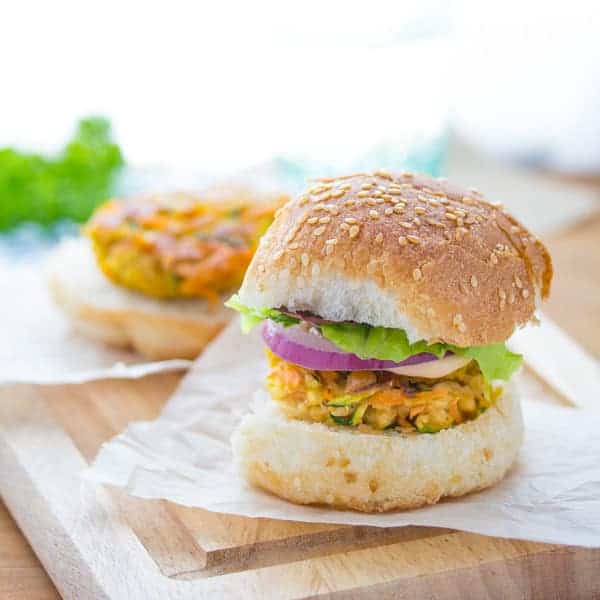 image via Sweet Peas & Saffron
You're always on the hunt for the latest in trends, celebrity news, and more and in a way, this recipe represents the ever-evolving trends in food. Chickpeas and international cuisine are having a great year as more people are looking to diversity their palate and Instagram the latest food trends.
image via Gringalicious
You understand beauty and composition – heck, that's how you make your living – so it only seems fitting that you'd like something as beautiful as this recipe. I mean, just look at it? Couldn't that be the next ad to blow up and go viral?
image via Southern Fatty
If you're a writer, the "starving artist" life is all too real. If you've found yourself opening your fridge and wondering what to make next, you probably have come to understand the importance of accepting an all hotdog lifestyle. Franks are cheap, can be made into sandwiches, taquitos, or pretty much anything and always taste good. This slider made with little smokers is for you.
image via Half Baked Harvest
Being a florist is SO much harder than it looks. You're not only arranging flowers, you're keeping an eye out for composition, colors, even floral types! That's why we had to dedicate this burger to you. At first glance, jalapenos, BBQ sauce, peanut butter and bacon SEEM like a strange combo, but you'll understand after one bite.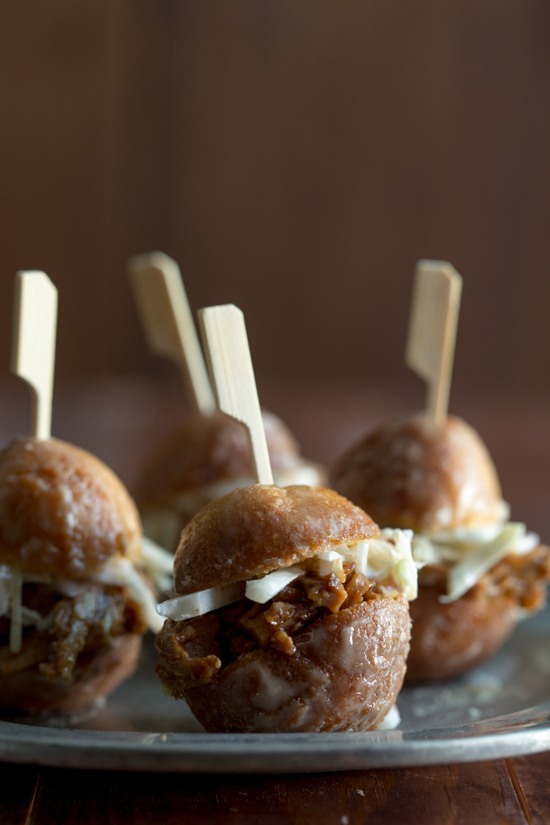 image via Jelly Toast Blog
Being a cashier is another job that gets a bad rap. I've been a cashier before and people always assume the worst. Well, not anymore, because this recipe will cure your woes and dissolve your stress from the day! This is for the cashiers of the world because without them, how could we buy anything? Next time you're at the counter, be nice, will you.
It's not everyday you get to watch Gordon Ramsay cook. Enjoy!
Related Posts: 
Don't forget to keep in touch, foodies!
Sign up for our daily newsletter here!
Do you have Instagram? Don't forget to follow @HomemadeRecipesOfficial.
Click here to Like Us on Facebook.
Click here to Follow Homemade Recipes on Pinterest