Wondering how to make monkey bread? Well, wonder no more, dear readers! We've rounded up some delicious monkey bread recipes that will not only answer your question, but provide some seriously tasty rewards too! Get that pot of coffee ready, because you're about to indulge in dessert for breakfast.
How To Make Monkey Bread
Monkey bread – the stuff of dreams, the subject of poetry, the longing in our hearts… Okay, maybe we were getting a bit carried away there, but if you've tried monkey bread you'll understand our sentiment. Monkey bread is a sweet and gooey breakfast pastry (that's so darn delicious it might as well be called dessert) made up of pull-apart pieces of bread and baked with cinnamon and topped with any glaze your heart desires (our favorite is salted caramel glaze).
Don't keep these monkey bread recipes waiting! Try them out and send us your pictures!
Have you just had enough of sweet monkey bread recipes? Then how about some savory ones! The best ingredient to use in savory monkey bread recipes is fresh, homemade cheese! With this awesome kit from Grow & Make, you can make your own cheese and eat it too!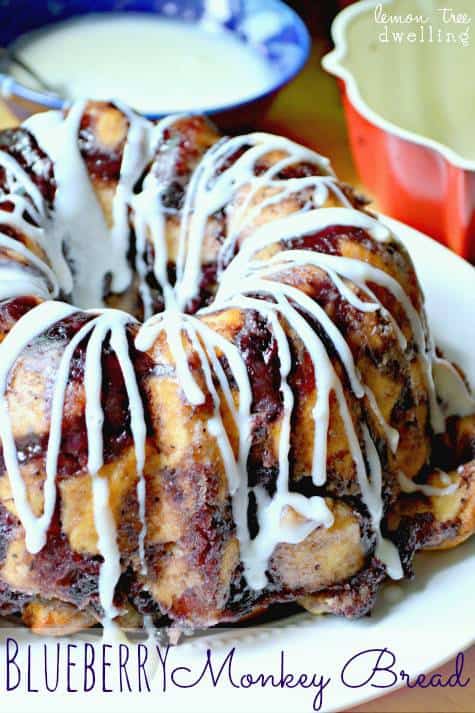 image via Lemon Tree Dwelling
If I had to choose between going somewhere or just staying home and indulging in this delicious cream cheese, blueberry monkey bread, there would be no doubt that I would stay home every.single.time. Because monkey bread is already so soft and gooey, the cream cheese in this recipe turns this cinnamon roll-like dish into a delicious, indulgent and fatty treat. This is the perfect recipe to whip out for special occasions as its unique flavor will be sure to please everyone's palate!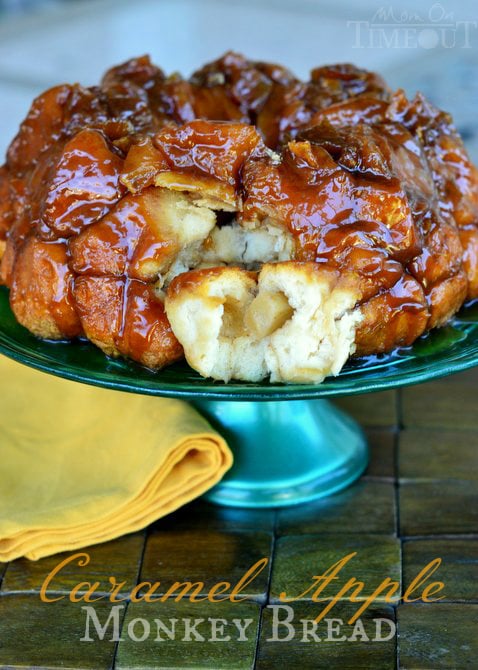 image via Mom On Timeout
We know that we've definitely waxed poetic over caramel apples before (remember this post?), so we're okay with doing it again and again. You know, because caramel apples are amazing and deserve to be mentioned in every conversation. This monkey bread recipe is the best way to spend time with your family as its fun to make and even more fun to enjoy and gush over together! The best part about this caramel apple monkey bread recipe is that each piece of monkey bread is stuffed with fresh apple pie filling. Don't worry, readers – we were pretty stoked too.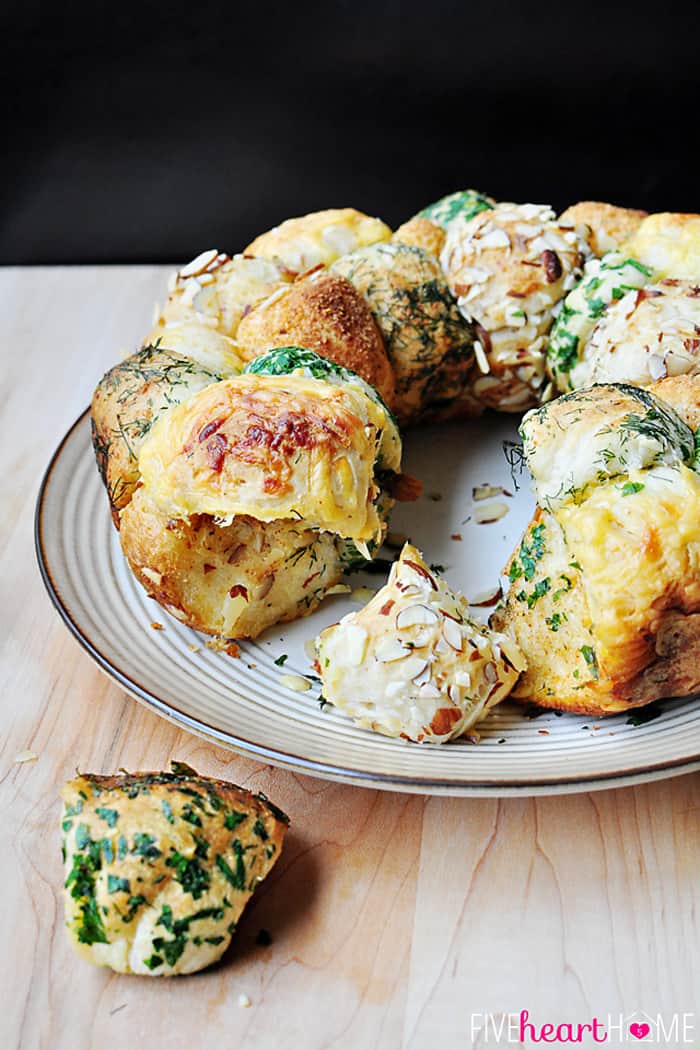 image via Five Heart Home
Not every monkey bread recipe is sweet, which is great since monkey bread was designed to be pulled apart into pieces, making it easy to eat as a unit, but enjoy individually. This monkey bread recipe is super quick and easy to make (which is great because once these babies start baking, the smell that will be wafting through your house will be too much to handle). This recipe consists of biscuits which have been dipped in garlic butter and then coated in herbs and cheese. Serve this before dinner, but do keep in mind that once gone, you'll be experiencing some serious separation anxiety. *sigh* Looks like we have no choice but to make more.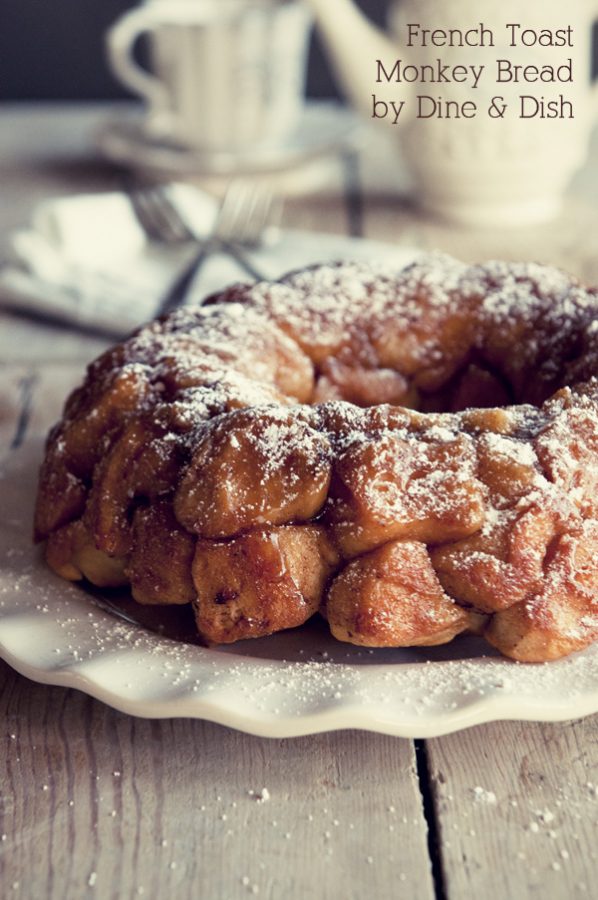 image via Dine and Dish
Once you know that something insanely delicious as French toast monkey bread exists, it's kind of difficult to go back to the regular thing. (What? It's just a slice of bread? Wahhh!) This homemade monkey bread recipe will be a quick shoe-in when it comes to breakfast recipes as it tastes exactly the same as regular French toast and is just as easy to make too. We recommend making this recipe on lazy Sunday mornings.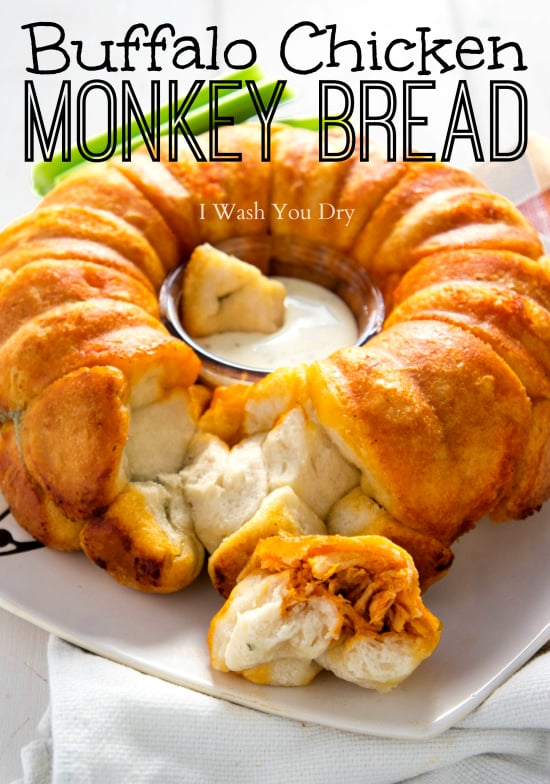 image via I Wash You Dry
Say goodbye to your conventional monkey bread recipe and hello to buffalo chicken monkey bread! This is a recipe we can't believe Pizza Hut hasn't come up with yet as it's genius, delicious and has buffalo chicken! This recipe is essentially spicy buffalo chicken that has been wrapped up in Pillsbury biscuits and served with some blue cheese dressing on the side. We reckon you could even make a pizza version of this recipe, so take that, Pizza Hut!
image via Girl Versus Dough
Sweet and tart cherry pie filling, soft and rich cream cheese icing and delicate baked-from-scratch dough is what this amazing recipe boasts! We like this flavor profile on monkey bread as, sometimes (let's emphasize sometimes), traditional monkey bread can be a bit one-note. This cherry monkey bread never feels too heavy on the palate, and instead offers a bright, tangy flavor that will refresh your taste buds with every single bite.
image via Something Swanky
This carrot cake monkey bread was meant to be enjoyed with your friends and family. Best served at the end of the night with some coffee, milk or tea, this take on carrot cake is a nice departure from the norm and might just convince us that carrot cake is the way to go (but we'll never forget you, chocolate!).
image via Number 2 Pencil
I just want to say that I LOVE lemon monkey bread. Okay, now that that's out of the way, let's get back to this lemon bread recipe. Not only is this lemon monkey bread refreshing (a strange adhective to choose when describing a decadent dessert), but sweeter than Taylor Swift giving away free scholarships to kids in need (and that's pretty darn sweet). Made with brown sugar, butter and lemon, and topped with a lemon glaze, this is definitely a recipe that deserves some play this summer.
image via Wine and Glue
Yes, yes and more yes! If there ever was a dessert that inspired a sincere, genuine nod of appreciation and approval, it's this one. This monkey bread is chock full of sweet cherry flavor and covered in chocolate sauce making it the greatest, most decadent dessert this side of the Mississippi! (Isn't that expression just fun to use in any occasion?)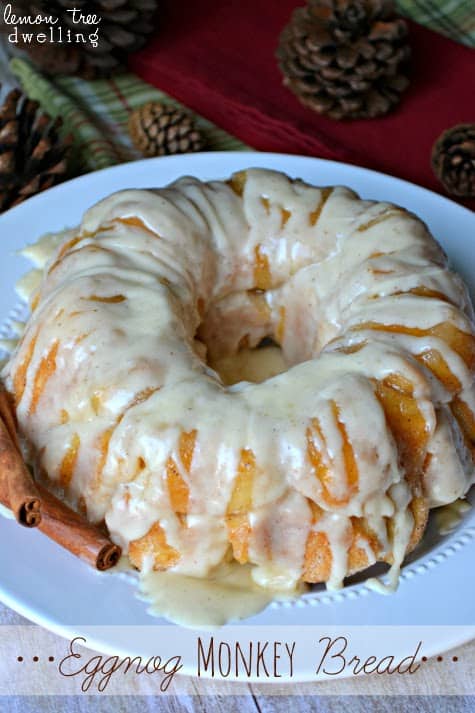 image via Lemon Tree Dwelling
Heck yes! If you love eggnog (it's a niche beverage, that's for sure), then you will fall in love with this eggnog monkey bread recipe. This is a nutmeg-spiced monkey bread that is coated in creamy eggnog drizzle. Great for the holidays and for every day (because every occasion is the perfect occasion to make desserts!), this eggnog recipe is not for everyone, but for the brave and true!
image via Something Swanky
Sweet baby Jesus! This monkey bread is jaw-droppingly delicious. Everyone knows how amazing red velvet anything is, so imagine that same red velvet taste you love in a breakfast pastry that is sweet, oozing, gooey and bouncy when held in your fingers. There is no going wrong with this recipe so make it whenever you feel like you need some extra sugar and loving in your life. 🙂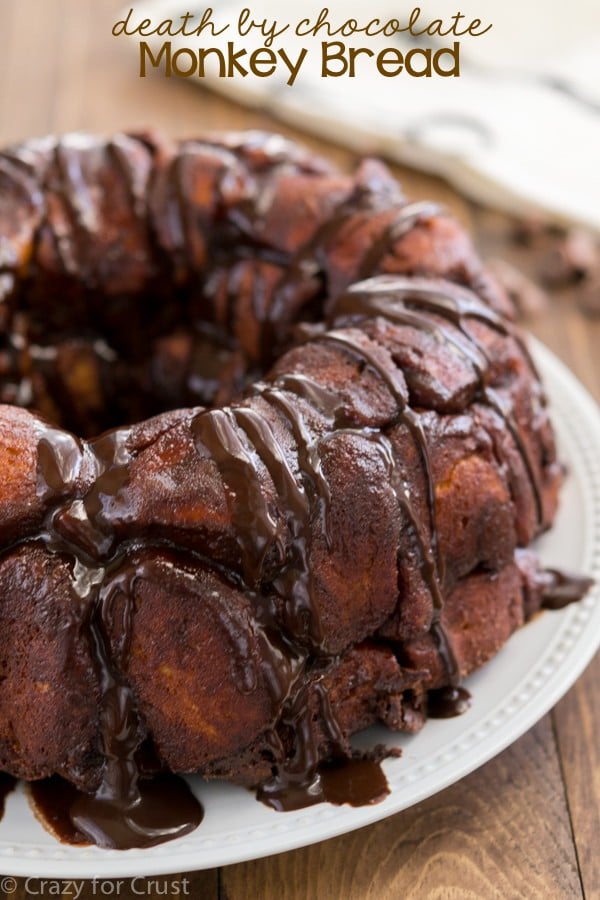 image via Crazy for Crust
If you are an extreme chocolate addict, you are going to lose your shirt for this homemade chocolate monkey bread recipe. This monkey bread is drowned in luscious chocolate sauce, that when drizzled, looks about as sexy as any Victoria Secret's model walking down the runway (if not more because, you know, it's chocolate). While we don't necessarily recommend this for breakfast (unless you can handle your sugar), this makes a lovely dessert that is best enjoyed outdoors with your loved ones in the cool, night air.
image via Freutcake
All the ooey-gooey-ness of monkey bread with the delicious flavor of toffee sauce. This is one of the most delicious ways to start your day! Each ball of dough is covered in cinnamon and brown sugar, then soaked in a stove-top toffee sauce. Drizzle some more toffee sauce over your finished product and BAM!, you've made a name for yourself as the best, most-loved baker in town.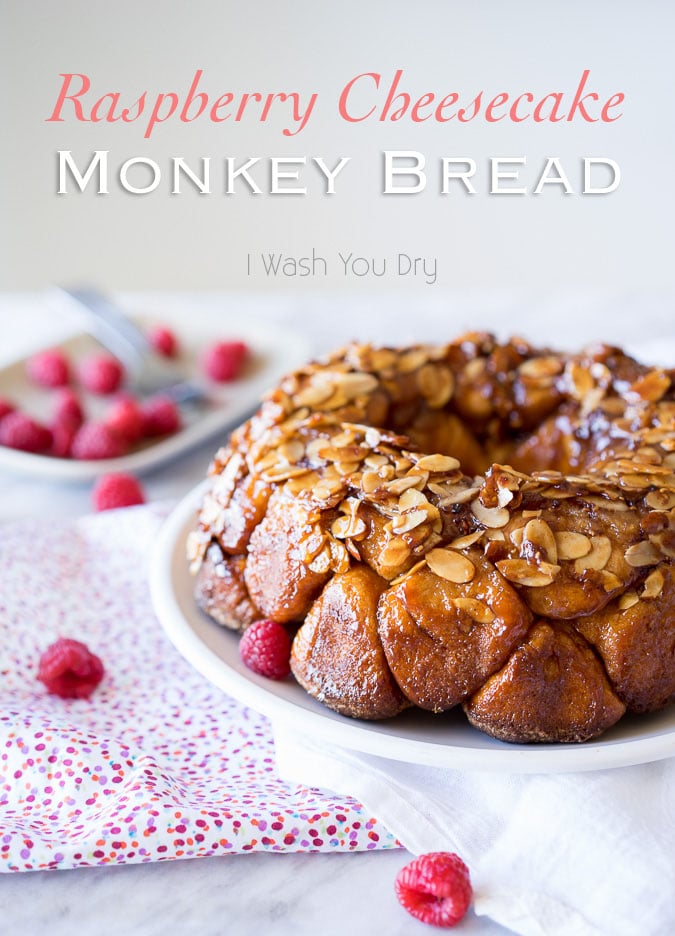 image via I Wash You Dry
Monkey bread recipes can look pretty out of control and that's one of the things we love about them! They're often smothered in rich sauce and oozing layers of sugar upon even more sugar. This raspberry cheesecake monkey bread is a bit different from those other recipes as this one looks more rustic, giving us some serious nostalgia as we look back at how far home cooking has come!
image via Favorite Family Recipes
What a perfect entry to follow up our rustic monkey bread with! This maple bacon recipe is just as crazy and indulgent as you'd expect a monkey bread recipe to be. This monkey bread recipe is a semi-homemade treat that features Rhodes rolls as the dough. If you love maple and bacon together (and, honestly, at this point, who doesn't?), you'll go gaga over this recipe!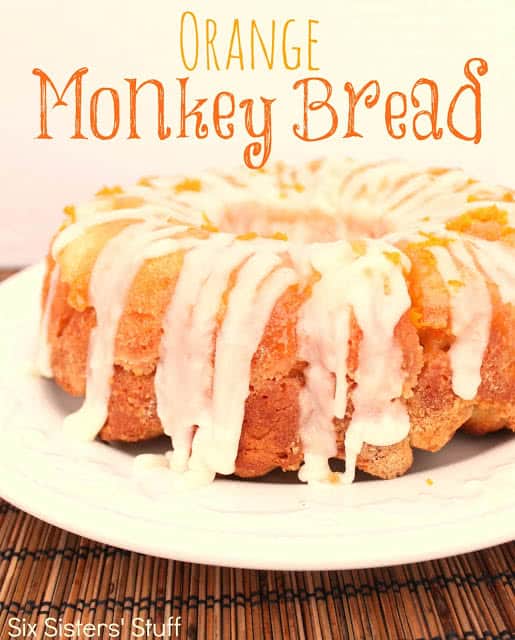 image via Six Sister's Stuff
This is the reason why fruits are one of the best ingredients to put in your pastries as they lend a refreshing and zesty flavor that cleanses and prepares the palate for more, more more! The only word we can use to describe this orange monkey bread is Delicioso!
image via Busy Mommy
Drumroll, please! This monkey bread recipe is the creme de la creme and features heavenly, gourmet flavors like goat cheese, blueberry and honey! Definitely a recipe to indulge in when you're feeling saucy, this goat cheese monkey bread is incredibly soft, delicate and the fastest way to transport yourself to that happy place.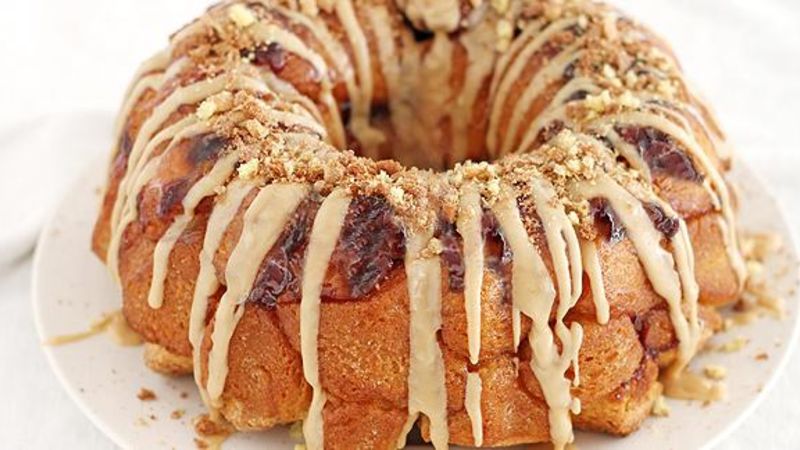 image via Tablespoon
Of course, we had to save the best for last: peanut butter and jelly! PB & J is like the holiest of all dynamic duos, tied for first with Simon & Garfunkel. This monkey bread recipe makes for the perfect breakfast as its easy to just pull apart, store (or stuff in a napkin) and eat it on the go.
Now that you know how to make the perfect monkey bread (in a variety of flavors), let's keep the baked goods comin'! Learn more about how to make pastries and desserts from scratch with this guide on How To Be A Master Chef In 10 Days – Pies, Cakes & More! If you're new to baking, don't miss our guide on Baking 101: How To Bake Cookies, Pies & More!
That's all, folks! If you enjoyed our 18 Scrumptious Monkey Bread Recipes, let us know in the Comments section below. We love hearing your feedback and comments; we also love sharing, so if you have an amazing monkey bread recipe, we'd love to hear about it and try it for ourselves! HomemadeRecipes.com was founded to create an online community where foodies, epicureans and chefs can share recipes and learn new ones! We need your help, however, in creating this community where you can come, share and learn. If you love to cook, love food or have some great recipes and ideas you'd like to share with us, shoot us an email and make sure to stay in touch on Facebook, Twitter, and Pinterest! We're always looking for contributors and want to hear from you.
Sign up for our daily newsletter here!
Do you have Instagram? Don't forget to follow @HomemadeRecipesOfficial.
Click here to Like Us on Facebook.
Click here to Follow Homemade Recipes on Pinterest