Enjoy your favorite hot Cheetos in unique ways. Ranging from tasty Cheetos-crusted fried chicken to savory Cheetos waffles, this list has it all!
Hot Cheetos Recipes You Need This Summer
It's been a while since Burger King launched Mac n' Cheetos to the public. It's just proof that when it comes to everyone's favorite snack, people love to get creative with it! Aside from Mac n' Cheetos, you'll find recipes you never knew you can make with hot Cheetos (think of waffles and crispy treats!). There's no perfect time for a tasty hot Cheetos recipe. Even the hot weather won't stop us from sharing this roundup of hot Cheetos recipes. Pair any of these recipes with your favorite summer drink and share the rest with your friends and family!
1. Flamin' Hot Cheetos Chicken Mozzarella Sticks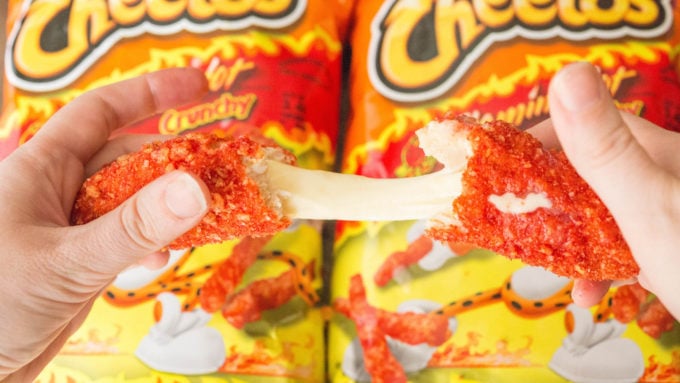 You really can't go wrong with chicken fries and cheese sticks. They both taste perfect together. What did crushed flamin' hot Cheetos do? Bringing the game to a whole new level! Try this easy hot Cheetos recipe and you'll never eat hot Cheetos the same way again.
2. Flamin' Hot Cheetos Fried Chicken
Looking for a chicken recipe to share with your friends this weekend? I bet they'll love this flamin' hot Cheetos fried chicken recipe. This fried chicken is crunchy and tasty, with a kick. Your chicken dish is in good hands with this hot Cheetos recipe.
3. Cheetos Marshmallow Crispy Treats
For this recipe, you only need three simple ingredients: Cheetos, marshmallow, and butter! These babies come together in ten minutes, so you won't keep your kids waiting for a gooey and cheesy treat. Make a hot version of these for the grown-ups. Just substitute the flamin' hot Cheetos for the classic variant and voila!
4. Cheetos-Crusted Mac And Cheese
Transform a classic mac n' cheese into a one-of-a-kind dish. This Cheetos-crusted mac and cheese is a cheesy and mouthwatering dish perfect for lunch or dinner. Imagine cheddar cheese, melted butter, milk, and crushed Cheetos in one spoonful. If you love spicy foods, you can just substitute flamin' hot Cheetos for the classic variant for a more thrilling mac n' cheese experience.
5. Flamin' Cheetos Arugula Grilled Cheese
Trying something new is never a bad thing. That goes for this bad boy! It has a good layer of flamin' hot Cheetos in between fresh arugula and gouda cheese, so I can't resist but try this easy recipe as soon as I can. Now, I'm stoked to share this with you. You can also try this with your go-to grilled cheese recipe. Every bite is worth it!
6. Candied Cheetos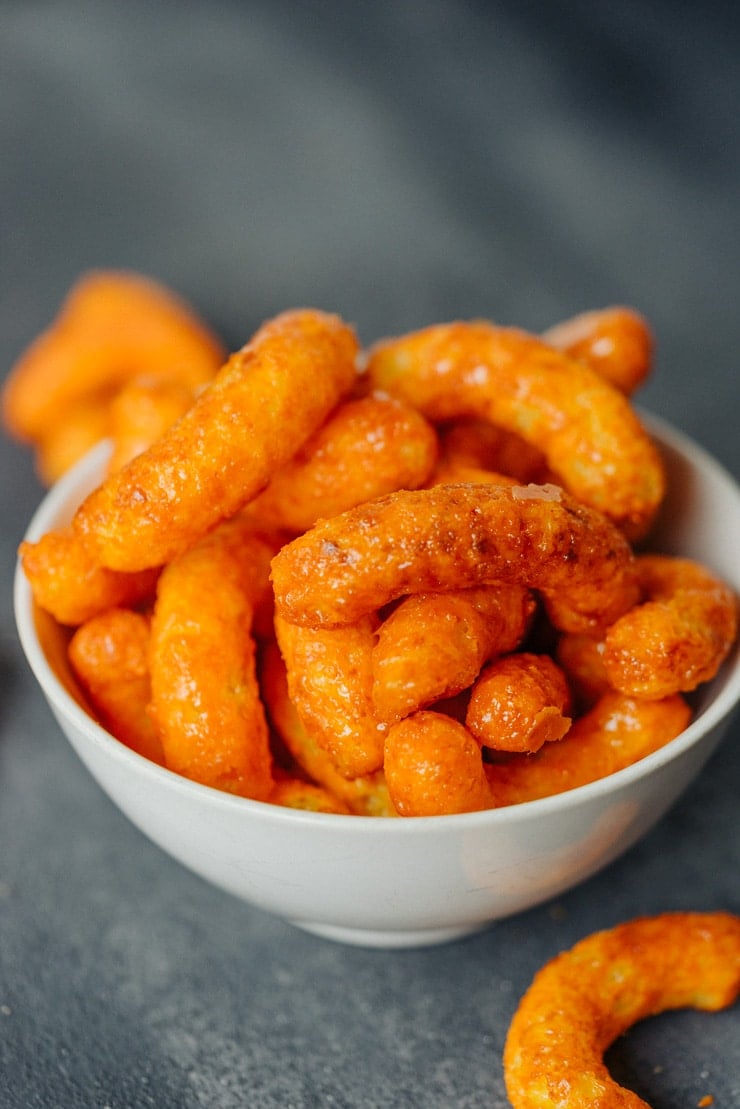 Spicy or sweet? Either way classic Cheetos or flamin' hot Cheetos will do great with this candied Cheetos recipe. This can be a fun snack for picnics, movie night, and kids' birthday parties. These candied Cheetos aren't the healthiest thing you can give to your kids, but it's fine to let them enjoy these cheesy candies every once in a while.
7. Flamin' Hot Cheetos-Crusted Cheese Sticks
These are cheddar cheese sticks coated with flour and a layer of flaming hot Cheetos, then deep fried to perfection! Dip these cheese sticks in marinara sauce and brace yourself for a gooey and spicy treat.
8. Cheetos Bombs
These Cheetos bombs are the perfect addition to your menu whether you're serving these for a weekend party or just a late night snack session with friends. Try this recipe with hot Cheetos, you'll love it too!
9. Cheetos Waffles
This could be the most unusual thing you will see today, but this could also be the tastiest thing ever! Elevate your favorite breakfast staple into a much more flavorful meal. These Cheetos waffles are game-changer!
10. Flamin' Hot Cheeto Fries
How can you skip eating flaming hot Cheetos when you have a recipe this quick and easy? Prepare your favorite potato fries, smother it with a thick and gooey cheese sauce and dust it with as much crushed flaming hot Cheetos as you can handle. These fries are finger-licking good!
11. 
Flaming Hot Cheeto-Infused Tequila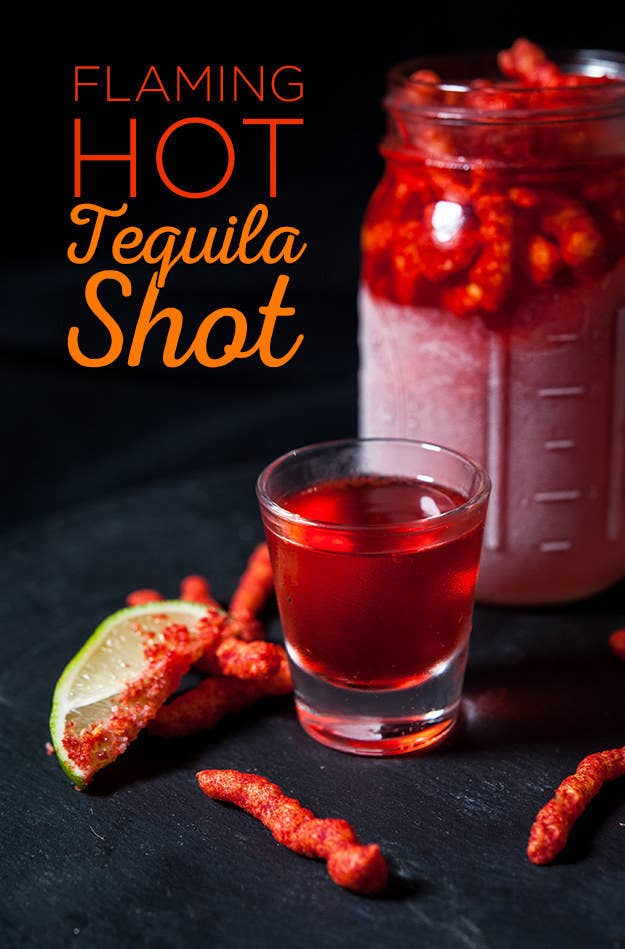 Have you heard of flaming hot Cheetos-infused tequila before? Well, if you enjoy boozy drinks like this, you're sure to keep this recipe in your back pocket. You just need a flaming hot Cheetos, some plain tequila, and a lime. This isn't just boozy, it's flaming hot!
12. Flamin' Hot Cheetos Corn On The Cob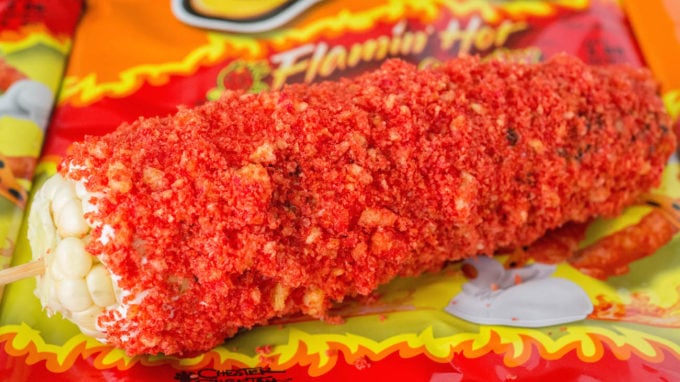 Mexican street food is my weakness and if you're in the same boat, you'll probably be drooling after you see this flaming hot Cheetos corn recipe. This corn on the cob would be perfect for your next summer barbecue party.
13. Sushi Burritos
These sushi burritos are beautiful in all aspects. These are the perfect fusion of Mexican and Asian cuisine. These sushi burritos are filled with veggies, sushi rice, and a decent layer of flaming hot Cheetos to add some crunch and spicy flavor. Tastes better than you think!
No more takeout! Appease your appetite with these burrito recipes! 🌯 #MexicanRecipes https://t.co/aTK9ujCmWX

— Homemade Recipes (@BestHomeRecipes) July 1, 2017
14. Flamin' Hot Cheetos Bloody Mary
This recipe brought hot Cheetos and a Bloody Mary to a whole other level. Now, this is a drink filled with bold flavors you would want to sip all the time. A whole jar of this flaming hot Cheetos Bloody Mary is loaded with a mixture of Redneck juice and cucumber vodka topped with fresh jalapenos, celery, flamin' hot Cheetos, and lime.
15. Cheetos Fried Mac n' Cheese Bites
Transform your leftovers into a tastier dish with this Cheetos fried mac and cheese bites recipe. It's super easy and fun, you can have the kids help you out in the kitchen. You can change things up and replace the classic Cheetos with flaming hot Cheetos so both the kids and adults can enjoy.
Do you still have time for one more hot Cheetos recipe? Watch this video by Marlin and learn how to make hot Cheetos tacos:
There you have it, folks! Hot Cheetos recipes for your playful taste buds. Each recipe is easy and quick to prepare. Now, you'll be more excited opening a bag of hot Cheetos because a spicy and delicious dish is sure to follow!
How spicy do you like your hot Cheetos recipe? Share your thoughts with us in the comments section below!
Up Next: Spicy Foods: Bad or Good?
Don't forget to keep in touch, foodies!

Also, make sure to follow us on Facebook, Instagram, Pinterest, and Twitter!