Want to become a master of the crumb? Then check out these 27 deliciously perfect bread recipes!
27 Perfect DIY Bread Recipes
Baking bread at home is something that is often viewed as being difficult and better left to the pros. But if there's anything we learned from our career as a baker, it's that just because something is difficult, doesn't mean it's impossible! Reap the benefits of homemade bread by mastering these recipes (because, really, what's better than the aroma of freshly-baking bread wafting through your house?)!
image via Artisan Bread In Five
This is the perfect starter bread recipe to make at home as it's made with no-knead bread dough and then popped in a slow cooker to rise and bake. Isn't the thought of freshly-baked bread waiting for you after a long day of work exciting?
image via Hungry Shots
This bread recipe is made with various types of flour and seeds, making it a hearty, earthy country bread that's packed with loads of flavor! We recommend enjoying this as it is, with a pat of butter, of course.
image via Eva Bakes
Eva from Eva Bakes has mastered the perfect copycat English muffin recipe! If those little rounds of bread are your jam (get it?), then this is a must-make recipe you'll enjoy (who knows, you may never buy the storebought version again!)
image via Amazing Paleo
Almond flour and shredded coconut come together to create a loaf that's soft, crumbly and can be used for all of your sweet and savory meals.
image via The Flavours Of Kitchen
This Greek bread makes for a perfect breakfast and tastes even better toasted! With rich flavors like cinnamon, orange zest, raisins, and honey, the only accompaniment this bread needs is melted butter. (What can we say, we're fans of bread and butter!)
image via The Truffle Journal
Focaccia is like the ultimate savory bread (right after the French baguette, of course.) It's soft, has an incredible bite to it and pulls apart easier than saying the word "focaccia." This recipe combines the best savory ingredients into one uber-focaccia loaf that's bound to be a family favorite.
image via Baking A Moment
Looking for a soft and healthy sandwich bread to replace your current white bread? Look no further than this red grapeseed wheat recipe! The red grapeseed lends a nutty flavor that pairs perfectly with hummus and avocado, or even peanut butter and jelly!
image via Sprinkles & Sprouts
For a long period of our lives, we were obsessed with bagels: bagels and cream cheese, bagel sandwiches, heck, we even went through a long bagel pizza phase that resulted in 10 pounds and lots of tasty memories. Now we can recreate those memories at home with these NY style bagels!
image via Herbivore Cucina
Masala Puri is an Indian unleavened bread that is seasoned with spices and made with whole wheat flour. It's traditionally eaten for breakfast alongside some sweet and spicy pickles, Masala Chai tea and potato sabji.
image via Bakerita
Mozzarella cheese and homemade pesto are swirled throughout this light white flour bread. Toast a slice of this bad boy, spread a thin layer of tapenade on there and you have yourself a delicious mid-day snack.
image via The Woks of Life
Coconut buns, aka Cocktail buns, are typically served at large family gatherings and eaten after dinner (or before, if you're like us and can't resist). These coconut buns are incredibly soft and fluffy and, SURPRISE, filled with a sweet cream filling.
image via Pretty Plain Janes
Love pretzels? Yeah, we do too. And we don't just mean pretzels, but pretzel buns, pretzel rolls, pretzel straws, basically anything that has the world "pretzel" in it. This pretzel recipe has everything you love about the original ballpark versions, with the addition of another quality: love!
image via Kurry Leaves
How beautiful are these hamburger buns? Aside from being a visual feast, they're also incredibly easy to make and are everything you love about hamburger buns: soft, flavorful and tough enough to endure the sopping amount of sauce (we) usually put on there.
image via Occasionally Eggs
These whole grain biscuits are a healthier, just-as-delicious alternative to the Pillsbury ones we grew up on.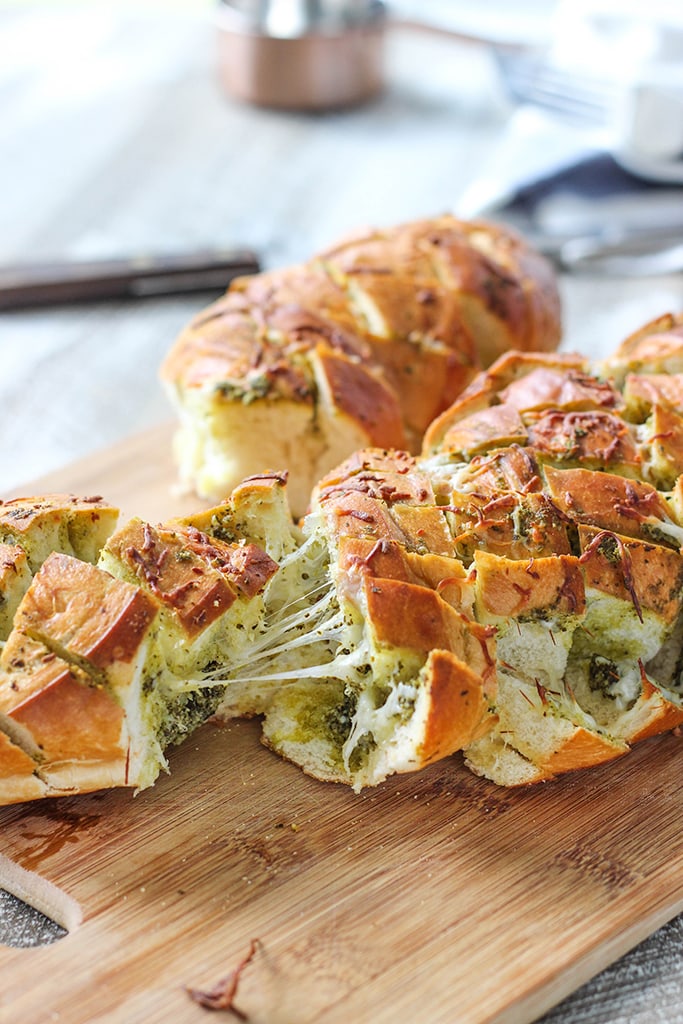 image via The Cooking Jar
There aren't words to do this recipe justice. Just look at the picture and know this is something you have to make soon. As in, tonight.
image via Zesty South Indian Kitchen
These rolls were created by Swathi with diabetics in mind. Sweet potatoes are not only a great source of carotene, fiber and vitamins, they're also wonderful at regulating blood sugar levels! If you're looking for a sweet dinner roll recipe that everyone can enjoy, this is definitely the one to try.
image via Time To Cook Online
Not a fan of yeast? Some people aren't and that's okay. For those that would rather stay yeast-free, this recipe only uses baking powder and soda as the leaveners and still manages to taste just like the real thing.
image via Butter & Brioche
This delicious breakfast bread is made with apricot marmalade, lavender buds and dried apricot pieces resulted in a soft, sweet, warm and fruity bread. It's essentially everything our romantic dreams are made of.
image via Jo Cooks
Isn't the best part about going to Red Lobster getting these rolls? At least, in our opinion it is. These delicious bites of cheesy heaven are everything our adolescent/young adult memories are made of. Whenever there was a "special occasion," we went to Red Lobster (what, I love shrimp) and my family and I would devour baskets and baskets of these rolls. If your love for these guys is as big as ours, then find joy in knowing that you can now have these whenever you want.
image via Nommable
Challah bread is absolutely incredibly and makes the perfect French toast. We just had to put that out there already. The words "Challah French toast" were bursting from our mouths. This recipe is fairly fool-proof, so even if you're just getting into bread baking you can enjoy delicious homemade challah.
image via Cooking On The Weekends
Gimme Pizza! For those who are gluten-intolerant or just looking for an alternative to traditional pizza crust, this is a great recipe that's easy to whip up and tastes amazing. It's texture is similar to that of flat bread – thin, crunchy and buttery.
image via Gather For Bread
I see this recipe is being an alternative to Red Lobster's cheesy biscuits as the flavors are relatively the same with the addition of zucchini and exception of other ingredients. If you're looking to expand your cheesy biscuit repertoire, this is definitely a good starting recipe.
image via Hungry Shots
This bread is a beautiful loaf that's perfect for fall. Enjoy a toasted slice of this bad boy for breakfast with some coffee or tea.
image via Sally's Baking Addiction
We don't make these statements lightly, but believe us when we say this is one of the best cornbread recipes out there. The sweetness of the corn and honey marry into each other to create a delicious, hearty treat that was made to be sopped up with some homemade chili.
image via Super Nummy
This bread recipes is ridiculously soft, like rest-my-head-and-use-this-as-a-pillow soft. The earthy, robust flavor of the rye comes through to create a delicious all-purpose bread.
image via Urban Bakes
Goodbye, Wonder bread and hello, homemade white bread! This is a great recipe to replace the storebought version with. We bet you won't even miss it.
image via Cook With Kushi
We just had to end the list with this decadent and beautiful braided Nutella bread! Don't let the picture intimidate you; there's a step-by-step tutorial that will make achieving this braided look a piece of cake (or bread).
Related Posts: 
Don't forget to keep in touch, foodies!
Sign up for our daily newsletter here!
Do you have Instagram? Don't forget to follow @HomemadeRecipesOfficial.
Click here to Like Us on Facebook.
Click here to Follow Homemade Recipes on Pinterest