End your meal on a sweet note with these lusciously good cream puffs with delectably indulgent cream puff fillings. Cream puffs are simple pastries with subtle sweetness, but with cream fillings, they can be epic desserts to enjoy after every meal. They're truly versatile. You can make different fillings for cream puffs richer and more creative by using unique flavors like matcha, Nutella, coffee, and more! I made a list of scrumptious cream puffs with divine cream puff fillings. They're unbelievably easy to prepare, never fail cream puffs, I hope you'll enjoy!
Best Cream Puffs with Epic Cream Puff Fillings!
1. Frozen White Chocolate Cream Puffs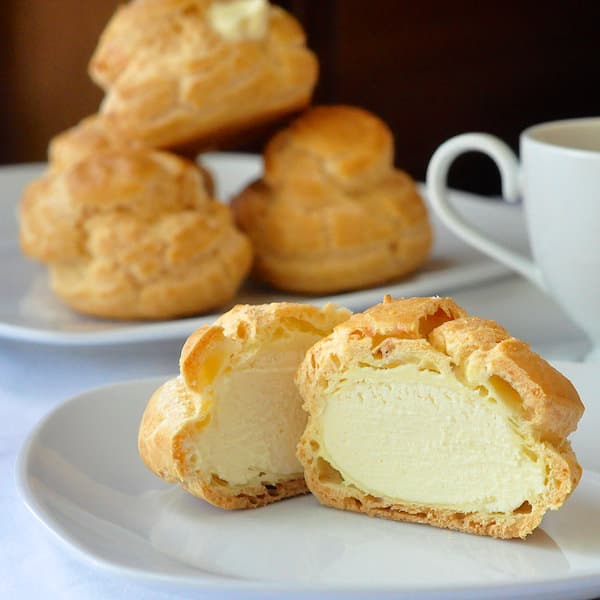 I normally don't do desserts every day, but when I found this cream puffs recipe, I can't help but make some every single day. Frozen white chocolate cream puffs A.K.A. the best and the most refreshing dessert that will have everyone begging for more. If you haven't tried frozen cream puffs before, now is a perfect time!
2. Double Chocolate Cream Puffs
These double chocolate cream puffs are every chocolate lover's dream. This recipe makes big cream puffs but feels free to make mini versions. They are so good, my family always asks for more! These cream puffs are to die for!
3. Matcha Cream Puffs
Enjoy a puff pastry with custard filling or should I say matcha custard filling. It's a delightful treat rich in unique flavors and antioxidants. After this recipe, you will never make cream puffs the same way again. Try making a batch of these cream puffs and discover just how deliciously unique cream puff fillings can be.
4. Strawberry Cream Puffs
Looking for scrumptious after-meal treats that are easy to prepare and will delight everyone with their flavor? The best thing about these delightful cream puffs are the slices of fresh strawberries included in every bite. It's a good take on a classic French dessert.
5. Nutella Cream Puffs
Chocolate is always a crowd pleaser; what more hazelnut and chocolate together? Take a look at these dreamy and creamy Nutella cream puffs. These are decadent enough to serve at parties and any kind of festivity.
6. Pumpkin Cream Puffs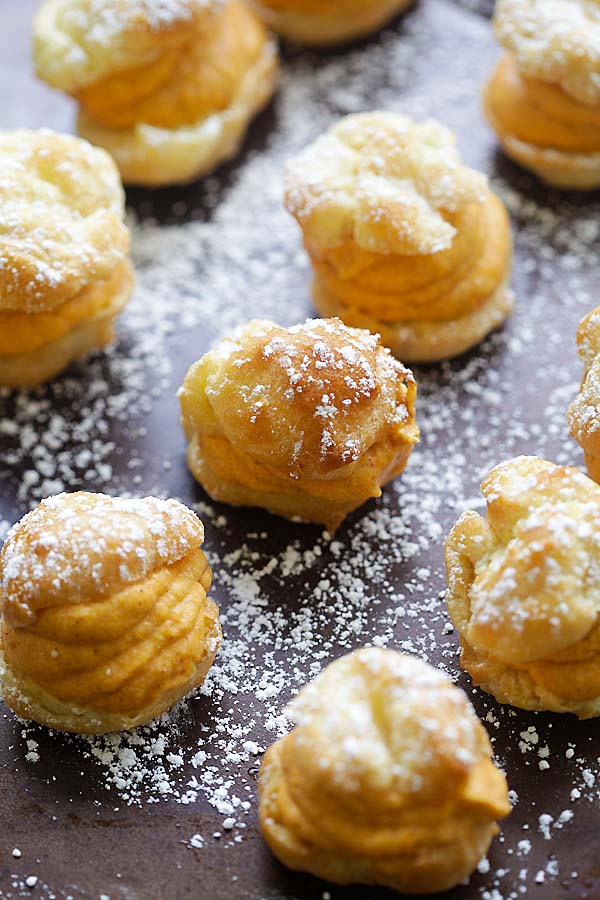 If you love everything pumpkin then you'll be the happiest with this cream puff filling recipe for pumpkin cream puffs. They're filled with sweet pumpkin filling which is easy and fast to concoct.
7. Raspberry Cream Puffs
While some people are fairly satisfied serving cream puffs plain, with fruit, or a crisp caramel glaze, I personally suggest cream puffs with some heavenly cream puff fillings! Enjoy a melt-in-your-mouth pastry experience with these cream puffs filled with all the decadence of raspberry whipped cream in between two light-as-air pastry puffs.
8. Strawberry Cheesecake Cream Puffs
This dessert is a bite-sized strawberry cheesecake in cream puff form. It's a lovely treat with the perfect balance of creaminess and sweetness everyone will adore.
9. S'more Cream Puffs
Your favorite ooey-gooey campfire treat made even better thanks to a light and airy cream puff pastry. With
this recipe
, now you don't need to roast a s'more over the fire! It's honestly the best way to savor cream puffs and serve them to a crowd at parties and get-togethers.
Master the macaron with this helpful how-to article! https://t.co/d1WPMpvIPZ pic.twitter.com/Hc9p5wTmD7

— Homemade Recipes (@BestHomeRecipes) August 4, 2016
10. Coconut Cream Pie Puffs
Adding some coconut flakes into your cream filling adds a nice texture to your creampie puffs. Aside from rich and indulgent flavors, it will give a great texture and mouthfeel for you to enjoy.
11. Bailey's Cream Puffs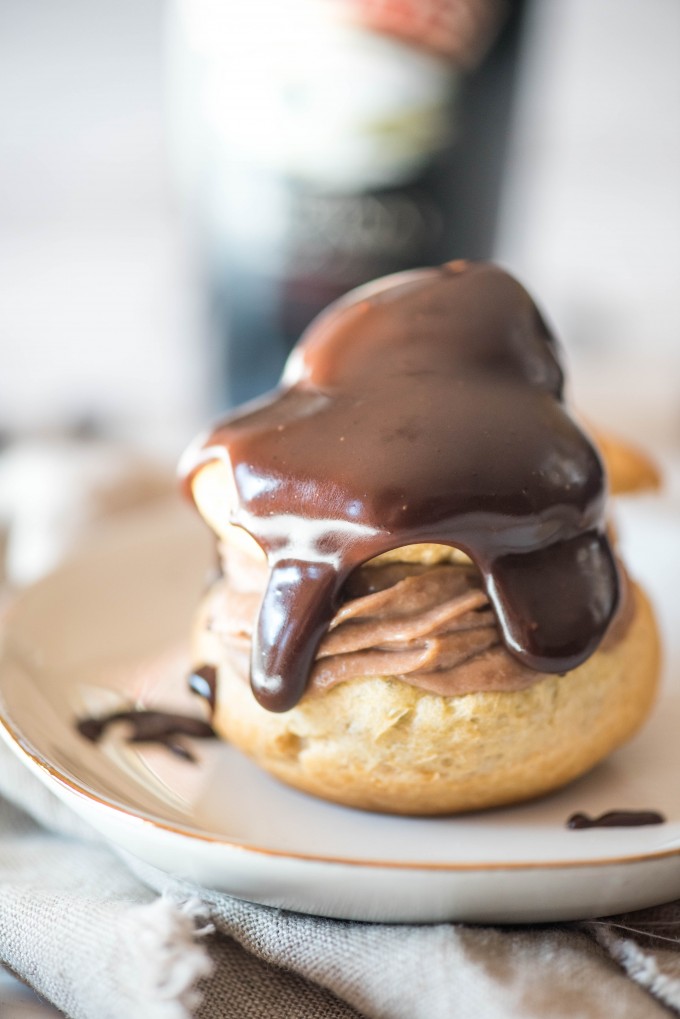 Liquor and dessert just got even better when mixed together in a very easy and epic cream puff recipe. These Bailey's Cream Puffs are absolutely the best liqueur-flavored dessert perfect for adult parties.
12. Coffee Buzz Cream Puffs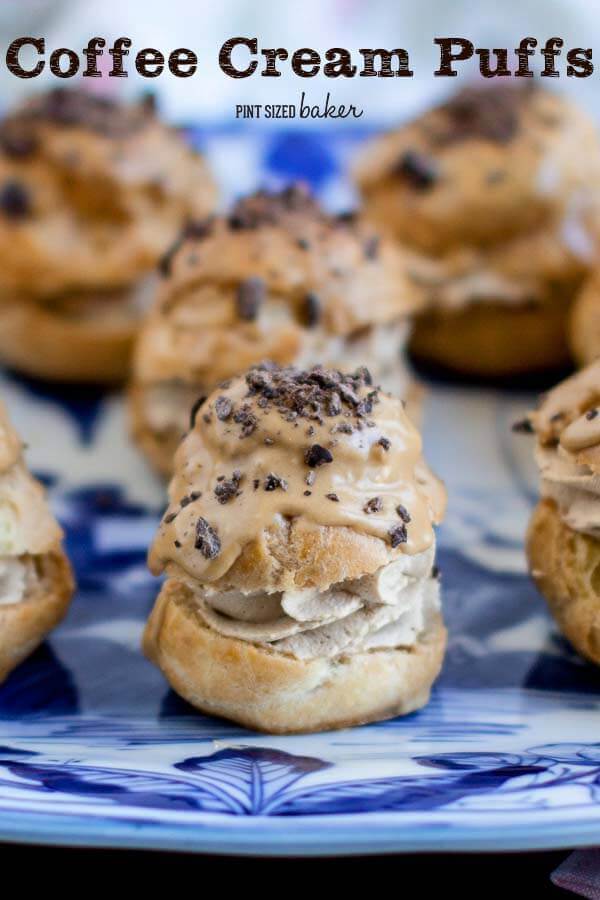 Your love for espresso never just ends after a cup. You can enjoy your favorite hot beverage with these delectable coffee buzz cream puffs. They're easy to prepare and make the best after-meal treats!
13. Mousseline Cream Puffs
Mousseline cream puffs are filled with a delicate cream filling that's subtly sweet and milky in taste. If you haven't tasted cream puffs before, this recipe is the best way to start off. It's pure heaven!
Want more? Watch this video from Tasty and learn how to make cookies & cream puffs with delicious cream filling:

I hope you all love these decadent cream puffs recipes and find time to try them at home. They all look good and satisfying–everything you need in a dessert! These recipes, also, don't just limit the flavors with the classic pastry cream filling. They use unique and fancy fillings, everyone of all ages will surely adore! Treat your sweet tooth to these delightful desserts and don't forget to share them with your family and friends.
What do you think of these cream puff fillings? Which recipes are you planning to try? Share your experience with me in the comments section below.
Up Next: 15 Simple No-Bake Desserts
Don't forget to keep in touch, foodies!

Also, make sure to follow us on Facebook, Instagram, Pinterest, and Twitter!
Editor's Note: This post was originally published on January 6, 2017, and has been updated for quality and relevancy.