Follow a Paleo diet or looking for delicious Paleo recipes? You've come to the right place.
42 Paleo Diet Recipes That Taste Amazing
We're all about the Paleo diet, heck, we're all about food that tastes good and makes you feel good, so if Paleo recipes do that for you, awesome! With that said, while Paleo diet recipes are definitely the healthier option, they're not always the best-tasting option. That's where these recipes come in – they're Paleo- and taste bud-friendly. Expand your recipe repertoire with these Paleo diet recipes that are good for you and taste amazing. Can we say win-win?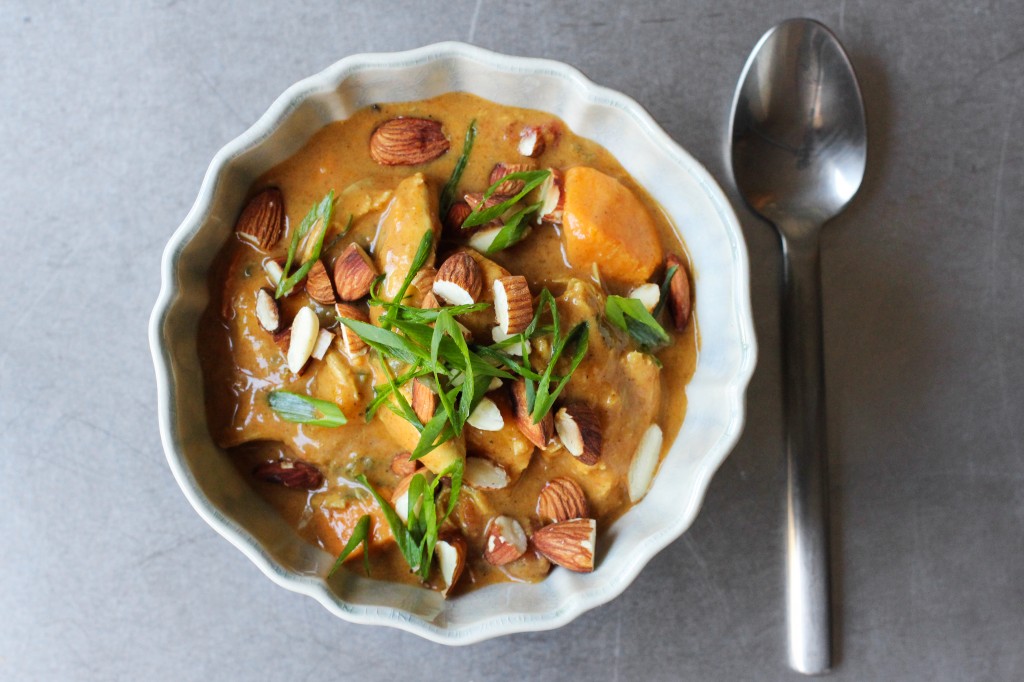 image via Kitchen Konfidence
Who doesn't love curry chicken? It's great in sandwiches, as a side, or as is the case with this recipe, in a soup! Give your taste buds a yogic workout with the tangy, sultry flavors of curry.
image via The Big Man's World
Whoa – hold the phone! 4 ingredients and the finished product tastes like nutella? Uh, heck yeah! These cookies are super simple to make and prove that just because you eat Paleo, doesn't mean you've said goodbye to flavor forever. It just means you're better than everyone else.
image via PaleOMG
Ah, the breakfast sandwich. If royalty were still a thing (of course we're not counting Duchess Kate and Prince William), the breakfast sandwich would only be reserved for them. It's one of the world's greatest, most delicious, most satisfying foods and, thankfully, there's a Paleo version lest you ever become victim to an spontaneous breakfast sandwich craving. We've all been there.
image via Clean Eating With A Dirty Mind
Oh yeah, back in the day when we (and I mean me) worked at Starbucks, the pumpkin scone was the jam! And I repeat JAM! Then I found out that the Starbucks scones are kept in refrigerators and sit frozen weeks before they ever hit the shelves and, well, let's just say that my appetite for the luscious scone soon dissipated. But!, if you too love the pumpkin scone and don't like the idea of little frozen baked goods being left out to thaw, this recipe is the perfect, healthy substitute.
image via Healthful Pursuit
Waffles and French toast are, hands down, the best brunch items of all time. Okay, well, those two sweet things and eggs benedict because, well, you know, it's eggs benedict. If you're recently switched over to a Paleo diet and haven't been able to find a decent waffle substitute, this is it, friends! Enjoy!
image via Real Simple Good
Mmm! Who doesn't like beef jerky? It's one of the best snacks there is. Jerky is chewy, salty, tangy, and full of delicious marinated flavor. This jerky recipe is incredibly simple to throw together and, after a couple of hours in the oven, results in a beautifully seasoned finished product.
image via The Gantzery
I'm definitely a sucker for aesthetics so whenever I search for new recipes, you better believe that the biggest determining factor in whether or not I make them is the photo. This photo is incredible – look at the char on those peaches! The colors in this salad are so vibrant and do a great job at showcasing the innate beauty of fruits and vegetables. This is the perfect summer salad as it's light, full of juicy flavor and good for you.
image via The Iron You
Finger-lickin' good! The spices and seasoning on this chicken are ridiculously delicious. The chilis provide enough heat to counter balance the tanginess of the citrus and soy. In regards to pairing, keep it simple and serve these chicken breasts with a simple mixed greens salad.
image via Food Faith Fitness
Potato wedges are one of my guiltiest pleasures, so when I came across this recipe and noted that it was not only a potato wedge dish, but also featured ingredients like maple and tahini, I was instantly sold. If you've never tried tahini, it's a rich, nutty flavor that pairs well with maple syrup, which lightens up its mouth feel. Sweet potatoes are a great source of beta-carotene and fiber.
image via Great Food Lifestyle
Breakfast is my favorite meal of the day, so while I was initially tempted to make this a breakfast only Paleo post, I figured I'd better add some other meals in (I guess, *sigh*). These egg wraps are like mini-omelettes, which is a great thing because sometimes an entire omelette can be way too much. The egg wrap itself is light and buttery and feel free to put whatever fillings you'd like in there. (I like red bell peppers, onions and zucchini.)
image via The Big Man's World
No bake, vegan and Paleo. Does dessert get any better? While I was a huge fan of sweets, I recently made the transition to raw goods only and haven't looked back since. While I know there is still sugar in raw desserts, I don't feel as guilty shoving raw cacao truffles in my mouth as I did back in the day when I was eating sleeves of cookies and fig bars. This fudge recipe is decadent and somehow manages to stay healthy.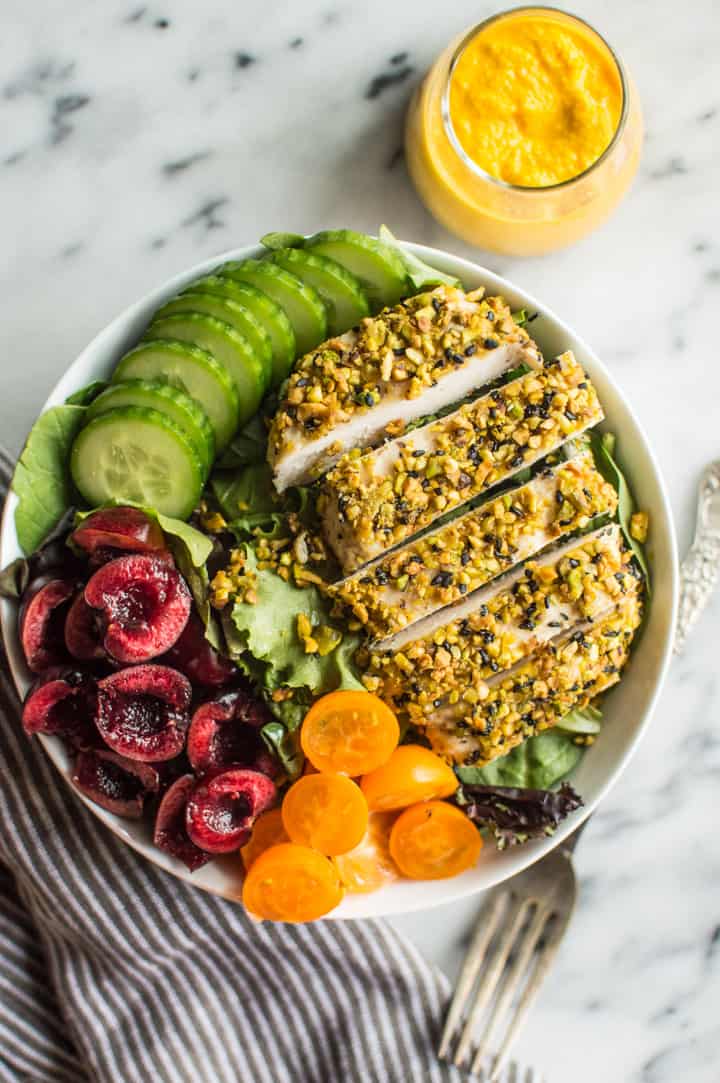 image via Healthy Nibbles & Bits
Pistachio crust is one of the best culinary inventions since sliced bread. Pistachios provide a natural saltiness and a meaty texture all their own which tastes great when wrapped around tender, juicy chicken. This pistachio crusted-chicken salad is juicy and features fresh, vibrant vegetables.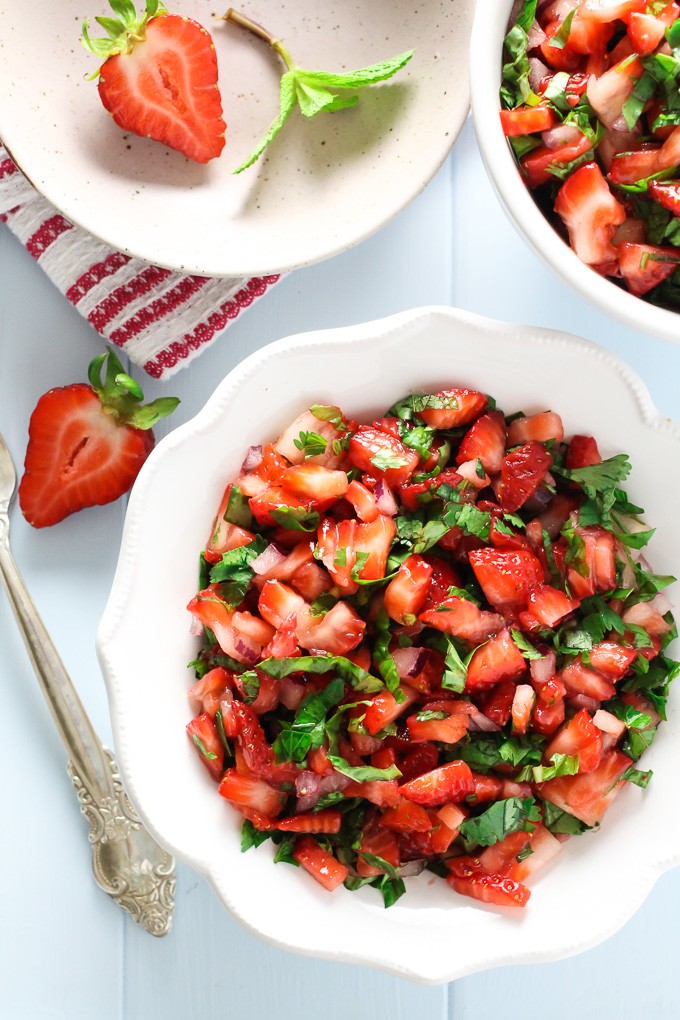 image via Maria Ushakova
No, this isn't a meal, but it makes for a great side! We like dipping flax crackers in this salsa or enjoying it in a layered dish with avocado and cashew sour cream.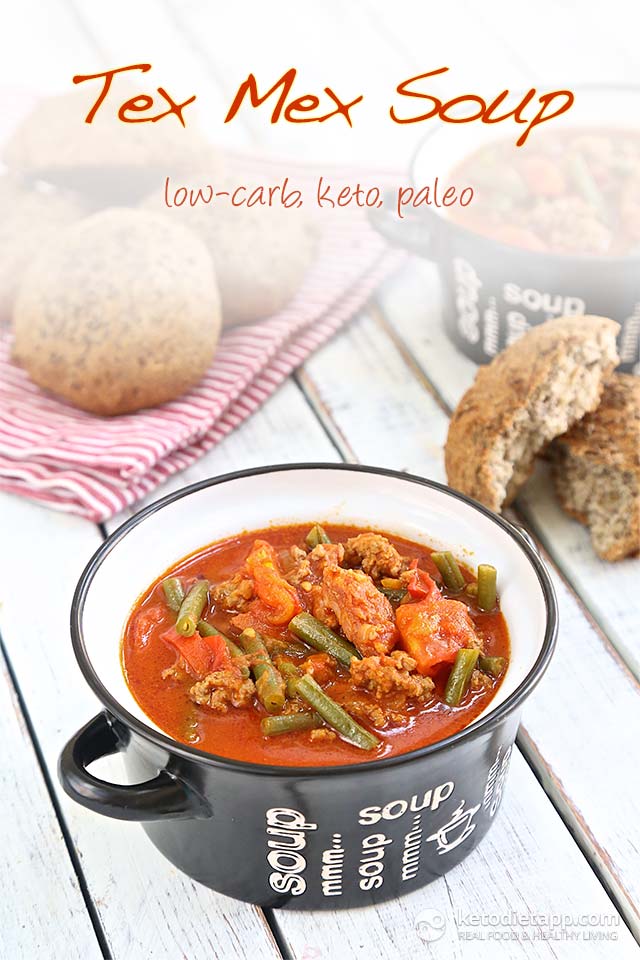 image via Keto Diet App
This tex mex soup features chorizo, ground beef and a slew of other veggies and seasoning. Traditional mexican spices and flavors such as red and green chili, onions and Tabasco make this an almost authentic dish. This is the perfect meal for cold fall nights or whenever you want an excuse to snuggle up to that special someone.

image via For Bacon
Oh heck yeah! Paleo eaters get it all with this delicious dish – sweet potatoes, eggs and pulled pork. This is a hearty breakfast that will keep you amped and ready for anything the entire day. (Did I just say amped?)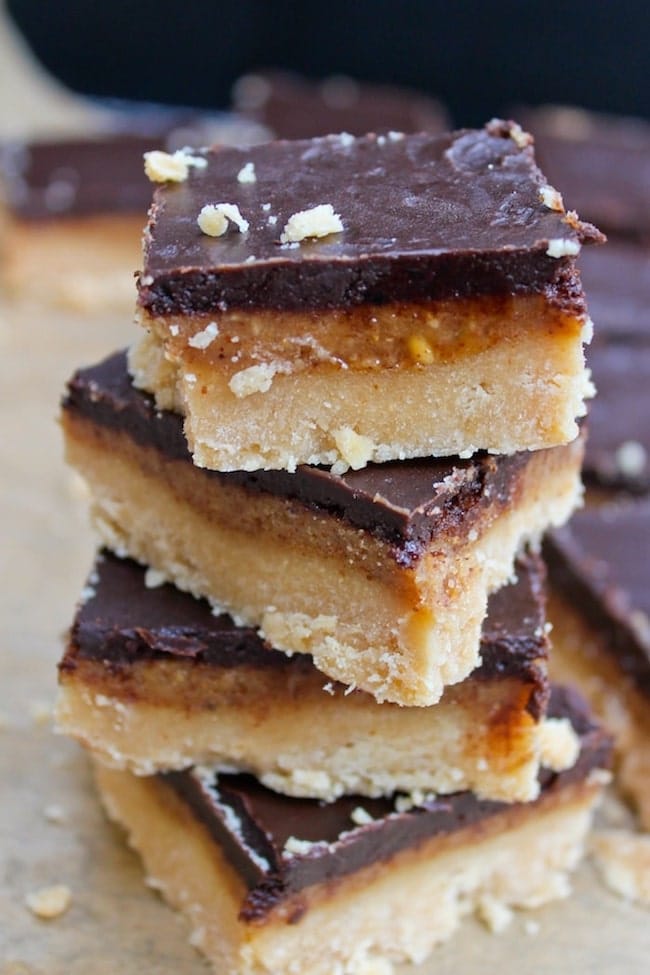 image via A Saucy Kitchen
Whoever says Paleo/Vegan desserts suck is 1) close-minded and 2) has never actually tried the. This is another no-bake dessert that only requires 6 ingredients and is made up of a rich chocolate layer, indulgent caramel and flaky shortbread.
image via Worthy Pause
While this isn't a traditional tagine recipe (tagine is a clay slow-cooker that is used to make stew-like dishes), this dish features traditional Moroccan spices reminiscent of chicken tagine. If you're a tagine purist, however, never fear! You'll still get the same taste and feel and hey, you might even like this one more. Maybe. Don't hold us to that.
image via Kirbie Cravings
The magical cauliflower! Cauliflower has really upped its game as of the past couple of years. Now it's being used as a chicken substitute in dishes like buffalo chicken wings, as a pizza crust substitute, and so much more. In this recipe, it's used to replace corn or flour tortillas. Cauliflower is an excellent source of Vitamin C, K and B6, as well as a great source of Omega-3s, manganese, phosphorus and biotin.
image via Real Simple Good
Do you love Asian-inspired dishes? Do you follow a Paleo diet? Well, then you'll love this easy dinner recipe that's made from scratch! Fish cakes are incredibly simple to throw together and this particular recipe features uplifting Asian flavors like ginger, fish sauce, sesame seeds, and garlic.
image via Teffy Perk
Okay, I'm just going to throw this out there: give kelp noodles time and (several) chances. The first time my husband and I tried it, we had a bite, took a good long look at each other and promptly spat it back out. But since that first time, I've learned several things that make cooking with kelp noodles a lot better (tasting): soak your noodles for at least 20 minutes in warm water and, before adding it to any sauce or dish, sprinkle lemon juice over your noodles to liven it up. If not, every bite will be a not-so-lovely reminder that you are eating kelp noodles. With those tips in mind, enjoy this pad thai!
image via Wicked Spatula
If you're a foodie and into beauty (hey, that rhymed), you'll be glad to know that figs are great for skin health. They're chock-full of Omega-3s, have high water content and can be used to treat issues like inflammation, acne and redness. So, with that said, back to the recipe! This recipe features bold, sweet flavors like balsamic vinegar, figs, honey, and jalapenos.
image via The Endless Meal
Mmm, how delicious do these lamb chops look? This recipe features savory and sweet flavors and blends them perfectly together to create a juicy, hearty dish.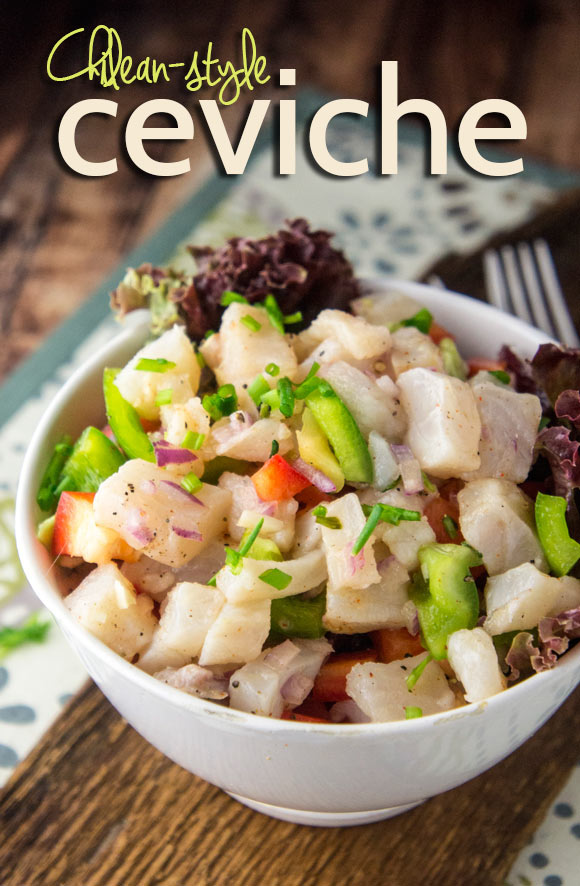 image via Foraged Dish
For those who are unfamiliar with ceviche, it's a cold seafood salad that, in Mexican cuisine, is served as a topping on crispy tostada shells. This version is a little more fool-proof than the Mexican version, but is delicious and reflective of authentic Chilean cuisine. With only 8 ingredients and 15 minutes, you can experience the true joy that is citrusy, fresh seafood salad.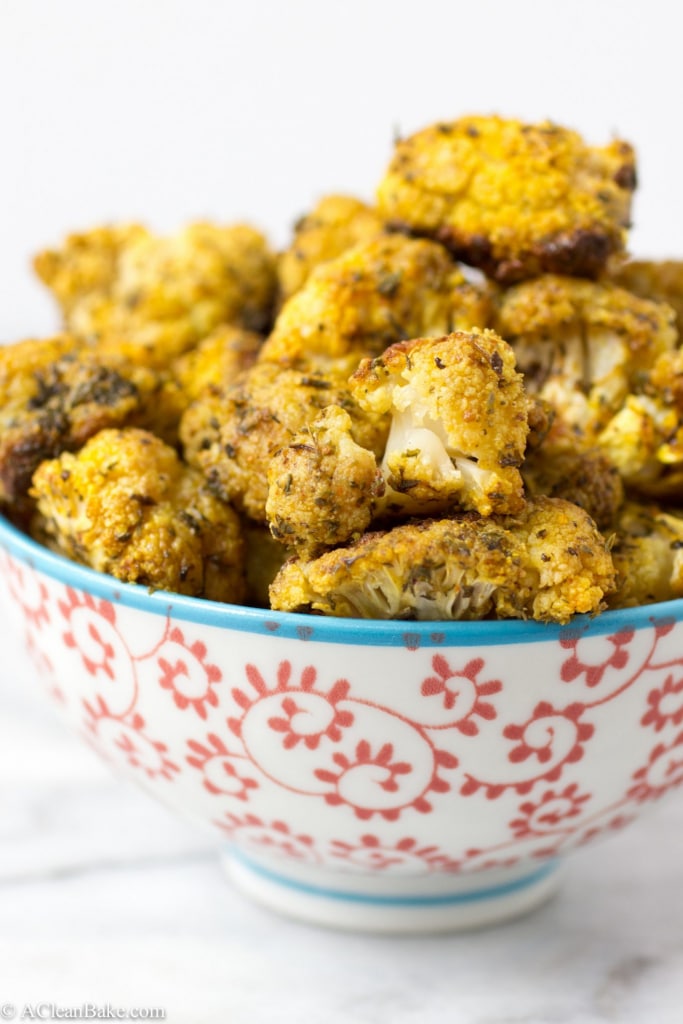 image via A Clean Bake
There's that cauliflower again and this time, it's roasted and topped with delicious herbs and spices like turmeric and mint. Turmeric and mint are both great at reducing inflammation and helping with skin conditions such as acne and eczema. This dish makes for a delicious savory snack and is easy to whip together.
image via Paleo Leap
Mmm, jumbo shrimp, the tastiest of oxymorons. This grilled shrimp recipe looks more refined and difficult than it is and, once finished, makes the perfect protein to top on your power greens salad or alongside some roasted vegetables.
Close your eyes and imagine biting into meat that is softer and naturally sweeter than toasted marshmallows. Now, open them again and feast your eyes on these delicious slow-cooked ribs because that's exactly what the texture is like on these babies. Since they're slow cooked, each bite of beef pulls apart easily and practically melts in your mouth. Oh yeah, can you say delicious?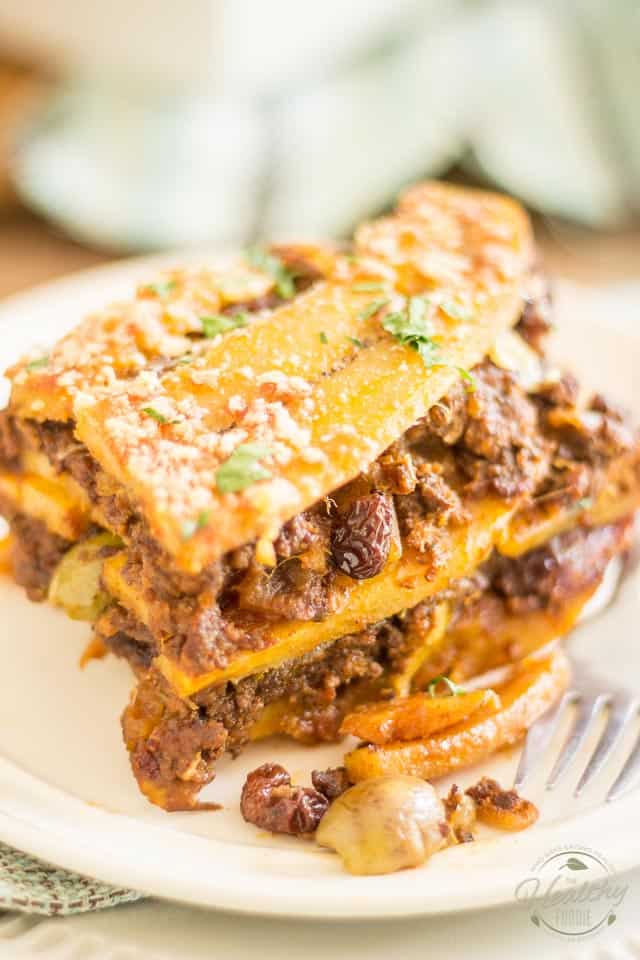 image via The Healthy Foodie
This is definitely a new recipe for us as we've never seen, nor have we ever thought to try, plantain lasagna. However, with the right flavor combinations, those is a tropical-inspired dish that makes a great alternative for traditional Italian pasta. If you don't want to make this dish with cheese, try dessicated coconut instead.
image via Healthy Nibbles & Bits
Indian food is one of my favorite cuisines, so of course I'm going to try to find every opportunity to showcase delicious Indian recipes. If you've tried chicken tikka masala, you know first hand how delicious the dish is. The spices used in tikka masala are sweet, spicy and savory without ever being overpowering. This is a delicious recipe that pairs well with some grain-free garlic naan.
image via Peachy Palate
No oats-oatmeal is what this dish is all about! Oatmeal gets a bad rap for being boring and tasting like mush, but in reality, it's one of the tastiest, most versatile dishes you can make! When it comes to oatmeal, feel free to get creative by adding in whatever nuts, fruits, compote, and sweetener you'd like. The possibilities are endless.
image via Food Faith Fitness
Delicious Indian spices come together as a dry rub to create a wonderful, invigorating kebab dish. This is the perfect recipe to make for outdoor BBQs, picnics, or to enjoy in your backyard.
image via A Fork & A Pencil
Delicious, full of protein and Paleo! That's what this recipe is all about and we guarantee it won't disappoint.
image via Amazing Paleo
If you've never tried bison meat before, it's a bit tougher than traditional beef or chicken, but bursting with flavor. This simple bison burger recipe takes a bison patty, lays it on a romaine lettuce leaf and then tops it with fresh guacamole.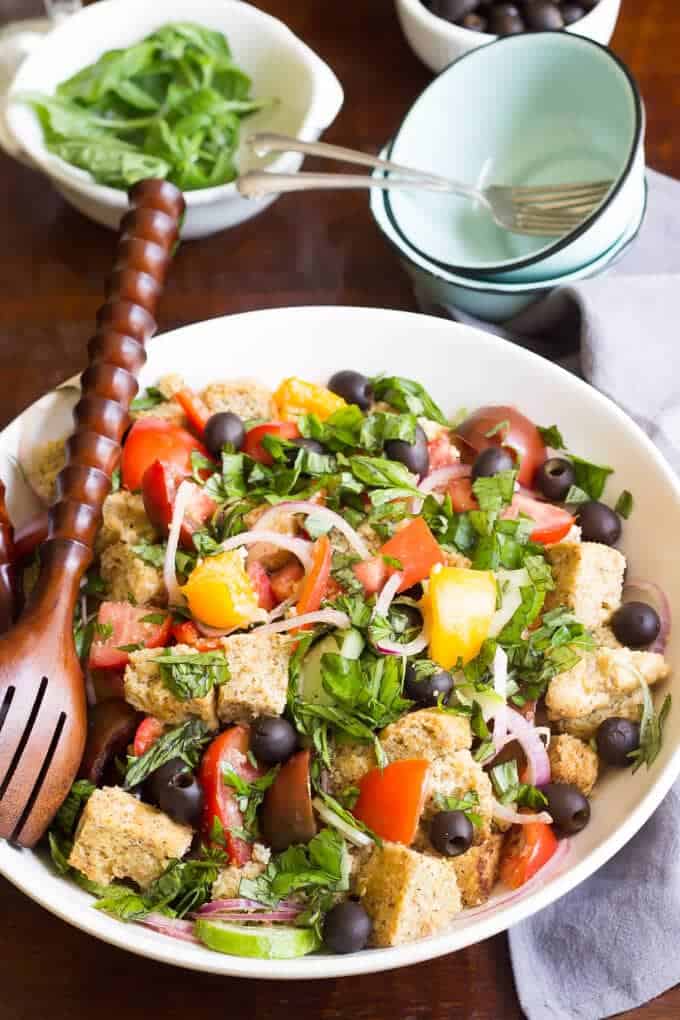 image via Wicked Spatula
Panzanella salad is a traditional Tuscan salad made with stale bread and tomatoes, and drizzled with olive oil, salt and pepper. In this recipe, wheat bread is swapped out for a gluten-free bread made out of almond and tapioca flour. Never fear, this bread still soaks up all of the juicy goodness from the vinaigrette and olive oil and tastes just as good, if not better, than the original.
In terms of health, salmon is one of the most nutritious fish species you can eat. This recipe takes a beautiful salmon filet and covers it in coconut, lemon and herb crust which, when baked, taste absolutely divine.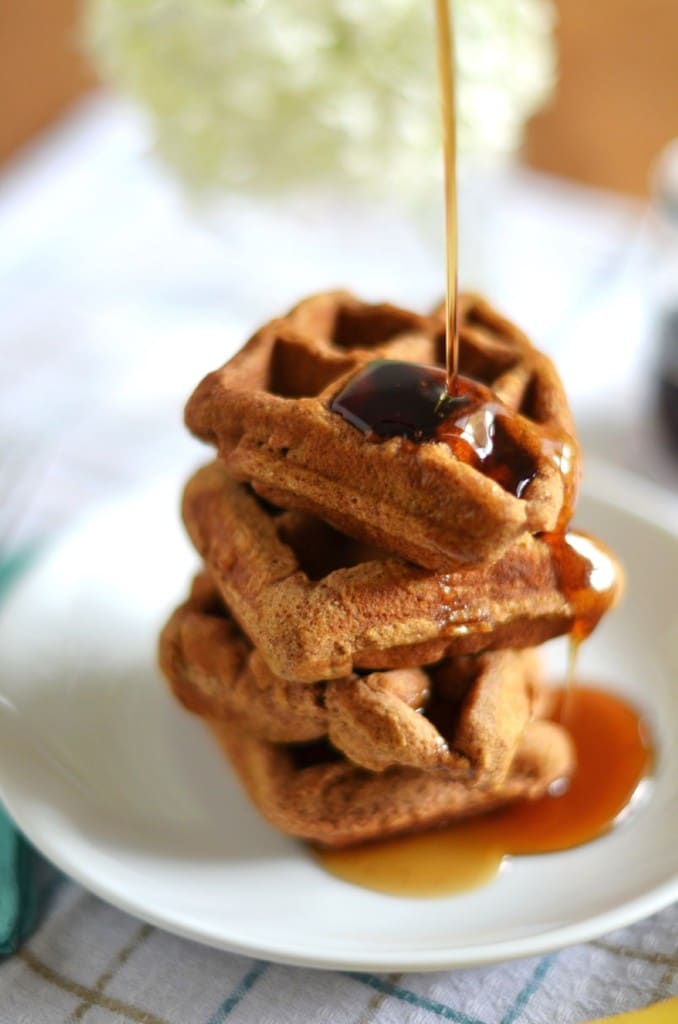 image via 24 Carrot Kitchen
Yay! Waffles! Just looking at pictures of waffles makes me happy. Do you find that's the case for you? If so, you'll be happy to know that these pumpkin waffles are paleo and every bit as delicious as their wheat counterparts.
image via Colorful Eats Nutrition
This is one of the most protein-packed breakfast recipes I've ever seen on the internet. And that's saying a lot. These scotch eggs are essentially delicate quail eggs that have been baked in hearty sausage. Talk about a portable breakfast to go, right?
image via Down Shiftology
I absolutely love this recipe. Everything about it is mouthwatering from the sweet potato "toast" (genius) to the poached egg and prosciutto. If you've never tried prosciutto, beware, because it just might make you forget about bacon forever.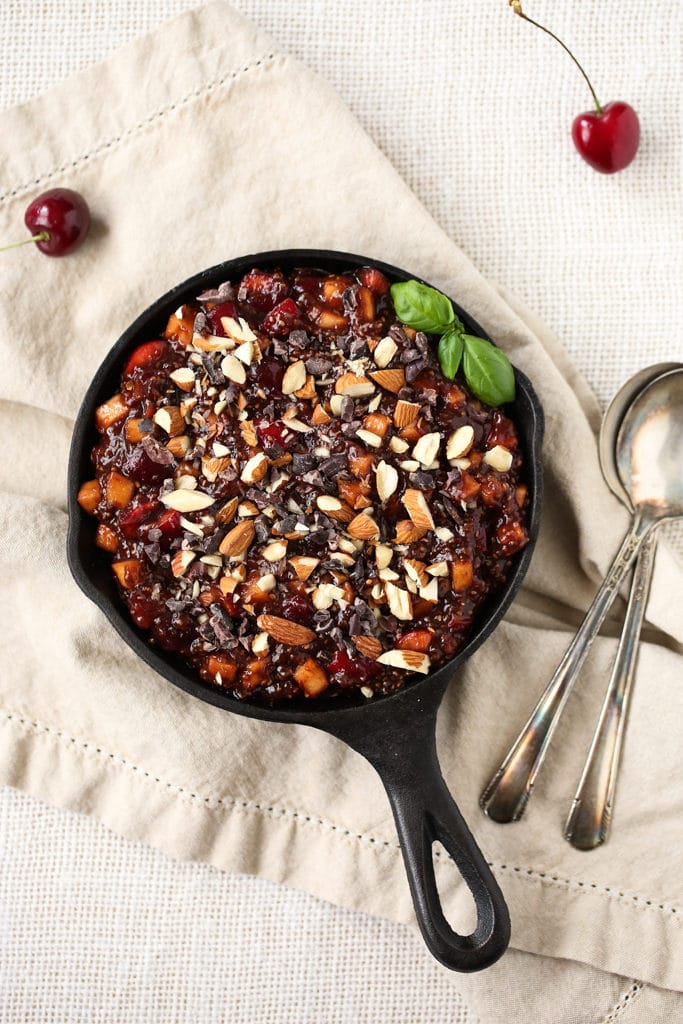 image via Blissful Basil
If you're into the idea of eating dessert for breakfast, behold the raw cherry pie breakfast bowl! Not only is this baby packed with indulgently sweet flavors like cherries and chocolate, it's also healthy for you! Start your day off on the right track with this delicious Paleo diet recipe.
image via Food Faith Fitness
Aside from the flavors in this recipe being heavenly, we also had to feature this recipe because it looks absolutely incredible. This is exactly the kind of dish we'd expect to see at a 5 star restaurant, so I definitely revel in the fact that I can make these babies at home. Don't let looks deter you, with enough patience and confidence, you'll be mastering these zucchini boats in no time!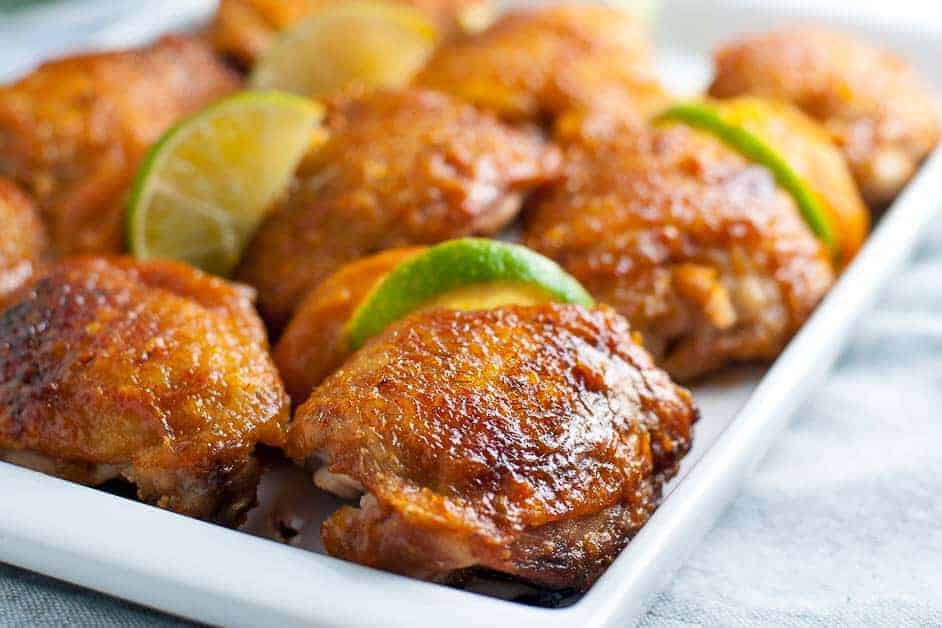 image via Flavour & Savour
There's something about sweet and savory in a dish that just calls to us and this dish features the best of both worlds: chipotle and peaches. If you're on a Paleo diet, rest easy in knowing that you get to eat some of the tastiest foods known to mankind. This is just one of those recipes that, with one bite, will make you say, "Damn, it's good to be Paleo."
image via Ghee Whizz
Wondering what the heck sidesaddle angels are? Essentially, they're oysters and shrimp that have been wrapped in bacon. Sounds sexy, right? While the name of this dish may sound fancy, it's actually simple to make, granted you have the patience for it. The payoff is well worth it, however, since the saltiness of the proteins, along with the remoulade, make this one of the tastiest dishes on our list.
image via Food Faith Fitness
Ending this post with a dessert recipe was definitely the way to go. This semifreddo, a light and whipped semi-frozen dessert, is easier to make than it looks and is filled with juicy bursting berries and sweet honey lemon. This is the perfect dessert to enjoy on warm summer nights.
Related Posts: 
Don't forget to keep in touch, foodies!
Sign up for our daily newsletter here!
Have Instagram? Don't forget to follow @HomemadeRecipesOfficial.
Click here to Like Us on Facebook.
Click here to Follow Homemade Recipes on Pinterest