Get some awesome ideas for Halloween appetizers in this post! They're just what you need to get your spooky party started.
Fun Ideas For Spooky Halloween Appetizers
We've put together a list of Halloween appetizers that are just as delicious as they are creepy. Try not to get spooked by these scary-looking food ideas, though. It's not like they're going to come alive and chase you. Make these fun and spooky appetizers because they are sure to be a howling success at your next Halloween party.
1. Halloween Spider Cheese Ball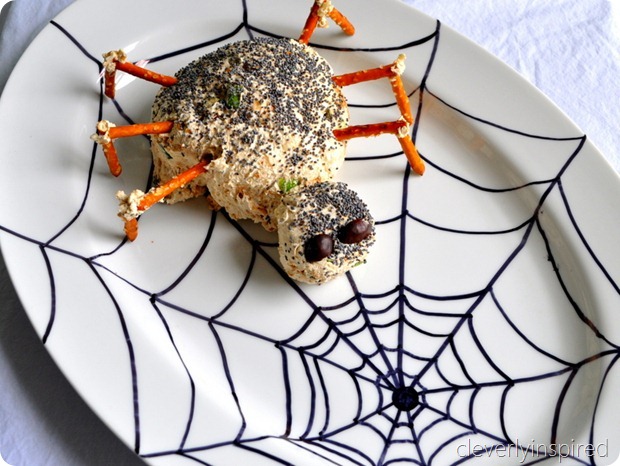 All you need is a sharpie, a few simple ingredients, and your creativity to come up with the perfect Halloween appetizer! This Cleverly Inspired creation has just the right mix of spooky and fun, which is exactly what we're looking for in this holiday's party food.
2. Coconut Curry Butternut Squash Soup
Enjoy the chilly season of fall with a bowl of this delicious, velvety soup by The Foodie and the Fix. Soup alone is a pretty harmless appetizer to serve at a Halloween party. But just like what the creator of this recipe did, use yogurt and coconut milk to top the soup with a spider web.
3. Meatball Mummies
Let's keep rolling with more Halloween recipe ideas! These meatball mummies by Spend with Pennies is a tad creepy with those edible eyes staring back at you. But the spookiness is, thankfully, not overdone and the meatball mummies look incredibly appetizing.
4. Guacamole From a Pumpkin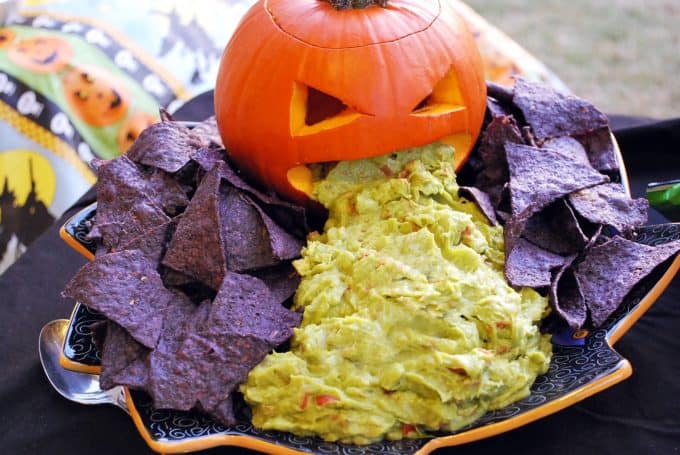 This Halloween appetizer idea from Amee's Savory Dish looks awesome, doesn't it? And it's pretty simple, too. Just make the guacamole the way you prefer and strategically position it inside the mouth of a jack-o'-lantern and on the platter.
5. Mini Batty Cheese Balls
These chilling cheese balls from JOANN will fly off your plate and into your cavernous stomach! Aesthetically on point, these spooky appetizers will be an instant hit in a Halloween party.
6. Spicy Toasted Pumpkin Seeds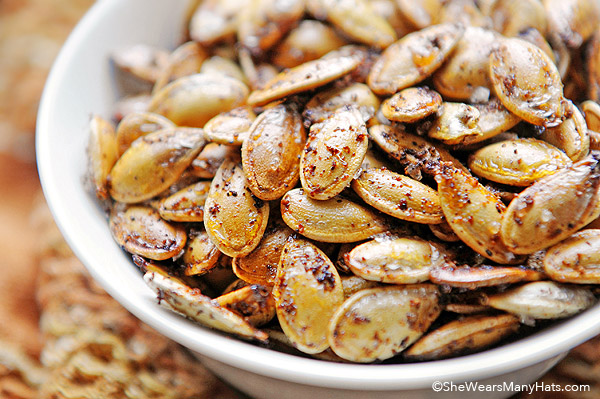 If you're planning to carve pumpkins for Halloween, be sure to save those pumpkin seeds so you can make these spicy toasted pumpkin treats. This recipe from She Wears Many Hats uses garlic and cayenne powder for that spicy kick.
Grated parmesan and truffle oil give these french fries an exotic taste.😋 #SummerRecipes

👉Find the recipe here – https://t.co/18fuqWiNzK pic.twitter.com/CQnT5RjqQ9

— Homemade Recipes (@BestHomeRecipes) July 25, 2017
7. Stuffed Mushroom Eyeballs
We don't know with you but these stuffed mushroom eyeballs from Vegan Yack Attack look spookily yummy to us. If we go to a party and find these at the buffet table, we'll definitely eat an eyeball or two. Probably four.
8. Brain Dip
Explore this cheesy brain dip by Joe and Sue with chips or garlic bread. If your friends and family can't get past the gruesome appearance of the dip, just assure them it's made with condensed mushroom soup, cheese, mayo, and a couple of totally not gruesome ingredients.
9. Halloween Pizza
We're pretty sure you'll love this yummy ghost pizza by Buona Pappa. Well, what's not to like about a classic pizza…with cheese cut in ghost shape.
10. Pumpkin Shaped Cheese Ball
This cheese ball pumpkin by Baked in Arizona sure is pretty—and very savory, too! It will surely go well with the cute and creepy decor you're putting up on Halloween. You might think this Halloween appetizer is challenging to make. But it's not. You only have to use a clean yarn to make the pumpkin lines.
11. Halloween Jalapeño Poppers
Add some pop to your Halloween party with these hauntingly spicy poppers by Frugal Coupon Living. They look adorable and appetizing enough to be popped in your mouth.
12. Crescent Roll Witch Hats
You don't know what's hiding in these witch hat appetizers by Hungry Happenings 'til you take a bite. The only thing we're telling is that the witch hats are made by dough sheets (as if this weren't obvious enough already). But you have to check out the recipe to know more about these adorable appetizers.
13. Witch's Finger Sandwiches
Holi Coffee's take on Halloween appetizers is genius. We can definitely see ourselves making these finger sandwiches for the upcoming holiday and even pair these with a cup of pumpkin spice latte.
14. Spooky Monster Eyes
These menacing monster eyes by The Scattered Thoughts Of A Crafty Mom will be a sure fire hit at your Halloween party! The edible eyeballs (sounds weird, we know) is not made out of stuffed mushrooms this time but with deviled eggs and avocado.
15. Banana Pop Monsters
Make these Fork and Beans Halloween appetizers for the kids though we're sure a couple of adults will be interested, too. You don't want them to fight over these banana pop monsters so be sure to make an extra batch.
16. Spooky Apple Slices
These Halloween apple slices by Peas and Crayons are the easiest to make out of all the appetizers featured on this list. You only need a cookie cutter to form these interesting shapes.
17. Witches Broomsticks
We featured witch hats so it's only right we include witches broomsticks in this list as well. These creative appetizers by Laura's Little House Tips are the attention grabbers you need at the dinner table this Halloween.
18. Halloween Cheese and Crackers
Here's another Halloween appetizer idea by Peas and Crayons. Just like the apple slices featured above, you only need cookie cutters to shape the cheese into ghosts, bats, and pumpkins, etc.
19. Deliciously Rotten Deviled Eggs
We know we've featured another deviled eggs recipe above. Well, we really just want to point out that eggs are versatile ingredients to be made into Halloween appetizers. Plus, they're not complicated at all to deal with and almost always come out pretty and spooky if you want them to be…just like these deviled eggs by Parenting Chaos.
20. Pepperoni Pizza Pockets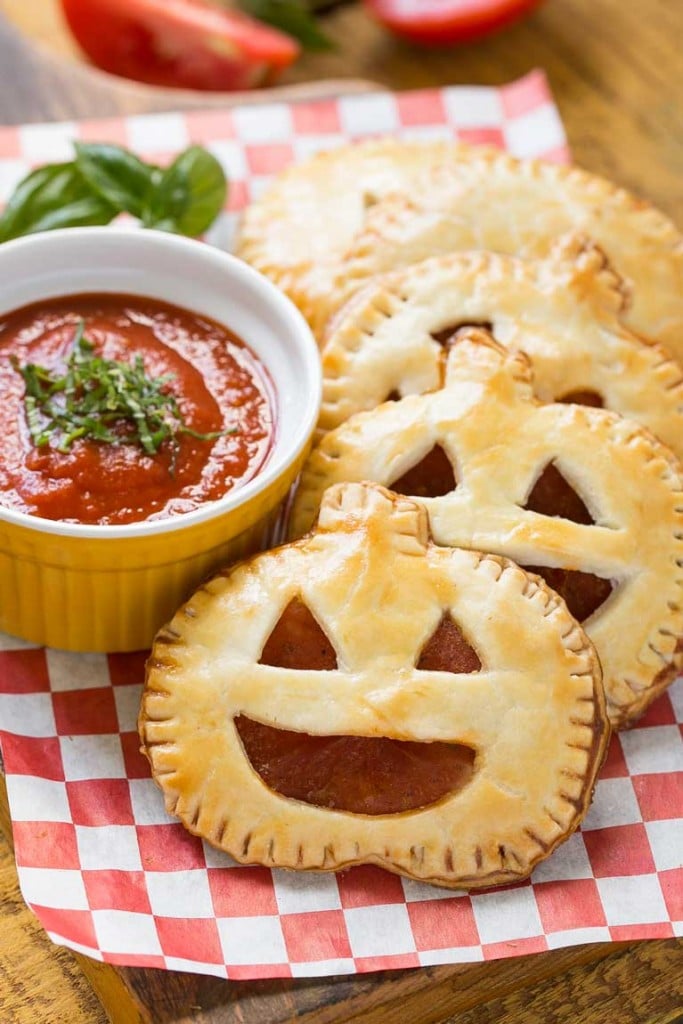 These pumpkin pizza pockets might not really spook your kids or anyone at the party but they sure do taste…can we say divine? Make these pizza pockets by Dinner At The Zoo at a Halloween party and we're sure not one will be left for the next day.
21. Pumpkin Pie Cheesecake Dip
This pumpkin pie cheesecake dip by A Night Owl Blog is the sweet appetizer you do not want to miss making on Halloween! Reasons? Well, first off, it will look awesome on the dinner table. Second, it tastes simply amazing.
Get more Halloween appetizers ideas in this video by LaurDIY:
https://www.youtube.com/watch?v=d8fQMjWg4J8
When making Halloween appetizers, the sky is practically the limit! Why? Because it's Halloween. You can make food look deliberately gross and horrible but it will still be okay because it's, again, Halloween. Have fun making your version of Halloween appetizers shown in this list!
What do you think of these Halloween appetizers? Which recipe are you planning to try? Share your experience with us in the comment section below.
Up Next: 14 Halloween Treat Ideas For Your Sweet Tooth
Don't forget to keep in touch, foodies!
Also, make sure to follow us on Facebook, Instagram, Pinterest, and Twitter!
 
Editor's Note – This post was originally published in October 2016 and has been updated for quality and relevancy.