Itching to celebrate National Donut Day the homemade way? We are too; that's why we've rounded up the best, sweetest, most off-the-cuff doughnut recipes around to help you celebrate National Donut Day the way it was meant to be celebrated – with several homemade donuts in your mouth and on your plate.
22 Tasty Ways To Celebrate National Donut Day
Whether you spell it "donut" or "doughnut," National Doughnut Day is, hands down, the best food holiday of the year. Don't believe us? Then get a load of this: tons of donut shops like Krispy Kreme and Dunkin Donuts give away free donuts to celebrate the holiday! And while we're definitely fans of free things (hello, Costco Sundays!), we wanted to spend June 5th making our own scrumptious treats. To help you do the same (because what's better than a warm, melt-in-your-mouth homemade doughnut?), we've rounded up a list of the wackiest, tastiest, most gourmet donuts on the web. Enjoy!
Are jelly donuts your jam? Then you need to check out this canning kit from Grow and Make – now you can get started on the path to amazing homemade jelly-filled doughnuts! 

image via Love Bakes Good Cakes
Aren't these vanilla cake donuts with strawberry glaze one of the most beautiful things you've ever seen? This is definitely the perfect donut to make for National Donut Day. This recipe is so easy to put together and make that even beginners can enjoy this homemade recipe just in time for National Doughnut Day.
image via Pastry Affair
We love the dusty powdered sugar look these donuts flaunt. This is the perfect breakfast dessert to have alongside a cold glass of milk or iced coffee. The sour cream in the recipe gives these donuts the moistest, almost sponge cake-like texture in the history of cake donuts!
image via The Seasoned Mom
It may sound like an oxymoron to call a "skinny" recipe decadent, but goshdarnit, we're going with it. These skinny lemon blueberry donuts are just that – decadent and unforgettable. The lavender glaze adds just the right amout of fragrance and flavor; we can't help but get lost in each glorious bite.
image via Rhodes Bread
This recipe only has 3 ingredients and when it comes to donuts, it really doesn't get much simpler than that. Made with rolls, apple cider vinegar and oil, these babies can be ready in no time. (Which is great news for us because we don't think we could've waited a second longer to take a bite.)
image via Blog Lovin'
Ever heard of a donut that doubled as a healthy snack? Now you have with this recipe! Vegan and free of all major allergens, this double chocolate cake donut is a treat the entire family can enjoy.
image via A Happy Food Dance
AKA Churro Donuts. We love sugar donuts and we love cinnamon sugar, so naturally this recipe was a given for us. These particular donuts are so soft and satisfying, that you definitely shouldn't eat them all in one sitting, but most likely will.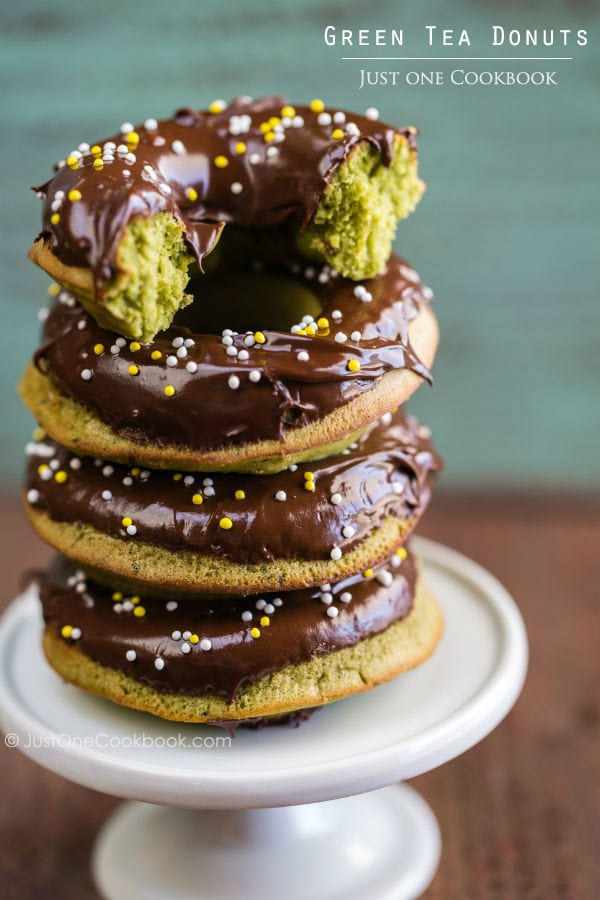 image via Just One Cookbook
This cake donut is made with green tea matcha powder which is a great anti-ager, cancer fighter,  detoxifier, mind improver and boasts a multitude of other health benefits. Oh, and, one last thing: it tastes amazing as a donut.
image via A Beautiful Mess
Does a cookies and cream donut really need an introduction? And do we really have to wait to make this guy? *sigh*
image via Tastes Better From Scratch
Sure, we love wacky donut recipes, but there's nothing like an old fashioned donut to really get the tastebuds going. This old-fashioned recipe is so soft, moist and spongy, it's hard to imagine that any other flavor exists. If you want to get really nuts though, drizzle chocolate sauce over this guy for an extra special and indulgent treat.
image via The View From Great Island
FUN! Birthday cake anything is awesome – birthday cake ice cream, perfume, smoothies, we could go on and on about how much we love this recipe. These birthday cake donuts are the perfect little treats to make for your friends, neighbors and family. Don't forget to share the love this National Donut Day.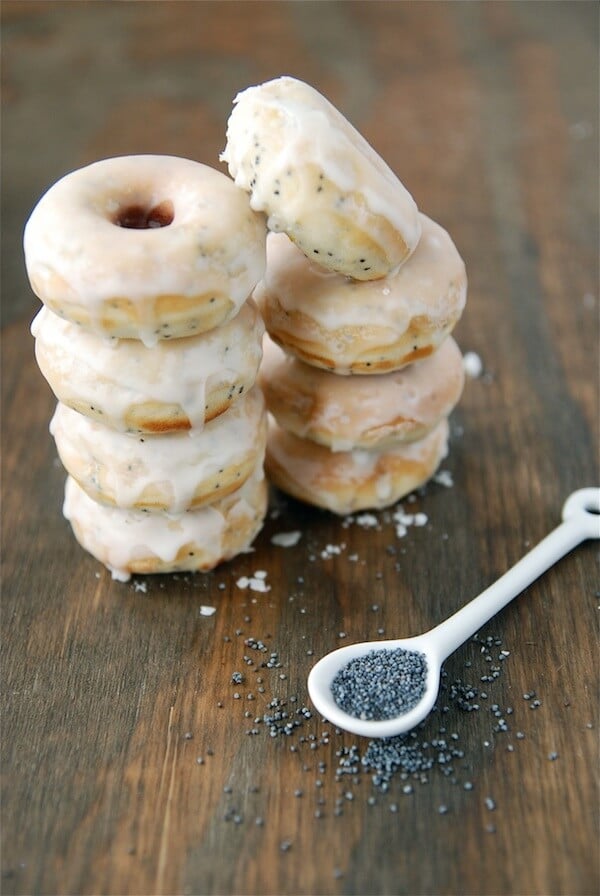 image via The Novice Chef Blog
Who here loves lemon poppy seed? Yeah, that's what we thought – everyone! This homemade donut recipe takes the best breakfast pastry flavors and puts them in a moist , rich cake donut that's not overly sweet and can be enjoyed at all hours of the day.
image via Yes to Yum
There ain't nothing like the OG chocolate donut. To acknowledge and honor how far the donut has come, we just had to put this original recipe on the list. Nicole from Yes To Yum spices up the original chocolate donut with nutmeg and it's pure magic.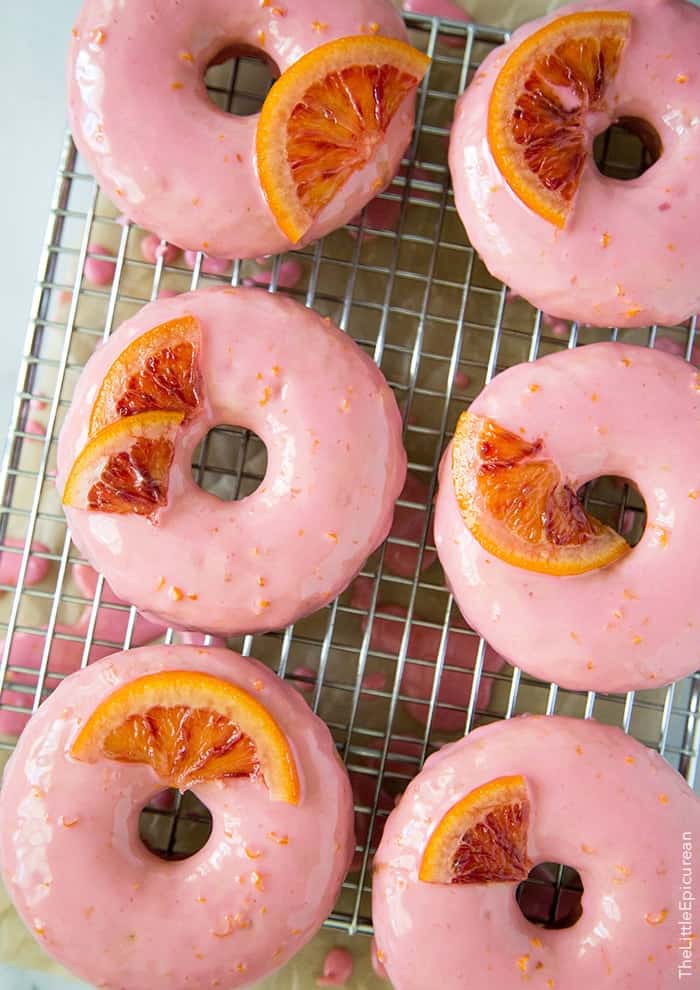 image via The Little Epicurean
These donuts are so absolutely beautiful and, when mixed in a box with other assorted donuts, make the best homemade gift for that special someone(s).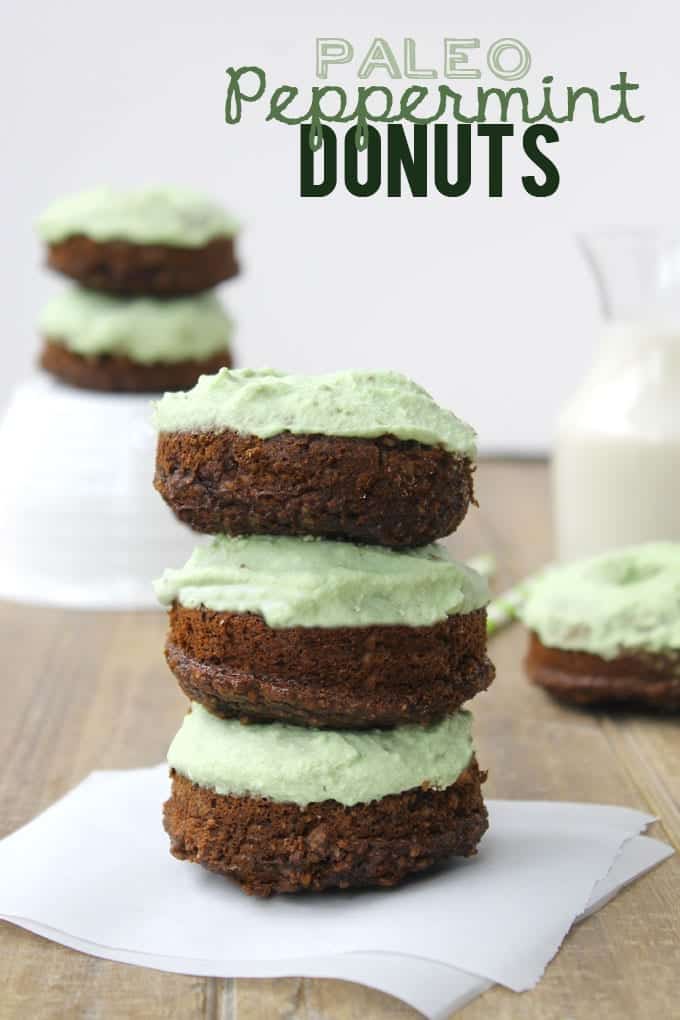 image via The Healthy Maven
Looking for a donut recipe that won't give you a sugar crash later in the day? Awesome! Then this guy is for you. Made with whole food ingredients like coconut milk, matcha, almond flour and more, this is the perfect alternative for those looking for a guilt-free treat or Paleo-foodies.
image via Cooking with Ruthie
Just look at that browned butter glaze drip off that donut! Doesn't it look fantastic? And you can bet this doughnut tastes just as good as it looks.
image via Safe Eggs
Peanut butter and chocolate were just made for each other. What better dessert/breakfast combo is there? (And we're not counting peanut butter and jelly because is that even fair?) This is a cake donut that was meant to be enjoyed on a lazy morning with some coffee and the daily news.
image via Ross Sveback
The color says it all! Red velvet is delicious and Blue Velvet is a great movie! Hey – why not have the best of both worlds and watch Blue Velvet as you eat these donuts? Morning made!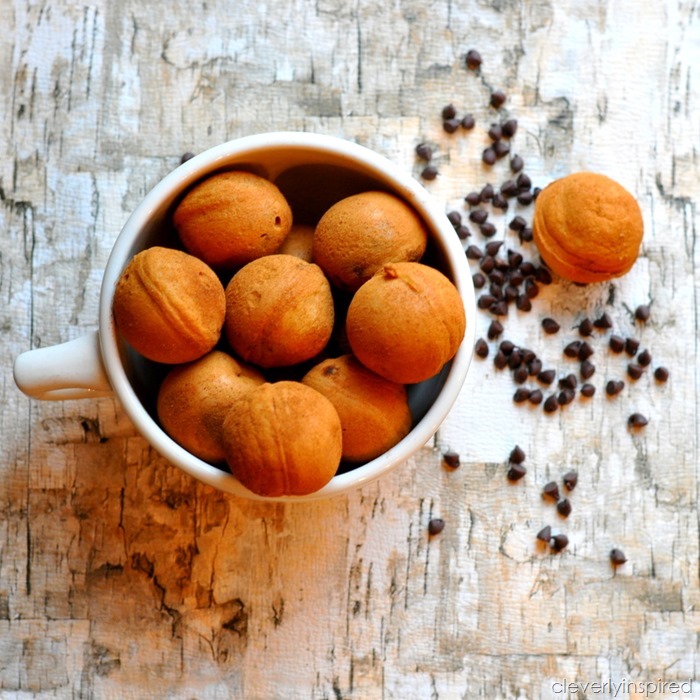 image via Cleverly Inspired
Big things come in small packages and that saying was never more true than today. These donut holes are made with almond flour, which might give them a different texture than original donut holes, but believe us when we say that the flavor is still there. Filled with chocolate chips, these little holes yield a pleasant surprise with every bite.
image via Half Baked Harvest
It does not get more decadent than this (and that's saying a lot when we make that statement). These little bites of heaven are filled with sweet vanilla cream and topped with sugar and chocolate glaze. Yeah, they're probably the best doughnut holes in the entire country. Dare we say, world?
image via Heather Christo
You must have totally seen this recipe coming! Peanut butter and jelly is awesome and these donuts are even more awesome (dare we forget the mechanics of English and say, "awesome-er"?). Put that boring sandwich bread down and pick up one of these little guys!
image via Nisa Homey
Dunkin Donuts are King in Donut Land, so any copycat recipe will greedily and hurriedly be made. Thank goodness this recipe delivers; boy, does it deliver. If you love Dunkin Donuts Sugar Munchkins, then you are going to fall head over heels in love with this homemade recipe.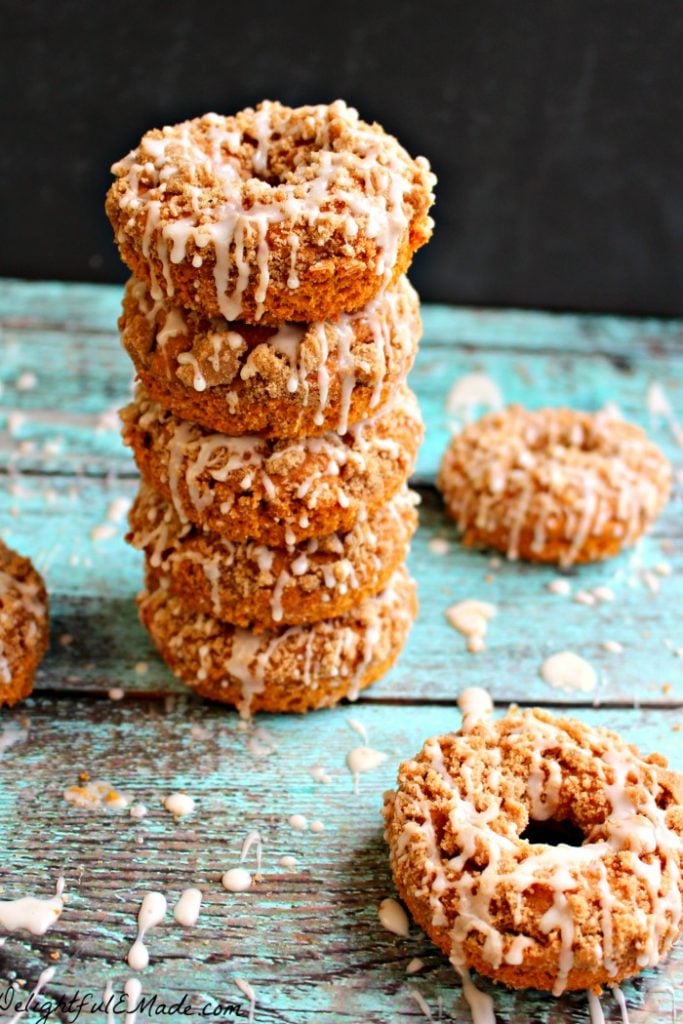 image via Delightfule Made
We're huge fans of Fall (it's true!), so that means pumpkin is one of our favorite flavors and big winter denim jackets are one of our favorite articles of clothing. This pumpkin coffee cake donut is everything we love about the mornings and Fall – coffee cake, pumpkin, and a fluffy moist donut. And did we mention this little daredevil is topped with streusel?
Don't have the right equipment to make donuts? Never fear! Check out our list of favorite donut-making supplies:
National Donut Day is June 5th, so don't forget to make these tasty treats and have fun! Now that you've shown your oven some love, why not spread the wealth by adorning your home with wonderful DIY decor? These DIY Anthropologie Hacks and Unique Mason Jar Crafts You Can Make Under An Hour will fill your home with beauty, love and happiness. 
That's all, folks! If you enjoyed our 22 Homemade Donut Recipes for National Donut Day, let us know in the Comments section below. We love hearing your feedback and comments; we also love sharing, so if you have an amazing donut recipe, we'd love to hear about it and try it for ourselves! HomemadeRecipes.com was founded to create an online community where foodies, epicureans and chefs can share recipes and learn new ones! We need your help, however, in creating this community where you can come, share and learn. If you love to cook, love food or have some great recipes and ideas you'd like to share with us, shoot us an email and make sure to stay in touch on Facebook, Twitter, and Pinterest! We're always looking for contributors and want to hear from you.
Sign up for our daily newsletter here!
Do you have Instagram? Don't forget to follow @HomemadeRecipesOfficial.
Click here to Like Us on Facebook.
Click here to Follow Homemade Recipes on Pinterest