We're excited to share with you these delicious and popular skewer recipes great for outdoor parties or a campfire. From vegetables, beef, pork, chicken, and seafood, you'll have your hands and tummy full with these skewer recipes!
Skewer Recipes Perfect For A Summer BBQ Or Party
Summer barbecues can get old simply because the usually grilled meat recipes can become boring after a while. That is, until these skewer recipes drew my attention and got me hankering for more grilled food on a stick! They're delicious, quick, and easy to prepare. I can now prepare a meal for ten people without help–as long as it's outdoors. Help yourself to these delectable and mouth-watering skewer recipes for a campfire, barbecue or a simple weekend hangout!
1. Grilled Steakhouse Kabobs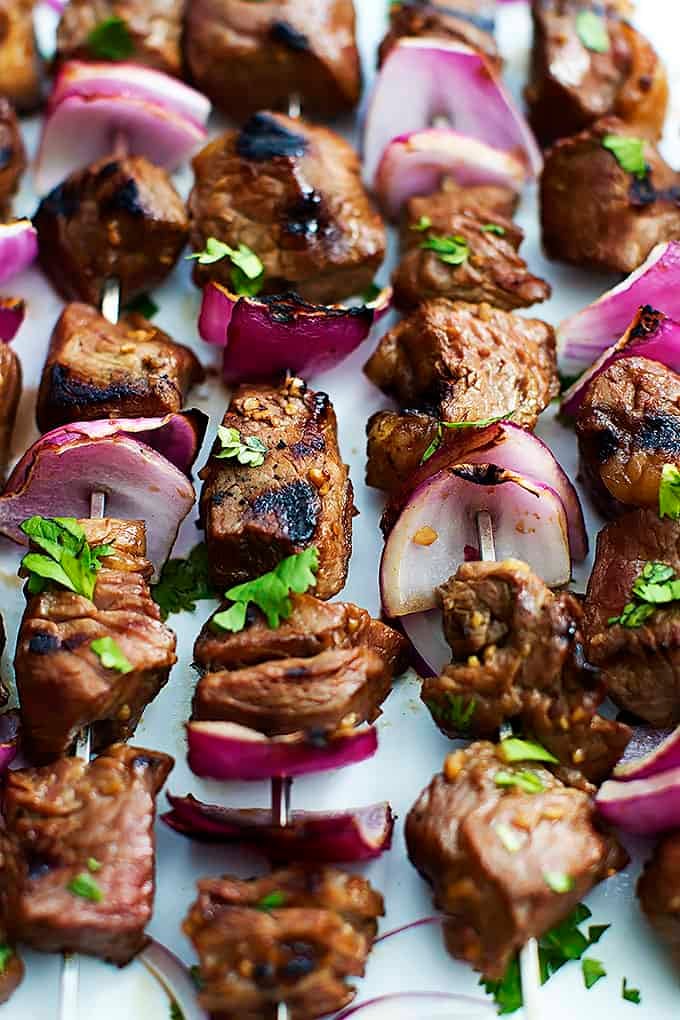 Why order out for steak house kabobs when you can make your own? If you've got a craving for your favorite grilled meat, you can easily prepare grilled steakhouse kabobs yourself with this recipe.
2. Mini Caprese Skewers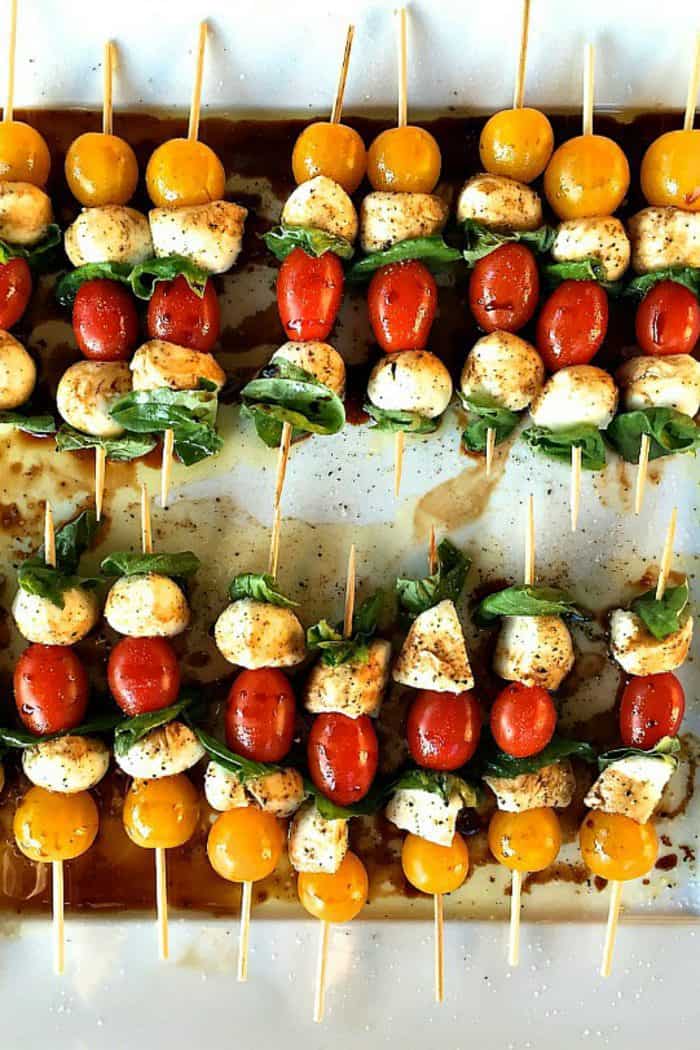 An easy skewer recipe with fresh mozzarella balls, sweet cherry tomatoes, and basil leaves all drizzled with balsamic vinegar and olive oil. Bite into juicy tomatoes, balanced by some nutty and salty mozzarella and flavored with basil.
3. Grilled Steak, Potatoes, And Mushroom Kabobs
If you're in the mood for beef, here's how you should enjoy it—flavorful beef steak in skewers! Add in mushrooms and potatoes and you've got yourself a complete and satisfying meal.
This prime rib recipe is to die for! 😍 https://t.co/IpVi4v5p3N #SteakRecipes pic.twitter.com/vAxIh1ZK0h

— Homemade Recipes (@BestHomeRecipes) June 23, 2017
4. Spicy Shrimp And Sausage Skewers
Make these savory and spicy shrimp and sausage skewers and you'll definitely get lots of love from the family. Tuck round sausage slices into the curve of the shrimp–trust me, it doesn't only look good, the contrasting meaty taste is even better!
5. Chicken Skewers With Cucumber-Garlic Yogurt Sauce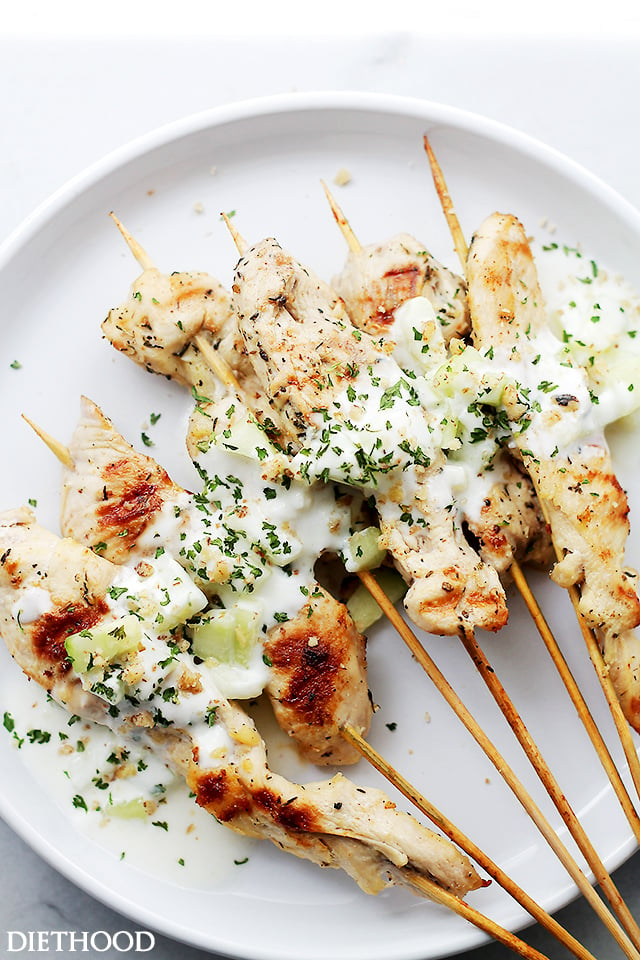 A simply marinated chicken skewer smeared with Taratur—a cucumber garlic yogurt sauce—is not your usual skewer recipe. Try this recipe, which deserves a spot on your summer menu!
6. Chipotle BBQ Chicken Skewers
Believe me, these chipotle BBQ chicken skewers are so good, you'll be making them all year round. The secret? A simple sauce of apple butter, sweet bbq sauce, and chipotle peppers. This recipe is simple and easy, you'll only need five ingredients.
7. Rainbow Veggie Skewers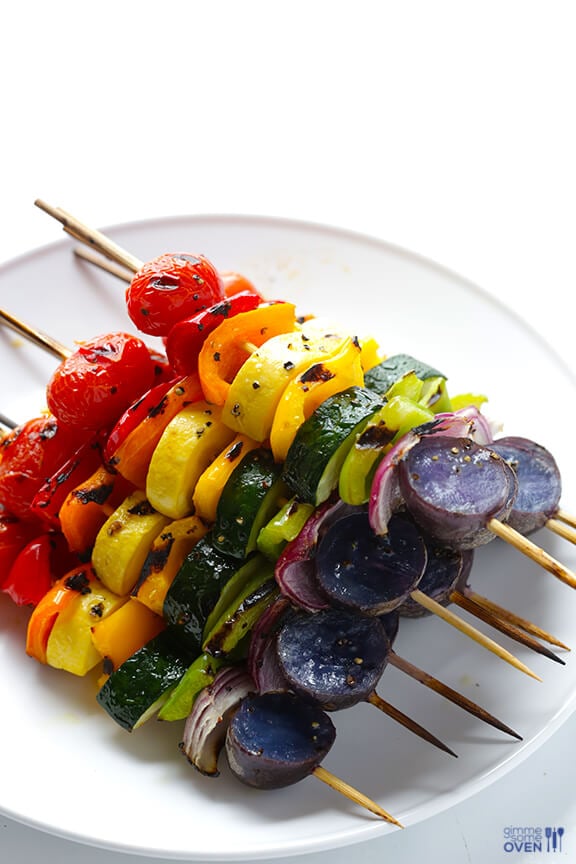 Meat isn't the only thing you can toss on a kabob. Vegetable skewers make a refreshing and very healthy option. You can have any of your favorite veggies but for this entry, fresh squash, potato, pepper, onions, and tomatoes are the stars. A perfect side dish recipe in skewers for your beef, chicken, or pork kabobs.
8. Habanero Peach Pineapple Glazed Chicken Skewers
Imagine your chicken skewers lavished with a habanero, peach and pineapple glaze. Set the chicken meat and the rest of the ingredients in the skewer on a plate and feel your mouth water over your perfect creation!
9. Greek Lemon Chicken Skewers With Tzatziki Sauce
Perfectly seasoned chicken skewers with a healthy homemade Tzatziki sauce…why not give this easy recipe a try?! Add some lemon zest to compliment the juicy and meaty chicken for a dish that's simply delicious.
10. Asian Chicken Satay Recipe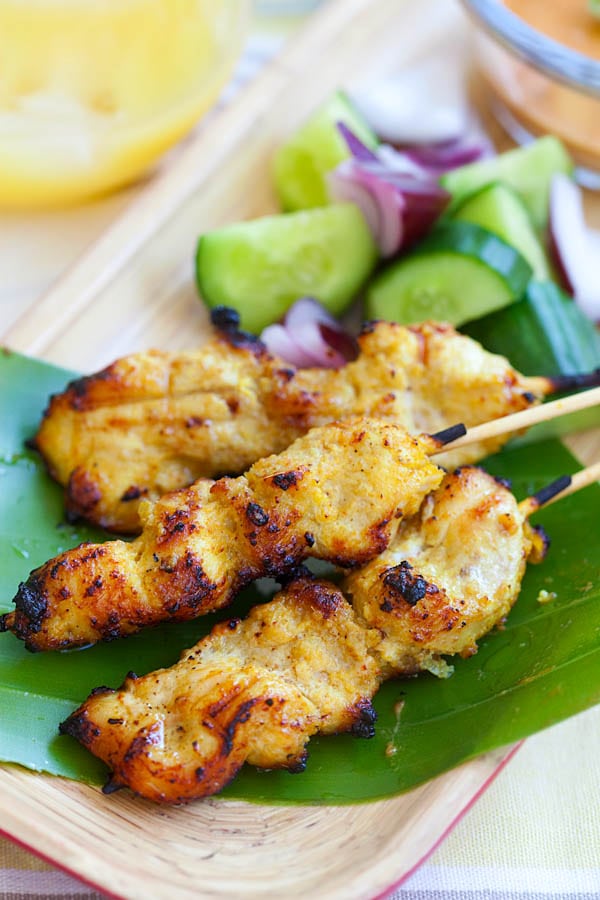 An Asian satay is a perfect response to Middle Eastern kebabs, and honestly, I love them both. This Malaysian chicken satay recipe is simply exotic and the use of peanut and spice for the sauce is just delightfully amazing.
11. Spiced Sweet Potato And Bacon Skewers
Spiced sweet potato and savory strips of bacon make this fantastic skewer recipe perfect for a summer family camping trip. With a stick or two, you can have one complete meal to get you through a day of fun family camp activities.
12. Grilled Salmon Skewers With Garlic And Dijon
Fish on skewers have never been this exciting, with lemon slices to add flavor and zest. Garlic, Dijon mustard, and parsley add amazing flavor to this salmon skewer recipe!
13. Spicy Grilled Calamari
If you haven't tried calamari or spicy calamari on skewers, you're missing out on a lot. Grill calamari just right and you'll bite into tender and juicy meat like you've never had before!
14. Grilled Vegetable And Mushroom Kebabs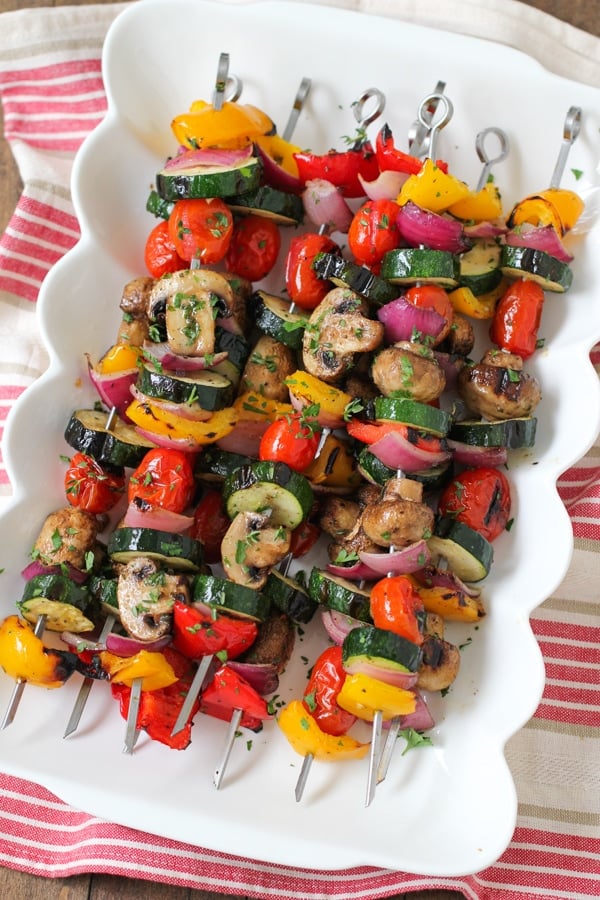 This time, we add mushrooms to your favorite veggies on a skewer as a meat substitute. Fresh, sweet, and juicy veggies taste like no other with savory and meaty homegrown mushrooms.
15. Balsamic Garlic Grilled Mushroom Skewers
Another mushroom on skewers recipe with mushrooms as the highlight. We add balsamic vinegar, herbs, and seasoning to enhance mushroom's meaty texture and already savory flavor.
16. Grilled Fajita Vegetable Skewers
What's a summer BBQ or campfire without grilled corn? This time, we line it up with other healthy veggies like mushroom, brussels sprouts, pepper, and onions to make this flavorful grilled fajita skewer recipe.
17. Hawaiian Chicken Kebabs
Take on the tropical goodness of Hawaiian chicken kebabs on a breezy summer outdoor party. Savor the flavors of juicy chicken and pineapples with the spice and tang of onions and sweet and spicy peppers.
18. Sweet And Sour Meatball Skewers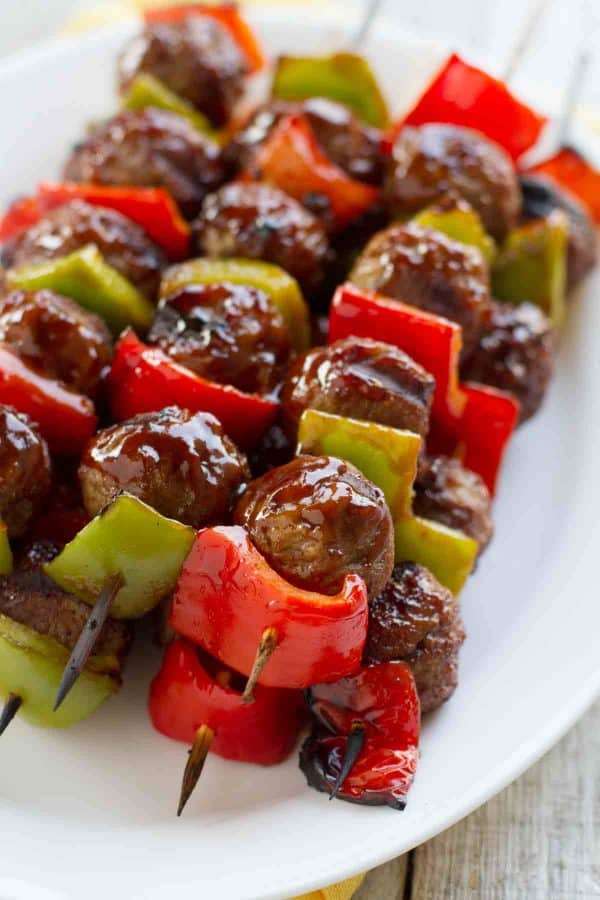 If you're up for something new and an out-of-the-box skewer recipe, take on this sweet and sour meatball skewer recipe. The picky eaters in your kids will definitely adore this delightful and tasty recipe.
19. Vietnamese Grilled Pork Skewers
Watch out when you lay this Vietnamese pork skewers out to grill because the aroma is sure to make the neighbors come flocking over. With a tropical and oriental concoction of flavor, make sure you've got lots of side dishes prepared and beer in the cooler.
20. Antipasto Skewer Recipes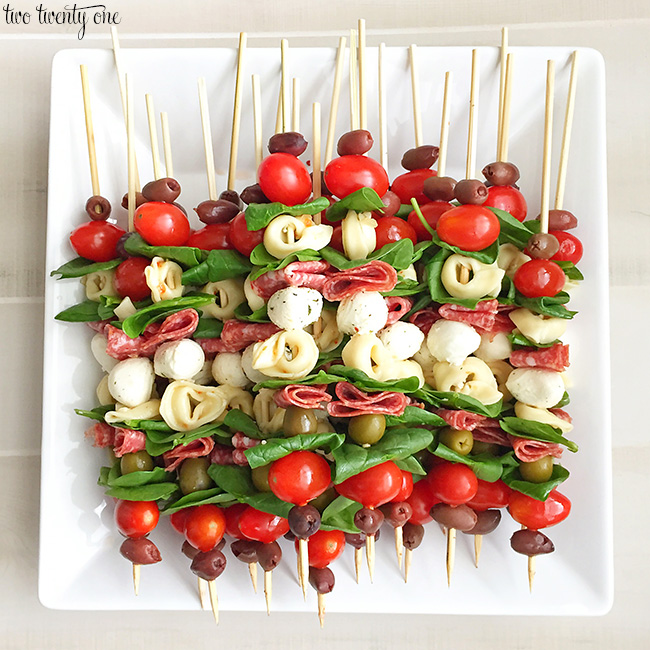 Serve this appetizing meal in a party or a BBQ and your family and guests will definitely have their appetites fired up for more. With two different kinds of cheese, tomatoes, olive, spinach, and salami, this appetizer recipe in a skewer also deserves a spot on the menu.
21. Grilled Asian Garlic Steak Skewer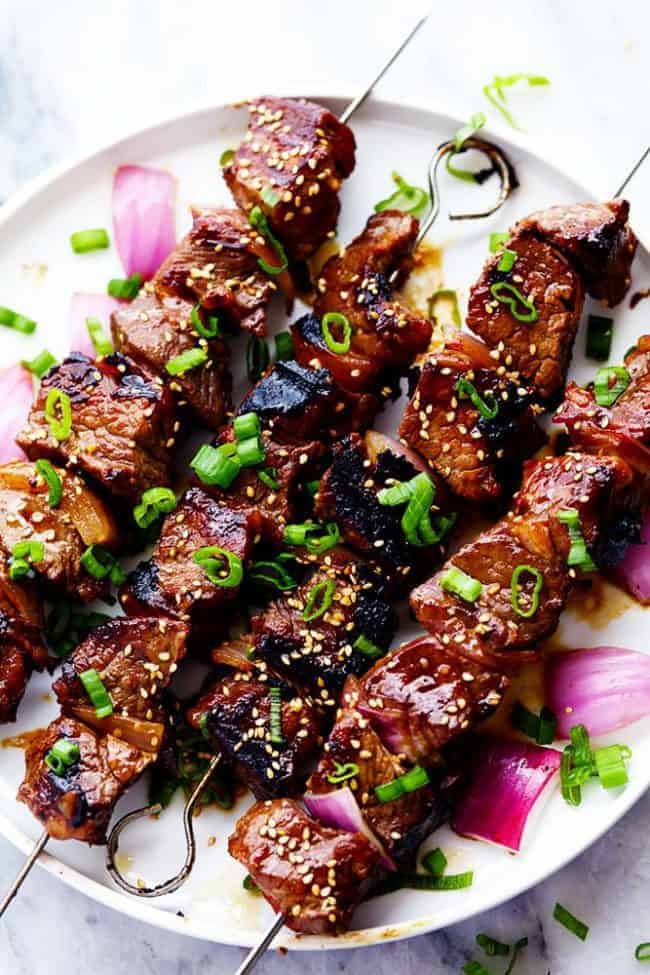 If you're a steak freak, you'll dig this beef steak in skewers recipe. Watch out though, you might get a few more helpings more than you can handle with this extra appetizing marinade.
Check out this video for four more quick and easy skewer recipes:
There you go, foodies! Skewer recipes to add to your list of delicious choices for an outdoor party or a cookout. With the variety, you will never run out of choices. I'm pretty sure, your only problem is which skewer recipe to prepare first!
What do you think of these skewer recipes? Share your experience with us in the comments section below
Want more recipes to try at home? You'll surely have your hands full with these simple and healthy recipes to try!
Don't forget to keep in touch, foodies!
Also, make sure to follow us on Facebook, Instagram, Pinterest, and Twitter!
Editor's Note – This post was originally published in March 2016 and has been updated for quality and relevancy.