Sure, you can enjoy ice cream in a cone or cup…but why settle for something so basic when you can take ice cream to a whole other level?
10 Life-Changing Ways To Enjoy Ice Cream
National Ice Cream Month isn't 'till July, but we all know that every month is secretly ice cream month. Something about the taste, texture and simplicity of ice cream on a hot summer day is what sets it apart from every other treat; there's just nothing to dislike about ice cream (unless you're lactose intolerant, but even then…). Sometimes though, there's a way to make something that's already great even better. Instead of eating ice cream on its own, serve it in a handful of different ways: inside of chocolate tacos, sandwiched between cookie dough and even deep fried, topped with whipped cream and cherries.
Make ice cream even more fun with these 10 life-changing recipes.
1. M&Ms Ice Cream Cookie Sandwiches
Ice cream sandwiched between two chewy M&M filled cookies. Click here for the recipe.
2. Oreo Ice Cream Cake
An absolutely impressive ice cream cake with a layer of graham crackers, Oreo cookies, whipped cream and rich chocolate ganache. Get the recipe here.
3. Fried Ice Cream Recipe with Cinnamon Sugar Tortilla Bowls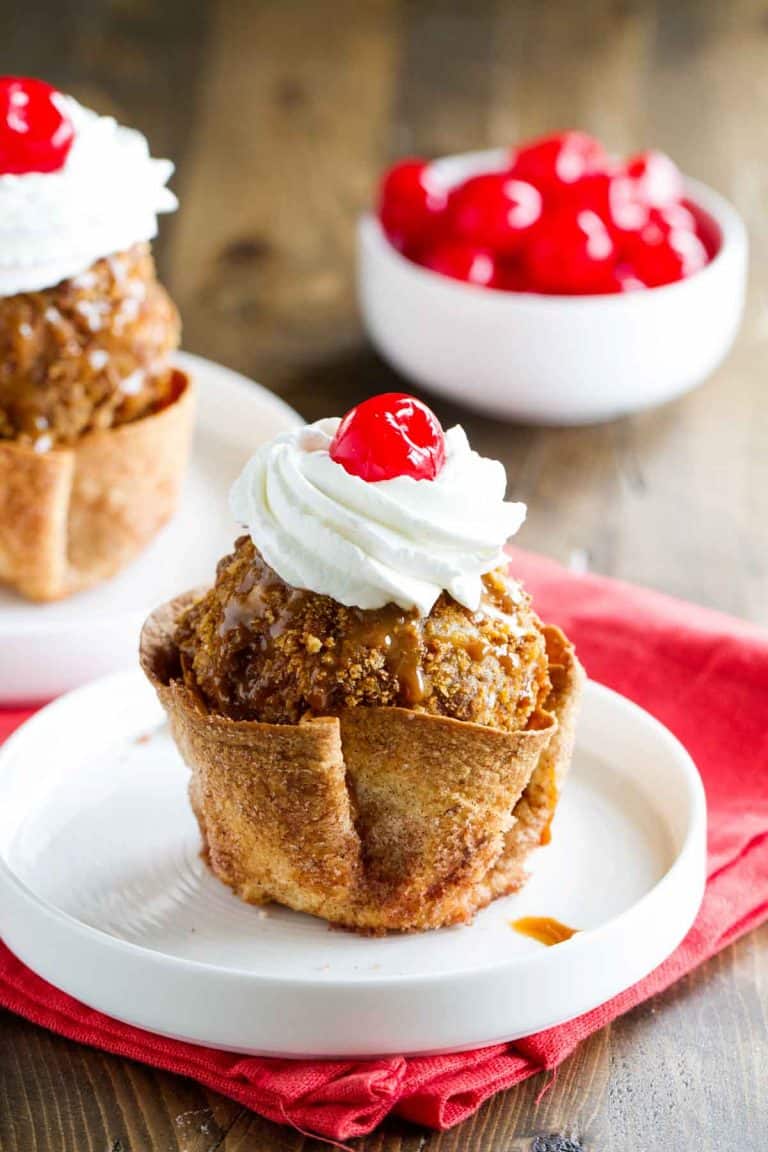 Yes! Fried ice cream does exist…and it's fantastic! Here's the recipe.
4. Ice Cream Cupcakes
Enjoy two of your favorite desserts with these ice cream cupcakes, made from soft pink cake, vanilla-strawberry ice cream and whipped cream frosting. Full recipe.
5. Cherry Vanilla Coca-Cola Ice Cream Floats
A classy way to enjoy Coca Cola and ice cream together in one fun summer dessert/beverage. Grab the recipe here.
6. Blueberry Pie Ice Cream Sandwiches
You'll definitely get on board with these ice cream-filled blueberry pie sandwiches. Learn how to make it here.
7. 4-Ingredient Ice Cream Pie with Peanut Butter Krispie Crust
This insanely delicious ice cream pie needs only 4 simple ingredients: Rice Krispies, chunky peanut butter, white Karo syrup and of course…ice cream. Check it out here.
8. Ice (Cream) Cubes
Enjoy your milk the fun way…with ice (cream) cubes. Here's the recipe.
9. Homemade Choco Taco
You've never seen anything like these chocolate ice cream filled tacos! Get the recipe here.
10. No-Bake Cookie Dough Ice Cream Sandwiches
Ice cream sandwiched in between two pieces of unbaked egg-free chocolate chip cookie dough. Does it get any better than that? Nope. Check it out here.
What do you think of these ice cream recipes? Which recipe are you planning to try? Share your experience with us in the comment section below.
Related Posts:
Don't forget to keep in touch, foodies!
Sign up for our newsletter here!
Also, make sure to follow us on social media too: