Why stick with boring and non-appetizing bread recipes when you can make them incredibly flavorful? Forget about plain bread. Instead, fall in love with any of these 10 savory stuffed bread recipes!
Stuffed bread is a great way to make a quick and easy meal that is still packed with all of the flavors and tastes you're looking for. They're also incredibly versatile, with tons of different ingredients as options. The possibilities are endless!
Stuffed bread recipes are also great to transform a regular side dish into a savory and delicious meal you can enjoy for breakfast, lunch, or dinner. We've rounded up 10 savory and easy-to-make stuffed bread recipes that will make your taste buds go crazy.
Savory Stuffed Bread Recipes to Fall In Love With
1. Mushroom Swiss Cheeseburger Stuffed French Bread
French bread stuffed with a mushroom and onion mixture, along with a nice layer of Swiss cheese. When you have this kind of meal, you won't ask for more!
2. Spinach and Artichoke Dip Stuffed Garlic Bread
A cheesy spinach and artichoke dip stuffed inside a buttery and garlic-y baguette. This stuffed bread recipe is a great way to enjoy your greens and one of the tastiest vegetable stuffed bread recipes around.
3. Sausage and Pepper Stuffed Bread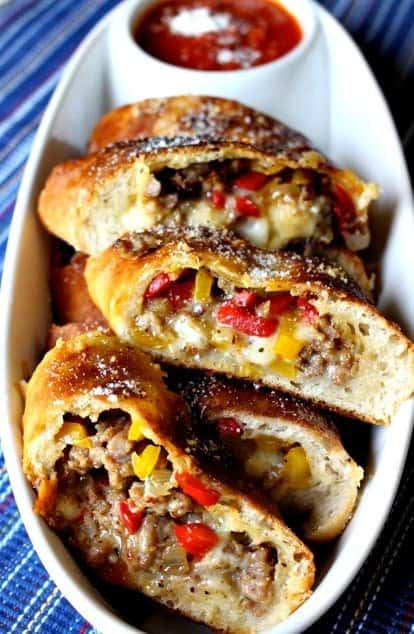 Try this easy and flavorful stuffed bread recipe with sausage and pepper filling. This recipe is an excellent make-ahead meal. Prepare it ahead then bake it whenever you crave for something hearty and delicious.
4. Cheesy Jalapeno & Bacon Stuffed Baguettes
This is another scrumptious make-ahead bread you can serve for the whole family. It's so good, thanks to a nice blend of cheesy garlic bread and bacon dip goodness.
5. Taco Stuffed French Bread Baguette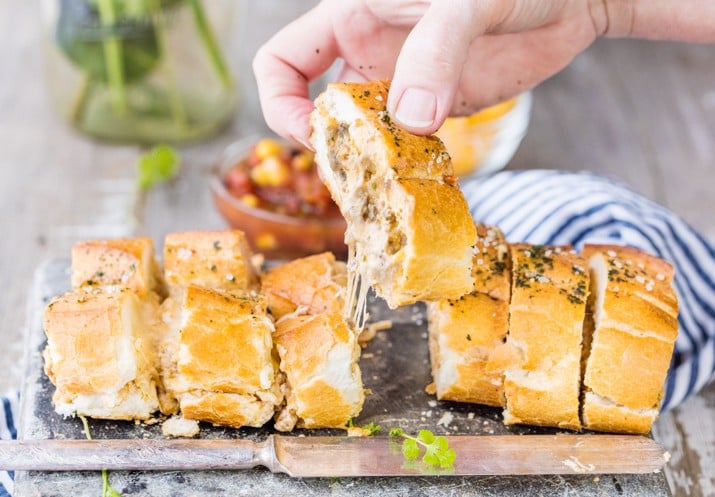 What makes this stuffed French bread one-of-a-kind is the taco stuffing which is bursting with flavor. This is a great starter for any party.
6. Pepperoni and Cheese Stuffed Bread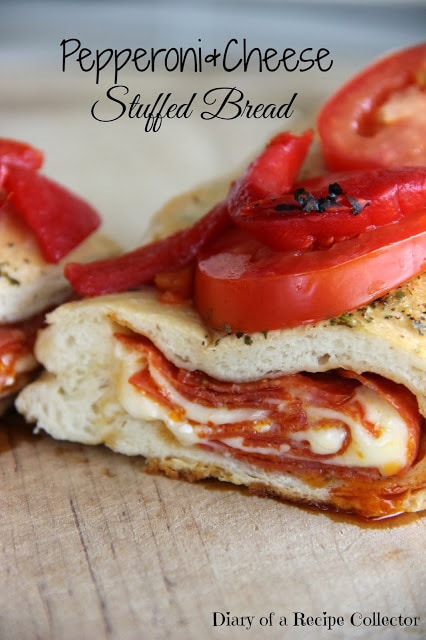 Ditch delivery and make your own version of a homemade pizza by making a batch of this yummy pepperoni and cheese stuffed bread. Definitely worth it!
7. Stuffed Crawfish Bread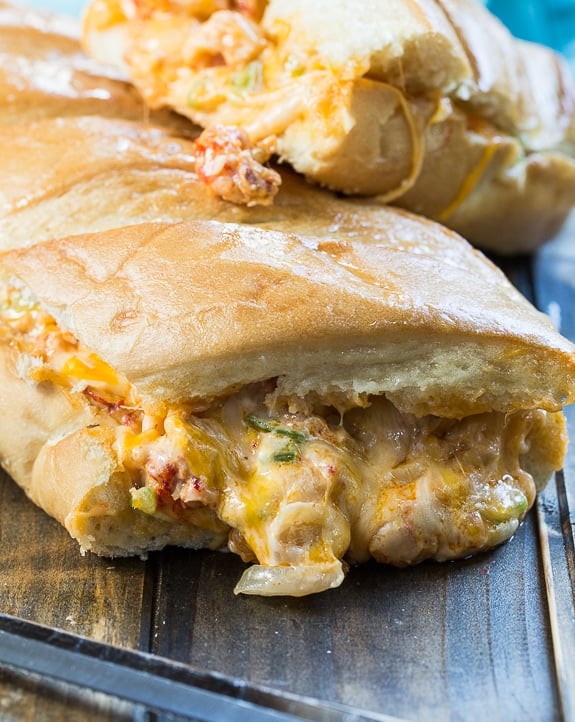 If you haven't tried crawfish before, this recipe is the perfect way to start! Everything about this filling is truly exceptional!
8. Easy Spinach Dip Stuffed French Bread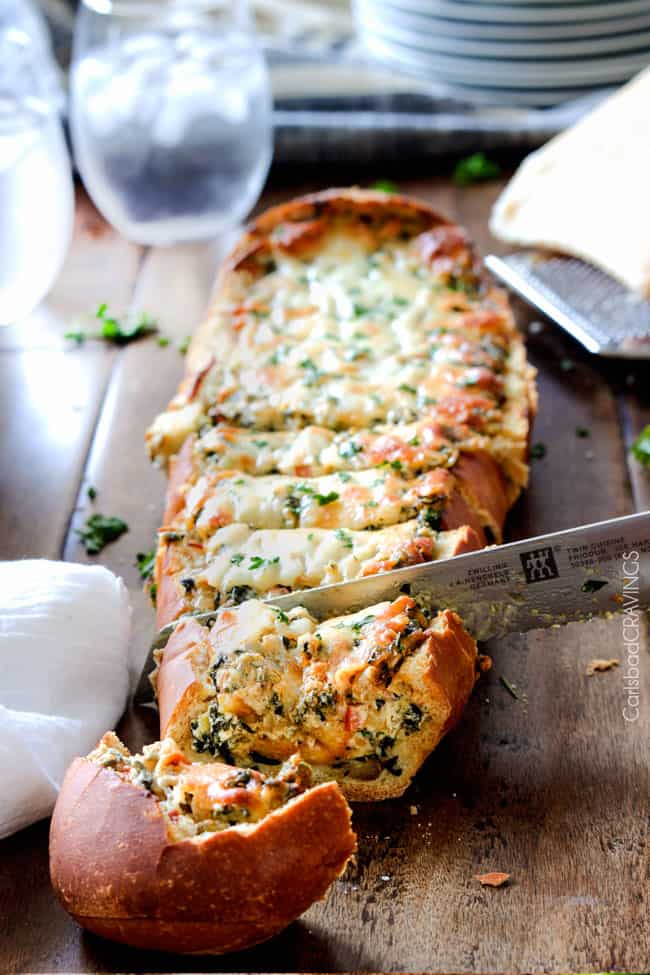 After trying this easy-to-make spinach dip stuffed bread recipe, you'll never eat French bread the same way again. It's delicious and packed with the health benefits of spinach.
9. Stuffed Cheesy Bread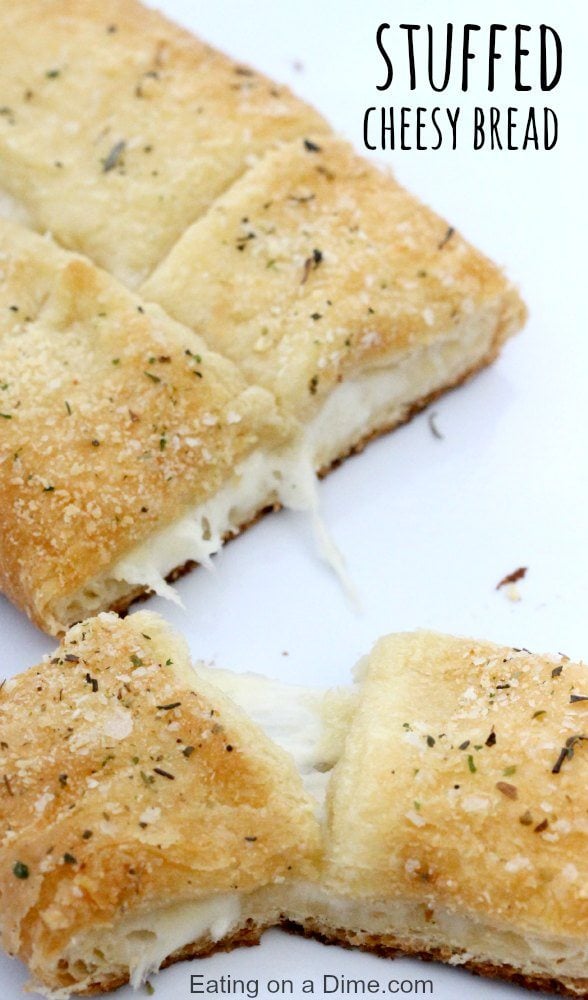 If you want to make it simple yet still tasty then this cheese stuffed bread recipe is perfect for you! You only need mozzarella cheese for the filling and some parmesan cheese and Italian seasoning for the toppings.
10. Creamy Garlic & Mushroom Stuffed Bread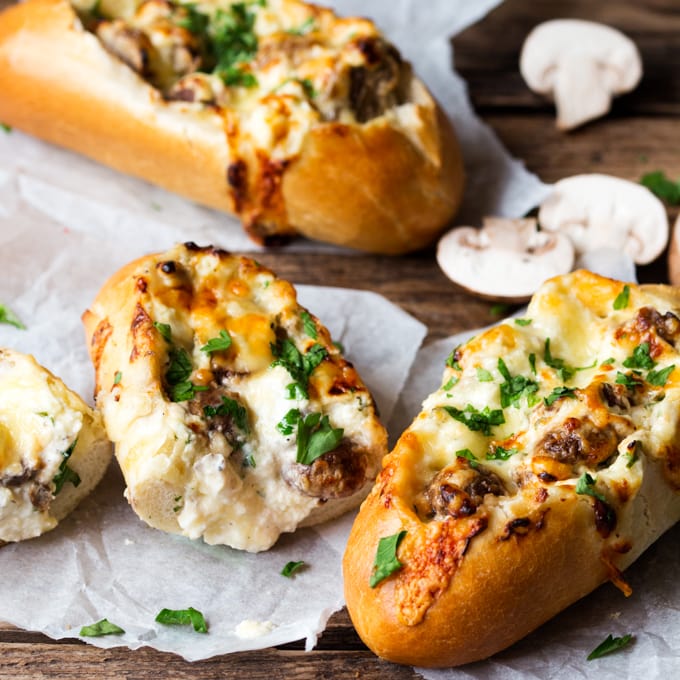 Turn a regular side dish into a flavorful meal with this super easy creamy garlic and mushroom stuffed bread. This recipe will become a repeat in your home!
Watch this video by Tasty and learn how to make chicken Parmesan-stuffed garlic bread:
There you have it, folks! 10 delicious stuffed bread recipes to add to your homemade recipes collection. These recipes can instantly elevate a simple bread to a mouthwatering meal which is perfect any time of the day. These stuffed bread dishes are not only tasty but also very easy to make. The options are limitless when it comes to fillings – make it meaty, cheesy, or healthy!
What do you think of these stuffed bread recipes? Which recipe are you planning to try? Let us know how it went in the comments section below.
Up Next: 19 Homemade Bread Recipes With A Savory And Tasty Twist
Don't forget to keep in touch, foodies!

Also, make sure to follow us on Facebook, Instagram, Pinterest, and Twitter!
Editor's Note: This post was originally published on February 5, 2016, and has been updated for quality and relevancy.