The ghouls and ghosts are almost upon us and the sweet smell of candies and other tasty sweets fill the air! It's time to learn How To Make Pumpkin Bread.  I'm talking about Halloween everyone, and it's only a few weeks away. Because of the abundance of pumpkins this time of year, it is indeed a must that we make one of the most popular tasty treats for this time of year and that is homemade pumpkin bread. All you need is a pumpkin, and a lot of guts, brains, feet, and blood! Just joking!
The Jack O'Lantern Season: How To Make Pumpkin Bread
You can use either fresh pumpkin puree or canned pumpkin puree. Butternut squashes can also be used as well as a sugar pumpkin. Big pumpkins, however, are best left for carving those creepy looking Jack O' Lanterns. Choose a small or medium sized pumpkin so you can easily slice and get the fibrous meat from it.
You will need:
A cup of Pumpkin Puree (or 1 and 3/4 cups fresh pumpkin)
A stick of melted butter or 1/2 cup of light olive oil
Two beaten eggs
1/4 cup of water
1 teaspoon of orange zest
1/2 cup nuts (your preference)
2 teaspoons of molasses
1 ½ cups or 200 grams of flour
1/2 Half a teaspoon of salt
1 teaspoon of ground ginger
1/2 teaspoon of allspice
1/2 teaspoon of nutmeg
1/2 teaspoon of cinnamon
Procedure:
Step 1.
Set and preheat your oven at 350 F (180 C). Whisk the flour, sugar, baking soda, nutmeg, ground ginger, cinnamon, salt, and allspice in a large bowl.
Step 2.
Get a separate bowl and mix the pumpkin puree, orange zest, melted butter, eggs and water. Now combine the wet and dry ingredients together and still until there is no more dry flour. Remember not to over stir as it will result in a lighter bread. Add the nuts you chose and stir in as well.
Step 3.
Put butter on the sides of your loaf pan so that the edges of the bread won't burn or stick. A 8 x 4 x 3 inch pan would do best.
Step 4.
Transfer the batter into the loaf pan and smoothen the top and place it in the middle rack of the oven. Bake for 45 to 60 minutes. You can also put a tester in the middle of the batter to see if it's done. If nothing sticks to it when you pull it out, that means it's ready. Lighter pans also take a lot more time to cook the bread, so I suggest you use darker ones.
Step 5.
After baking, take your pumpkin bread out of the pan and let it cool for about 5 minutes. Use a blunt bread knife to loosen the edges. Then get a plate and invert the pan onto the plate to separate it.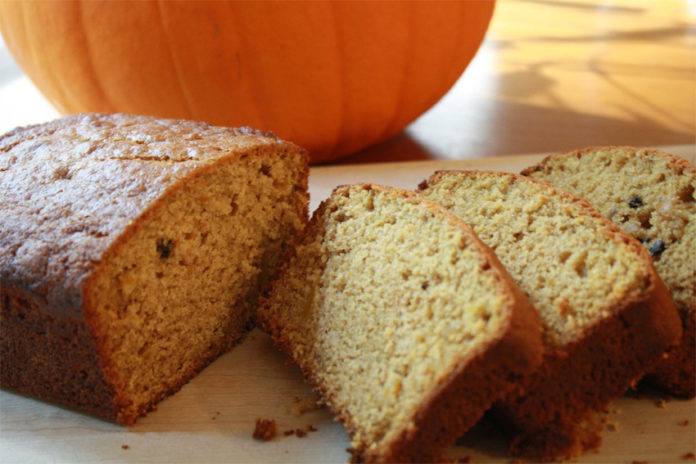 Now what you have in your plate is a delicious and scrumptious Homemade Pumpkin Bread. You can also drizzle a bit of caramel or your favorite syrup or sprinkle some powdered sugar over it to make it even more delicious. Happy Halloween Ghouls and Gals!
That's all folks. Did you enjoy our homemade pumpkin bread recipe? Let us know in the comments section below what you thought of our Pumpkin Bread recipe! Do you have a favorite homemade Pumpkin Bread recipe that's been in your family for ages? Share it with us and we'll give it a shot. We love making quick and easy recipes that you can make right from the comfort of your home. Hence the reason we started Homemade Recipes.com We want to share our love of cooking with the you! We need your help in creating a community of foodies where you can come and share your recipes and expect the best homemade food prepared by our team of expert chefs and food connoisseurs. Do you want to write for Homemade Recipes? Shoot us an e mail and make sure to stay in touch on Facebook, Twitter, and Pinterest!
Do you have Instagram? Don't forget to @HomemadeRecipesOfficial.
Click here to Like Us on Facebook.
Click here to Follow Homemade Recipes on Pinterest