Looking for the best tasting beer to enjoy on National Beer Lover's Day? Find it here!
Best Tasting Beer For National Beer Lover's Day
Hey beer lovers! Our wait is finally over. The day we've been waiting for so long is almost here.
Though we've been drinking beer almost everyday of our lives (well, after you turned 21, I hope, and maybe not everyday of your life), it's still nice to drink a cold brewski in honor of a very special day: National Beer Lover's Day!
Beer is the world's most widely consumed alcoholic beverage and the third-most popular drink overall, after water and tea.  It is thought by some to be the oldest fermented beverage. Its bittersweet taste entices our taste buds and makes us fall in love even more.
Let us prolong our beer adventures with the best tasting beer you've ever had. Happy National Beer Lover's Day! Gulp gulp gulp, BUUURP!
image via Google
Regalia is brewed with barley, wheat and spelt, and fermented with Brettanomyces. Brettanomyces is a genus of yeast that gives lambic and gueuze beers their unique flavor profile. If you've had a lambic, you know that they tend to have a tart sourness to them.
A sturdy malt character supports the complex array of flavors that the yeast provides that grow even richer as the beer ages. The deep and rich flavor jumps right out at you — grain and pear, with a firm, malty mellowness.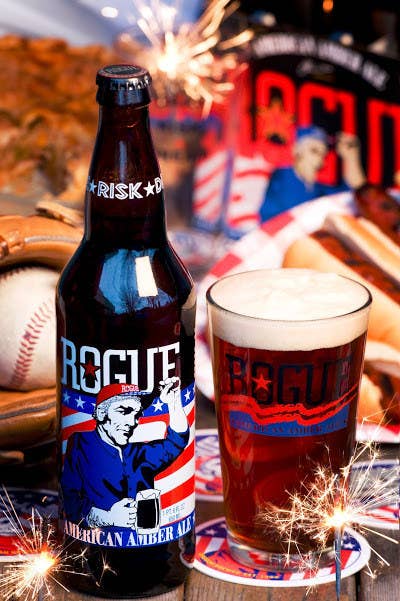 image via Google
Rogue's American Amber Ale has a smell of sweet malts and faint hops – the sweet malty flavor is followed by a slightly bitter hoppy aftertaste. It is a slightly creamy beer that has a good amount of carbonation with a dry finish. American Amber Ale is best enjoyed with seafood and beef.
This beer is a very good beer that I could see making several weekly appearances on my grocery list.
image via Drink Better Beer
Hell or High Watermelon Wheat is 21st Amendment's summer seasonal beer which is available from April through September in six pack cans and on draft. It is a straw-colored, refreshing beer with a kiss of watermelon aroma and flavor.
You'll definitely want to try this beer before it's gone! 
image via Brewbound
This beer was infused with fresh pineapple juice from Fair Trade Costa Rican farms. With the pineapple twist, this beer goes from traditional German-style beer to being a refreshing and flavorful creation that still pays homage to its original flavor profile.
This beer is really fantastic and a very good tropical beer to drink during summer. I wasn't surprised to hear that it had received various awards such as the Silver Medal from the Great American Beer Festival, Silver Medal AmeriCAN Canned Craft Beer Festival, and the Best Local Beer in Phoenix.
image via Insurance Guy Beer Blog
This stunning berry red beer masterpiece is the perfect balance of sweet and tart. The raspberry flavor itself has a lot of depth to it and the beer contains notes of apples, cranberries, and cherries. Rubaeus has an awesome aroma that lures you into going from one sip to downing the entire beer in one sitting.
image via NorCal Beer Blog
At first, this beer tastes sweet and fruity then gets zesty and finishes with a mildly dry hoppy bitterness. You'll surely fall in love with its grapefruit, orange, citrus hops and a touch of malty honey aroma. This beer has a round, creamy mouthfeel which everyone loves. This could be a very versatile summer food pairing beer.
image via The Perfectly Happy Man
Oberon Ale has a slightly sweet malt taste coupled with a gently bitter spice hop presence. Its light malt sweetness, tartness, and bitterness will make you appreciate the way a nice wheat beer tastes on a sunny spring afternoon.
image via Brewing Some Fun
Concerned about ingesting too many calories but can't help drinking a glass of your fave cold beer? Worry no more! This beer won't ruin your healthy diet with its 119 calories. I know it is not that small but for a beer it is! It also has a deep and rich flavor that will surprise you.
image via Google
You'll be wanting to have this beer stocked in your fridge indefinitely! The bad news is though that it's only available seasonally so you definitely want to stock up whenever it becomes available. This electrifying transformation of the Victory's classic Golden Monkey is mind blowing. It's quite light and refreshing, with its sour notes hitting your tongue and the corners of your jaw then fading pleasantly into sweetness. This is a must-try, beer lovers!
image via The Perfectly Happy Man
Summerfest has a delicate and complex malt flavor, and a spicy and floral hoppy character. It isn't much different than a typical lager but still has a unique lovely taste. This is a decent summer beer that's perfect for hot summer days.
image via Beer Notes
This beer's flavor imparts orange, grapefruit, and tangerine hop notes with earthy, spicy, and resinous pine undertones. Taste follows with a strong malt backbone and finishes on a boozy, bittersweet note. It comes in seasonally-designed bottles with Winter's featuring red and green ink, and Summer's featuring blue and red. It also pairs well with many Mexican and Thai dishes, while its bitterness complements sweet pork dishes.
[instagram url=https://www.instagram.com/p/BDH-bC7Hstg/ hidecaption=true width=625]
image via The Perfectly Happy Man
Bayhawk's Chocolate Porter is a smooth, full-bodied beer. Although called a Chocolate Porter this fine English style porter uses chocolate malts and not actual chocolate. The roasted grains leave a dry stout finish, but the mouthfeel is closer to a porter. Indulge your taste buds with a glass of this award-winning Chocolate Porter from Bayhawk Ales.
image via Google
This beer will leave your tongue revitalized with bold flavors such as grapefruit, pine and sweet, toasty caramel. The finish is resinous, chewy and not too boozy. It is visually appealing, tastes good, and honors the Imperial IPA tradition while maintaining nuance.
image via Keep It Craft
Grapefruit and orange flavors abound and this light-bodied concoction is more like a cocktail than a beer. You can hate it or love it but one thing is for sure, it's still a beer and it's a delicious beer at that!
image via The Perfectly Happy Man
This beer has a slightly oily mouth feel which you will surely enjoy. It ends dry and holds up well as it gets warm. In fact, its sweetness is even more pronounced once it has become warm. It is sweet, buttery and smooth from your first to last sip despite the high alcohol content. The citrus and oak work well together without one overpowering the other.
This beer is a great drink to share with friends and enjoy with family.
image via Dogfish
Festina Peche has a nice, tart peach aroma and even more so, taste, along with some Lambic-like sourness and a very juicy mouth-feel underneath it. While this was really nicely tart and refreshing with a great sour note you can still taste that sweet peach flavor. Because of the natural peach sugars, you don't need to serve this beer with a dash of essence of woodruff or raspberry syrup. Guys and gals will definitely love this beer!
image via Google
Abashiri Okhotsk Blue Ryuhyo Draft is Abashiri Brewery's most famous drink, and is supposedly made using drift ice and natural ingredients such as flowers and seaweed to give it its blue color. It also contains water from melted icebergs. To sip this beautiful blue brew is to immerse yourself in the wild and colorful flavors of the frozen Abashiri coastline. Why not experience a glass of this exceptional blue beer?! It's always nice to try something new. Right?!
image via Google
If you're a huge banana fan, well then, this beer is for you! While it has the sweet- and richness of banana bread, it is still able to remain a crisp, drinkable beer. This is one of those awesome dessert beers you need to try at least once in your life.
image via Google
This beer is generously balanced with a smooth creaminess and roast. It's not extremely heavy and doesn't overpower the palate. It has distinct notes of espresso, chocolate, roasted malt, and black barley. 'Tis an excellent brew overall!
[instagram url=https://www.instagram.com/p/y2YUdsgao2/ hidecaption=true width=625]
image via Instagram
Who said that "gluten-free" is only for munchies?? This beer has a golden color, aromas of hops and sweet potatoes, with a sweet grain flavor and a clean, sorghum-free finish. Woohoo… Cheers to gluten-free food and beer!
Related Posts:
Don't forget to keep in touch, foodies!
Sign up for our daily newsletter here!
Do you have Instagram? Don't forget to follow @HomemadeRecipesOfficial.
Click here to Like Us on Facebook.
Click here to Follow Homemade Recipes on Pinterest