We over here at Homemade Recipes feel like pasta's gotten a bad rap as of late. Yes, it's loaded with carbs, but when did that become such a bad thing? To celebrate the wonder and versatility that is pasta, we've put together a list of 22 tasty pasta dishes to make and enjoy at home with friends and family. Buon appetito!
Where pastas were once reserved for special occasions such as family reunions or celebrations, they've now become a part of our everyday meals, and rightly so. To honor its roots, make every day a celebration with these 22 homemade pasta recipes. These dishes will leave you proclaiming, "Molto delizioso!"
Want to take the best online culinary courses the web has to offer? Then you need to check this out! Online Courses Review has culinary courses from the best schools in the country!
22 Homemade Pasta Recipes
1. Mexican Pasta Salad 
image via
Avocado dressing, Greek yogurt and taco seasoning elevate what would be a simple pasta dish to Next Level status. Drizzle some cilantro-lime dressing on top and you have yourself a festive dish for all occasions!
Ingredients
1 (13.25-oz) box penne pasta (I love Dreamfield's Healthy Carb Living Pasta)
1 (15-oz) can black beans, rinsed and drained
1 (11-oz) can corn with red & green bell peppers
½ orange bell pepper, chopped
¼ c. cilantro, chopped
3 green onions, sliced
5-oz. cherry tomatoes, halved
2 avocados, pitted and halved
3 green onions
3 cloves garlic, minced
½ tsp. cumin
3 Tbsp. fat free plain Greek yogurt
juice of ¼ lime
¾ cup fat free milk
¼ – ½ tsp. taco seasoning packet (or homemade)
¼ tsp. pepper
½ tsp. salt
2. Tasty Broccoli Salad with Dried Cranberries
image via
This broccoli pasta salad recipe will take you through the spectrum of flavor with salty bacon, sweet cranberries, and savory pasta.
Ingredients
For the salad:
1 pkg. bow tie pasta
1/4 red onion, finely diced
Raw broccoli, washed & chopped
1 can pitted olives
1/2 c. dried cranberries
1/4 c. bacon bits
For the dressing:
1/2 c. mayo
1/4 c. sugar
2 tbsp. red wine vinegar
3. Chicken Mozzarella Pasta with Sun-Dried Tomatoes
image via
Okay, chicken mozzarella pasta sounded great by itself, but then sun-dried tomatoes were thrown into the mix and we were instantly and wholeheartedly smitten. It's safe to say we love this recipe and we know you will too.
Ingredients
3 large garlic cloves, minced
1 small jar (3-4 oz) sun-dried tomatoes in oil, or use 3-4 oz fat-free sun dried tomatoes
1 lb chicken breast tenders
salt
paprika (just a little bit)
1 cup half and half
1 cup mozzarella cheese, shredded
8 oz penne pasta (for gluten free, use Tinkyada gluten free brown rice pasta)
1 tablespoon basil (if using dry basil), if using fresh basil you can add more
1/4 teaspoon crushed red pepper flakes (at least, add more to taste)
1/2 cup reserved cooked pasta water (or more)
salt, to taste
4. Cajun Chicken Alfredo Pasta
image via
Let us introduce you to chicken alfredo's sexy cousin: Cajun Chicken Alfredo Pasta. One taste and it might just be impossible to go back to the original.
Ingredients
8 oz. bowtie pasta (or your favorite type)
1 head of broccoli, cut into pieces
2 Tbsp butter
3 cloves garlic, minced
1 lb boneless, skinless chicken breast, cut into bite-size pieces
2 – 3 tsp Cajun seasoning, to taste (I use Joe's Stuff or Weber N'Orleans Cajun)
4 oz cream cheese, softened and cut into small pieces
1 cup milk
3/4 cup freshly grated Parmesan cheese
1/2 teaspoon ground black pepper
1/2 teaspoon salt, more to taste, if needed
5. Pasta Fagioli
image via
Perfect for chilly nights when all you want to do is relax and cuddle (up to this meal, that is).
Ingredients
2 Tablespoons olive oil
1 onion, diced
3 cloves garlic, chopped
1 can (14.5 ounces) diced tomatoes with basil, garlic & oregano
2 cans (14.5 ounces each) reduced-sodium chicken broth
3 cups water
8 ounces (about 2 cups) small pasta shells
1 teaspoon Italian seasoning
1 bunch fresh kale, tough stems discarded, cut into 1-inch pieces & washed
2 cans small white beans, drained & rinsed
1 Tablespoon tomato paste
1/2 teaspoon salt
1/4 teaspoon pepper
grated Parmesan, for serving
6. Pasta Fagioli with Cranberry Beans and Kale
image via
This pasta soup is hearty and packed with protein, veggies and leafy greens. Perfect for fighting colds and the cold, this winter recipe will become your new best friend.
Ingredients
2 cups dried cranberry beans, borlotti beans, or pinto beans (soaked for at least an hour–see step 1)
1 medium onion, chopped
2 ribs celery, chopped
7 cloves garlic, minced and divided
1 teaspoon fresh rosemary, minced (or 1/2 tsp. dried)
1/4 teaspoon red pepper flakes
26 ounces chopped tomatoes, canned
3 teaspoons dried basil leaves, divided
2 teaspoons dried oregano, divided
1/2 teaspoon smoked paprika
2 teaspoons salt (optional or to taste)
2 cups small pasta, whole grain or gluten-free preferred
10 ounces kale, stems removed and leaves chopped (4-6 cups chopped)
3 tablespoons nutritional yeast
freshly-ground black pepper, to taste
7. Shrimp Scampi with Zucchini Noodles
image via
Yes, we've featured this recipe before, but it's so great that we just had to use it again! I mean, look at how beautiful those zucchini noodles are!
Ingredients
1 tablespoon olive oil
2 tablespoons butter
1 pound (16-24) shrimp, shelled and deveined
4 cloves garlic, chopped
1 pinch red pepper flakes (optional)
1/4 cup white wine or chicken broth or shrimp broth
2 tablespoons lemon juice (~1 lemon)
3 medium zucchini, cut into noodles
salt and pepper to taste
1 teaspoon lemon zest
1 tablespoon parsley, chopped
8. 15-Minute Skinny Shrimp Scampi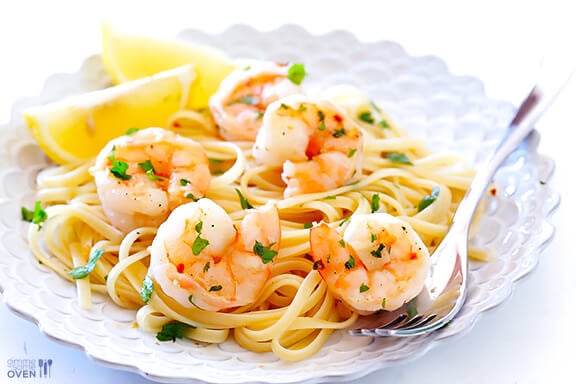 image via
This recipe is light, refreshing, healthy and only takes 15 minutes!
Ingredients
12 ounces whole-wheat pasta noodles (I used linguine)
1 Tbsp. butter
1 shallot, peeled and thinly sliced
4 cloves garlic, minced
1 pound raw shrimp, peeled with tails removed and patted dry
1 tsp. crushed red pepper flakes
1 tsp. salt
1 tsp. black pepper
1/4 cup chicken stock
3 Tbsp. white wine
2 Tbsp. fresh lemon juice
1 Tbsp. lemon zest
toppings: chopped fresh parsley and (optional) freshly-grated Parmesan cheese
9. Green Goddess Pasta
image via
Live green, eat green, be green. That's our mantra for 2015!
Ingredients
½ package Dreamfields® high fiber spaghetti
1 bunch asparagus, trimmed and cut into 1-inch pieces
½ avocado
1 garlic clove, chopped
½ lemon, juiced
½ lime, juiced
1 sprig each fresh parsley, cilantro, and tarragon, chopped
6 fresh basil leaves, chopped
¼ cup reduced fat sour cream
3 tablespoons olive oil, divided
1 shallot, minced
1 cup frozen peas, thawed
2 cups arugula
salt and pepper
10. Creamy Avocado Pasta
image via
Avocado is great for making anything creamy: smoothies, pudding, and yes, this pasta dish. A meal filled with heart-healthy fats, this is sure to leave you feeling and looking good.
Ingredients
8 ounces bow tie pasta, cooked al dente according to package instructions and drained
balsamic salad dressing (optional)
¼ cup shredded Parmesan cheese or Italian cheese blend
1 avocado, roughly mashed with a fork
juice of ½ lemon (about 1 T)
3 tablespoons olive oil
1 teaspoon dried parsley
salt & pepper to taste
optional: fresh parsley or other herbs, tomatoes, additional cheese
11. Chicken Parmesan Baked Pasta
image via
Baked pasta dishes are the absolute best and this recipe is no exception. This is the perfect meal to make for family dinners or potlucks.
Ingredients
1 (28 ounce) can whole peeled tomatoes
1 tablespoon olive oil
6 garlic cloves, minced
1/4 teaspoon dried oregano
1/8 teaspoon crushed red pepper flakes
1/4 teaspoon kosher salt
2 cups water
1 – 1 1/2 cups low-sodium chicken broth
12 ounces pasta
1 cup grated Parmesan, divided
1/4 teaspoon black pepper
1 cup shredded mozzarella
1 pound boneless, skinless chicken breasts, cooked and cut into bite-sized pieces
2 tablespoons chopped fresh basil
12. Chicken Alfredo Baked Ziti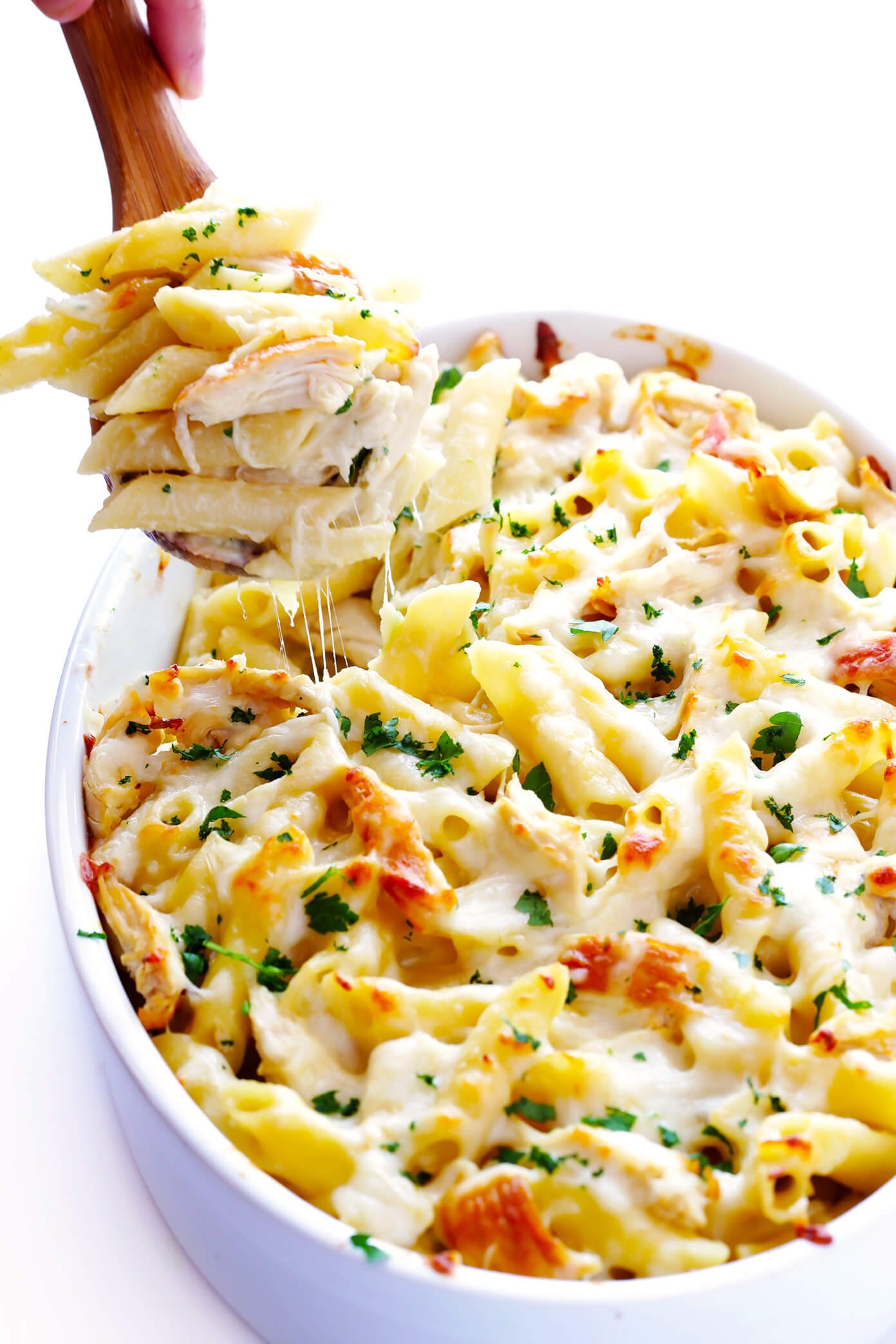 image via
Okay, I know we say we love a lot of things, but we LOVE baked ziti! Creamy, cheesy, gooey – it's basically everything we're looking for in a partner. Oops, we meant "recipe."
Ingredients
Chicken baked ziti:
12 ounces ziti (or any pasta shape)
2 cups shredded, cooked chicken (about 2 small chicken breasts)
1 batch alfredo sauce (see below)
1 1/2 cups shredded mozzarella cheese (I used 2% low fat)
(optional toppings: additional shredded Parmesan cheese, chopped fresh parsley)
Alfredo sauce:
1 Tbsp. olive oil
4 cloves garlic, minced
3 Tbsp. flour
1 cup chicken broth
1 cup low-fat milk (I used 1%)
3/4 cup freshly-grated Parmesan cheese
1/2 tsp. salt
1/4 tsp. black pepper
13. Spaghetti with Mussels
image via
This simple to make, yet stunning to look at, recipe will convince your guests you're the next Top Chef in disguise.
Ingredients
1 kg – 2.2 lbs. mussels, cleaned
600 gms – 1⅓ lbs. tomatoes, diced
2 garlic cloves, crushed
3 tbsp extra virgin olive oil
1 tbsp parlsey, chopped
Salt and pepper to taste
360 gms – 12.7 oz. Spaghetti
14. Seafood Spaghetti Baked in Parchment Pouches
image via
This elegant seafood pasta dish will make restaurant pasta look like a frozen meal.
Ingredients
Extra-virgin olive oil
2 garlic cloves
8 large shrimp
1-1/2 pounds clams
1 pound mussels
4 medium squid
14 ounces cherry tomatoes or 4 large mature tomatoes
1/2 cup dry white wine
Salt and pepper
Fresh parsley, finely chopped
12 ounces spaghetti
15. Spaghetti Carbonara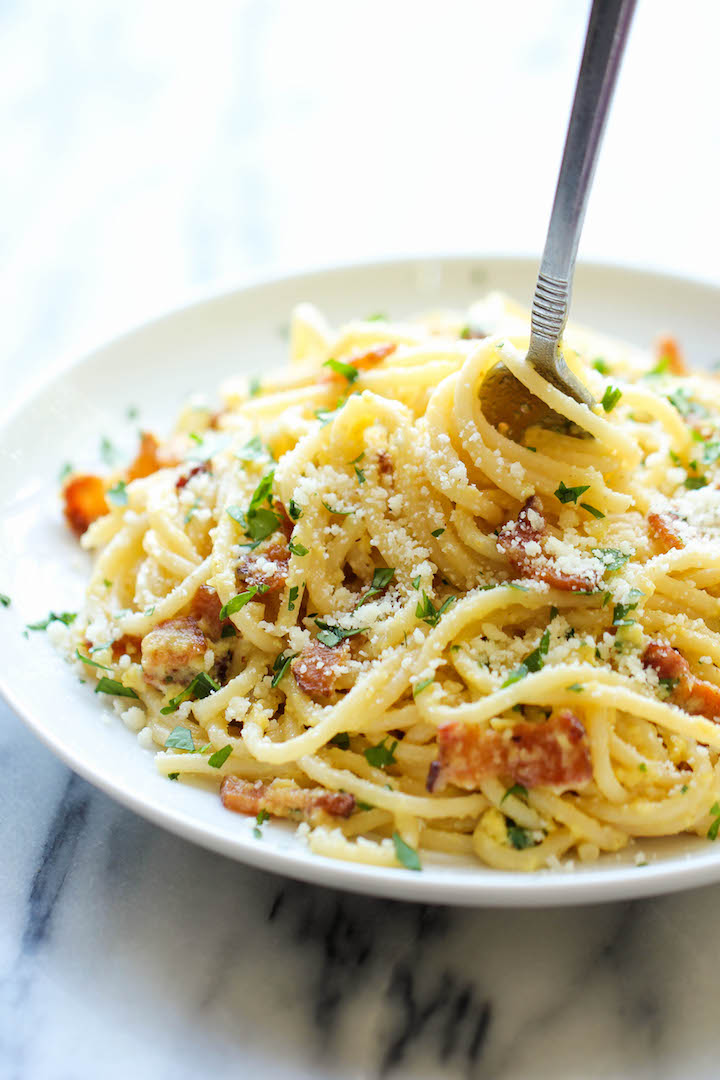 image via
Simple, classic and requires less than 10 ingredients! This meal is perfect for week nights or Italian-themed romantic dinners (because what other kind of cuisine would you serve on a romantic night in?).
Ingredients
8 ounces spaghetti
2 large eggs
3/4 cup grated Parmesan
4 slices bacon, diced
4 cloves garlic, minced
Kosher salt and freshly ground black pepper, to taste
2 tablespoons chopped fresh parsley leaves
16. Chicken Carbonara
image via
Isn't bowtie pasta so darn dapper and adorable?
Ingredients
5 strips bacon cooked and diced.
2 Chicken breasts -Grilled, Chicken striped up
Salt & Pepper to taste
2 T Butter
3 cloves Garlic Fresh minced
¾ Cup milk
¼ Cup Heavy cream
1 cup Chicken broth
3 T flour
¾ c Parmesan shavings
2 T parsley
1 small box bowtie pasta
17. Cacio e Pepe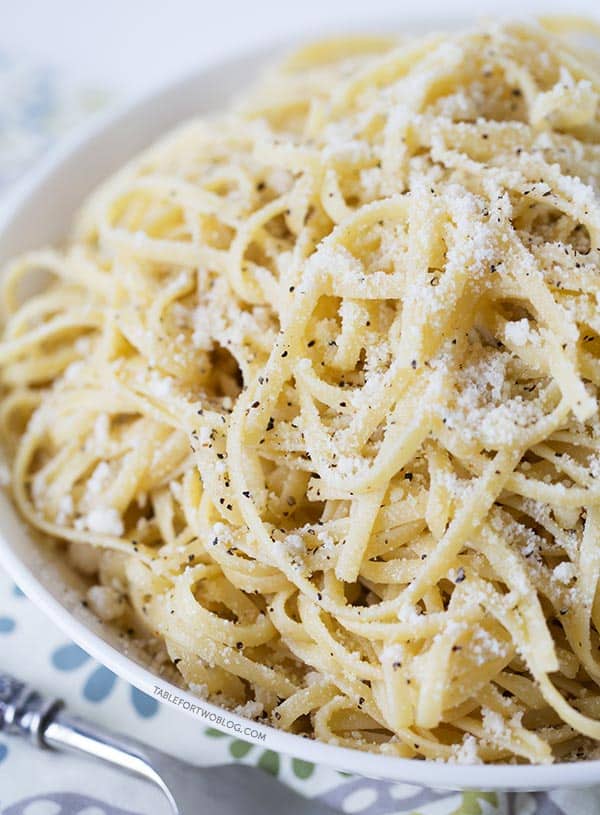 image via
"Cacio e pepe" literally translates to "cheese and pepper." Think of this recipe as mac n cheese's minimalist, cool sister. Quanto elegante!
Ingredients
1 pound dried spaghetti pasta
3 tbsp. unsalted butter, cut into 3 pieces
1/2 cup Parmesan cheese + more for topping (can either be freshly grated or the green jar kind)
1 tsp. ground black pepper + more for topping
Salt, to taste
18. Skillet Italian Sausage and Peppers with Penne
image via
Penne pasta and Italian sausage come together to create a hearty, delightful meal. Perfect for the Extreme Pasta Lover in your family.
Ingredients
12 ounces whole-wheat penne pasta
1 pound italian sausage links (1 package)
1 small green pepper, sliced
1 small red pepper, sliced
1 small yellow onion, sliced thin
½ cup red wine (merlot or pinot noir)
6 ounces tomato paste
8 ounces tomato sauce
12 ounces water
½ teaspoon italian seasoning
1 teaspoon sugar
½ teaspoon salt
parmesan cheese for finishing
19. Easy Beef Lasagna
image via
Lasagna is like the triple-layer double chocolate cake of pasta: it's decadent and sure to please even the pickiest of eaters. I mean, who can not love lasagna, or triple-layer cake, for that matter?
Ingredients
12 lasagna noodles, uncooked
1 lb ground beef
1 jar (24 oz or 680 g) marinara sauce
1 cup water
1 small onion, diced
15 oz ricotta cheese
2 eggs
2 tbsp oregano, dried
2 cups mozzarella cheese, shredded
½ cup grated Parmesan cheese
salt and pepper to taste
20. White Chicken Lasagna Roll Ups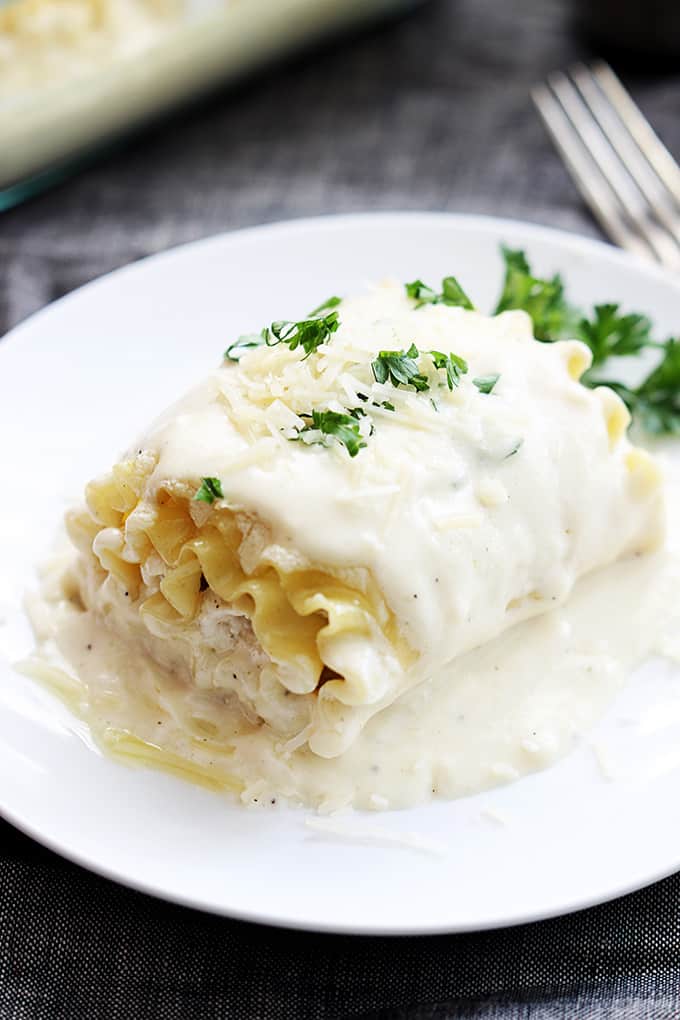 image via
These lasagna roll ups are creamy, healthy and absolutely beautiful. On days when we're feeling a bit naughty and rebellious, we like to double the Alfredo sauce and drown the pasta in all of its creamy glory.
Ingredients
8 lasagna noodles, cooked according to package instructions
2 cups alfredo sauce (store-bought or homemade)
2 chicken breasts, cooked and shredded (rotisserie chicken works well)
8 ounces cream cheese, softened
1 cup shredded mozzarella cheese
1 cup shredded parmesan cheese + ½ cup, divided
2 teaspoons garlic powder
2 teaspoons Italian seasoning
salt and pepper to taste
optional: fresh parsley, finely chopped
21. Crispy Ravioli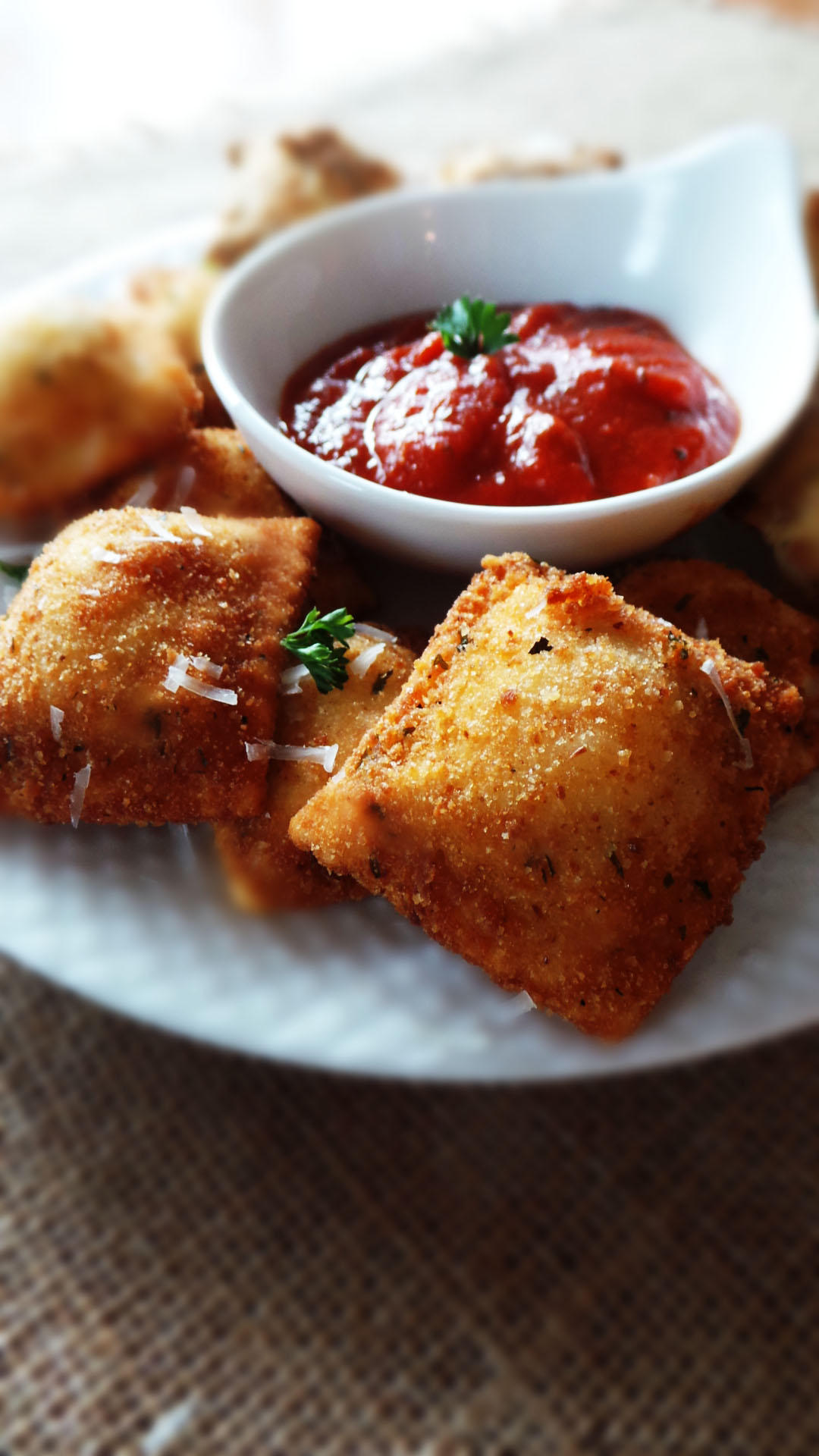 image via
These crispy raviolis (which is a genius idea, by the way) are the perfect appetizer for kids and parties. Pair these bad boys with an Italian sauce trio and tuck in!
Ingredients
25 frozen ravioli- thawed
1 c. Italian breadcrumbs
2 eggs
1/2 c. fat-free evaporated milk (or milk/buttermilk)
Canola oil as needed
1 jar marina or pizza sauce for dipping
Fresh parsley & Parmesan cheese for garnish
22. Sausage-Filled Ravioli with Fresh Tomato Marinara Sauce
image via
This chunky pasta dish will turn even the most sour of frowns upside down. Just look at how delicious it is!
Ingredients
Dough:
3 1/2 cups flour
3 eggs
3 tablespoons salad oil
1/2 cup water
1/2 teaspoon salt
Meat Filling:
1/2 pound beef, cubed
1/2 pound veal, cubed
1/2 cup chopped nuts
1/2 cup chopped celery
1/2 cup chopped carrots
Salt and pepper
1 1/2 cups cooked, chopped spinach
4 eggs
1 cup grated Parmesan cheese
Breading:
4 eggs, beaten
2 cups milk
4 cups seasoned bread crumbs
Grated Parmesan, for garnish
Tomato sauce, for serving
Most of these dishes are incredibly easy to make and perfect for your next family get-together or dinner. Celebrate life like the Italians with these delicious 22 Homemade Pasta Recipes! 
That's all, folks! If you enjoyed our 22 Homemade Pasta Recipes post, let us know in the Comments section below. We love hearing your feedback and comments; we also love sharing recipes, so if you have a go-to pasta recipe, we'd love to read about it and try it for ourselves! HomemadeRecipes.com was founded to create an online community where foodies and chefs can share recipes and learn new ones! We need your help, however, in creating this community where you can come, share and learn. If you love to cook, love food or have some great recipes and ideas you'd like to share with us, shoot us an email and make sure to stay in touch on Facebook, Twitter, and Pinterest! We're always looking for contributors and would want to hear from you.
Do you have Instagram? Don't forget to follow @HomemadeRecipesOfficial.
Click here to Like Us on Facebook.
Click here to Follow Homemade Recipes on Pinterest